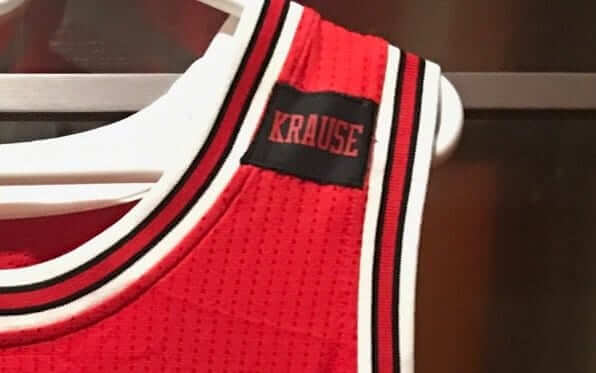 Word came down on Tuesday that Bulls former GM Jerry Krause had died, so the team added a memorial patch, shown above, for last night's game against the Pistons. While the patch may look simple and straightforward enough, there are actually several notable aspects to it. One at a time:
1. According to Bulls spokesman Tony Hyde, the patch is just a placeholder, with a new patch to follow for tomorrow's game against the 76ers. Placeholder memorials aren't unheard of, but they're usually just simple black bands. Not sure I can recall a placeholder memorial that included typography.
2. As our own Mike Chamernik points out, the Bulls had worn a simple black band on Tuesday. So that makes two separate placeholder designs, which might be unprecedented.
3. Memorial patches are always a little tricky on basketball uniforms, because the jerseys don't have sleeves (well, usually). So you can do a little chest patch, or you can do a band that runs across the shoulder strap, like Golden State is doing this season with its Nate Thurmond memorial. But the Bulls have taken a sort of hybrid approach here — the Krause band isn't really a band, because it doesn't extend across the piping (which left them even less space in which to fit Krause's surname). It's more like a patch that happens to be positioned where a band would normally go. Interestingly, they have put memorial bands across the piping in the past.
4. NBA memorial bands almost always go on the left shoulder. (Using the right should is not unprecedented, but it's rare.) But starting next season, teams will have advertising patches just below that space. Will they move memorials to the right side, in order to keep mourning from commingling with corporate marketing? Then again, the Nike logo will be on the right side. Hmmmm.
5. The team didn't wear its regular uniforms last night. They wore "Los Bulls" (and, as you can see there, the Pistons wore blue, creating a color-on-color game). How often does a memorial patch make its debut on a special occasion uniform? I'm sure there have been plenty of other examples, but I can't think of any off the top of my head. Anyone..?
That's a lot of commentary generated by one little patch!
•  •  •  •  •
ESPN reminders: In case you missed it yesterday, I had two ESPN pieces. The first tells the inside story of how Alex Ovechkin is about to become the first NHL player to wear custom-painted skates. You can check that one out here.
The other piece ranks all the uniforms for the Sweet 16. That one's available here.
•  •  •  •  •
What a mensch: A week ago we had an entry about Team Israel's "Jew Crew" T-shirt. Today our own Alex Hider has the inside scoop on another Team Israel storyline.
Mensch on a Bench Q&A
By Alex Hider
With the World Baseball Classic now over, I want to briefly look back at one  the most memorable parts of the tournament: Team Israel's Mensch on a Bench mascot.
Mensch on a Bench was created by Neal Hoffman, a toy marketer who wanted to create a Jewish answer to the popular Christmas story The Elf on the Shelf. Hoffman wrote a Mensch on a Bench book and designed a doll, and he eventually pitched his product on ABC's Shark Tank program. He ended up landing a deal with entrepreneurs  Robert Herjavec and Lori Greiner.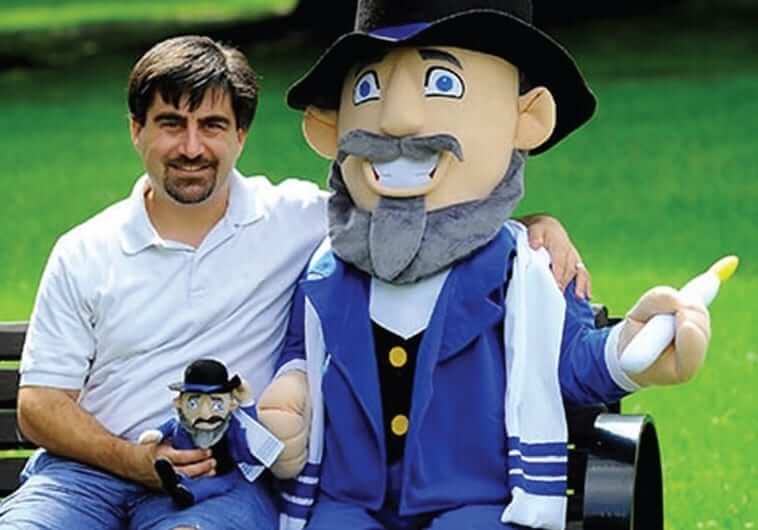 As it happens, Hoffman lived next door to my parents in the Cincinnati suburbs for a few years while I was in high school, and I met him once or twice during that period. I knew he was the man behind Mensch on a Bench, and I saw the Mensch make his appearance during the World Baseball Classic, but I somehow didn't make the connection until last week, when I suddenly realized we'd been neighbors. I recently got in touch with him to find out how the Mensch made it to Team Israel's bench.
Uni Watch: So, who first introduced the Mensch to Team Israel?
Neal Hoffman: That is a mystery to me. That's what I love about this — it's organic. When [Team Israel] was doing their qualifiers in Brooklyn, somebody brought them a Mensch on the Bench and put it on their bench. They thought it was hilarious.
UW: No guesses?
NH: It could have been someone in the organization, but I have no idea.
UW: When did you find out the team had adopted the Mensch?
NH: I watch everything Mensch-related through Google alerts. When Team Israel was playing [WBC qualifying games] in Brooklyn, I started seeing Mensch on a Bench mentioned in [major outlets] like The New York Times. We were getting a decent amount of press out of that.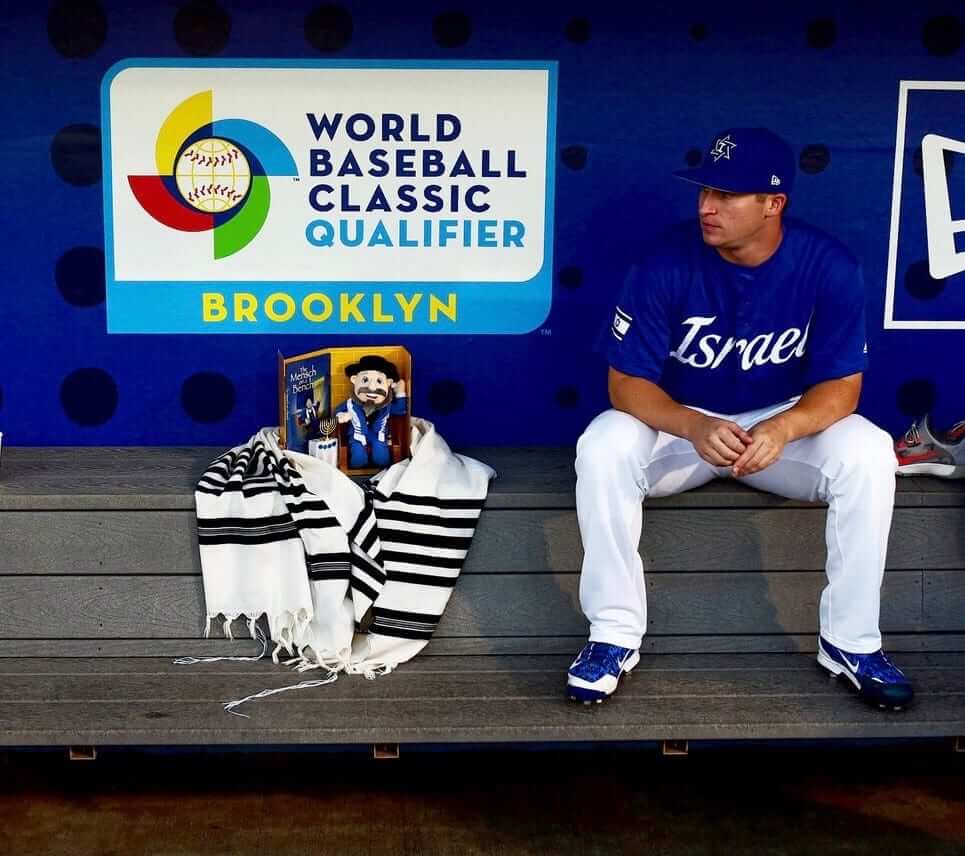 Cody Decker was definitely the ringleader. He ended up running on the field with the Mensch over his head when they won the qualifiers. He brought it with him to the press conference.
I reached out to him through Twitter "" as the Mensch "" and we just started talking and becoming friendly. I ended up sending him a five-foot mensch. If you look at his Twitter, he does the funniest things. He has it out sunbathing on the porch, he's driving with it in the carpool lane. He told me that he was going to bring it to Korea and buy it a ticket. Looks like the Mensch brought them a little bit of luck.
UW: Decker and Team Israel seem to have fun time playing around with the Mensch. Was there one moment in particular that you enjoyed the most?
NH: I love how they bring the Mensch to the press conferences. That to me is the funniest thing. When they give a seat to the Mensch and he's sitting right next to the players. Cody Decker was answering questions in character for him.
UW: Most baseball teams use live-action mascots, while the Mensch is a doll. Do you think that added to hoopla?
NH: I think the fact that it was a stuffed doll versus a mascot means it's more versatile. You can bring him to more places"¦and he doesn't give you any attitude.
The Mensch reflects the team's personality. The Mensch is fun, tongue-in-cheek, it celebrates Judaism through Jewish humor. The team is definitely filled with Jewish pride, but they're also just having fun with what they're doing. It's like the Mensch on a Bench: It's a mix of serious and humor.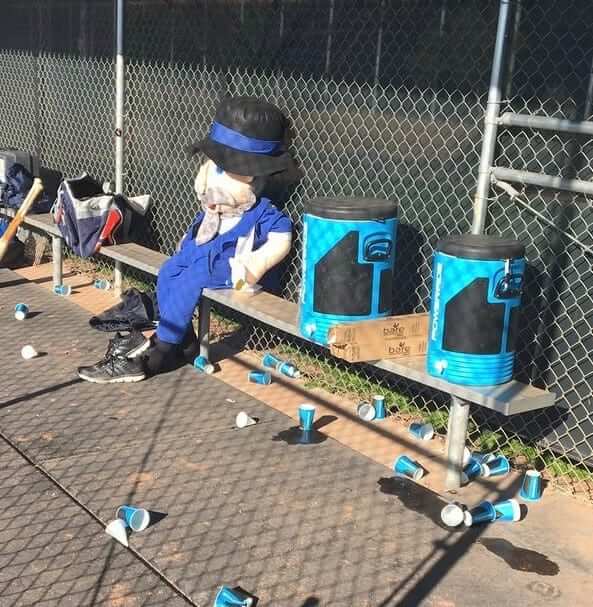 We are hoping to have a Mensch costume one day, which will be a lot of fun.
UW: So, are you saying there could be a live-action Mensch for Team Israel in the next WBC?
NH: If they ask, the answer is yes. In July, the [Israeli] female softball team is playing in Orlando for the world championships, so hopefully a Mensch will make its way down there. When the [WBC] qualifiers start again in three years, hopefully Team Israel will choose to let Mensch be involved again.
UW: Were you a baseball fan before the WBC?
NH: I'm from Boston originally, so I'm a big Sox fan. And now, I'm a big Cody Decker fan.
———
Paul here. Nice job, Alex. And just to tie things together with last week's post, here's a shot of Cody Decker wearing a "Jew Crew" T-shirt and posing with the Mensch — perfect.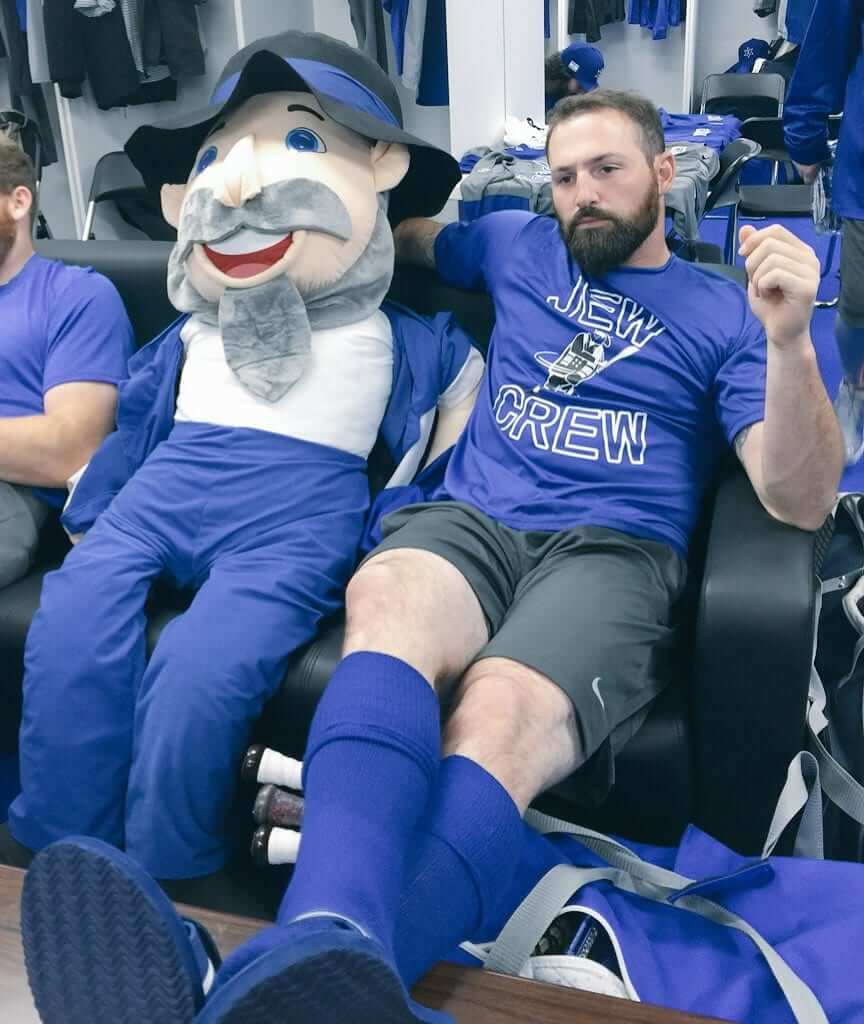 •  •  •  •  •
A real sausagefest: Among the many nice birthday gifts I received earlier this week from the Tugboat Captain was this amazing assortment of house-made sausages from various NYC salumerias. The small pair at top are wild boar sausage ("Made from feral hogs," says the label). The others, from left to right, are pepperoni; two different sweet soppressatas; and a hot soppressata.
And speaking of meaty matters, The New York Times ran a story about beef yesterday, accompanied by a header photo that mostly shows various cuts of lamb, not beef. Yes, the piece is about how beef consumption is decreasing, so I suppose you could say that a non-beef photo is actually appropriate, but there's no mention of lamb in the story. Seems like they just grabbed a photo of red meat without worrying about the details.
•  •  •  •  •
The Ticker
By Mike Chamernik

Baseball News: Team USA's Eric Hosmer had a black armband on his right sleeve last night in the WBC title game, but Adam Jones and the rest of the team did not. Jay Abbott surmises it was probably a memorial for Yordano Ventura, who was Hosmer's Royals teammate. … The island of Puerto Rico is running short on hair dye as fans are imitating the WBC team that has been sporting blonde and silver beards and hairdos this spring. … One of Paul's sources says the Rays will likely wear road fauxbacks (not to be confused with their usual home fauxbacks) for a game this August. That's the design they previously wore for a 2014 game at Wrigley. … Yesterday's entry speculated that the Pirates might be bringing back Stargell Stars. According to this article (the full text of which, unfortunately, is behind a paywall), they've being used in spring training to recognized "performance above and beyond the call of duty." No indication that they'll carry over to the regular season, though (from Jerry Wolper). … A fan wore a Nolan Ryan jersey to a recent Astros minor league game. Apparently, he didn't know Ryan himself was seated right next to him. … Texas A&M wore throwbacks on Tuesday (from Davis Jaye). … Former NASCAR driver Kenny Wallace is a big Cardinals fan (from David Firestone). … Budweiser will sell cans with MLB team logo designs on them (from Mike Cole). … Indiana wore stars and stripes uniforms for Military Appreciation Day yesterday (from Darrell Frazier). … Sweetchick NYC, a waffle restaurant in Brooklyn, has made a few Dodgers-themed T-shirts (from Robert Brashear).

NFL News: Giants WR Tavarres King will cede No. 15 to new teammate Brandon Marshall. King will now wear 12. That article also says that in 2005, Giants punter Jeff Feagles made a deal with Plaxico Burress to give him No. 17, but Plax never paid up. I'd say karma caught up on that one (from Neil Vendetti). … Menus at Joe Theismann's restaurant in Virginia have a page where kids can design their own football uniforms (from Joseph Andersen). … Arthur Savokinas spotted this mascot on the sidelines at a Giants game in 1983. Does anybody else remember that, or know what it might be? … Jon Volpe saw a Panthers truck in Jersey City, N.J. "There is a New Jersey tie to the 'Keep Pounding' slogan," he says. "It was used by the late Sam Mills, who was from N.J. and played at Montclair State." … Zane Tuck's son made a torn paper collage based on a Tom Brady thowback jersey. … "I work at a thrift store in Fairbanks, Alaska, and we received this Lions beanie as part of a donation," says Sue Valdrow. "I hadn't seen this logo before and thought it was pretty neat." SportsLogos.net shows the Lions using a similar logo in the 1950s.

College Football News: Last year Paul did an entry about the handful of college football players who wore No. 100 in 1969 to celebrate the sport's centennial. That entry showed a black-and-white photo of Kansas punter/kicker Bill Bell. Turns out there was a color photo of him on the cover of the team's 1969 media guide (from Josh Wood). … Here's what NFL Draft prospects will wear at Notre Dame's Pro Day today (from Matt Walthert). … And here are Pitt's Pro Day shirts (from Jerry Wolper).

Hockey News: Petteri Lindbohm of the AHL's Chicago Wolves had his nameplate peel off during a fight Tuesday night (from @ethanmay4). … A goalie and an opposing skater collided and got their skates tangled up during a recent Swiss league game. … The South Carolina Stingrays will wear 1997 throwbacks on March 31. … The Canadian Mint is producing commemorative quarters for the 125th anniversary of the Stanley Cup. Here's a photo of the coin (from @PureLipschitz). … Bobby Orr wore No. 27 during his first training camp with the Bruins. He famously wore 4 for the rest of his career (from @ideserveabeer). … A Molson box and smart phone allows fans to watch hockey with a virtual reality experience (from Ted Arnold).

Basketball News: The Wizards and Hawks went red vs. black in Washington (from Brian Stoll). … Yesterday we noted that the Blazers' Meyers Leonard wore socks with a dog on them. He's wearing them to support his dog, Bella the Husky, which is recovering from surgery (from Tim Baker). … Illinois and UCF went orange vs. black last night in the NIT (from Neal Surrena).

Soccer News: New jerseys for OKC Energy FC of the USL (from Matthew Montgomery). … Baseball hall of famer Mike Piazza is the majority owner of Reggiana, a third-division Italian soccer club. Aram Gumusyan created a new crest concept for the team. … Here's a ranking of digital lineup card designs that MLS clubs use on social media (from Greg Franklin). … Looks like the Tampa Bay Rowdies are about to unveil a new uniform (from Kody Allenson).

Grab Bag: The shirts for the Big Ten Network 10 K race have been unveiled. The run will be held in Chicago in July (from Kenneth Traisman). … An ongoing legal spat ended yesterday as the Supreme Court ruled that cheerleader uniform designs can be copyrighted (from Marc Burgess). … Towson revealed a new lacrosse helmet for Military Appreciation Day on Saturday (from Chris Daley). … New logo for the Kentucky State Fair.