I don't think of myself as being particularly scavenger-y, but I do seem to have pretty good luck finding things that other people leave out on the street. A paella pan, a sweater, a nice pair of chukka boots, a pair of hiking boots, the pair of sneakers I use for my daily bike ride, a pair of jeans — I found all of those just on my own block. And a few weeks ago I found something else: a copy of The Official Treasures of the National Football League "" and in near-perfect condition!
As you can see above, Official Treasures comes in a slipcase, which is nice, but that actually turns out to be the least interesting thing about it. The more interesting thing is that the book is full of envelopes and pockets, each of which contains a reproduction of some document from the NFL's past — a contract here, a ticket stub there, photos, trading cards, booklets, and so on. Everything is nicely yellowed with faux-age, and the whole thing feels like a series of nice surprises.
Here are some photo pairings that show some of what's tucked inside the book. In each case, the top photo shows a photo spread as you'd see it after having turned the page, and the bottom photo shows the various items after they've been removed from their envelopes or pockets. For all of the photos, you can click to enlarge.
---
---
---
---
---
———
I could show more, but you get the idea (you can see a few additional photos here). Having once worked as a book editor, I can tell you that all those pockets and envelopes must have been a complete bitch for the printer and binder — it's a complex production job. But they did a really nice job with it.
The bells and whistles notwithstanding, the book also features excellent photography and serviceable text. It's a piece of mythmaking, of course, but in a relatively benign way. Definitely a good gift item, especially if you have a young football fan in the house. (I would have swallowed this thing whole if it had been in the house when I was growing up.) If you want a copy, it's available here.
Or you could just wait until one shows up on the sidewalk, like I did.
•  •  •  •  •
Signal flare: If anyone out there is a South Carolina Gamecocks football fan, please get in touch Thanks.
•  •  •  •  •
T-Shirt Club reminder: In case you missed it yesterday: As I mentioned a few weeks ago, this year we're going to have a bunch of new T-shirts, with each one designed by a different creative luminary from the Uni Watch family — the Uni Watch Artist's Series, I'm calling it. Today I'm ready to show you the first one.
We're kicking off with a shirt by uniform designer/historian Todd Radom, who I'm sure needs no introduction for most of you. After admiring Todd's work for so many years, and also drawing on his expertise and knowledge countless times, it's a thrill for me to be working on a creative project with him.
Here's his design (click to enlarge):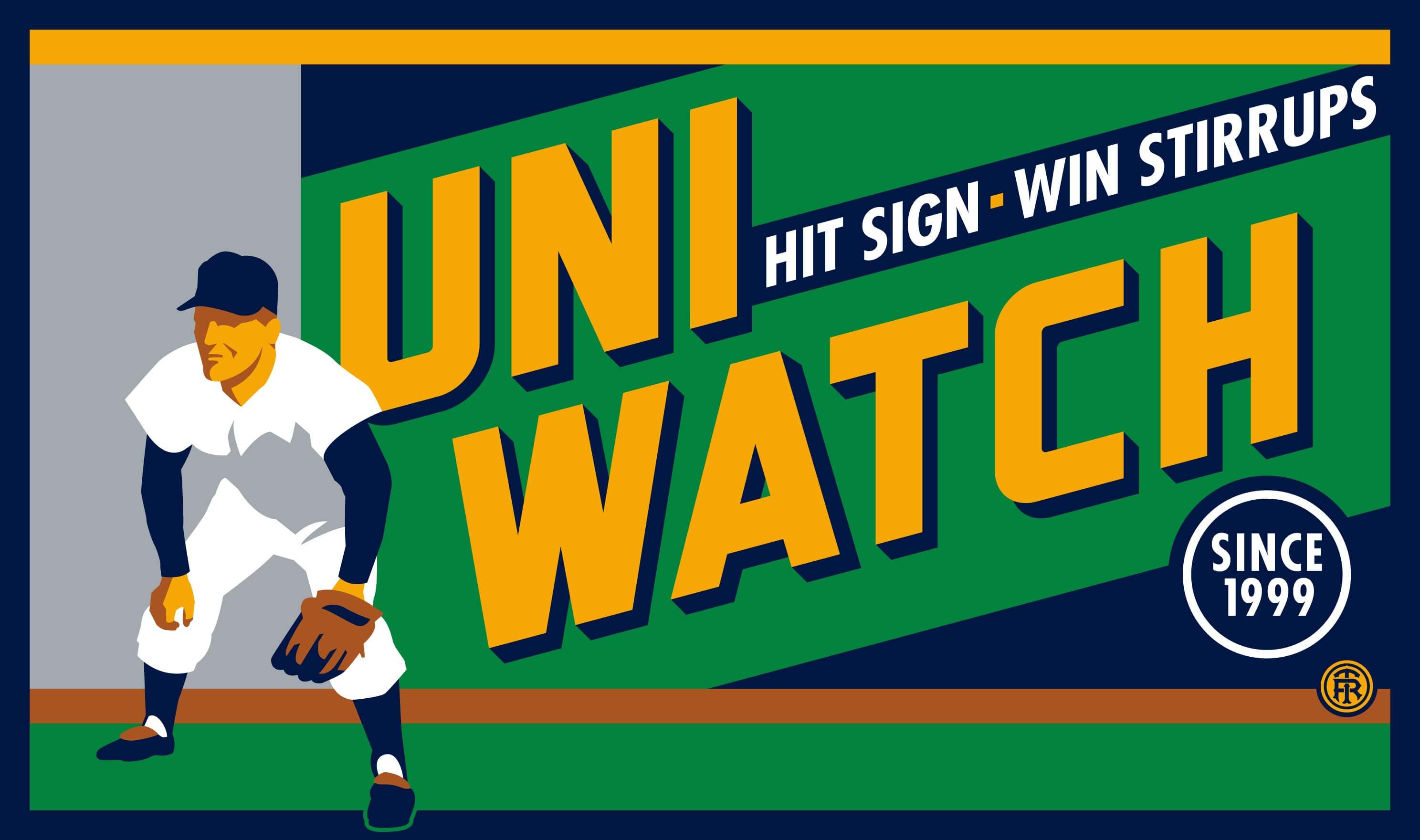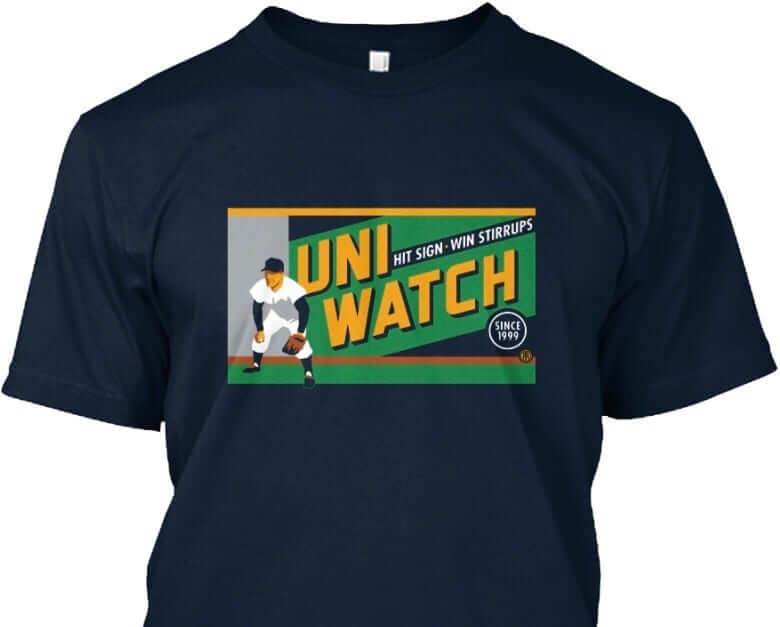 Pretty good, right? The design takes inspiration from the old Abe Stark sign at Ebbets Field, which read, "Hit Sign, Win Suit."
An important note: We're using the shirt fabric color to fill in the dark portions of the design — the outfielder's cap, sleeves, stirrups, and shoes, and also the dark part of the sign behind him. We think it looks best on Teespring's dark navy shirt, which is the version shown above. But you can also order the shirt in black (yes, go ahead and make all your BFBS jokes), in which case the design will look like this: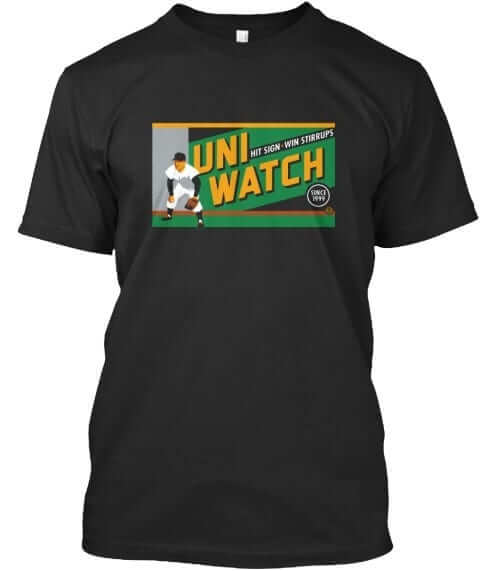 The difference is subtle, but it's there. There's also an American Apparel short-sleeved version and a long-sleeved version, both of which come in a slightly lighter shade of navy. You'll be able to see all of this on the ordering page. Just make sure you choose the shirt and color you like best.
The shirt is available here through next Friday, March 3. My thanks, as always, for your consideration.
•  •  •  •  •
The Ticker
By Paul

Baseball News: Yesterday was Photo Day at Cardinals camp. They appear to use generic jerseys with no front numbers. Also, Kolten Wong posed while wearing a helmet with a faceguard. … Throwbacks yesterday for Fresno State (from Jared Buccola). … Very nice striped stirrups for Rutgers. although it'd be better if they didn't wear them backwards (from @OhHeyItsTodd). … Sensational new Expos-style pinwheel cap for Kansas. … Mallex Smith, now with the Rays, could become the latest MLBer to wear No. 0 (thanks, Brinke). … Remember our recent guest entry from Jeff Callahan, who had DIY'd himself a tabletop ballpark game? He's been working on a new version based on the Polo Grounds. Lots of photos here. … Check this out: Rice is wearing owls on the bat! (From Denis Costello.)


Pro and College Football News: Last month I had an ESPN piece about the new Schutt F7 helmet. In that piece, I noted that the F7's ridges and vents might make it tricky for teams with traditional decal placements. Now Michael Princip, who was the lead designer on the F7, has created some concepts of how teams wearing the F7 could apply their team designs to the shell. "These are unofficial," he stresses, but they're interesting. … Here's one of those "What if NFL teams were actually soccer teams?" projects (thanks, Mike). … An arena team in Utah lets the fans call the plays. Fans anywhere can participate via a mobile app. They also choose the team's uniforms. … Here's the story behind Clemson's championship logo (from Benji Boyter).

Hockey News: The Blackhawks commissioned a mask for their emergency goaltender, Eric Semborski. It was done by Corey Crawford's artist, David Gunnarsson (from Marc-Louis Paprzyca). … Former Coyotes player Mike Gartner, thinking he was signing a promotional jersey, accidentally autographed Shane Doan's game jersey the other night (from Vince Serritella). … Some local hockey players wore throwback uniforms to re-enact the 1907 Stanley Cup match-up between the Kenora Thistles and the Montreal Wanderers (from Will Scheibler). … The ECHL has a fantasy program in which fans can vote on one player from each team who'll wear a special patch, plus a goalie who'll wear a gold-themed jersey. You can see two of the goalies here and here (from K.C. Kless).

NBA News: Here's a look at some notable sneakers from the NBA's All-Star Weekend (thanks, Brinke). … Here's something I didn't know (or maybe just forgot): Craig Hodges, who won the 1992 NBA Three Point Contest, defended his title in 1993 even though he'd been waived by the Bulls and was a free agent at the time. The NBA initially omitted him from the field of contestants but eventually allowed him to compete while wearing a generic NBA jersey (from Jonathan, who didn't give his last name). … The Cartoon Network reimagined their shows as NBA logos (thanks, Mike).

College Hoops News: Virginia Tech will be giving away these socks for tonight's game (from Andrew Cosentino). … Women's hoops: NJIT and Florida Gulf Coast went red-vs-.green last night (from Jeff Mayer).

Soccer News: I put this in the NFL section, but I'll put it here too, just in case: Here's one of those "What if NFL teams were actually soccer teams?" projects (thanks, Mike).

Grab Bag: NASCAR fans are reported in an uproar over risqué Victory Lane models. … This is weird: Vice President Mike Pence was visiting government officials in Germany and was greeted with a 51-star American flag (from DenverGregg). … New logo for the Japan Rugby Football Union (from Jeremy Brahm). … This is pretty cool: NASCAR driver Clint Bowyer's new helmet has a very realistic-looking faux-rust theme (from David Firestone). … A high school wrestler in Wisconsin was disqualified from a match for wearing multi-colored underwear, which apparently violated an obscure rule (from Jerry Nitzh).