For all photos, click to enlarge
Good times at yesterday's Uni Watch meet-up in Brooklyn. Two people I really enjoyed meeting were Craig (above left, didn't get his last name) and his lovely wife (can't remember her name even though she told me two times, ugh!), who made the trip from Princeton, N.J. — more than an hour's drive. Thanks so much for coming, guys!
Two other stalwart attendees were Marc Rivlin, who wore an Israel jersey from the World Baseball Classic, and Mike Engle, who wore an Expos St. Paddy's cap and a green-trimmed polo shirt that was nicely accessorized by a Uni Watch 15th-anniversary patch:
It was great to see everyone, including Alan Kreit, Matt Powers, Anthony Burke, our own Phil Hecken, and a bunch of people whose last names I didn't get, including Dave, Lou, Archie, Jillian, and probably a few others I'm forgetting — big thanks to everyone who came out. I was very bad about taking photos this time around (it's hard to document everything when everyone's talking with you and you just want to enjoy their company), but here are a few more (if you can't see the slideshow below, click here):
•  •  •  •  •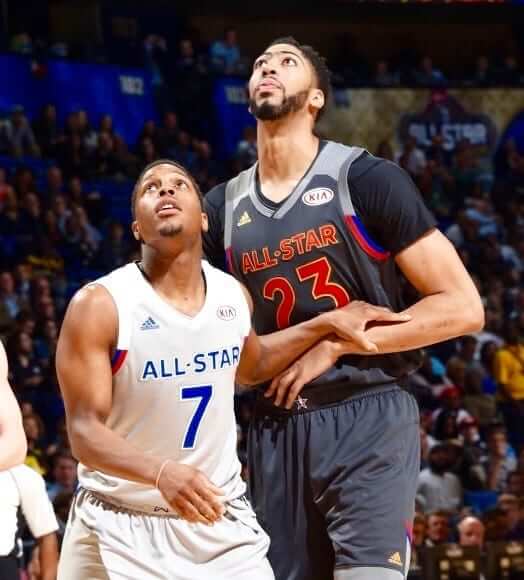 Big yawn in the Big Easy: The NBA All-Star Game was last night, and the uniforms were a total snooze. We'll never know how much of this was due to the game having been moved from Charlotte to New Orleans due to North Carolina's anti-LGBT law (the league presumably had a more Charlotte-themed uni set in the hopper that had to be scrapped), and/or how much of it was due to Adidas mailing it in for their final All-Star event of their lame-duck tenure. Either way, not much in the way of eye candy. Too bad.
•  •  •  •  •
T-Shirt Club update: As I mentioned a few weeks ago, this year we're going to have a bunch of new T-shirts, with each one designed by a different creative luminary from the Uni Watch family — the Uni Watch Artist's Series, I'm calling it. Today I'm ready to show you the first one.
We're kicking off with a shirt by uniform designer/historian Todd Radom, who I'm sure needs no introduction for most of you. After admiring Todd's work for so many years, and also drawing on his expertise and knowledge countless times, it's a thrill for me to be working on a creative project with him.
Here's his design (click to enlarge):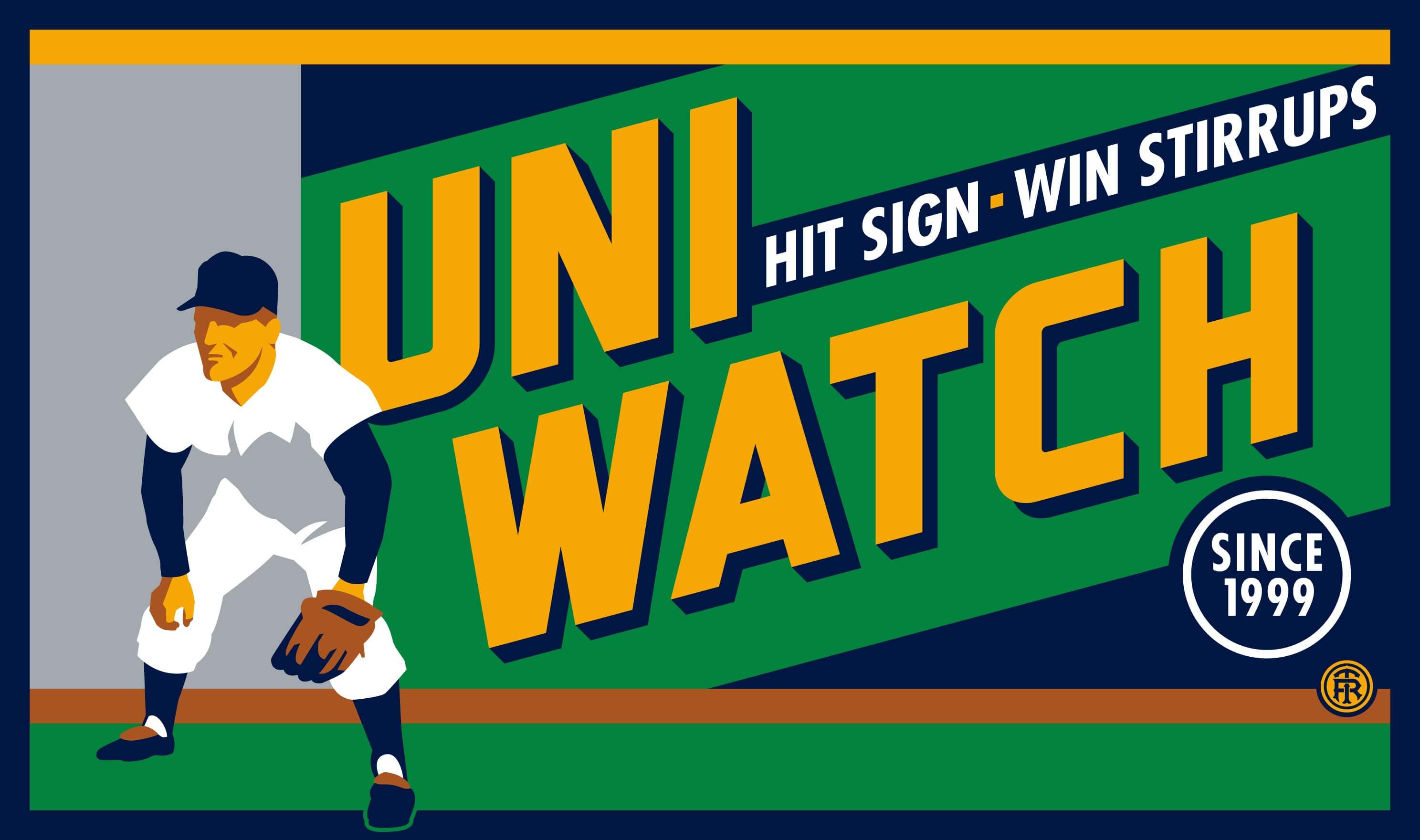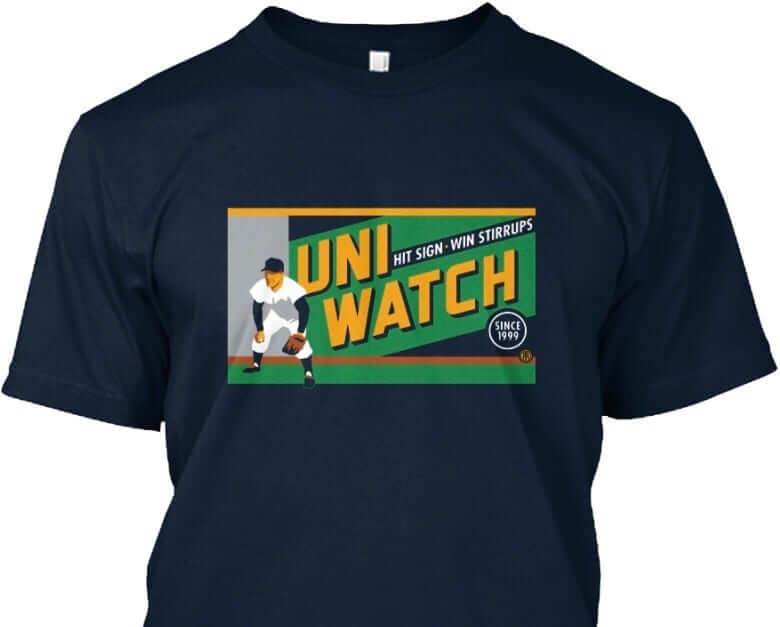 Pretty good, right? The design takes inspiration from the old Abe Stark sign at Ebbets Field, which read, "Hit Sign, Win Suit."
An important note: We're using the shirt fabric color to fill in the dark portions of the design — the outfielder's cap, sleeves, stirrups, and shoes, and also the dark part of the sign behind him. We think it looks best on Teespring's dark navy shirt, which is the version shown above. But you can also order the shirt in black (yes, go ahead and make all your BFBS jokes), in which case the design will look like this: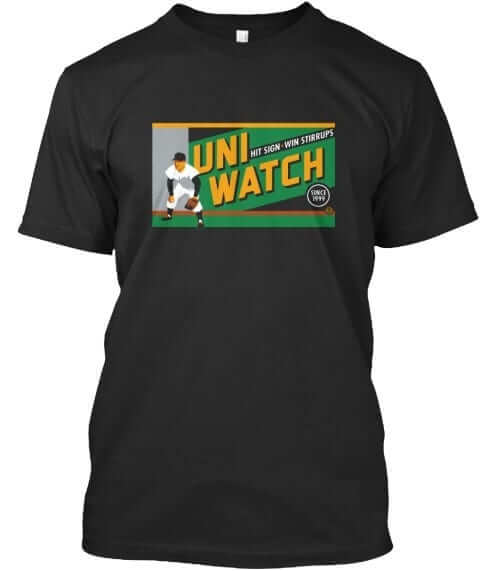 The difference is subtle, but it's there. There's also an American Apparel short-sleeved version and a long-sleeved version, both of which come in a slightly lighter shade of navy. You'll be able to see all of this on the ordering page. Just make sure you choose the shirt and color you like best.
The shirt is available here through next Friday, March 3. My thanks, as always, for your consideration.
•  •  •  •  •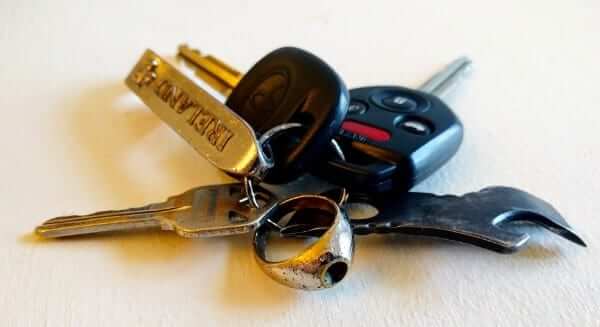 KRC update: The latest installment of Key Ring Chronicles is about a ring that was purchased on a beach in France and never worn. Check it out here.
•  •  •  •  •
Click to enlarge
Penny for your thoughts: On Friday night I saw a movie with my friend Shane, and then we had dinner in Chinatown. When the check came, it included something I'd never seen before: a "Round Off 5 Cents" line. They comped us one cent in order to round the total down to an even $31.40 (instead of $31.41). I guess they don't want to bother with keeping pennies in the cash register.
The funny thing is that two of the three the suggested tip amounts are not rounded off to the nearest five cents. But I suppose they're figuring that nobody would actually tip in non-five-cent amount (and they're right!).
Incidentally, the movie we saw was Kedi, a documentary about all the cats that roam around Istanbul. If you're a cat person, it's a must-see. Here's the trailer:
•  •  •  •  •
The Ticker
By Alex Hider

Baseball News:  It appears that the Cubs are moving the bullpens at Wrigley to behind the bleachers (from Andrew Cosentino). …  Many Pirates took team pictures in caps without the New Era logo yesterday. Others were wearing caps with some sort of wording in place of the MLB logo (from  E). …  Damon Hirschensohn spotted a Delta plane with Mariano Rivera's number and signature in Salt Lake City. More on the Rivera plane here. … Which MLB pitchers are currently wearing a single-digit number? Find out here (from Randall J. Sanders). … Ole Miss wore some super-slick powder blue unis  yesterday against ECU, who wore purple (from  Gnarly Reb  and  Jordan L. Smith). … Looks like Air Force is bringing the Sharktooth to the diamond (from  Adam Henderson). … Maryland broke out the faux-flannel yesterday (from  Matt Shevin).

Hockey News:  The Ducks wore yellow warm-up jerseys in support of the Ronald McDonald House yesterday (from  Josh Hunhoff). … Randy Clement was poking around and found this shot of what appears to be a Minnesota North Stars player wearing sunglasses on the ice during the team's first-ever preseason game. The player is identified as Les Burton, and it appears that he was cut before the season began. … WGN in Chicago must not have gotten the memo that the Sabres retired the Buffaslug in 2010 (from Rob Daniel). …  The Fort Wayne Komets of the ECHL retired No. 91 for former player Colin Chaulk on Saturday night "" but accidentally raised the banner to the rafters upside-down. The banner was fixed after the first period (from  Tris Wykes). … Staying in the ECHL, the Missouri Mavericks wore baseball-style uniforms to honor the Kansas City Monarchs of the Negro Leagues on Saturday (from  Adam Fritzen). … The Windsor Spitfires of the OHL wore uniforms honoring former captain  Mickey Renaud, who died suddenly at age 19 in 2008. The chest logo includes Renaud's No. 18 surrounded by a gold wreath (from  Wade Heidt). … The New York Riveters of the NWHL wore military appreciation unis yesterday (from Zach Pearce). …  A painting company in Virginia is using the Penguins logo. It's  the second time this week a Uni Watcher has spotted a local business poaching the Penguins logo  (from  Steve B.).

College Hoops News:   Illinois State wore some  wild candy-striped shorts as part of a throwback set yesterday (from  Trey Volk). …  Color-on-color in an  A-10 matchup yesterday between George Washington and Duquesne (from  Rich Donahue). …  Northwestern and Rutgers went color-on-color Saturday night. With the win, the Wildcats are now 3-0 in their black "Gothic" unis (from  Dan Sagerman).

Soccer News:  Lee Hodson of Rangers FC in the Scottish Premier League took the pitch the yesterday without a crest on his jersey. A crest was applied to his jersey at halftime (from  WeeFuse). … Allesandro Florenzi of AS Roma is out at least six months with a knee injury, so his teammates wore his No. 24 on their sleeves yesterday in his honor (from The Rake). …  Seattle Sounders debuted the championship star above their team crest last night against Charleston Battery (from  Will Chitty).

Grab Bag:  Chris Viel found this old Houston Gamblers pennant at an antique store. …  A former Middle Tennessee State football player tracked down his old jersey and got it back after nearly a decade and a half (from  Wade Harder). …  Teams in Australia's National Rugby League are selling Marvel superhero-themed jerseys (from  Josh Gardner).