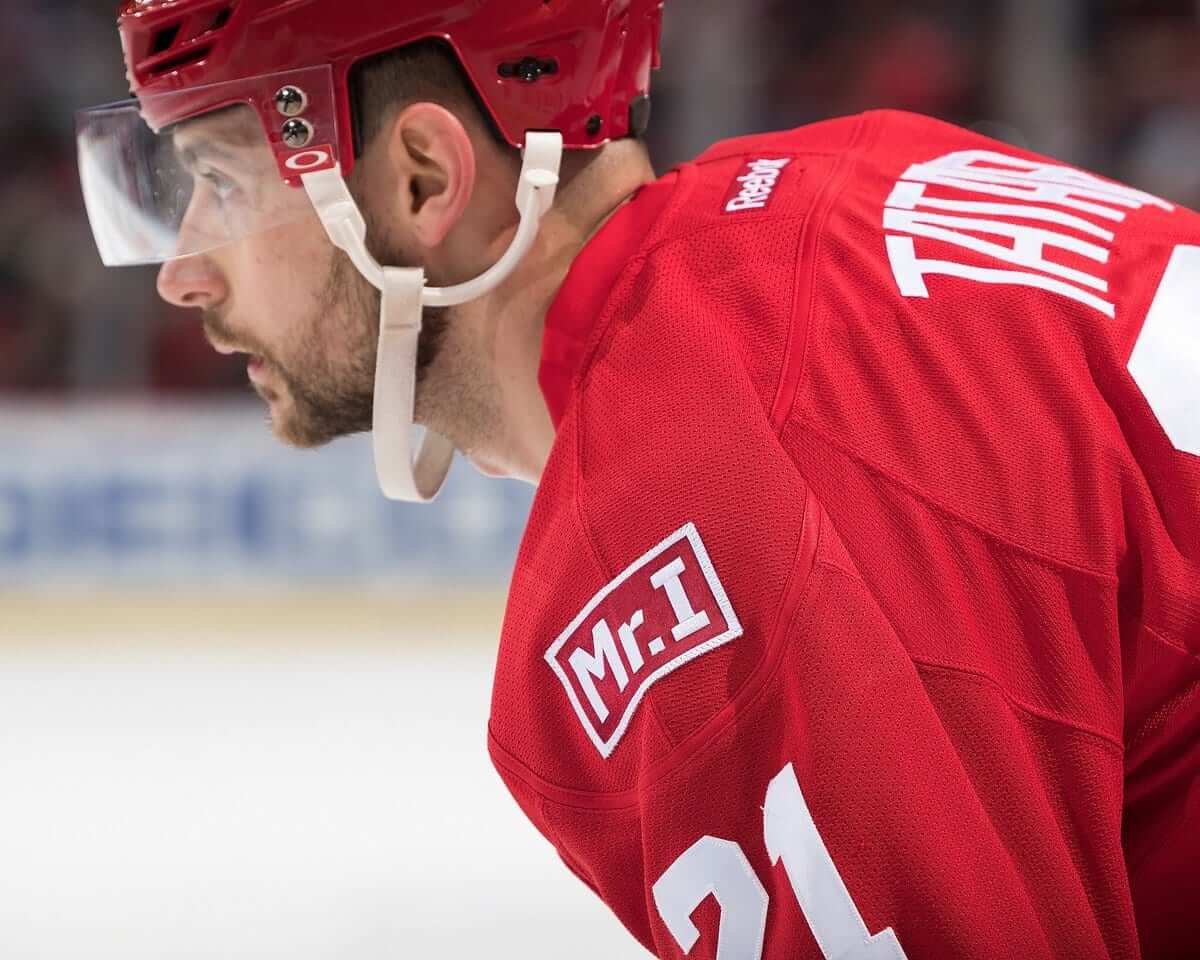 Click to enlarge
The Red Wings added a "Mr.I" memorial patch yesterday for former owner Mike Ilitch, who passed away last Friday. There's a white version of the patch for the team's road jersey, and they've also added the patch lettering to the ice.
The Wings' AHL affiliate, the Grand Rapids Griffins, are also memorializing Ilitch, with a "Mr.I" decal. Ilitch also owned the Detroit Tigers, who'll have their own patch for him this season, although we don't yet know what that will look like.
The "Mr. I" format reminds me of how the 1993 Tampa Bay Bucs memorialized their late owner, Hugh Culverhouse, with a "Mr.C" sleeve script (in both cases, it looks like they intentionally opted not to have a space after the period):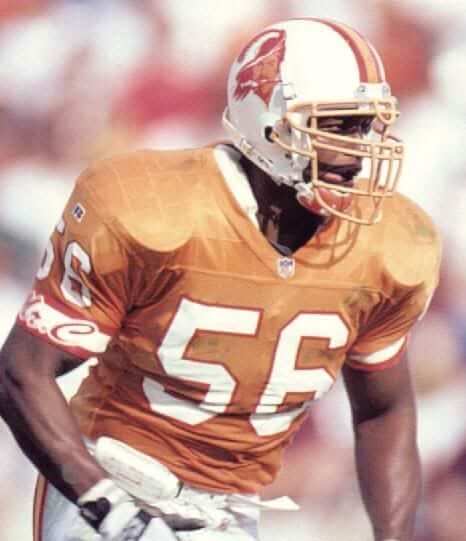 Are there other owners — or players, or anyone else — who've been uni-memorialized with the "Mr. [Letter]" format? I can't think of any. Am I overlooking anyone?
Update: Our own Mike Chamernik points out that the Pistons had a "Mr. D" memorial for Bill Davidson. So there you go.
(My thanks to John Chapman and Justin H. for their contributions to this post.)
•  •  •  •  •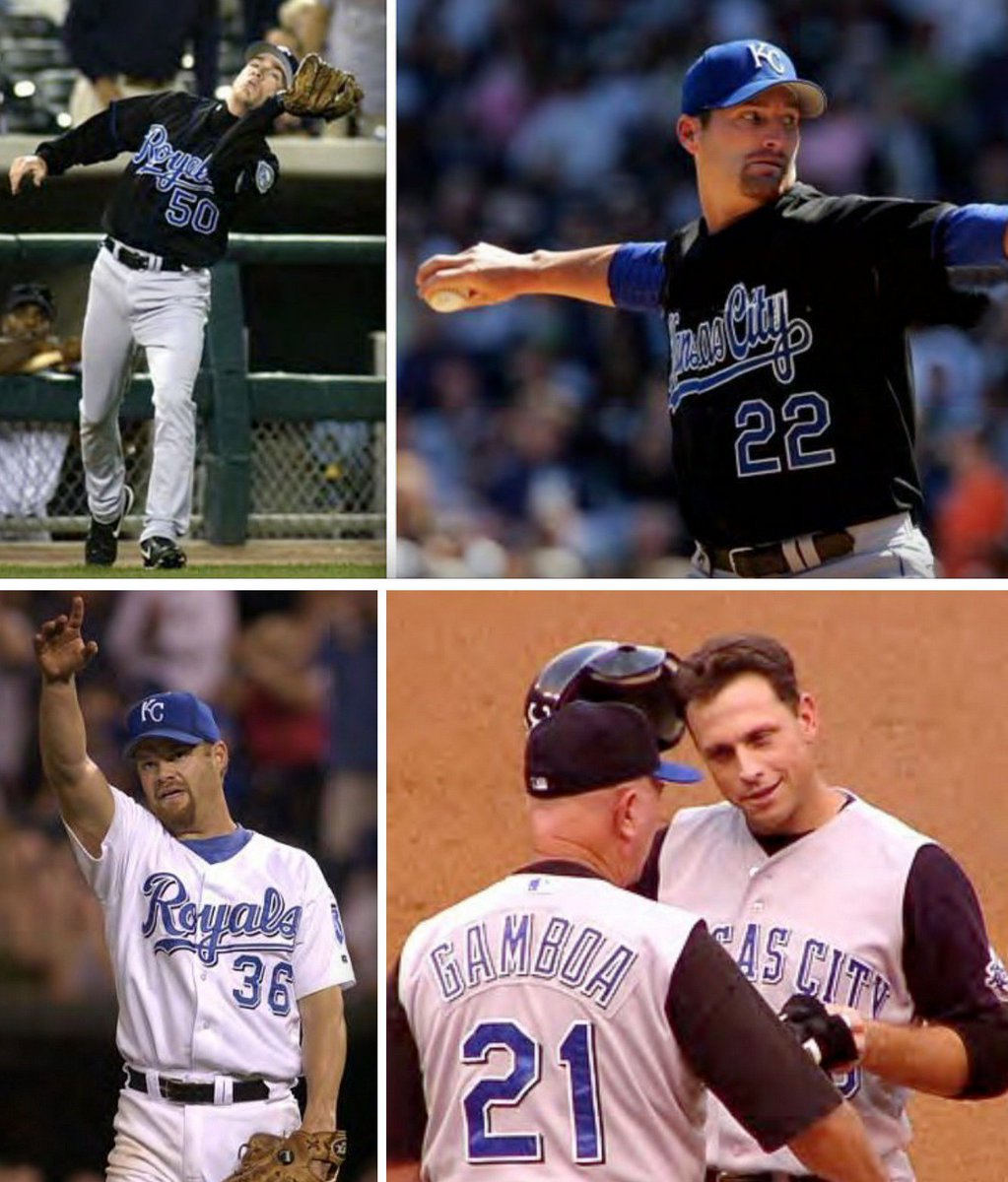 Click to enlarge
Tales from the dark side: With the Detroit Lions recently announcing that they'll be eliminating black from their color scheme, I've taken a look at other teams that went BFBS and then thought better of it (including the Royals, as shown above). Check it out here.
•  •  •  •  •
Party reminder: Uni Watch party this Sunday, Feb. 19, 3pm, in the back room of the Douglass (which is the same place we used to meet at, Sheep Station, but with a new name). Phil will be there, I'll be there, you should be there. Come join us!
•  •  •  •  •
Family affair: Yesterday I visited my mom, who will be 93 in April. She lives in a retirement community where dinner is served at a communal dining hall, which is a bit of a shame, because she's a really good cook. But she continues to make her own lunch each day. Yesterday: hard-boiled eggs and red peppers on toast. She drinks her coffee out of a pitcher "because it's a little bigger than a mug and it's exactly the amount of coffee I want to drink."
The rock in the background may look like a paperweight, but it's actually for physical therapy. She has a bad shoulder and was told to get one of those mini-barbell/weight thingies to do lifting repetitions, but she said, "Why should I spend money on that when there are rocks on the patio outside my apartment?" That's my mom. And as she also noted, "It's a really nice rock, don't you think?"
•  •  •  •  •
Zach's NBA Report
By Zach Loesl
Although more NBA games have been color-on-color lately, the reality is that most games are still white-on-color (or, in the case of the Lakers, yellow-on-color). There were 14 games yesterday, for example, and only one of them — Indiana at Cleveland — was color-on-color. I typically enjoy color-on-color games, but they seem less special when there are too many of them. I think the NBA should limit the number of such games.
In other news from yesterday, the Raptors wore throwback uniforms and played on a throwback court as well. Alternate courts are the next frontier in NBA design. I am willing to bet that within the next three to five years, the number of teams with alternate or throwback courts will outnumber those with only one court.
In that Raptors game, Jonas Valanciunas appeared to be wearing the wrong warm-up shirt.
Last, check out the top of the backboard in this Hawks/Clippers photo. The design incorporates the team logo and slogan — so much better than the boring default of putting the team's website address or Twitter handle in that spot.
•  •  •  •  •
The Ticker
By Alex Hider

Baseball News:  Paul had previously reported that MLB's new BP tops were designed to be worn untucked, but players are tucking them in. Also, note the slashed zero on Noah Syndegaard's T-shirt. You don't usually see that on MLB gear. … Inaugural uni set for the Class A Florida Fire Frogs (from Nick Jones). … Dee Gordon of the Marlins wore NBA socks during a recent workout (from Stormsy). …  Speaking of the Marlins, it looks like they're the latest team to go with matte helmets (from @damedonaldson). … South Carolina is jumping on the 3D helmet logo train (from Ryan Fischer). …  Awesome find by  Ray Hund: A classic custom baseball uniform order form, found in the  The Great American Baseball Scrapbook by A. D. Suehsdorf.


Pro and College Football News: Here's an odd one: In Super Bowl XXVII (Cowboys/Bills, 1993), the officiating crew wore short sleeves in the first half and long sleeves in the second half. "The game was at the Rose Bowl and started at 3:30pm local time, so maybe it got colder after the sun went down," says David Westfall. … Colts lineman Robert Pratt had some serious NOB issues during a 1977 playoff game against the Raiders (from Bill Kellick). … Eric Wright  found some TV number inconsistencies on the unis of the old Houston Gamblers of the USFL. … Western Michigan has agreed to hand over the trademark to the "Row The Boat" slogan to former football coach P.J. Fleck for $50,000 (from  Andrew Cosentino).

Hockey News:  Looks like the Penguins are the inspiration behind this Detroit company's logo (from  Eric). … The Green Bay Gamblers of the USHL unveiled  cheese-themed unis yesterday (from  Ryan Wozniak).

NBA News:  Serge Ibaka will wear No. 9 with the Raptors, after wearing No. 7 with the Magic (thanks,  Mike). …The Cavs and Pacers went black sleeves on gold last night. On Tuesday, the Cavs wore gold against the black-sleeved Timberwolves (from  K Dawg). …  Does this Timberwolves Valentine's Day shirt offer clues to their upcoming new uni set? (From  Reno Gruber.) …  A Milwaukee culture site has some nickname suggestions for the Bucks' new D-Leauge G ®-League team in Oshkosh (from Aaron Szopinski). …  Aaron  also sends along a interesting piece on how the Bucks got their own nickname. … The BIG3 is a new professional 3-on-3 league featuring a number of former NBA players. One of the teams, the Killer 3s, unveiled a new logo yesterday (from  Nina Kiersted).

College Hoops News:  Here's the logo for the 2018 Women's Final Four in Columbus (from  Jesse Ghiorzi). …  Keith Clowers' coworker has a Kansas Jayhawks tissue box cover that makes the box look like a couch. Never seen that before. … Northern Iowa (go UNI!) wore some pretty brutal BFBS unis last night. You can't even make out the purple NOBs against the black background (from  Joe Ringham).

Soccer News:  New yellow second kit for the Colorado Rapids (from  B. Darby). … FC Dallas teased their new secondary kit yesterday (from Phillip Foose). …  D.C. United hasn't even begun building its new stadium, but they have already sold the naming rights (from  John Muir). … Good to see there's creativity in soccer kit design (from ACC Tracker).  … Speaking of, here's a closer look at the USWNT red kit (from Mark Johnson).  … Belarusian team FC BATE Borisov is teasing their kits for the 2017-18 season (from  Ed Zelaski).

Grab Bag: True Irishmen and Irishwomen will tell you that a shamrock "" not a four-leaf clover "" is the official symbol of St. Patrick's Day (more on that distinction here). But  Jeff Pollock points out that many teams make the mistake of using a four-leaf clover in lieu of a shamrock on St. Paddy's Day jerseys and merch. … After Under Armour CEO Kevin Plank's praise of President Trump blew up in his face, Plank
responded by trying to explain himself in a full-page ad in yesterday's Baltimore Sun (from  Tommy Turner). … This is great: The University of Houston golf team used to have numbered polo shirts "" with SNOB! (From  Robert Andrews.) … The U. of Mississippi's campus  bike shop has an interesting logo that incorporates the school's nickname (from  Jason). …  J. Huck  shared this tweet from the Duke Archives with this awesome letterhead.