As we were discussing the placement of the NHL centennial patch last Thursday, I found myself drawn to the two Blue Jackets photos shown above. "Huh," I said to myself, "the white patch really sticks out there, because that uniform has no other white elements."
Just to confirm that, I looked at a full-body shot of the Blue Jackets' alternate uniform. Sure enough, no white (unless you count the skate laces, the skate guards, the NHL logo, or the maker's mark on the helmet, which I don't):
ӬӬ
And that's when it hit me: It is very rare to encounter a completely white-free uniform. Sure, there are lots of uniforms that are mostly colored, but they still tend to have some combination of white trim, or white outlining on the numbers, or white NOB lettering. The Blue Jackets' alternate design is one of the rare exceptions.
How rare? If we leave aside one-off uniforms and stick to designs that are in teams' regular uniform rotations, then by my count there are only four other white-free NHL uniforms: the Bruins' and Senators' throwback alternates, and the Wild's home and alternate designs. Much like the Blue Jackets' alts, these four uniforms all make heavy use of cream (or vintage white, or wheat, or whatever we're calling it this week) instead of white: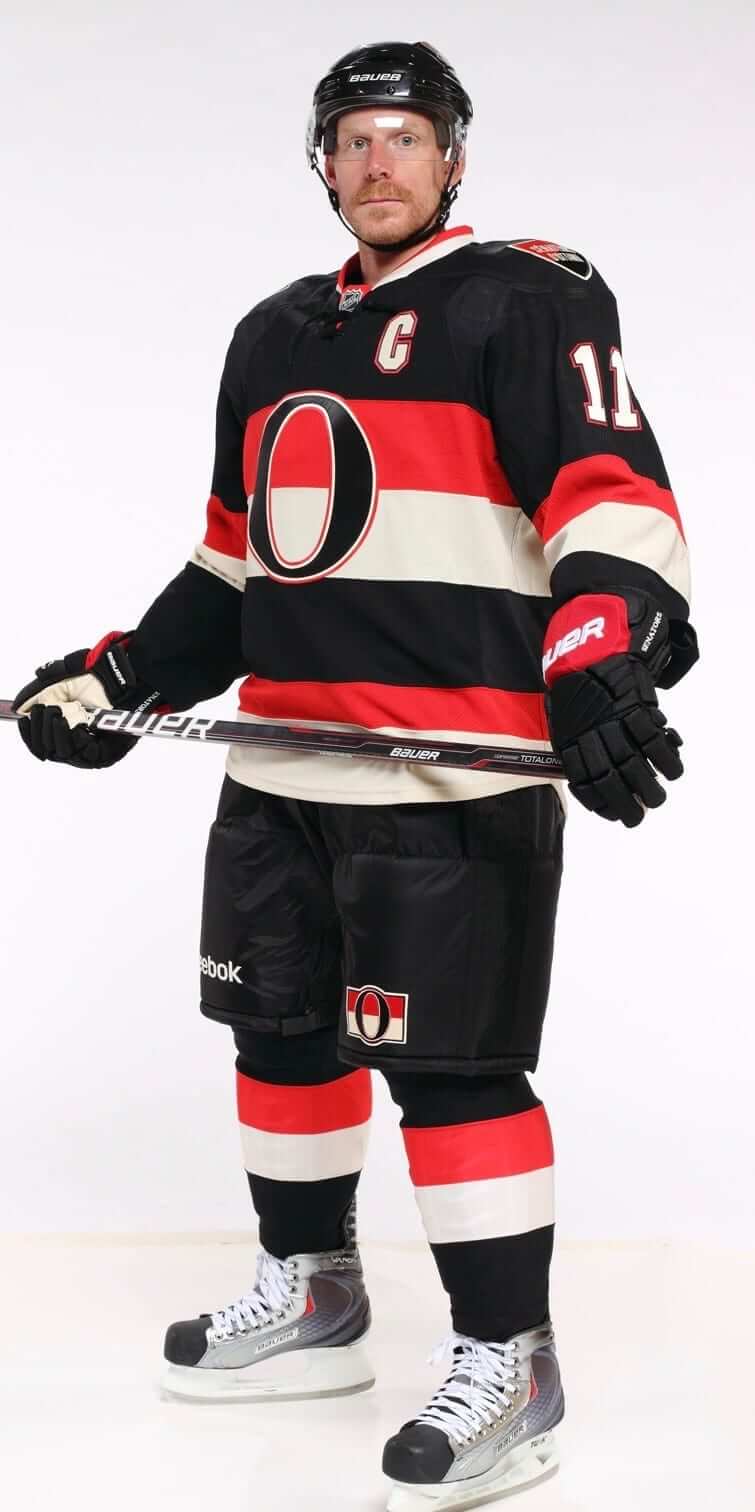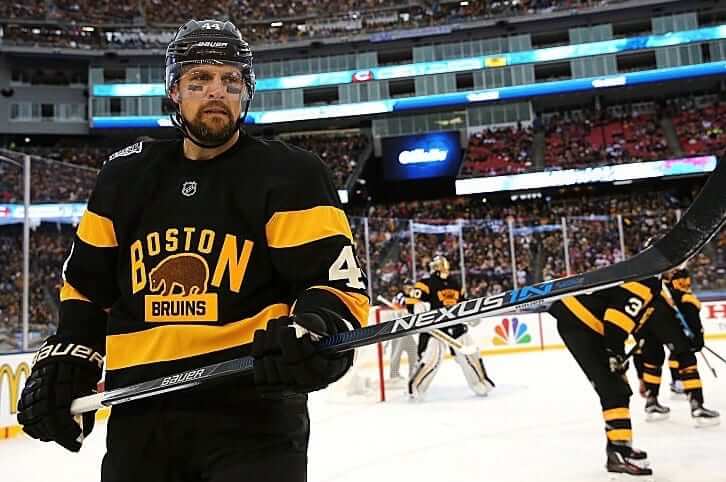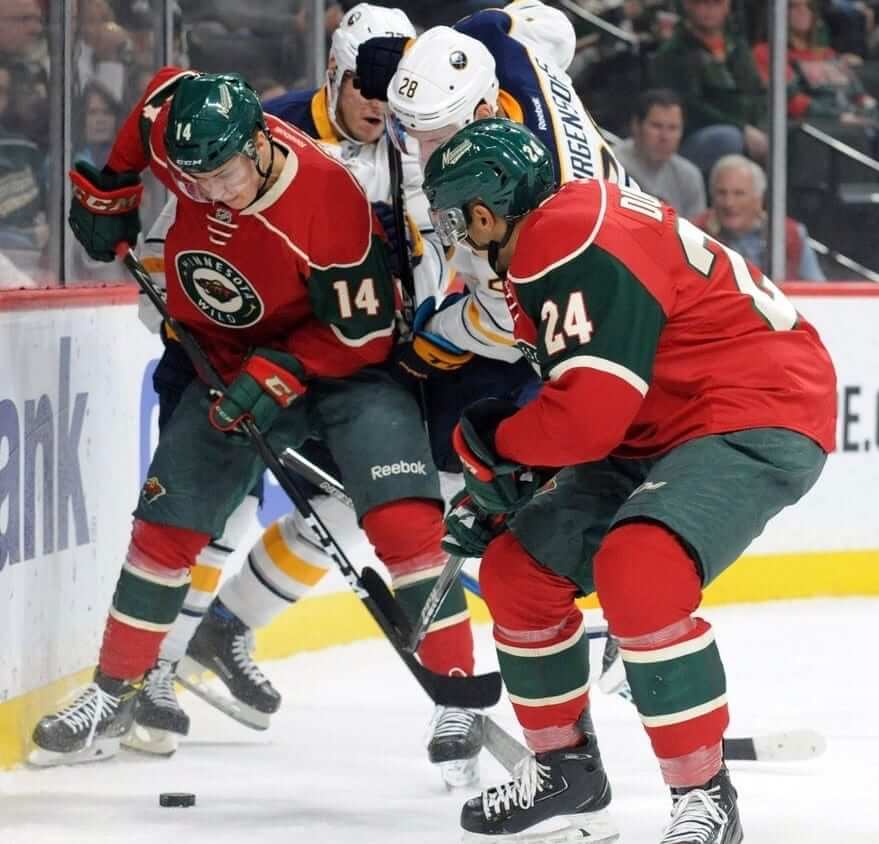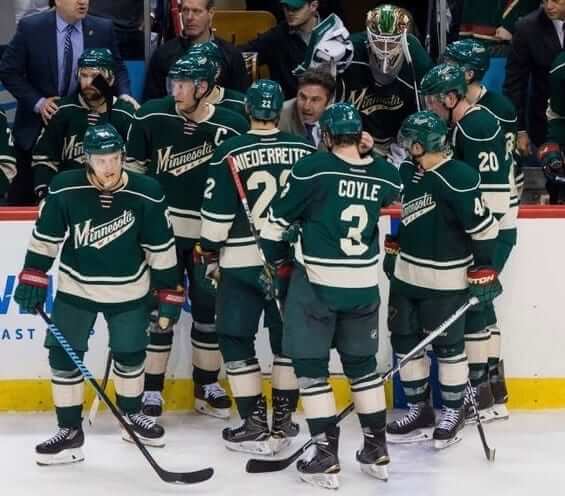 (I know it looks like the Ottawa sleeve number is white in that photo, but it's not.)
The Rangers' alternates almost make the cut, but they're lazy and use their regular white-trimmed pants and gloves. If they really wanted to make that a fully integrated uniform design, they'd swap out those elements for cream-trimmed versions.
Of course, we could also do a count of how many uniforms don't have blue, or red, or whatever. But white is different — it goes with everything and it tends to enhance everything it touches, so it's interesting to see which uniforms don't include it.
What about other sports? It's impossible for a standard NFL uniform to be white-free, because all the socks are white from the mid-shin to the shoe (or at least they're supposed to be). But the sock rule is waived for Thursday-night games — are any of those uniforms white-free? The 49ers' design comes close, but the Niners have white in their helmet design. Ditto for the Seahawks and Vikings. So by my count, there are no white-free NFL uniforms.
I suppose one could also says it's impossible for an NFL uniform to be white-free because of the chinstraps and nose/neck bumpers, but I don't consider those to be part of the uniform. That's admittedly a somewhat arbitrary distinction.
I was too busy with other projects to do a uni-by-uni check of the NBA and MLB, but longtime reader Warren Junium generously offered to help me with that.
For the NBA, I imposed another arguably arbitrary standard: I decided that we'd look only at the jersey and shorts. We wouldn't heabands, socks, or sneakers, all of which seem to have become more like uniquipment, rather than true uniform elements.
With that standard in mind, Warren found six NBA uniforms that don't include any white: the Hawks' road and alternate designs (for those two, neon basically stands in for white); the Cavs' three alternates; and the Pacers' Hickory throwbacks (if you can't see the slideshow below, click here):
For MLB, I decided not to count sanitary socks, since most players no longer wear stirrups (and baseball hosiery in general now falls into the uniquipment category. But I decided that we would count sleeve patches — they're part of the jersey design, after all — and it turns out that a lot of MLB teams have white-inclusive patches. For example, I initially thought the Mets' road uniform is white-free — but I forgot about the sleeve patch. To my mind, that counts.
With those ground rules in place, Warren found only two white-free MLB uniforms — the Giants' black alternates and orange alternates (it doesn't really matter whether they wear these jerseys at home or on the road, because the Giants' home pants are cream, not white):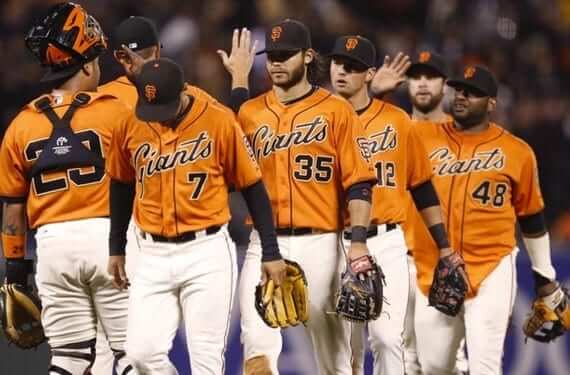 So out of the Big Four pro leagues, which cumulatively have 122 teams and something like 400 home, road, and alternate uniforms (I've never done an exact count — would anyone like to tackle that one?), Warren and I found at a total of 13 white-free designs. Did we miss anything?
For the sake of argument, I wondered how many additional MLB teams would qualify as white-free if we didn't count sleeve patches. By my count, another nine uniforms would then make the cut: Rays fauxbacks; Cleveland road; Mets road and blue road alternate; Pirates road; Diamondbacks road and teal-trimmed road alternate; and Giants home (which is cream, not white) and road. All of those uniforms are shown below (if you can't see the slideshow, click here):
One thing I've learned from exploring this topic: White is really powerful. A little of it can go a long way — some outlining on the numbers, say, or a hairline stripe — but it makes all the surrounding colors look brighter and tends to make things "pop" a bit more. I think many of the white-free uniforms (or, in the case of the NFL Thursday designs, almost white-free) could have been improved with a touch of white here or there.
• • • • •
The Ticker
By Alex Hider

Baseball News:  The A's will be giving away a Bob Melvin bobblehead this year "" and it appears they mistakenly included headspoon piping on the home jersey (from The Golden One). … Check out this incredible Cubs sweater from 1916 (from Phillip Santos). …  Remember when the Padres almost moved to Washington in 1974? The controversy birthed this weird Willie McCovey card  and a few others  (from  BSmile and  SportsCollector).

NFL News:  Piggybacking on an item from yesterday's Ticker, it was apparently pretty common for NFL players to wear MLB caps on the sideline:  Here's a  Pats coach in a Red Sox cap, Washington's Sonny Jurgensen in a Senators cap, and some Steelers in Pirates caps  (from William F. Yurasko). … A group of Seahawks fans from the Baltics gave Earl Thomas a custom Russian fur hat (from  Dustin Jensen). …  Ryan Arave  was poking around Facebook and found someone selling a mattress with NFL logo creep.

College Football News:  Spotted at the Tampa Airport: Alabama championship merch, sold at a steep discount (from  Mike Feld). …  From the Lord Jeffs to the Hamsters? Amherst is looking for a new nickname (from  Andrew Hoenig). … Players in the Polynesian Bowl — a high school All-Star game — will wear these Polynesian-themed Riddell SpeedFlex helmets (from  Rob DeMello). …  ASU Uniformity  is counting down the Sun Devils' best combos this season.

Hockey News:  The Tucson Roadrunners of the AHL will be wearing U of Arizona unis this weekend. They'll be auctioned off after the game (from  Dane Drutis). … According to this story, a Canadian bank altered one of hockey's most famous photos "" Paul Henderson's game-winning goal against the USSR in the '72 Summit Series "" for an ad campaign (from  Ted Arnold).

NBA News:  Unusual-looking game last night in Toronto, as the Raptors wore their Toronto Huskies jerseys and the Celts wore their sleeved gray alts (from  Funhouse). …  Meanwhile, the Nets and Hawks went grey vs. black — not exactly the best kind of color-on-color action (from  Pat Costello). … The Hawks will wear their racing-stripe throwbacks on Friday (from  Chris Brueckner). …

College Hoops News: Indiana wore the  striped/camo jerseys from the Armed Forces Classic last night at  Maryland. They've only worn their traditional red unis once this season. …  Brandon Daley  points out that Kansas' jerseys last night had a different style of trim than their normal jerseys. Anyone know why? …  Pitt will be going BFBS — with illegible chest scripts and NOBs — on Jan. 28 (from  Michael).

Soccer News: "Here's a story from the League of Ireland in 1993," says Denis Hurley. "Cork City decided to launch a new black away kit that clashed with the match officials' shirts, but they failed to inform the league. Luckily, a referee read about the new jerseys in a newspaper article and alternate shirts were procured for the referee and linesmen."

Grab Bag:  Couple of racing items from  David Firestone:  John Hale of the NHRA has a new sponsor. Also beginning in 2018, NASCAR's Toyota Camry will get a makeover. … Michigan state police are giving their cruisers a makeover for their 100th anniversary (from  Josh Medroe). … When your sweatshirt betrays you (from  Alex Shedden). … New rugby uniform for England (from Andrew O'Brien).