@UniWatch @PhilHecken Knocked the C off the helmet! #GBvsCHI pic.twitter.com/yH71PG1cnW

— LosRealAli West (@LosRealAli) December 18, 2016
It's become a standard thing in recent years for the Bears' helmet decals to get torn and chipped during cold weather. But that's nothing compared to what happened to Chicago running back Ka'Deem Carey's decal after he took a second-quarter hit yesterday from Green Bay linebacker Joe Thomas. Carey's wishbone-C was knocked clean off his helmet and went flying.
This isn't the first time we've seen something like this. One classic came during a Vanderbilt/Alabama game in 2007, when 'Bama linebacker Rashad Johnson had one of his helmet numerals go airborne — a moment that was captured by an AP photographer:
And of course there was Giants running back Ahmad Bradshaw during the 2008 NFC Championship Game:
I know there have been other instances — feel free to post additional examples in today's comments if you have photos or video. In any case, though, I don't think we've ever seen a dislodged decal documented at such close range as yesterday's incident was. An instant classic!
As you might imagine, just a few people let me know about the flying decal (kudos to our own Alex Hider for posting this):
Every time a football player loses a helmet decal, a Twitter bomb explodes over at @UniWatch. pic.twitter.com/6hSnbkCCxo

— Alex Hider (@alexhider) December 18, 2016
And the Bears weren't the only team having helmet issues at Soldier Field yesterday. Check out Packers linebacker Jake Ryan — a game shot, followed by a postgame photo of his helmet (click to enlarge):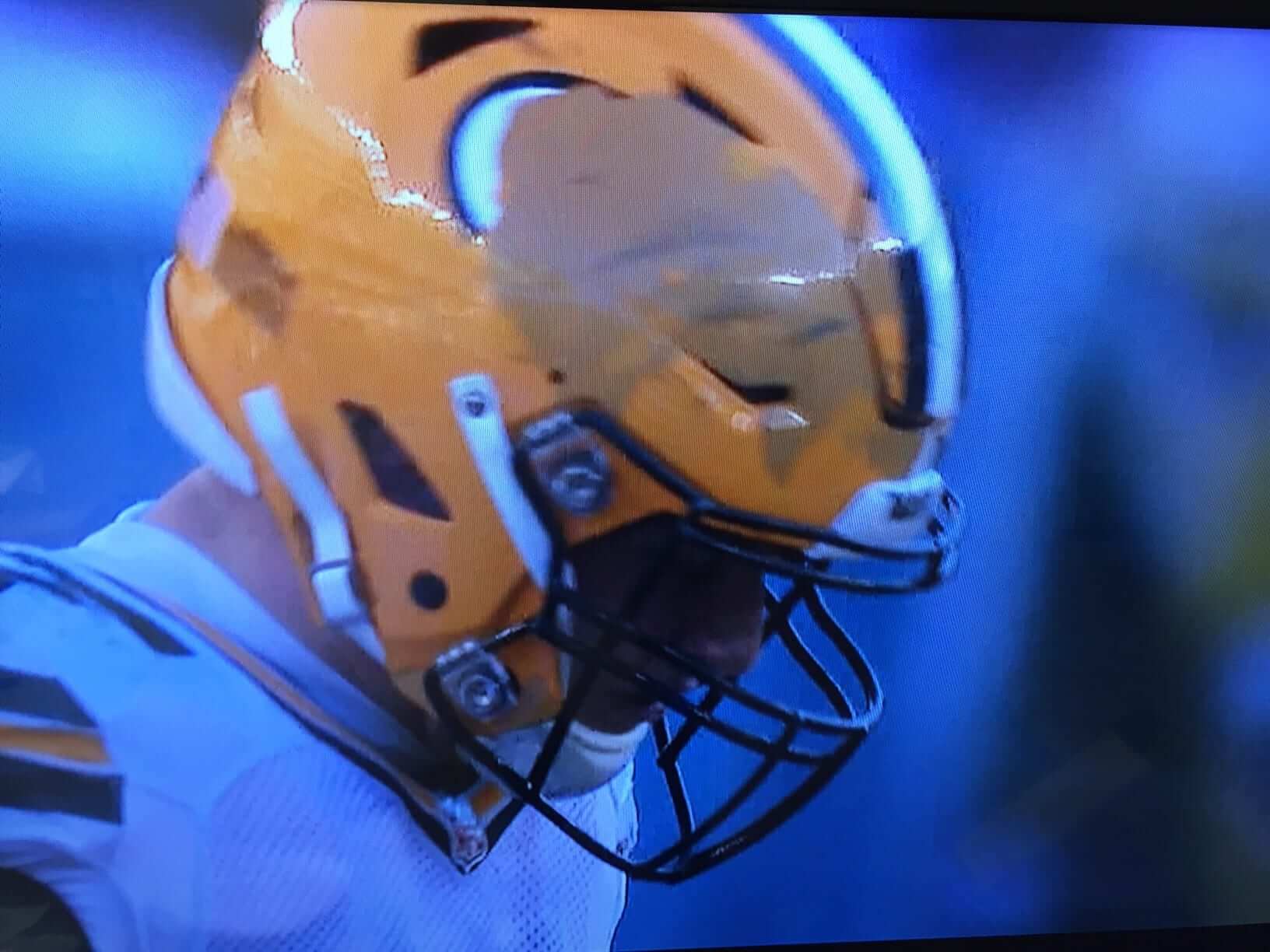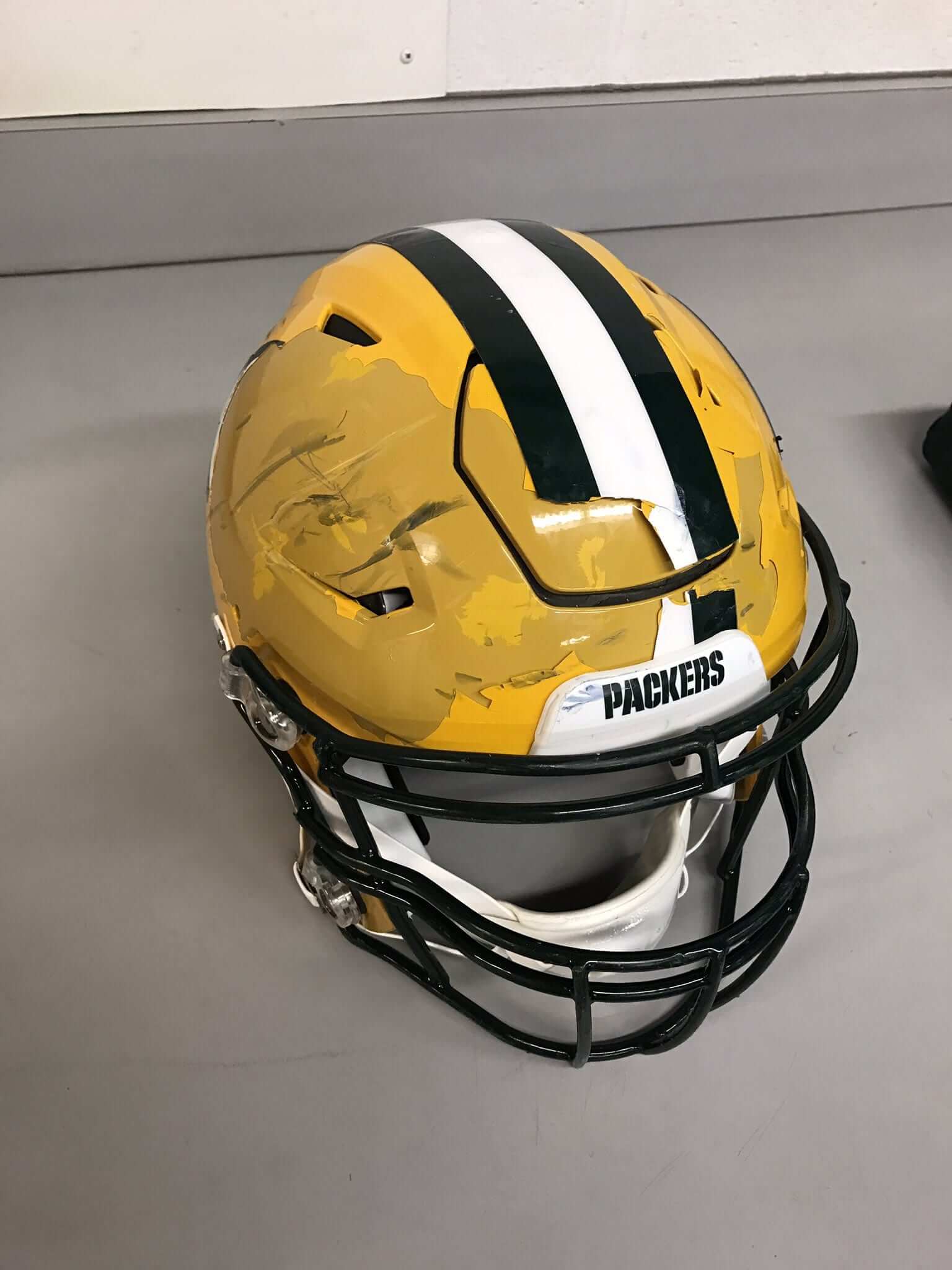 In that same game, it was so cold that Bears quarterback Matt Barkley was wearing a wetsuit under his uniform.
In other news from around the league yesterday:
•  Lots of teams wore alternate jerseys, including the Texans, who made history by going red over blue for the first time ever. (They had previously worn their red alternate jerseys with white pants and red pants, but never with blue.) People seemed to like it, and I did too — the blue helmet never seemed right with the red jersey, but yesterday the helmet matched the pants, so the whole package felt more balanced. Plenty of photos here.
•  The Ravens went mono-black. I've always been okay with them doing this, because (a) ravens are black, and (b) it cuts down on the purple.
•  The Broncos wore their blue alternates. I prefer this look to their orange primaries, which don't work in this template. Of course, the template itself is a disaster and needs to go, but that's a separate issue.
•  The Falcons wore their black fauxbacks.
•  The Chargers wore their powder blue alternates.
•  Brutal-looking game in Buffalo, as the Bills went mono-blue (such a mistake — their standard blue-over-white look is among the game's best) and the Browns were, well, the Browns.
•  Here's a look at how the neutral end zones looked at the Giants/Lions game. That same design was used for the Jets/Dolphins game the previous night.
•  Broncos linebacker Von Miller's latest "wacky" pregame cleats were these:
The cleats are apparently a reference to an appearance Miller had on Conan O'Brien's show back in February. You can see some of yesterday's other notable pregame cleats here.
• Only one team wore white at home: the Cowboys. And as you can see in that photo, Dez Bryant wore black cleats. Looks really weird to see a Dallas player in black footwear, right?
•  Players participating in postgame jersey swaps included Mehdi Abdesmad (Titans) and Laurent Duvernay-Tardif (Chiefs), both of whom are Québécois; Robert Griffin III (Browns) and Marquise Goodwin (Bills); and Calais Campbell (Cardinals) and Tim Hightower (Saints).
•  Here's a list of players who protested during the national anthem.
(My thanks to all contributors, including @LosRealAli, Trevor Johnson, Nick Maibroda, Matthew VandeVoort, and our own Alex Hider and Phil Hecken.)
•  •  •  •  •
Important T-Shirt Club reminder: If you collected all six of this year's Uni Watch T-Shirt Club designs, you qualify for the year-end prize — a patch based on the jock tag graphic that appeared on this year's shirts. In order to claim your prize, you must send me proof that you purchased all six shirts by the end of this week. The proof can be photos of the shirts or screen shots of your "Thank you for your order" emails from Teespring and Represent. Send your proof to me here. Thanks.
• • • • •
Raffle reminder: In case you missed it last week, the annual Uni Watch year-end reader-appreciation raffle is now underway. Enjoy.
• • • • •
Culinary Corner: Most people don't like to deep-fry at home. It can be messy, and you end up with all that used oil, which can be a pain to dispose of. I went through a period about a dozen years ago when I said, "Fuck it, I'm gonna deep-fry anyway," and for a while there I was making my own french fries (not really worth it), my own beer-battered onion rings (totally worth it), even my own potato chips (if you make them yourself, you can cook them as dark and roasty-toasty as you want, and I assure you I want). And of course my own fried chicken.
At some point I fell out of the habit, and in recent years I've stopped frying altogether. But a few nights ago I found myself with a package of chicken thighs and the urge to cook something special, so I said, "Fuck it, I'll make fried chicken."
The thing about chicken is that you don't have to deep-fry it. Sure, you can pour 4 inches' worth of oil into the skillet if you want (that's what I used to do), but you can also make perfectly good fried chicken with just a quarter-inch of oil. It's less messy, you don't end up with as much spent oil to dispose of, and it tastes just as good. Here's how I did it the other night:
1. I used a metal bowl to prepare a brine consisting of a pint of buttermilk, 2 teaspoons of salt, 1 teaspoon of fresh-ground black pepper, and a few shakes of hot sauce. Then I took four chicken thighs (arguably the only part of the bird worth eating — if those scientists could please bio-engineer a thighs-only chicken already, I'd be very happy), plunged them into the brine, and put the bowl in the fridge. The longer you can brine your chicken, up to 24 hours, the better. In my case, I only had five hours to work with. That's what happens when you don't plan ahead.
2. While the chicken was brining, I prepared a simple flour dredge mixture: a cup of flour and a few tablespoons of the spice rub that I usually use for barbecuing (a mix of paprika, cayenne, chili power, mustard powder, garlic powder, sage, salt, pepper, cumin, a few other things). Really, you can use anything here, as long as you have the flour and some salt and pepper. The rest is up to you. Whisk it all together in a small bowl.
3. I took the chicken out of the fridge. One at a time, I removed each piece from the brine, dredged it to coat in the flour mixture, and set it aside on a plate so it could come up to room temperature. (If you cook the chicken while it's still cold, it will lower the temperature of your cooking oil too much, and then the chicken won't cook evenly.) I let the chicken sit there for an hour, and didn't discard the brine or the dredge.
4. While the chicken was warming up, I poured some corn oil into a heavy skillet up to a depth of a quarter-inch. When the hour was up, I put the skillet over medium-high heat. Then I dipped each piece of chicken back in the brine and dredged it back through the flour one more time.
5. When the oil seemed hot enough, I put each piece of chicken in the skillet, skin side down, and let it cook for 10 minutes. Then I turned each piece over, turned the heat down to low, and cooked for another 15ish minutes, until the second side was golden brown. Green beans and pilaf completed the meal:
It was all, frankly, a lot easier than I had remembered. I'll definitely be doing this a lot more in the future. And now, if you'll excuse me, there's a leftover thigh that I'm going to enjoy.
•  •  •  •  •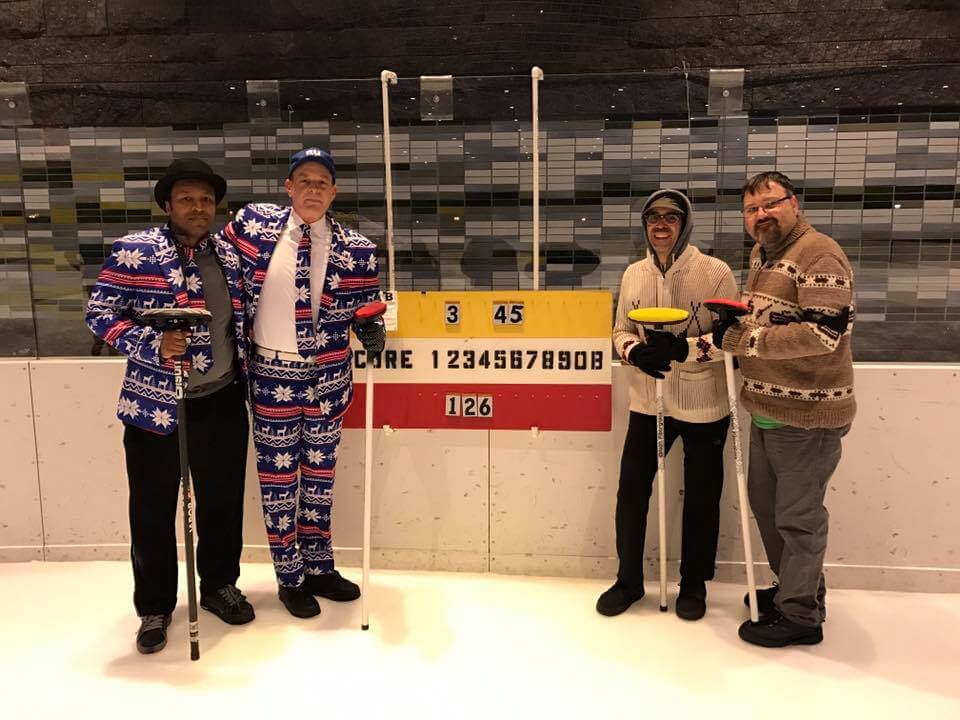 Click to enlarge
Curling update: Our team was divided between the sweaters and the suits last night at the Brooklyn Lakeside Curling Club, as Doug and I wore classic curling sweaters and Phil and Omoy wore — well, see for yourself.
More importantly, we won, 6-4. I didn't throw that well — none of us did, really — but the other team did their best to hand this one to us. Hey, we'll take it. Our record is now 5-2.
•  •  •  •  •
The Ticker
By Alex Hider

Baseball News: Awesome Cubs-themed Christmas tree at Chicago's Museum of Science and Industry (from @MBDChicago). … Lots of good stuff in this Woodie's World video about Earl Weaver and the Baltimore Orioles of the 1970s (from Kevin Walsh).

College Football News: ICYMI "" Appalachian State wore special helmet decals with a sublimated Camelia Bowl logo on Saturday (from William Staley). … The FCS Championship game is going to give us a pretty great logo matchup (from Paul Friedmann). … We finally have an explanation for the upside-down "Y" decal that Youngstown State wore earlier this year. Have we ever seen another memorial decal/patch like this? (From Chris.) … Arthur Savokinas was watching the "Convicts v. Catholics" 30 for 30 and noticed Miami QB Steve Walsh's nameplate was off-center.

Hockey News: Is this retail shirt a sneak peak as to what the Golden Knights sweater will look like? (From PJ Kuzdal). … Spotted at the Leafs/Pens game this weekend: a guy in a Leafs-inspired Pearl Jam sweater (from Michael Friedmann). … Check out this suit worn by Don Nochbaur, coach of the Spokane Chiefs (from Kenny Ocker).

NBA News:The Spurs retired Tim Duncan's number last night, and a number of San Antonio players marked the occasion by wearing "21" socks yesterday on the night of his jersey retirement (thanks, Phil). … Singer Sevyn Streeter wore a jersey with the words "We Matter" while singing the National Anthem at a Sixers game this weekend. In October, the Sixers told her she couldn't sing the anthem and wear the jersey.

College Hoops News: You may have seen Syracuse's Pearl Washington tribute at half court this weekend in a loss against Georgetown, but Rick DiRubbo points out that it wasn't the only on-court tribute. The court at the Carrier Dome is named after Jim Boeheim. The day Syracuse named the court after Boeheim, they also lost to Georgetown.

Grab Bag: Some high school wrestling programs are moving away from singlets and towards compression T-shirts and shorts because they feel the traditional uniform is keeping participation numbers down.
•  •  •  •  •

What Paul did last night on Saturday: More and more indie musicians are doing shows in people's houses and apartments instead of at clubs — sometimes as one-off appearances and sometimes as full-fledged house-party tours.
On Saturday afternoon I went to see the great Jon Langford (frontman of the Mekons, the Waco Brothers, Skull Orchard, and others, and a favorite of mine since 1985) perform in a Brooklyn apartment. He was accompanied by violinist Jean Cook and, on some songs, by singer/songwriter Walter Salas-Humara (frontman of the Silos), who also did a short set of his own. Langford and Salas-Humara were also selling their artwork, which was displayed around the apartment.
It was a great time. About 30 people showed up, which was enough to fill the apartment. Tickets had been sold online on a pay-what-you-wish basis (I paid $20, because that's what I had been prepared to pay to see Langford and Salas-Humara play at a club in New Jersey the night before, and then I skipped that show when I became aware of the Brooklyn apartment show). It was BYOB, plus the host had plenty of additional drinks available, gratis. The musicians mingled and yakked with everyone for an hour or so before they played. The whole thing was a swell way to spend an afternoon. Here are some photos and video clips I shot: