I played football in a rec league from fourth grade through eighth grade. I was a small kid but I had a strong leg, so I sometimes ended up as the punter. My coaches gave me a few pointers, but mostly I just tried to mimic the NFL punters who I saw on TV. All of those guys held the ball horizontally out in front of them and then dropped it so that it laid parallel to the ground as it fell (just like Rams punter Johnny Hekker is doing in the photo shown above), so that's what I did too. I learned certain variations — drop the ball from a higher position if you want the punt to go high but not as far, drop it from a lower position if you want it to go low and long — but the ball's horizontal orientation was a constant.
Around that same time, I was obsessively reading and re-reading a 1960 book about the NFL called The Pros, which featured a two-page spread of punters dropping the ball in that same horizontal manner. The accompanying text even referred to the ball being "dropped precisely flat and level" (click to enlarge):
Judging by other old photos and video, it appears that punters had pretty much always punted like that, with the ball staying parallel to the ground. And they kept on punting that way for a long time. There were a few guys who had their little quirks — Reggie Roby, for example, always held the ball really high (and, as all good uni-watchers know, wore a wristwatch on the field). For the most part, though, punters' styles and forms were pretty interchangeable.
But at some point in recent years — I'm not sure exactly when — a new way of thinking came into vogue. Depending on the situation, punters began dropping the ball with the nose pointing down:
Every time I see a punter drop the ball this way, I wince. Part of it is that it's not the way I learned to punt and not what I grew up seeing. Mostly, though, I wince because I always think it looks like a shanked punt waiting to happen. Like, if you keep the ball horizontal, then you have a nice, broad surface to strike with your foot. But if you point the nose down — well, then you're gonna kick the nose, and that's not going to turn out well at all. Imagine a horizontal ball landing on the ground (it'll bounce fairly true) versus a nose-down ball landing on the ground (it'll bounce in all sorts of crazy directions). The same thing will happen on your foot, right?
Of course, that's not how it actually works. The nose-down ball also presents a broad surface to impact — you just have to hit it when it's lower to the ground, so your foot is properly angled to mate with the ball, as nicely demonstrated in these photos of Broncos punter Riley Dixon:
I'm pretty sure this is a variation of — and an improvement upon — the old "drop it lower, kick it lower and farther" routine, right? Maybe some people with legitimate punting expertise can fill us in on that. But this website is about aesthetics, and this new-ish way of punting, with the nose pointed down, just does not look right to me. Nossir.
What do you folks think?
•  •  •  •  •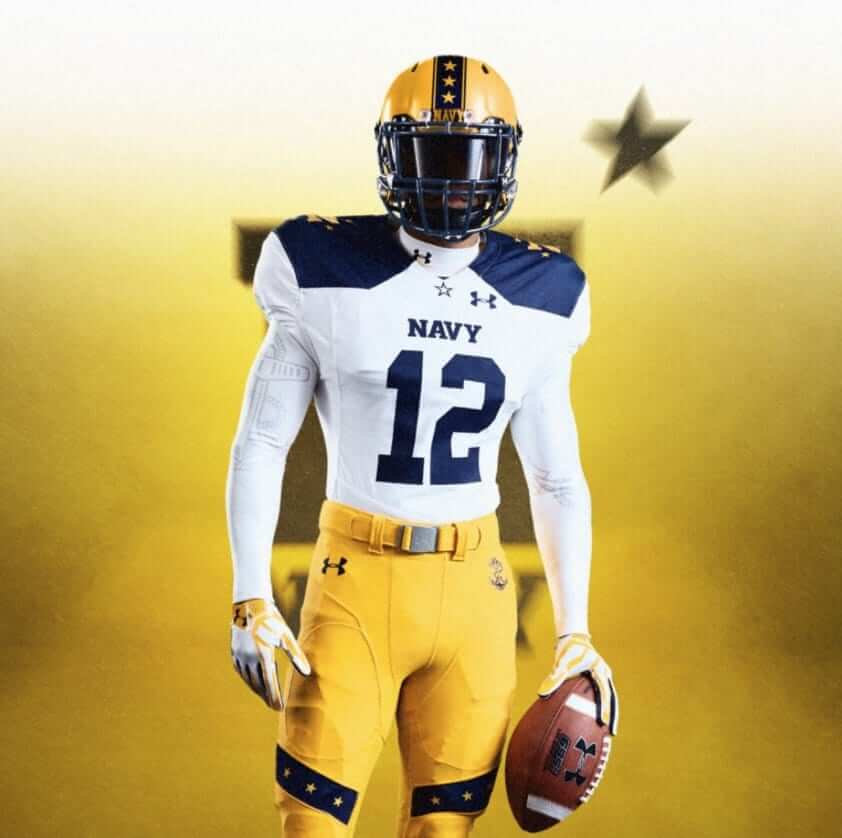 Click to enlarge
Naval gazing: Yesterday we had Army's uniform for the annual Army/Navy game. Now we have the Navy design, which is based on the team's 1963 uniforms. Here's some additional info and photos.
Phil will take an in-depth look at the Army and Navy uniforms on Saturday, so you'll want to check back here for that.
• • • • •
T-Shirt Club reminder: In case you missed it last week, the Uni Watch T-Shirt Club's final design of 2016 is now available for ordering. The design is a mash-up of uniform elements from all of our previous 2016 shirts (click to enlarge):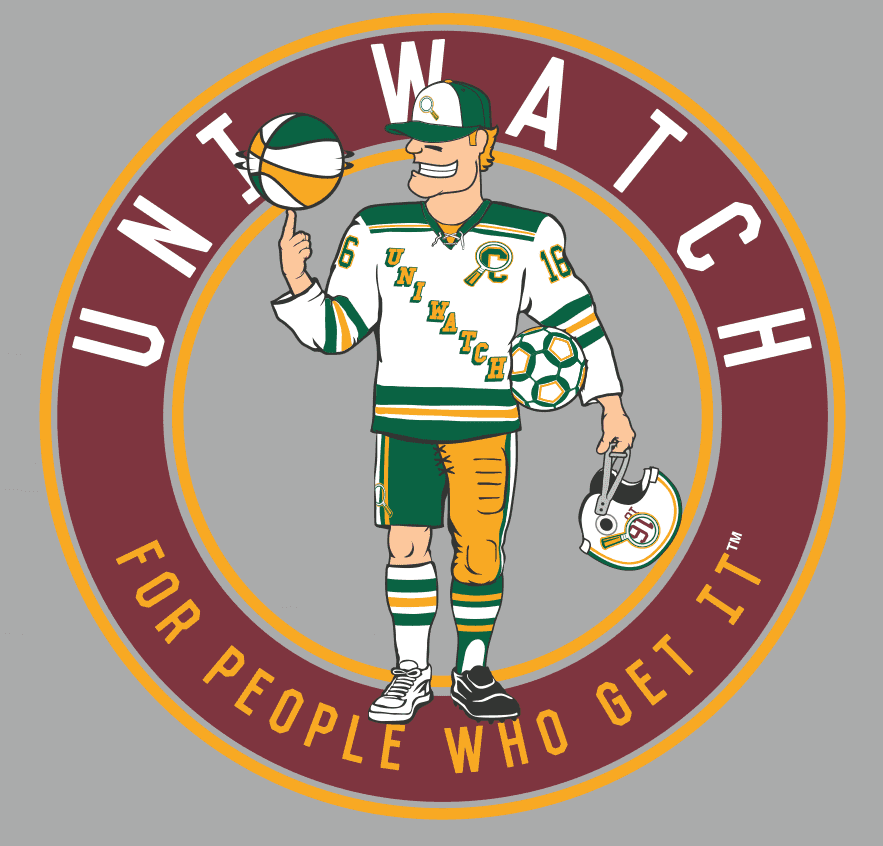 The only new element is the baseball cap (which didn't appear on our baseball-themed shirt because the player was wearing a batting helmet). It's comes in four color options — our usual grey, black, green, plus a new "military green" (that's what the manufacturer calls it, although I'd just call it light olive) — and is also available with either short or long sleeves.
The shirt will be available through this Friday. The shirts are due to ship right after Christmas, so they should arrive in time for you to wear them on New Year's Eve. (I had hoped to have them delivered in time for Christmas, but it just wasn't possible to get things finalized in time for that. Sorry.)
If you've ordered all five of this year's previous shirts and also get this one, you'll be eligible for our year-end "Collect 'Em All" prize, which will be a patch based on the jock tag design used on this year's shirts. To qualify, please send me proof that you've bought all six shirts. The proof can either be (a) a photo showing all the shirts or (b) screen shots of the "Thank you for your order" emails you received from Teespring and Represent.
Once again, the new shirt can be ordered here. Thanks for your consideration.
• • • • •
The Ticker
By Paul

Baseball News: The Yankees will retire Derek Jeter's No. 2 next season. Interestingly, the retirement date, May 14, is Mother's Day, which means the Yanks might be wearing pink for Jeter's festivities. … Fun stat: Red Sox INF Travis Shaw hit 16 home runs in seven different jerseys last season. … Chris Sale, Red Sox, something-something, throwbacks, something, scissors, something-something.

NFL News: Marriott — the hotel company — has been helping out NFL gameday tailgaters by sending out supplies and provisions that are delivered by crews dressed in bellhop uniforms. … Some Cowboys players made holiday-season visits to a local children's hospital. They wore team jerseys with ad patches (from Brent, who prefers that his last name not be used). … The Titans-Browns custom cleats fiasco — first the players were told they could wear the cleats this Sunday, then they couldn't, then they finally could after all — shows that the NFL can't get out of its own way (thanks, Phil). … The Seahawks are apparently installing green end zones (from @IPA_Hunter). … Someone on eBay is selling an L.A. Rams 1978 cheerleader's uniform. The cheer squad at the time was called — get this – the Embraceable Ewes. Yes, really. … This is pretty funny: a T-shirt that mimics an Ezekiel Elliott crop-top jersey with his exposed abs.

Hockey News: The Blues have a jersey-style display of retired numbers on a wall outside their locker room, with the players' names all shown as FNOBs (from Moe Khan). … The Predators added a small helmet decal last night for the East Tennessee forest fire victims (from The Soulful Ginger). … If you've been wondering what an NHL version of Color Rash would look like, wonder no more (thanks, Mike). … Awesome 1938 throwbacks for the Alaska Nanooks (from Mike Eidelbes).

Basketball News: This is pretty good: underwear that looks like NBA game shorts (thanks, Mike). … Wake Forest wore grey alts last night. As you can see, the jersey design splits "Wake" and "Forest" over two lines, but the school's style guide says the school name should always appear on one line (excellent contribution from Will Lawson). … Florida State wore red at home last night. … New BFBS alts last night for Texas. Sorry, that's the best picture I could find (from @HomeWhites82).

Soccer News: UNC won't use certain keeper jersey colors. No red, because of NC State, and no royal blue, because of Duke. … Rainbow-patterned jerseys in support of LGBT rights in the video game FIFA 17 has run afoul of a Russian law that prohibits "gay propaganda." … The Carolina Railhawks are now being known as NCFC and are aiming to become part of MLS (from @EleteTSC). … England is about to announce a new kit deal with Nike (thanks, Phil).

Grab Bag: There's an operation called the Sport Gallery that has locations in Toronto, NYC, and Vancouver. They sell mostly retro-themed photos, apparel, and related merch. Ted Arnold recently visited the Toronto outlet and took these photos. … New kit manufacturer for the Super Rugby team Sharks. … This is pretty cool: cycling gloves with built-in turn signals. … An architecture firm in Chicago wants to use Pink Floyd-style pig ballons to obscure the city's Trump Tower logo. … New uniforms for the Nevada Highway Patrol. … Socks are reportedly the holiday season's most popular gift. Key quote, from the owner of a sock-centric website: " It's a way to express yourself. Sometimes having the "˜f'-word on your socks, even if nobody else can see them, is enough to get you through the day." I'm not sure if something invisible qualifies as "express[ing] yourself," but, uh, okay. … The historic Nike Moon Shoes that Bruce Mortenson wore at the 1972 Olympic Trials in Eugene, Oregon, are up for auction.