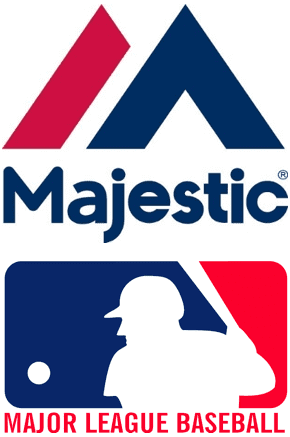 Big news out of the MLB offices yesterday, as word broke that Majestic and MLB have extended their partnership through 2019.
Whether you consider this good news or bad news, it's fascinating to me that MLB continues to do business with Majestic, which, as we've discussed before, is not a lifestyle brand like Nike, Adidas, and Under Armour. Majestic doesn't make sneakers, doesn't have a snappy slogan, doesn't plaster its logo over everything that moves, doesn't make uniforms for any sport other than baseball, etc. While New Era has fully transitioned into a lifestyle brand that happens to make on-field caps, Majestic still feels more like an MLB subsidiary than anything else. Maybe that's what MLB likes about it. In any case, given what I've heard through the grapevine regarding MLB's concerns about the game's loosening grip on today's youth, I'm surprised they don't want to do business with one of the "cool" brands.
This contract extension makes MLB the third of the Big Four pro leagues to have a major apparel-partnership announcement this week. On Monday we learned that Adidas and the NBA will be severing their ties after the 2016-17 season (the league's new outfitter is expected to be announced next month), and also that Nike and the NFL have extended their contract through 2019.
That leaves only one league with no major news this week: the NHL. Most published reports indicate that the league's deal with Reebok expires in 2016, although one report says the deal runs through the end of the 2016-17 season. Either way, that's pretty soon — we should expect to hear some news on that front shortly.
•  •  •  •  •
Uni Watch Book Club: There's a new children's book called The Baseball Player and the Walrus, which is about, you know, a baseball player and a walrus. It's a bit absurdist, and in a very endearing way.
But what about the uniforms? As you can see from the cover design at right (which you can click to enlarge), the ballplayer wears red/white cap, a blue-trimmed pullover jersey, and a yellow undershirt — an unlikely combination, to say the least.
Even weirder, the ballplayer's pants appear to be blue jeans, as you can see here (for all of these, you can click to enlarge):
As an aside, I really like the fan wearing what appears to be a tequila sunrise jersey with a Charlie Brown zigzag pattern.
Getting back to the ballplayer, he apparently never removes his uniform. He's shown wearing it while sitting around his house, while visiting the zoo, while resigning from the baseball team, and during his post-baseball life:
Uni anomalies notwithstanding, it's a very sweet book. You can order it here.
• • • • •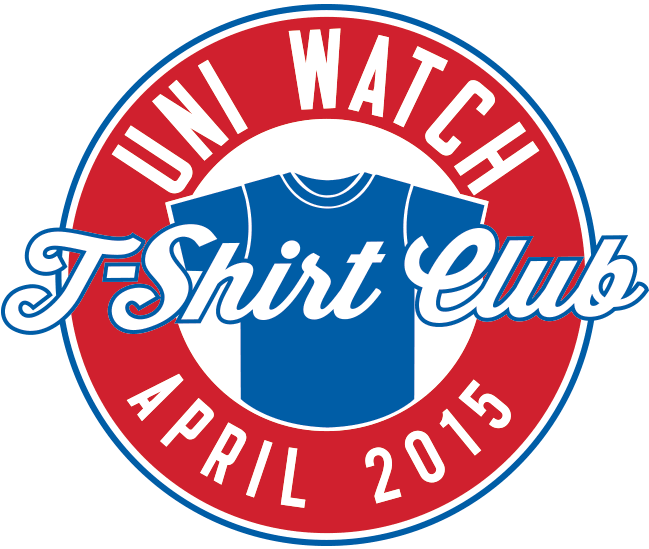 T-Shirt Club reminder: The Uni Watch T-Shirt Club design for April, inspired by Jackie Robinson Day, is now available in home white and road grey versions, with all of my profits being donated to the Jackie Robinson Foundation, which builds on Jackie's legacy by providing college scholarships to disadvantaged students of color. Full details here, or just go straight to the ordering page.
This design in on pace to be our biggest seller so far — very cool. Thanks, people!
• • • • •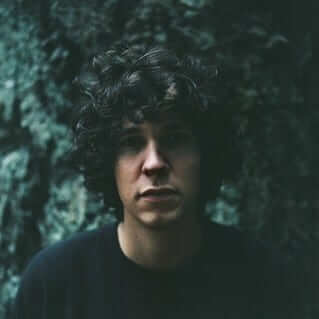 Uni Watch Hit Parade: Tobias Jesso Jr.'s first album, called Goon, just came out this month, but he's apparently a big deal already, with recent appearances on The Tonight Show and Conan, sold-out club shows here in NYC next week, blah-blah-blah. Whatever — I hadn't heard of him until yesterday, but I made up for lost time by playing Goon on Spotify auto-repeat for pretty much the entire day. Love at first byte.
Jesso is a 1970s-style piano-based singer-songwriter who plays slow-ish ballad-ish tunes with rock-solid rhythmic foundations, mostly about sad love. The party line, at least based on what I read about him yesterday, is to compare him to Harry Nilsson or Randy Newman, but Goon reminds me much more of the self-titled 1999 album by Michael Krassner, an underappreciated indie gem that I'm pretty sure nobody but me has (or ever had) on heavy rotation.
Anyway, here are three of Goon's best tracks (and if anyone has spare tix to next week's shows at the Merc or Baby's All Right, feel free to slide them in my general direction):
•  •  •  •  •
PermaRec update: My latest Permanent Record entry is about a Manhattan Trade School student who went back to night school to learn millinery 10 years after having learned dressmaking (and who, as you can see at right, had a great haircut). Get the full scoop here.
• • • • •

'Skins Watch: There's a high school basketball team called the Winnebago Indians that uses all sorts of a Native American imagery, and I'm totally cool with that. Why? Because they're from a Native American school on a reservation in Nebraska. That's who gets to use these types of names and images, kids — not some MLB team in Cleveland or an NFL team in Washington. "¦ After lots of debate, public meetings, and boycotts by neighboring schools, the Buffalo-area Lancaster school district will no longer call its teams the Redskins. That decision prompted a protest yesterday. "¦ Meanwhile, after a similar debate in West Hartford, Conn., the school board has voted to keep the team names Chieftains and Warriors but will rebrand those names to eliminate any Native American imagery (from John Dankosky). "¦ A high school in Delaware will stop calling its teams the Redskins next season.

Baseball News: Here's something from last year that I don't recall coming across: Indians prospect Francisco Lindor suffered a non-displaced nasal fracture and ended up wearing an NBA-style mask, including at the Futures Game. Not sure I've ever seen a baseball player wearing that kind of mask. … Here's another case of umps whose luggage had been lost. That's Gary Cederstrom and Marvin Hudson working a Pirates/Expos game in Montreal on 6/19/2000 (nice find by Jerry Wolper). "¦ Here's a look at why ballplayers like to wear their caps backwards (thanks, Brinke). "¦ Here's something I didn't know until yesterday: Before the Expos had Youppi, they had a rather frightening baseball-headed mascot named Souki (from Joel Kirstein). "¦ UVA will debut new uniforms tomorrow nite with reflective white trim throughout. I asked Rawlings, the manufacturer, if the reflective trim had any functionality aside from looking cool, and also asked if they had considered the potential problem of the reflections distracting the batter — no response. "¦ You know the bat knob decal thing has hit the big time when the Yankees start doing it. "¦ John Overton High in Nashville went a little overboard with the St. Paddy's Day thing. "¦ MLB commish Rob Manfred says there's likely to be an exhibition game in Cuba next year. "¦ This is pretty great: a uniform for a softball team sponsored by Thomas' English Muffins.

Hockey News: The Utah Grizzlies, a team in the ECHL, have come up with a pro-military uniform without resorting to camouflage, although I'm not sure their approach to this topic really counts as an improvement.

NBA News: The Pelicans and Suns both wore their colored alts last night, creating a red vs. grey game in New Orleans. "¦ Meanwhile, the Rockets wore their red alts at home, setting up a red vs. blue game against the Nuggets.

College Hoops News: As most of you probably know by now, Dayton F Dyshawn Pierre dropped trou on the court two nights ago. "¦ I received dozens of emails and tweets yesterday asking why UAB players wear mismatched sneaker colors. Here's the story behind that. "¦ Ohio State was assessed a technical foul yesterday because of a mis-transcribed uniform number in the scorebook. "¦ Notre Dame G Pat Connaughton likes to wear Batman socks (from Michael Kavanagh).

Soccer News: New kit for Portugal. "¦ Reading will wear a uniform designed by a 14-year-old fan with muscular dystrophy (from Yusuke Toyoda). "¦ Also from Yusuke: a time-lapse video of Yankee Stadium being prepared for NYCFC's home opener. "¦ Here's a treat: video of a Colorado Caribous game from 1978. "There are even a couple of corner kicks where they go in tight enough on the Caribou to give us a good look at the fringe," says Jerry Wolper. … Key quote from this story about a California girls' youth league team called Ambush: "As for the team name, Ambush, [coach Jared] Jones said, 'We were trying to find a name and someone said, "Ambush." I thought that sounded pretty good.' The trouble was, he said, 'is that we wear neon yellow jerseys. It's hard to ambush someone when you're wearing something like that.'"

Grab Bag: Police in NYC are seeking three men who got into a St. Paddy's Day bar fight while wearing Jets jerseys. … Disturbing news here in NYC, where pastrami prices are are so out of control that some deli owners are thinking of taking it off the menu.
• • • • •

What Paul did last night will be doing tomorrow: Saturday is my birthday. I'll be turning 51 (yes, I'm a fossil), although I don't feel that old, for reasons I explained last year at this time, all of which still apply.
It's supposed to snow here in NYC this afternoon into this evening, and then the snow will turn to rain overnight and into the early morning hours. That will keep a long-running streak intact, because it always — always — rains on my birthday. It started when I turned eight years old. We had some sort of outdoor activity planned, but it got rained out and I was inconsolable. So my father, thinking quickly, said, "Don't you know? Rain on your birthday is a sign of good luck in the year to come!" — a very sweet lie that he made up on the spot. Ever since then, wherever I've been on March 21 (my hometown, up at college, or here in Brooklyn), it has rained. Well, a few times it snowed, and in 2003 it hailed, but I say those still count. It's something I now look forward to, and I'd be disappointed if it didn't happen.
I share my birthday with two great bluesmen — Otis Spann and Son House — so I'll be playing their records tomorrow. Then I'll be meeting up with a few friends for eats and drinks. One thing I won't be doing is checking email or Twitter, so apologies in advance for not responding. Everyone have a great weekend and I'll see you next week.