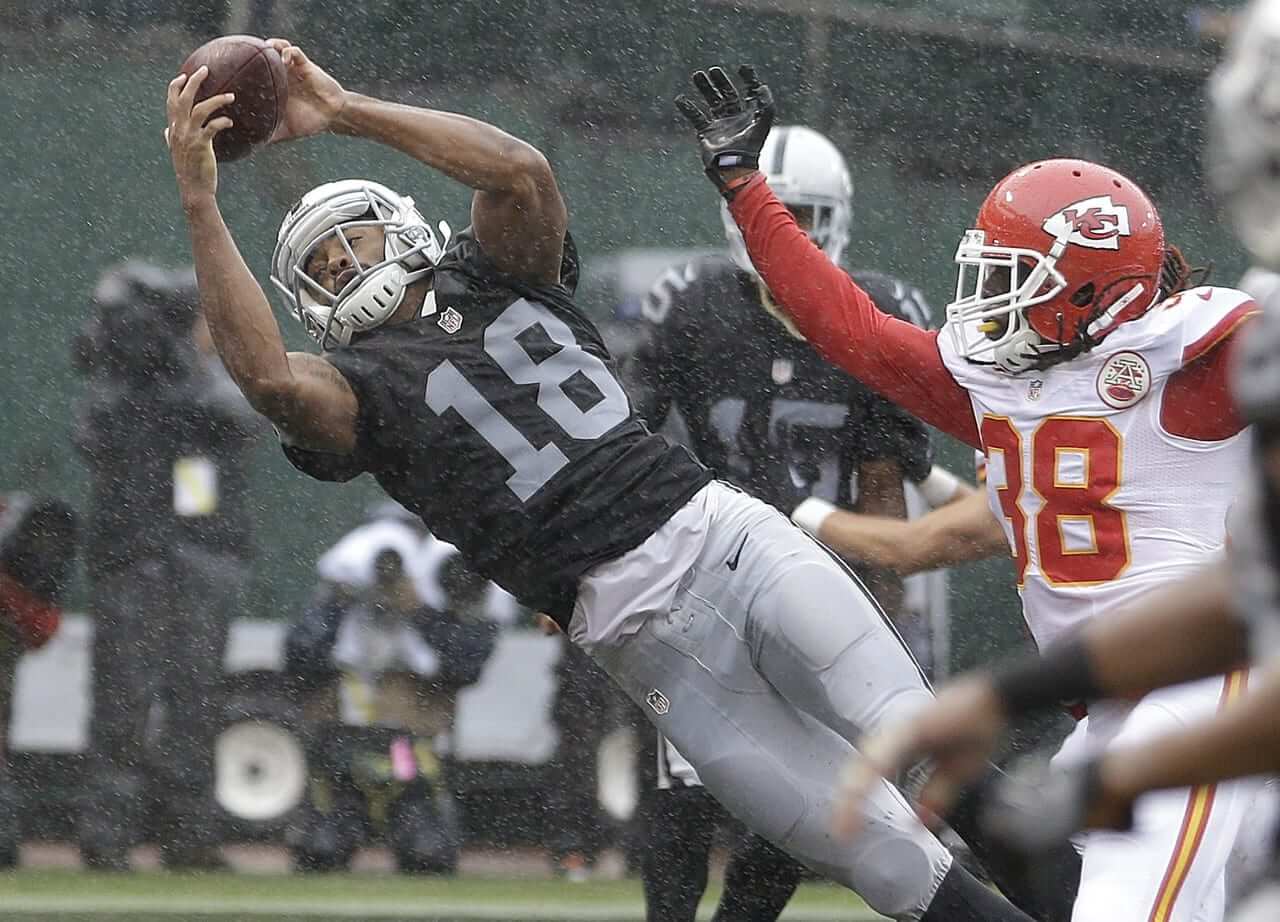 Click to enlarge
Ah, is there anything more visually satisfying than a football game in the rain? That was the situation yesterday in Oakland, as the Raiders and Chiefs faced off. How soon can we get a snow game?
Also of note in that game: For the second straight week, the Chiefs eschewed their red pants and instead went mono-white. But instead of wearing their red-topped socks, which they'd worn last week, they went with their white socks. Here's a comparison — last week's on the left, yesterday on the right (click to enlarge):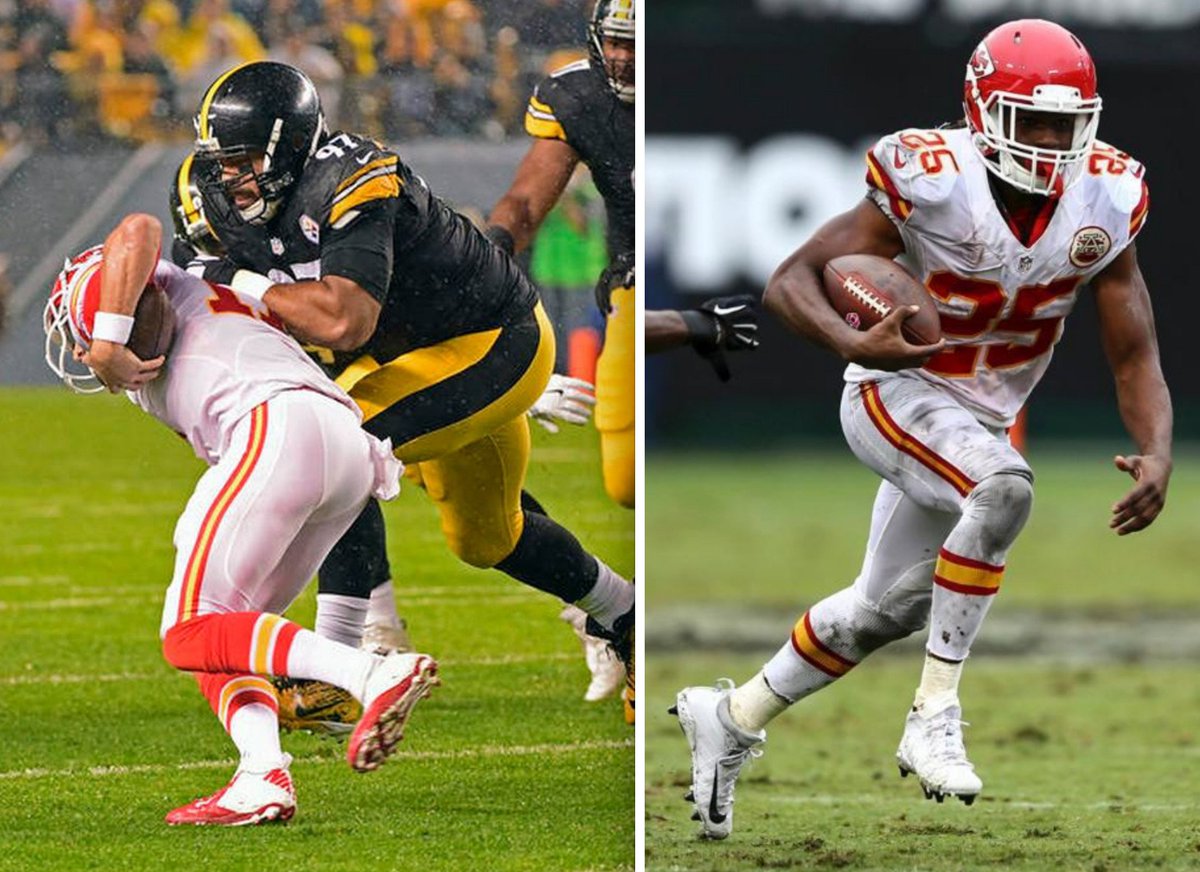 According to the mighty Gridiron Uniform Database's listing of Chiefs uni history, the Chiefs always wore the white socks when going mono-white from 1989 through 2013, and then they switched to the red-topped socks last year. (They didn't go mono-white in 2014.) Now they've used both styles this season. Make up your minds, people!
In other news from around the league yesterday:
•  The Packers wore their throwbacks. Unfortunately, as you can see in that shot, they're still inexplicably using their green facemasks. Grey or navy would be much better. (Meanwhile: The throwback theme extended to coach Mike McCarthy's sideline attire.)
•  The Bills went mono-blue.
• The Titans went mono-navy.
•  Another week, another NOB typo, this time for Jaguars cornerback Prince Amukamara: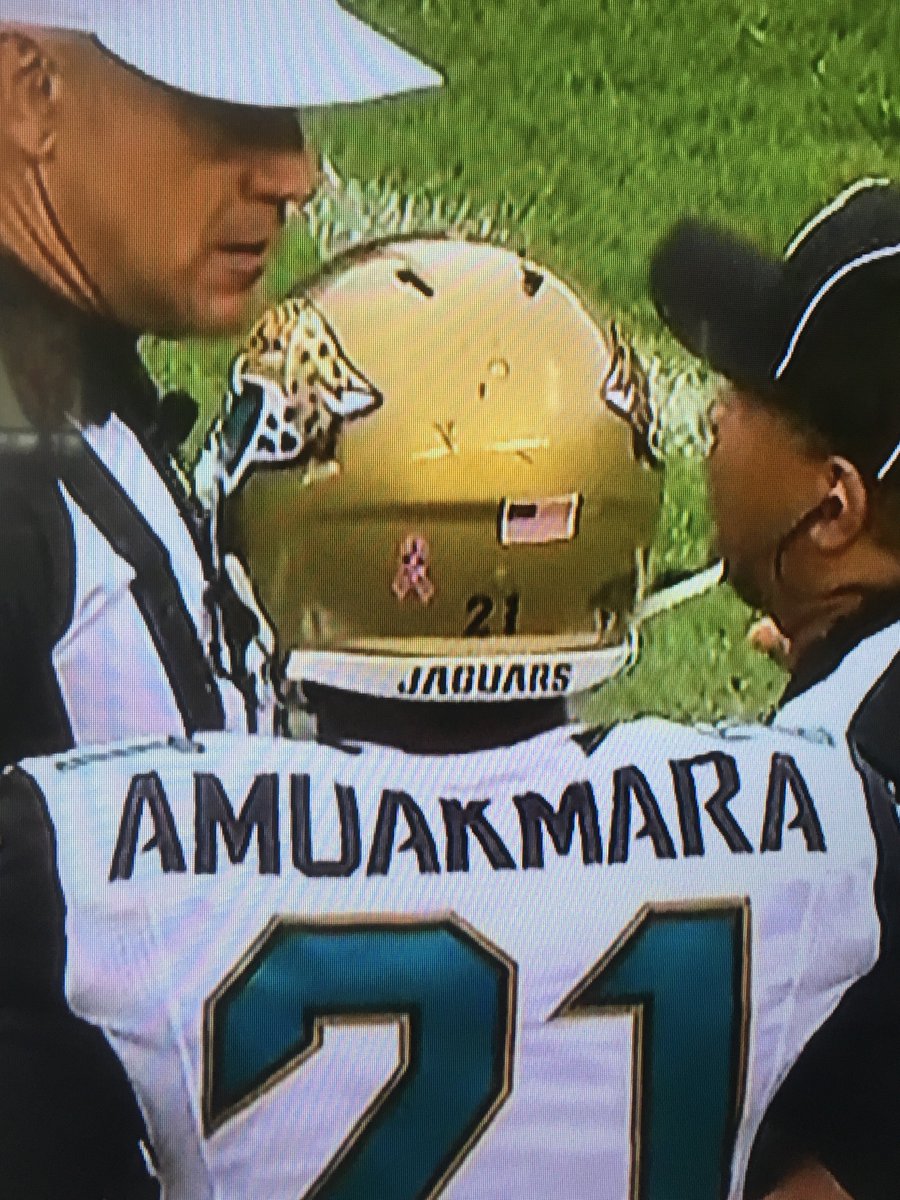 •  Eagles quarterback Carson Wentz emerged from a sack with his jersey badly torn: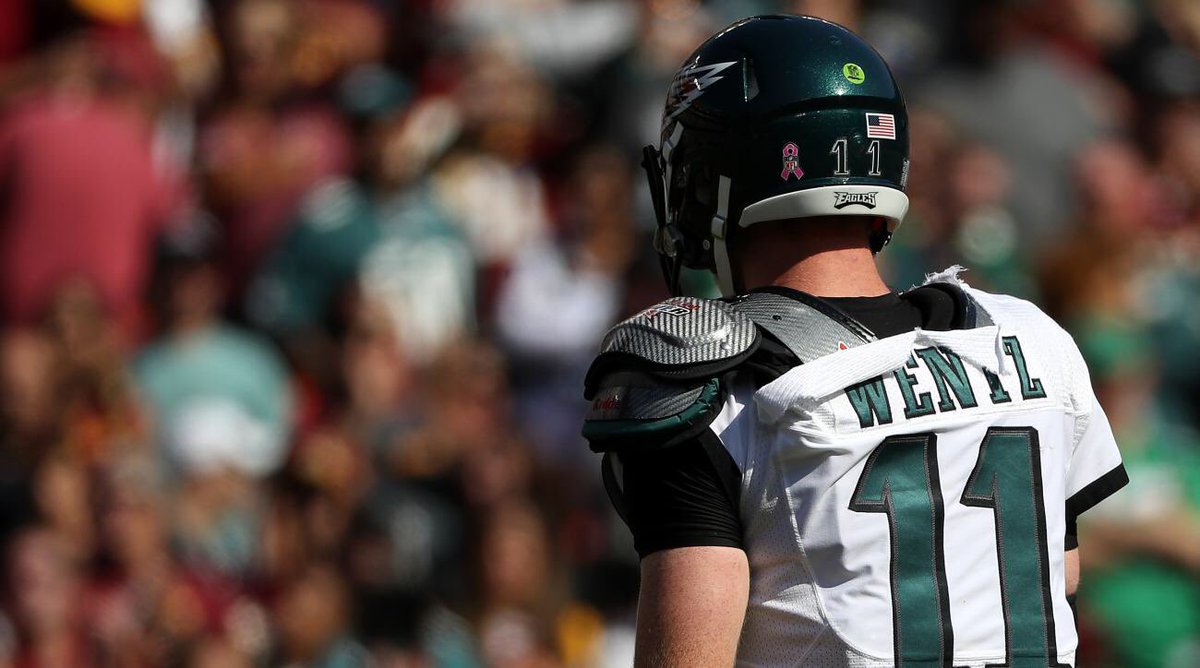 •  Bills linebacker Lorenzo Alexander's nameplate was coming loose.
•  Lot of players wore special cleat designs (although I think some may only have been for pregame warm-ups), including Steelers wideout Antonio Brown (whose shoes featured memorials for José Fernández and Kimbo Slice); Washington tight end Niles Paul (more Kimbo Slice); and Washington defensive end Ricky Jean Francois, (support for Haiti).
•  Steelers linebacker Lawrence Timmons vomited on the field following a Dolphins touchdown.
•  Brutal graphic by Fox, which clumsily Photoshopped Vikings quarterback Sam Bradford's head onto Teddy Bridgewater's body, complete with Bridgewater's two gloves and shorter sleeves. I don't understand how something like that happens. Was it really easier to create the Photoshopped image than to just find a decent photo of Bradford? (Deadspin helpfully pointed out that this wasn't even the first time Fox has used this same bogus image.)
•  Speaking of Fox, they also momentarily showed a Telestrator test during the 49ers/Bills game.
•  Two teams wore white at home: the Saints (that game also marked the first 2016 appearance of the Panthers' black jerseys) and Dolphins.
•  Speaking of the Dolphins: When they wear their aqua pants, they usually wear their blue-topped socks, to create a point of sock/pant contrast. But yesterday they wore the aqua pants with aqua-topped socks, creating the dreaded leotard effect. (The best solution, of course, would be to revive the team's old striped white socks, which unfortunately don't exist in the team's current uni set.
•  Players engaging in postgame jersey exchanges included Corey Brown (Panthers) and Michael Thomas (Saints); Tyson Alualu (Jags) and John Timu (Bears); Marcus Peters (Chiefs) and Sean Smith (Raiders); Chris Jones (Chiefs) and Gabe Jackson (Raiders).
•  The NFL's new social media policy, which went into effect last Wednesday, forbids teams from posting highlight video footage or GIFs on Twitter. The Eagles and Browns took some creative liberties with the new policy, which just goes to show that there'll always be a place for electric football.
•  Many players on assorted teams continued to protest during the national anthem. There's a rundown of all of them here.
(My thanks to all contributors, including Ron Amadeo, @cmray5, Robert Hayes, Trey Volk, our own Alex Hider, and of course Phil.)
•  •  •  •  •
Membership update: A few new designs have been added to the membership card gallery, including Trey Volk's Browns treatment (shown at right; click to enlarge). As you can see, membership card designer Scott M.X. Turner did an outstanding job of capturing the Browns' top-stitching. Just another example of the truism that the worst-looking uniform elements often look really cool on a Uni Watch membership card.
You can order your own custom-designed membership card here, you can see all the cards we've designed so far here, and you can see how we produce the cards here.
•  •  •  •  •
The Ticker
By Alex Hider

College Football News: Interesting note from Ohio State: Apparently, the Buckeyes didn't issue any single-digit numbers in the 1950s, and very few in the '40s and '60s (from Mike Knapp). … Looks like Montana has some new helmets (from Benjamin Goble). … Independence Community College in Kansas has some pretty wild unis (from Tom Crittenden).

Basketball News: A Target store in Sacramento put together a soda display of the Kings' new logo (from Grant). … This NBA shoe guide was spotted at Spurs headquarters in San Antonio. The money quote: "No flashing lights or other adornments." Also, who knew players had to be told to wear matching shoes? (From Hit the Glass.) … A couple of Minnesota Lynx players were wearing Prince tribute shoes in the WNBA Finals yesterday (from F.K. Yaaj). … Here's the championship banner that the Cavs will be hanging at their arena (from our own Mike Chamernik).

Grab Bag: Suck up? Or smart? A Dodgers fan wore a Clayton Kershaw Cubs jersey to Wrigley Field last night (from Berserker). … The Yahoo Fantasy Football app is still using the old Carolina Panthers logo (from Popo ZÃ¥o). … Geoff made a DIY Auston Matthews Toronto Maple Leafs jersey for a buddy. Solid work! … Here's a nice graphic showing the evolution of the Creighton Blue Jays' logo (from Ben Matukewicz). … In an awesome program, children battling cancer are designing colorful spacesuits for NASA. … Benjamin Pickett found these great bumper stickers and this football helmet at antique stores in Wisconsin. … Colonial High School in Orlando uses an interesting Packers/wishbone C logo mashup (from Dave Cohen). … Uniforms for Delta Airlines employees will soon be made by Lands' End.
• • • • •
I'll be tending to a family matter today. Play nice while I'm away, okay? Okay.