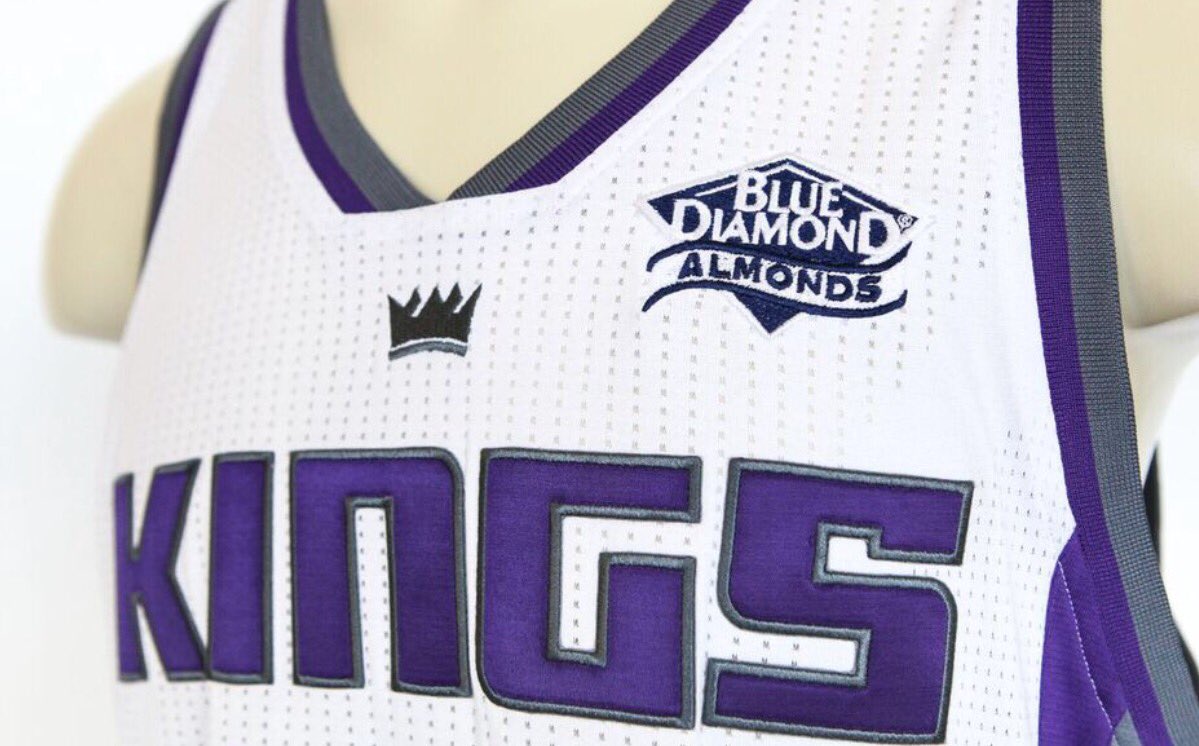 Click to enlarge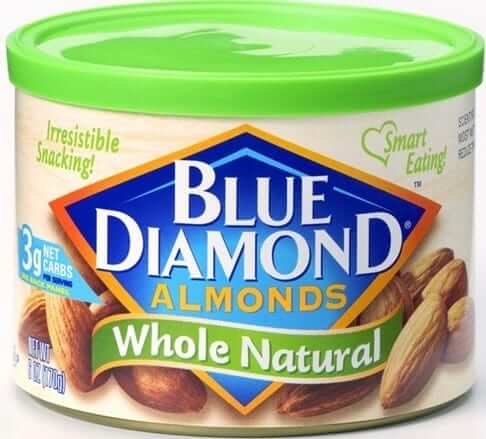 The number of confirmed NBA uniform sponsors advertisers doubled yesterday, as the Kings announced that they've sold space on their jersey for the next three years to Blue Diamond almonds. Although the company's logo won't appear on jerseys until next season, it will appear on the Kings' court apron this season.
Obviously, any uniform advertising is lame and unacceptable. With that caveat in mind, a few thoughts:
•  Blue Diamond is based in Sacramento, so the Kings are going with a local partner, which is nice.
•  Back in April, when the Kings unveiled their new logo set, I interviewed team president Chris Granger, who stressed the importance of the color purple to the team's identity. So it seems a little odd that they'd choose an advertiser whose name includes a color other than purple. Similarly, you'd think Blue Diamond might prefer to partner with a team that wears blue. (Yes, I realize blue and purple are somewhat similar, but they're definitely not the same thing.) The Kings do have a set of blue throwbacks, so there's that. Will Blue Diamond come out with a special edition of purple-themed nuts, just for the Kings?
•   Of all the products or services one could choose to do business with, almonds seem like a pretty good one. I like almonds; you probably do too, unless you have serious nut allergies (in which case you have my most profound and sincere sympathies). Almonds aren't an annoying lifestyle brand, or a totem of douchebag frat-boy culture, or some generationally leveraged trend targeted at millennials. They're just a natural food that's actually pretty good for you. They are, in other words, completely non-loathsome, which is something I didn't expect to be saying about any of the NBA's uniform advertisers. (As an aside, almonds also the subject of a rather hilarious ode by my man Hamilton Nolan. Highly recommended.)
To recap: Uniform advertising is lame and unacceptable. But this particular one could've been a whole lot worse.
•  •  •  •  •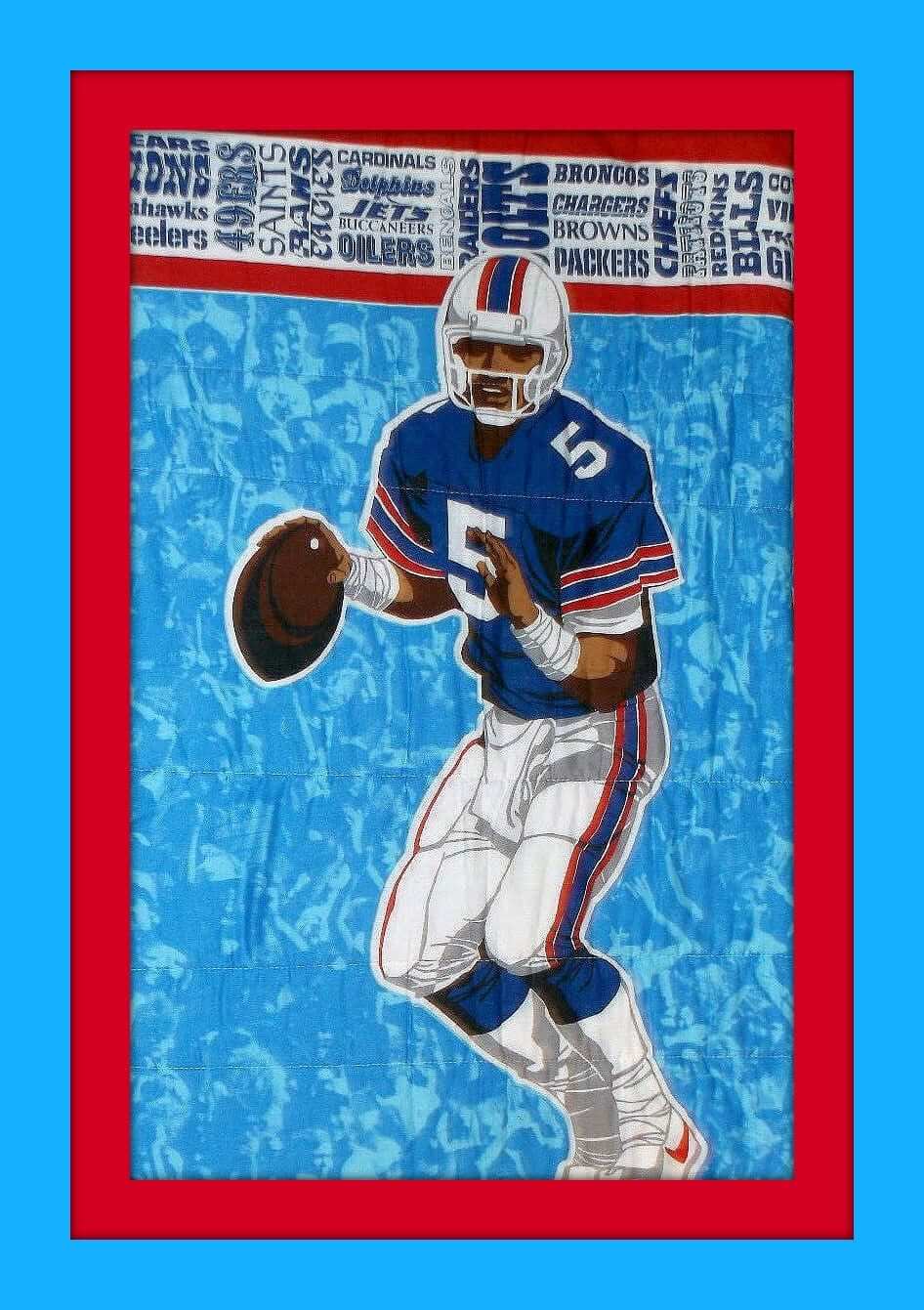 Click to enlarge
Collector's Corner
By Brinke Guthrie
The quarterback on this 1975 NFL sleeping bag looks like he's kinda in the Buffalo Bills/NY Giants vein, right? Can anyone suggest who he might have been? Interesting that the graphic designer put this fellow in Nikes as opposed to plain white or some generic stripe. This one also comes with the period-appropriate wordmarks for all the teams in the league.
Okay, on to the rest of this week's picks:
•  Sportoys Helmet Buggy alert! The Detroit Lions are represented here.
•  The Brewers' old ball-in-glove logo is showcased on these vintage MLB wristbands.
•  Nice look to this old "Go Pack Go" embroidered patch, courtesy of Pabst Blue Ribbon.
• Classic Brownie mascot, along with the early edition of the NFL shield, on this 1960s Cleveland Browns glass.
•  Brownie shows up again on this 1960s NFL seat cushion, featuring all 14 teams broken down into Eastern/Western Conferences.
•  Here's a great-looking 1960s Kansas City Chiefs poster!
•  Plenty of old-school ABA logos to be found on these 1960s curtains.
•  Before I discovered soccer, I played plenty of youth football back in the day, and I can't say I recall this type of facemask as shown on this 1960s Ray-duhz helmet from Franklin.
•  Vikings fans, your team is off to a fast start, so why not celebrate with this 1960s bobblehead.
•  Gonna say early 1970s for this NFL Frozen Coca Cola helmet board. Eagles were in white/green at that period, no?
•  Another contemporary-looking poster from the 1970s — how cool is the look to this one for the Minnesota North Stars?
• • • • •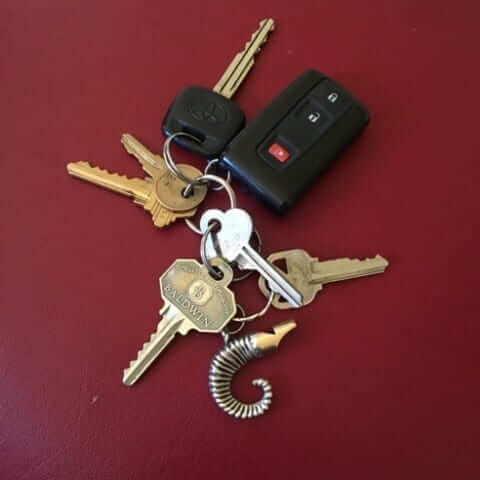 KRC update: Today's installment of Key Ring Chronicles might be my favorite one so far. It's about the little shrimp-shaped whistle shown in the photo above. Get the full story here.
• • • • •
The Ticker
By Alex Hider

Baseball News: TBS threw all the way back to Coco Crisp's first stint with the Indians for a graphic last night (from Todd Bell). … David C. Murphy took a behind-the-scenes tour of SunTrust Park, the new home of the Braves. … Speaking of the Braves, Douglas Ford's son got a Braves-themed Cub Scout patch for attending a game at Turner Field. Ironically, it was made in China. … The postseason sleeve patch worn by the home plate ump in last night's Giants/Cubs game was peeling off, and then it was completely gone.

NFL News: Check it out: Mike Ditka in a basketball jersey! (From Jeff Flynn.) … A good visual history of the 49ers begins at the 5:56 mark of this video (from Gilbert Lee). … Pinktober has spread to peewee football in Alberta, Canada. Buford Grimes says his son was issued pink socks prior to his game (in the snow!) this past weekend. … The New England Patriots made a veiled appearance on The Simpsons two nights ago as the "Boston Americans" (From BSmile). … The Panthers wore their blue alts last night.

College Football News: Georgia State will switch to Under Armour starting next year (from Chris W). … Youngstown State will wear silver decals this weekend to commemorate the "Silver Anniversary" of their first FCS national championship in 1991 (from Michael Moamis). … Here's the scoop on those "SEC Graduate" patches that have been showing up lately (from Clint Richardson).

Hockey News: The Avalanche have posted their uniform schedule (from Phil). … The old signage has come down at the "New Igloo" in Pittsbugh (from Brian S). … Kind of hard to tell, but the backup goalie for the Des Moines Buccaneers of the USHL wears a regular hockey helmet instead of the typical cap on the bench (from John Cristiano). … Check this out this awesome 1970s leather hockey jacket (from J. Daniel). … The Milwaukee Admirals of the AHL live-streamed the installation of their center ice logo "" or as Dan Pfeiffer puts it, "literally watching paint dry, but cool, detailed paint."

NBA News: The Wizards have used a blue basketball as the logo on their waistband for several years, but now it looks like they may be adding a red background (from nicefellow31). … Bucks fans can pick up new team-branded license plates, thanks to the Wisconsin Department of Transportation. The use of light blue was a nice touch (from our own Mike Chamernik). … The concourse at the Kings' new arena has lots of vintage neon signage from the Sacramento area.

College Hoops News: Arizona released seven new basketball uniforms yesterday "" most of them heavy on gradients (From Phil). … Very minimalistic new unis for Wake Forest (also from Phil). … We also got a look at SMU's unis yesterday at the team's picture day (also also from Phil). … Think we've seen this before, but Maryland has tweaked its collars for the upcoming season.

Soccer News: Gerard Pique of the Spanish national team "" who is often jeered by Spanish fans for his support of Catalonian independence "" was criticized by fans on Sunday for cutting his long-sleeved jersey in a way that removed the cuffs bearing the colors of the Spanish flag. Pique says he cut his sleeves only because he didn't like the fit of the jersey, and that he'll retire from the team following the 2018 World Cup (from Josh Hinton, thanks to everyone else who passed this along). … RFK Stadium has added a DC United jersey history in one of its tunnels (from Scott).

Grab Bag: A CNN commentator had a Texas Longhorns decal on his tablet on Sunday night (from D.C. James). … NASCAR's Elliott Sadler is going all out for Pinktober (from David Firestone).
•  •  •  •  •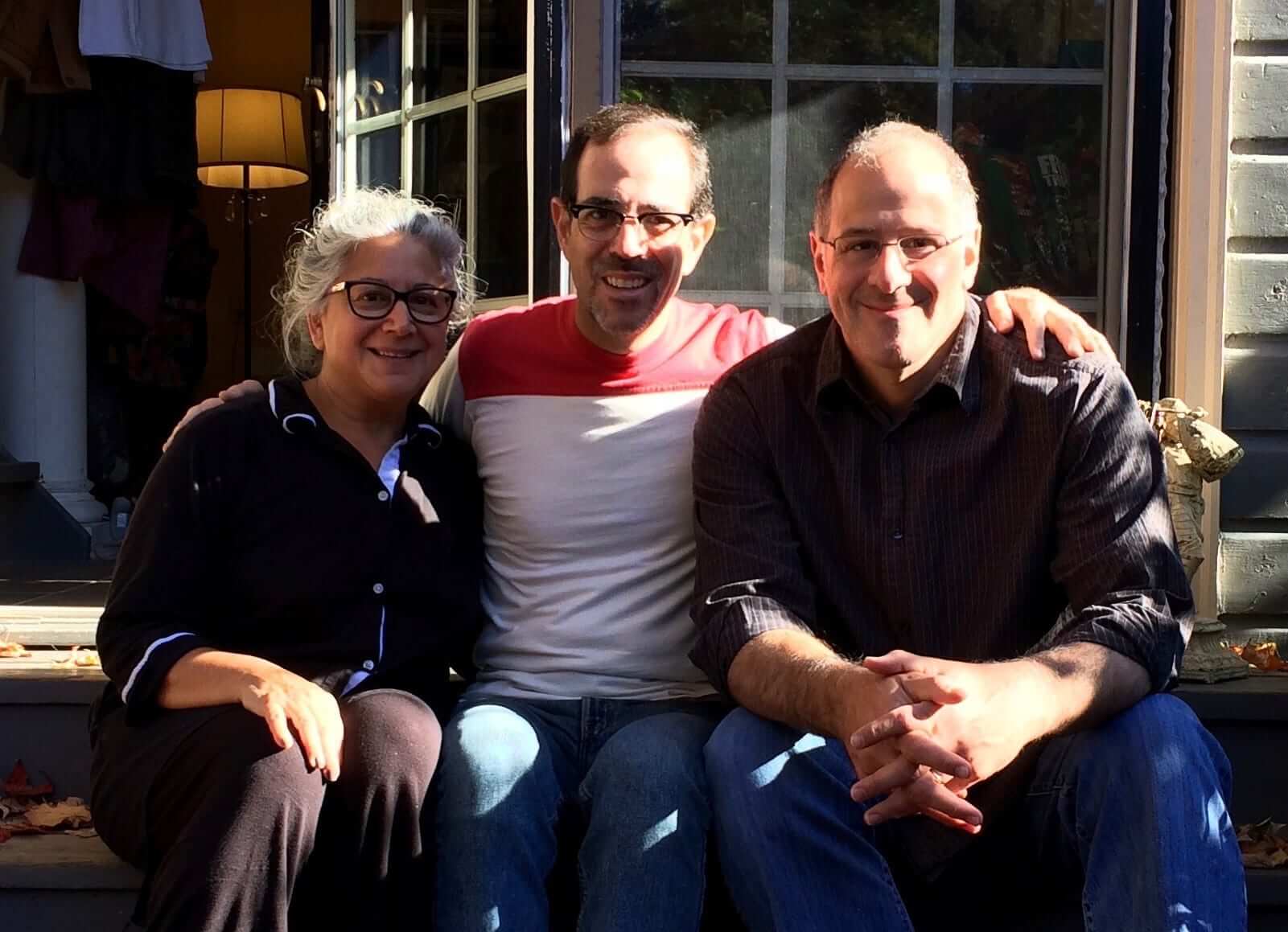 What Paul did last night weekend: Back in college, I was friends with this guy named Jeff Katz. We knew each other from the student-run record store and talked almost exclusively about music. Nowadays Jeff is a baseball author and the mayor of Cooperstown (which basically means we can now have geeky discussions about baseball as well as music). He comes down to NYC semi-regularly, but I hadn't visited him in Cooperstown since 2009, so the Tugboat Captain and I went up and stayed with him for the Columbus Day weekend. That's Jeff on one side of me and his lovely wife, Karen, on the other. Yeah, the lighting could've been better.
Naturally, we paid a visit to the Hall of Fame, which was great. But we had an even better time at the Farmers' Museum, which featured, among other things, lots of live animals and a bunch of vintage tractors, one of which had been rigged up to create a sort of Rube Goldberg-ish crosscut saw:
The Farmers' Museum is also the unlikely final resting place for the Cardiff Giant, one of the great 19th-century hoaxes. It's a bit of an odd fit for the museum, but whatever — fun to see:
Hall of Fame senior curator and longtime Uni Watch pal/ally Tom Shieber doesn't work on weekends, so he wasn't at the Hall when we stopped by. But he and his wife, Liane, joined us at Jeff's house for dinner that night, and then we all watched some playoff baseball.
We took a scenic, backroads-y route home yesterday — not much traffic, lots of autumn colors. Big thanks to Jeff and Karen for being such tremendous hosts, and for giving us a sorely needed long-weekend getaway (and bonus thanks to Uni Watch intern Alex Hider for pinch-Tickering yesterday, when made everything much less stressful).