Four days ago, in this week's Monday Morning Uni Watch report, I mentioned that Steelers safety Mike Mitchell was wearing a hand-warmer pouch even though it was a warm day, which is something I just randomly noticed while looking at game photos. Several Steelers fans responded by telling me that Mitchell always wears the pouch, regardless of the weather.
That was confirmed by some quick photo research (going back to Mitchell's days with the Panthers and Raiders), so I contacted the Steelers and asked to interview Mitchell. They made him available to me yesterday. Here's how our conversation went:
Uni Watch: I've noticed that you often wear a hand-warmer pouch, even when it's not a particularly cold day. What's that all about?
Mike Mitchell [chuckling]: We've got a running joke, you know, that I'm cold-blooded. The true story is that I've been wearing it since my junior year or senior year of college [at Ohio University]. I had a teammate — he was No. 24, I was No. 34. With both of us being African-American, it would be difficult sometimes for Coach. Sometimes he'd be like, "Hey, Mike, what are you doing out there?" and I'd be like, "Coach, that's not me." We got tired of him always confusing us, so I started wearing the hand warmer just so he would know. I also left my shirt untucked so he would know the difference.
Obviously, in the NFL you have to have your shirt tucked in at all times, so I said, "Man, let me keep riding with this." You know, I liked the way it looked, and everyone wears a towel, but nobody wears the hand warmer, so I've kinda turned it into a swag-y thing. I'll go to see high schoolers and I'll see them wearing hand warmers out the back, and I know I'm the only guy who does that, so that's why they're wearing it. So it's pretty cool.
UW: So it's just a personal style thing.
MM: Yes sir.
UW: You mentioned that you see the high schoolers wearing it in the back, and I've noticed that that's usually how you wear it — in the back, not the front. If it's actually a cold day, do you bring it around to the front so you can actually use it?
MM: It stays in the back at all times. [Laughs.] I sometimes put things in there — maybe gum, some seeds, my gloves. But usually it's in the back, especially when I'm on the field — always in the back, never in the front. I will stick my hands in it when it gets cold, but it's really not there for the weather. It's there just for the look.
UW: Do opposing players ever say anything to you about it? Maybe talk trash about how you're wearing a hand warmer on a warm day?
MM: I've definitely had plenty of people ask me about it, but no one's ever said anything from a trash-talking standpoint. I don't know. If they see my tape, they probably know it's not smart to talk trash to me anyway.
UW: Are you aware of any other players who do this?
MM: No, no. I think I'm the only one in the league. Like I said, I've seen some younger college and high school guys doing it, and I'm thinking, you know, they had to be seeing me with it, and now they're rocking it.
UW: And when you see that, are you thinking that they're ripping you off, or are you proud of that?
MM: Imitation is a form of flattery, so it makes me chuckle, makes me smirk, and it's something that I think is positive. If kids want to act like they're Mike Mitchell and wear the hand warmer, I'm all about that.
UW: You plan to keep doing this for the rest of your career?
MM: Absolutely. I haven't played a snap, a down, in my professional career without it, so I don't think it'll change.
(My thanks to the several Steelers fans who tipped me off to this one.)
•  •  •  •  •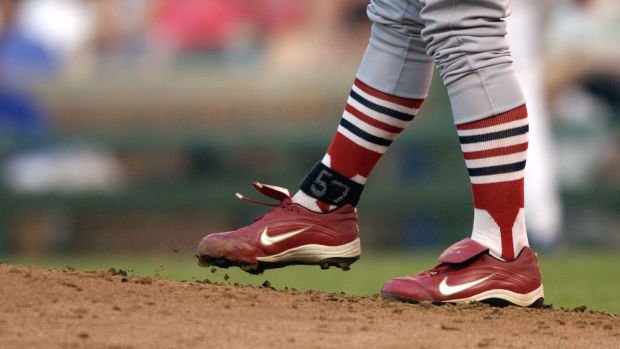 Friday Flashback: We've seen lots of uni-related memorials for José Fernández this week, so my Friday Flashback column on ESPN takes a look back at some notable moments in MLB memorial history (including Jason Simontacchi's black ankle band for Darryl Kile in 2002, shown above). Check it out here.
•  •  •  •  •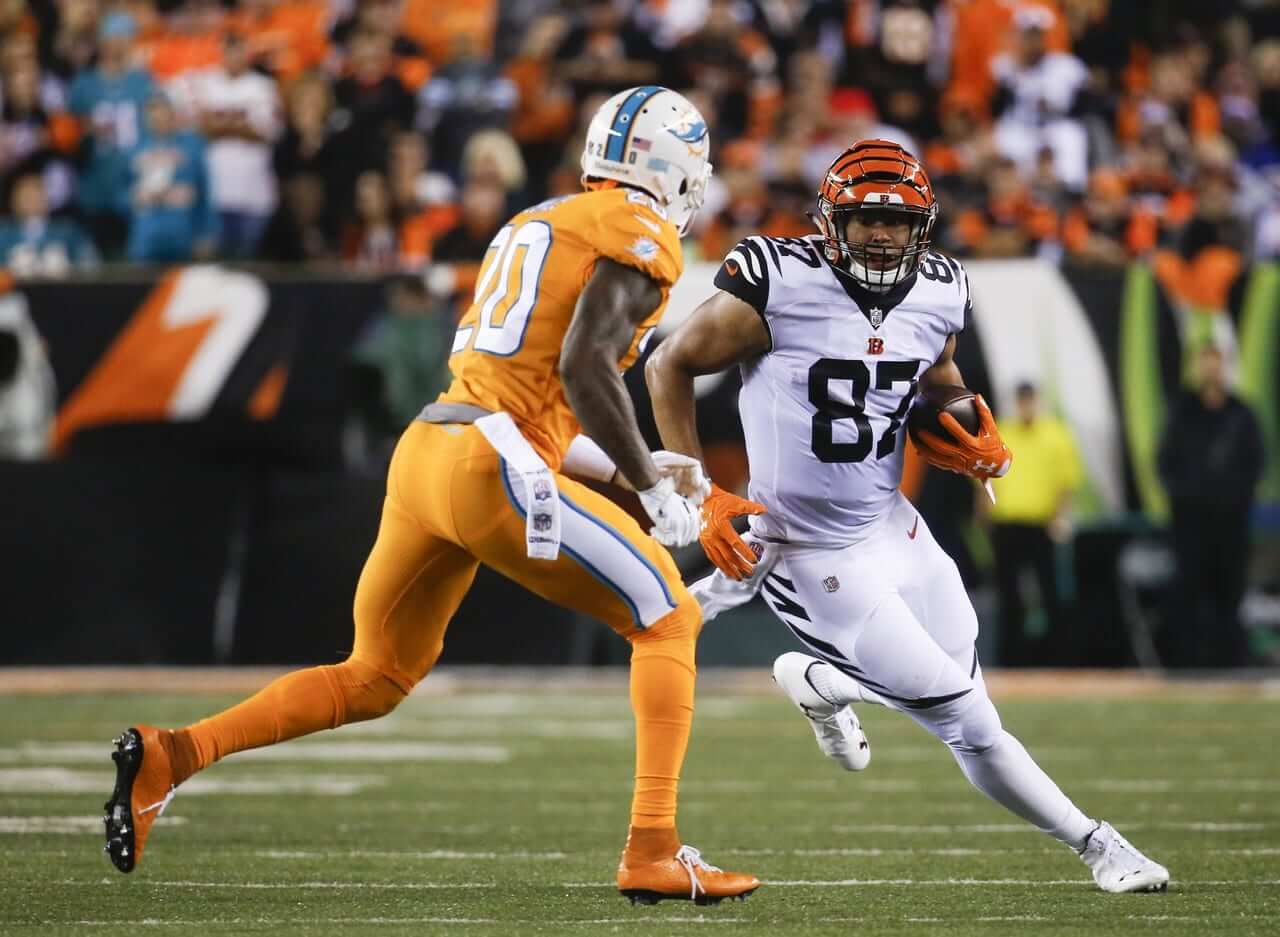 Click to enlarge
Fresh-squeezed: I was out seeing music last night, so I missed the NFL's first-ever solid-orange uniform. After looking at game photos and some video, I'd say it wasn't so bad, although it led to lots of jokes on Twitter. And the Bengals looked pretty good — this design is an upgrade over their usual white design. For those of you who watched the game, what did you think?
One thing several readers noticed is that the Bengals' captaincy patches were inconsistently colored — some black, some orange. The orange version appears to have been the Thursday-night version of the gold patch used for five-year-plus captains.
Next week's Thursday-night game: Cardinals (white) at 49ers (black).
•  •  •  •  •
The Ticker
By Paul

'Skins Watch: The Supreme Court has agreed to decide a trademark case that could have implications for the trademark status of the 'Skins team name. A decision is expected sometime in the first half of next year.

Baseball News: Check out this great shot of a police softball team. "That's my police department, the Metropolitan Police Department in Washington, DC," says Timmy the Cop. "The department is divided into seven districts so '2D' means 'Second District,' and 'Tact' is what the plainclothes units were called back then." … Someone in the Yankees bullpen was wearing a spring training sweatshirt two nights ago. … Nats switch-hitter Wilmer Difo wore a lefty helmet while batting righty yesterday. … A José Fernández high school jersey was reportedly stolen from a memorial shrine in Tampa. … In an unprecdented move — unprecedented, people! — all of the mascots from the Royals' minor league affiliates will be performing in the same place. Think of it as a critical mass-cot. … The Red Sox have mowed an image of David Ortiz into the Fenway Park outfield grass for the final series of the regular season (from Andrew Cosentino).

NFL News: The Ravens have added a "CB" memorial decal for defensive line coach Clarence Brooks, who passed away from cancer earlier this month (from Andrew Cosentino). … Here's a rare shot of Joe Theismann wearing a two-bar facemask instead of his usual single-bar. And yes, both he and the Bengals defender in that shot are wearing the 1976 bicentennial patch, which was worn the 1975 Hall of Fame Game. Better views of the patch are available here and here (good find by Miles Filbert). … Here's a shocker: In the 1971 NFC championship game, 49ers RB Ken Willard — who was my very favorite player at the time, because I had pulled his football card out of a box of cereal (which is why I'm still a 49ers fan to this day) — was missing his nameplate! I watched that game — it was one of the first NFL games I ever watched all the way through, in fact — and have no memory of this.

College Football News: Here are this week's uni combos for UNC, Louisville, Tennessee, WVU, and Columbia. … You know how teams now routinely tweet their uni combos before the game? That trend led to this amusing post from Georgetown (big thanks to Tim Doyle). … Here's a video report for TCU. Additional pics here. … New homecoming uniforms for New Mexico. … Here's why Miami is wearing green jerseys at Georgia Tech (thanks, Phil). … Also from Phil: Will Syracuse ever wear platinum unis again? Shmaybe. … A Vice Sports writer is suggesting that college football players use spatting tape to cover their shoe logos, as a way of expanding athletes' rights and shaking up Big Uni (from Chad Fette). … There's a new website that tracks Miami's uniforms from 1926 through the present.

Hockey News: Great shot of former North Stars D Barry Gibbs wearing a two-bar football facemask (from Brian Wulff). … We've often talked about the Red Wings' straight, block-lettered preseason NOBs, but here's a shot of D Paul Coffey with straight sans serif font (from Rob S.). … The Sharks have announced their third jersey schedule, as well as one game when they'll wear white at home (from Kenny Saidah). … The Albany Devils will wear Albany River Rats throwbacks for two games this season (from Dick Holbrook). … The Red Wings are asking fans to submit historical items that can be showcased in the team's new arena next season (from Andy Rawlings).

Basketball News: Here are the dates when the Pacers will be wearing their Hickory throwbacks this season (thanks, Mike). … New uniforms for the Marshall men's and women's teams (from @HawksPacMan). … Ohio State found an unusual model for its new uniforms. Here's a look at the uni laid out on the floor (from Derek Staifer). … New Nike template for Syracuse (from Ari Roth).

Soccer News: "The German Bundesliga is running a promotion with Coca-Cola that features jerseys on bottles," writes Bern Wilms. "Coke took some care to accurately reflect the teams' jersey designs, although they did use a generic number font. One interesting point: The promotion includes 17 of the 18 teams, the exception being RB Leipzig. The 'RB' in their name stands for their commercial backers, Red Bull, so it was out of the question to have them participate."

Grab Bag: Interesting article on the clothing brands favored by young Republicans (thanks, Phil). … Jay-Z and Damon Dash have won a lawsuit involving the Roc-A-Fella logo. … The USGA honored Arnold Palmer by depicting his 1960 U.S. Open visor toss on the pin flags at the Men's Team State Championship Tournament in Birmingham this week (from Patrick O'Neill). … Here are the details on UAB's new contract with Under Armour. Because UAB is a public school, the contract itself is public as well. You can view it here (from Nolan Jones). … An article on the Team USA wrestling website says it's time to move away from the singlet, in part because the singlet has no merchandising appeal (from Solomon Duncan). … I've written several times about athletes wearing silicone wedding bands. Here's an article specifically about Pittsburgh athletes wearing them (from Timothy Pontzer).