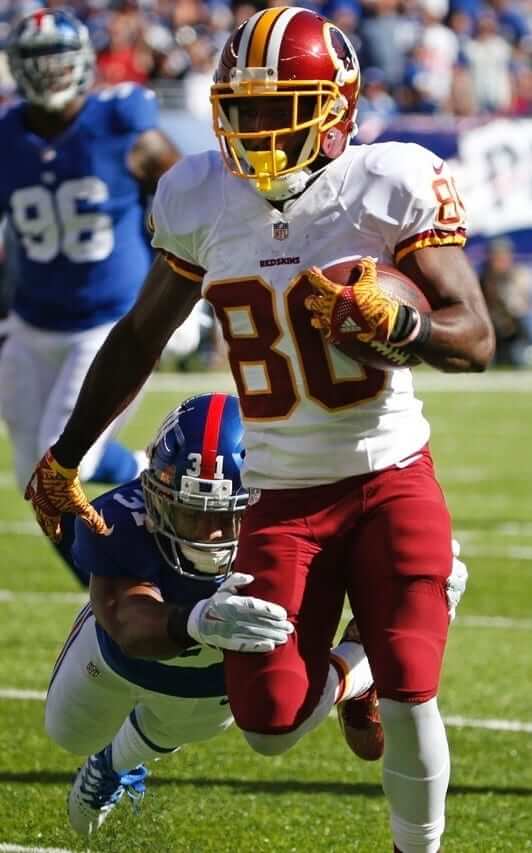 The big NFL uni news yesterday came out of the Meadowlands, where Washington unexpectedly broke out the burgundy pants for the first time since 2011. I heard a lot of people saying, "About time!" and "Never should have stopped wearing them!" Can't say I completely agree, because I really like the yellow pants (especially because they're paired with much better socks), but the burgundys look good too. And since the team pulled out its first win of the year, we'll probably be seeing more of this look. Additional photos here.
(Incidentally, in case you're wondering, Washington's white pants have also been on the shelf for quite a while. They were last worn in 2013. In fact, the only non-yellow pants the team wore over the past two season were these throwback pants.)
In other news from around the league yesterday:
•  Speaking of that Giants/Washington game, Washington tight end Niles Paul, who went to college at Nebraska, was wearing Nebraska-themed shoes.
•  Also from that game, someone who plays on offense for Washington — not sure who — gave himself two sets of sock stripes.
•  And yet another item from that game: Two players got their facemasks stuck together.
•  Chiefs + Jets + natural grass + nice September day = one very good-looking game. Additional photos here.
•  The Buccaneers share Raymond James Stadium with the USF. Since the NFL and NCAA have different hashmark systems, that means the Bucs had to paint over USF's hashmarks for yesterday's game — and it doesn't look like they tried very hard to get the right shade of green.
•  Raiders wideout Michael Crabtree was playing with a gold necklace. Probably not a new thing, but it's always interesting when this type of jewelry becomes visible.
•  Browns tight end Gary Barnidge suffered a torn sleeve.
•  Speaking of the Browns, have we mentioned before that cornerback Briean Boddy-Calhoun has HNOB? He does.
•  Bills kicker Jordan Gay wore the hospital bracelet from being present at the birth of his son earlier this week.
•  Steelers safety Mike Mitchell appears to have been wearing a hand-warmer. Seems a bit early for that, no?
•  Six teams wore white at home: the Buccaneers, Jaguars, Titans, Dolphins, Panthers, and, of course, the Cowboys.
•  I'm only aware of two players who participated in postgame jersey exchanges yesterday: Nick Williams (Chiefs) and Steve McLendon (Jets). But I assume there were others.
•  At least 36 players from at least 12 teams exhibited some form of protest during the national anthem. Several NFL reporters tweeted their support of the growing protests.
Finally, here's a sobering thought: This was the last Sunday of the month. Get ready for Pinktober.
(My thanks to all contributors, including Matt Barnthouse, David Goltry, @LukeTheVIP, and our own Alex Hider.)
•  •  •  •  •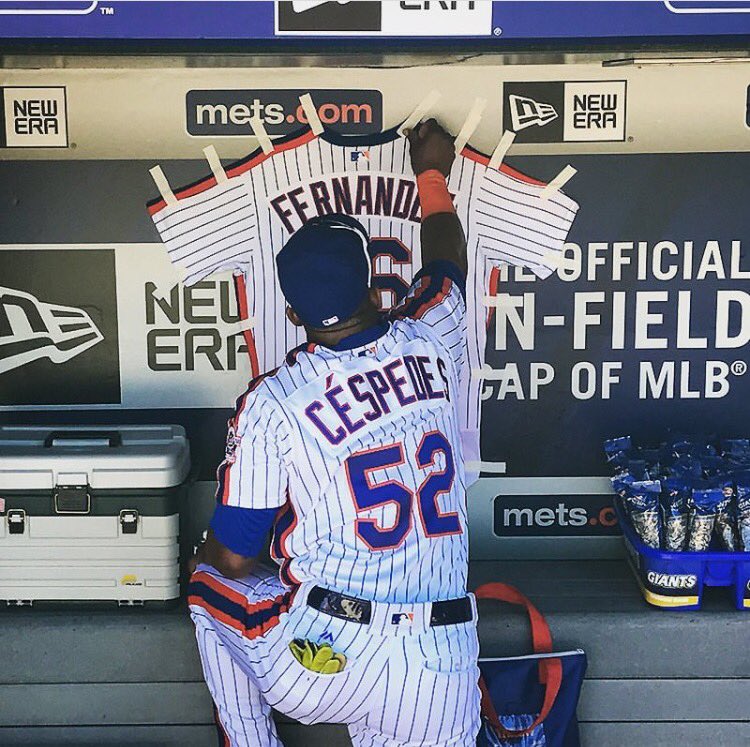 José Fernández, RIP: After the terrible news yesterday morning regarding the death of Marlins pitcher José Fernández, at least five MLB teams honored him by hanging jerseys in their dugouts for yesterday's games: the Mets (shown above), Cubs, Twins, Mariners, and Dodgers. (As you can see in that last shot, the Dodgers included an accent on the NOB, which is the proper styling of Fernández's surname, although he never wore it that way on his own jersey.)
I saw some people on Twitter complaining that these teams should have used Marlins jerseys, instead of their own jerseys, which seems incredibly petty. For one thing, not every team has instant access to a Marlins jersey. For another, using your own team's jersey is a way of saying, "He was one of us, and our thoughts and hearts are with him." I think it's a good message. (The Mets will reportedly bring their tribute jersey with them to Miami and hang it in their visiting dugout tonight when they face the Marlins.)
There were other impromptu salutes to Fernández, including the following:
•  The entire Blue Jays team wore "16" stickers on their caps.
•  Cardinals pitcher Carlos Martínez, who started last night's game against the Cubs, inscribed a dual tribute on his cap — one side for Fernández and the other for former teammate Oscar Taveras.
•  Mariners pitcher Steve Cishek, a former Marlin, also had an inscription on his cap. So did teammate Robinson Canó.
•  Red Sox DH David Ortiz doesn't play the field, so he only wears his cap while sitting in the dugout, but he nonetheless added a shout-out to Fernández on his cap.
•  Astros third baseman Yulieski Gurriel was another player who saluted Fernández on his cap. Ditto for his teammate Jose Altuve.
•  The boldest cap tribute came from Diamondbacks outfielder Yasmany Tomás who added Fernández's uniform number to his cap with white tape and then wrote Fernández's name into the numerals.
•  Brewers shortstop Jonathan Villar saluted Fernández on his cap and eye-black stickers.
•  Royals catcher Salvadore Pérez added "R.I.P. J.F. 16" to his chest protector.
•  At the World Baseball Classic qualifying game in Brooklyn, several players on the Great Britain team had notes on their caps, including Kyle Simmons and Champ Stuart.
•  And at Marlins park, where yesterday's game against the Braves was cancelled, the grounds crew added Fernández's number to the back of the mound.
I'm sure there were other uni-related tributes to Fernández that I missed. If so, please feel free to post them in today's comments.
•  •  •  •  •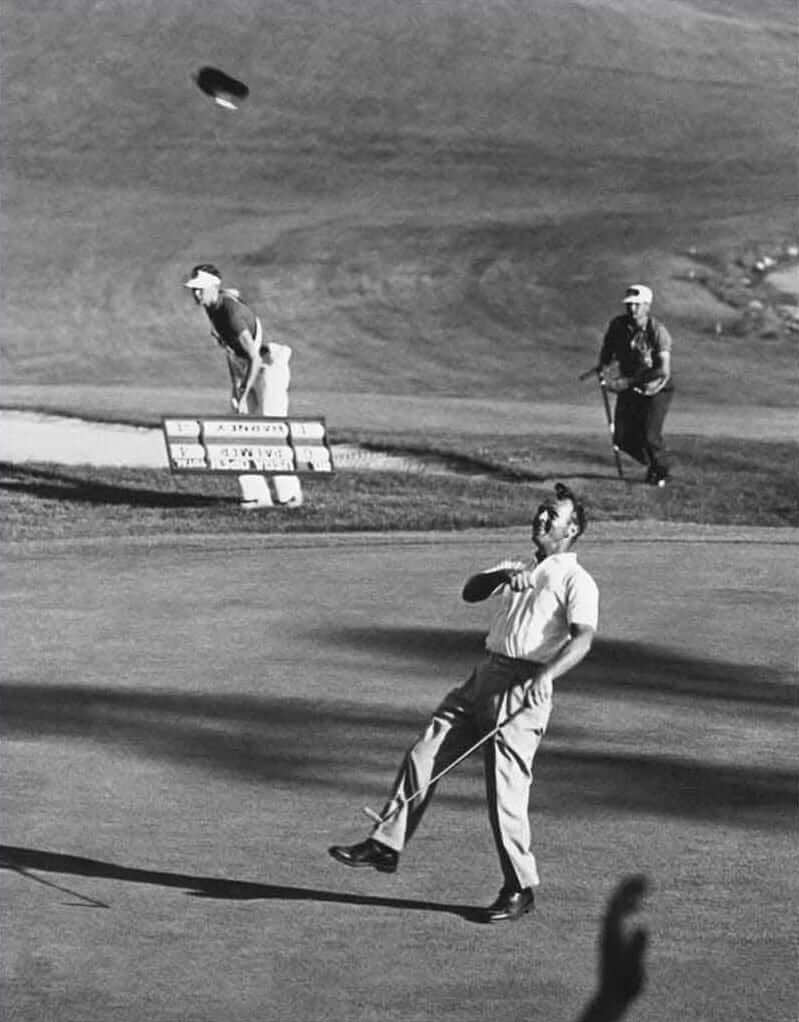 Arnold Palmer, RIP: Arnold Palmer also passed away yesterday. I'm not a big golf fan, but I know that one of the signature moments from Palmer's career was uni-related: After winning the 1960 U.S. Open, he threw his visor into the air. That's how I'll always remember him.
There's a good series of charts, graphics, and other infographic-y data on Palmer's career here.
•  •  •  •  •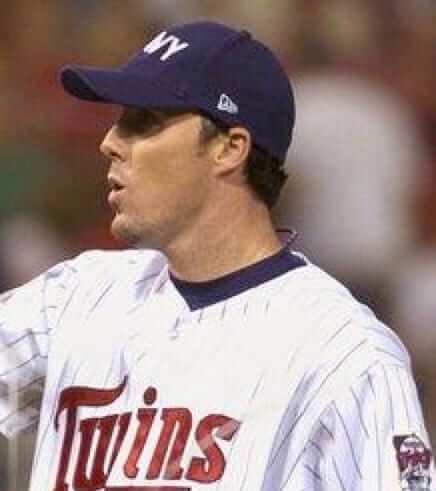 New Era logo creep, continued: Last Thursday I mentioned that there were three examples of the New Era logo appearing on MLB game caps in 2005, and I had identified two of them (the Padres on April 20 and the White Sox on Sept. 9). After checking my old notes from 2005, I've now found the third instance: It was on July 3, when the Twins wore "Army," "Navy," and other military caps as part of a military appreciation promotion. The caps, which were various colors, all had the New Era logo on the left side.
I'm fairly certain that these are the only three instances of New Era logo creep on MLB game caps in 2005 — and I'm about 50% sure that they're the only instances ever. As always, though, if you know of other examples, I'm all ears.
Meanwhile, we have one week left before the New Era mark is permanently added to game caps. Enjoy this last week of games, because starting next week it will truly be a new era.
•  •  •  •  •
Too good for the Ticker: Pitt defensive end Ejuan Price has worn some pretty serious biker shorts in the past (additional examples here and here), but he may have outdone himself during Saturday's game against UNC. Check out these shots (click to enlarge):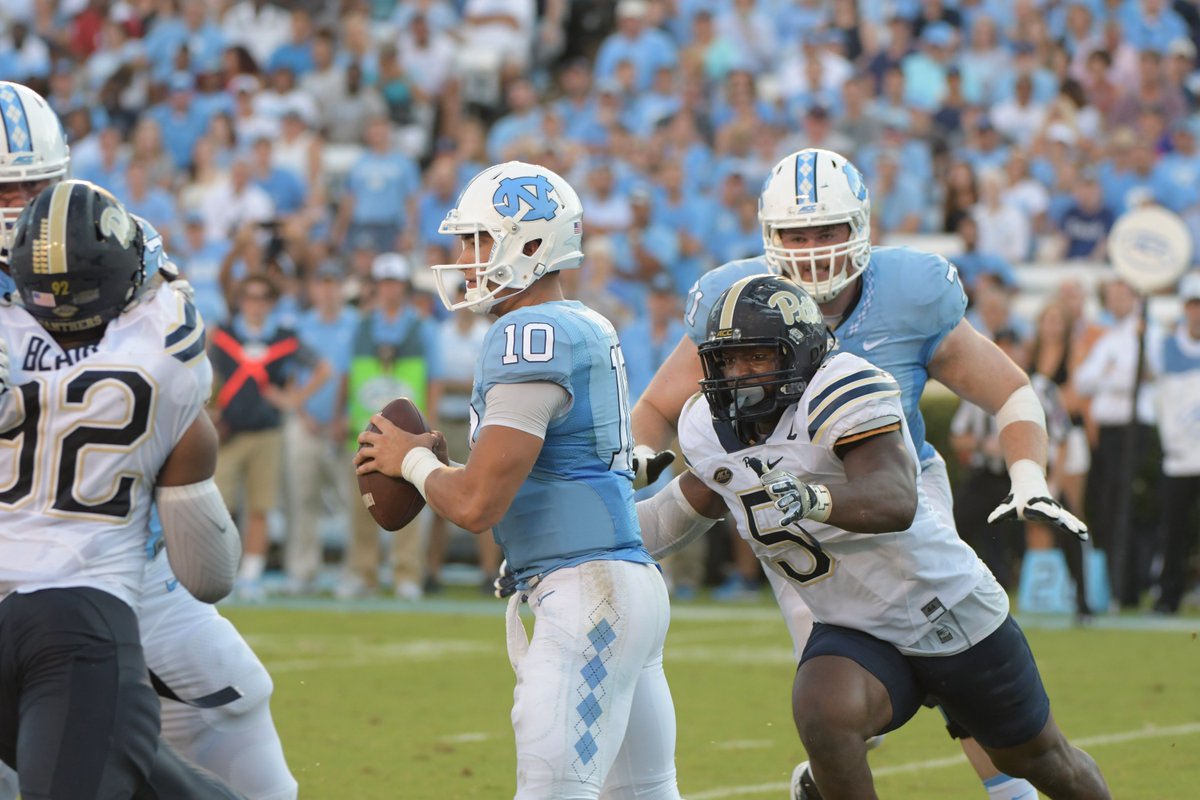 Of course, the effect is accentuated because Price goes bare-legged. In this next shot, you can see that UNC wide receiver Ryan Switzer's pants are nearly as short as Price's, but Switzer wears white leggings, so his pants don't look as egregious: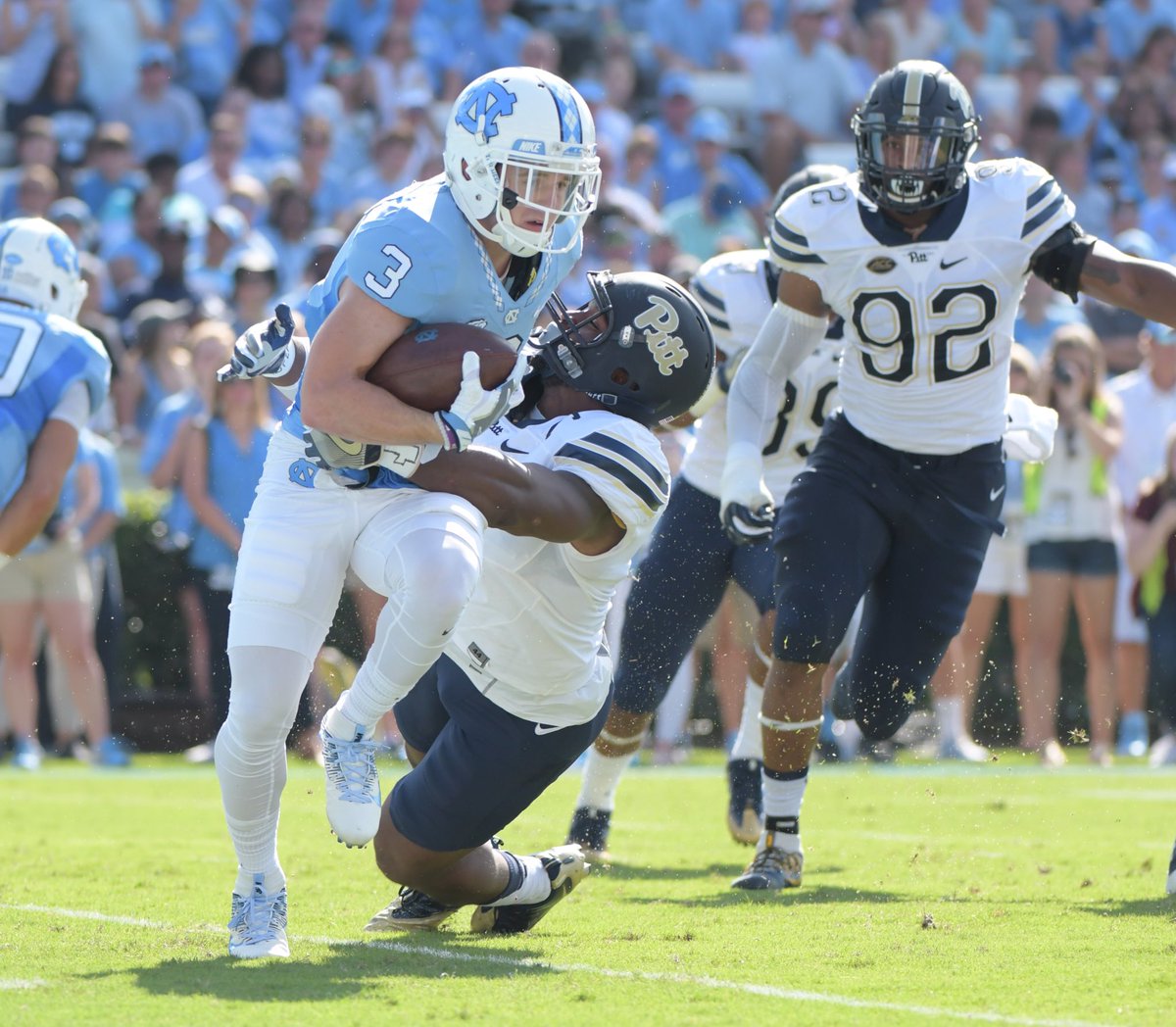 (My thanks to Alex Hider for letting me know about this one.)
•  •  •  •  •
The Ticker
By Alex Hider

Baseball News: After the Dodgers clinched the National League West division title yesterday, OF Josh Reddick, who grew up in Georgia, wore a Georgia Bulldogs helmet during the clubhouse celebration (from our own Mike Chamernik).


Pro and College Football News: The Carolina Panthers wore their Color Rush jerseys for a team portrait. … Will Oregon's next costume be GFGS? (From Gus Ericson.) … Black University? Brown went BFBS this weekend against Harvard.

Soccer News: Reader Hannes sends along a note all the way from Italy. So Foot Club, an Italian website/magazine, has put together their top 50 soccer kits of all time. He kindly translated the site's top nine jerseys: 1. Boca Juniors 1981, 2. Sampdoria 1990, 3. Brazil 1970, 4. Netherlands 1974, 5. Italy 1982, 6.Real Madrid 1960, 7. Juventus 1985, 8. USA 1994, 9. Soviet Union 1982.

Grab Bag: RIP Arnie (from BSmile). … New hoops unis for USC (from Grant). … "Another one…" DJ Khaled will perform a concert for Michigan basketball's uniform reveal. … John Force of the NHRA wore an American flag-themed helmet over the weekend (from David Firestone). … Malaysia is introducing a new logo to identify if foods are made to halal standards for Muslims. … The St. Louis Blues' 50th-anniversary logo hasn't even appeared in a game yet, but it's already being used as the basis for a cycling jersey (from Ethan May).
• • • • •
Click to enlarge

What Paul did last night yesterday afternoon: At 1pm Eastern yesterday, a lot of you were probably watching football. And that's fine. But I was watching an outdoor set by the excellent Garden State Social Club (fronted by the completely awesome Lynne Von Pang, who could easily reduce any NFL linebacker to Jell-O), and I don't mind saying that no football game could possibly compete with that.
How great is the Garden State Social Club? So great that they have their own membership cards. And as we all know, only the finest organizations have those.