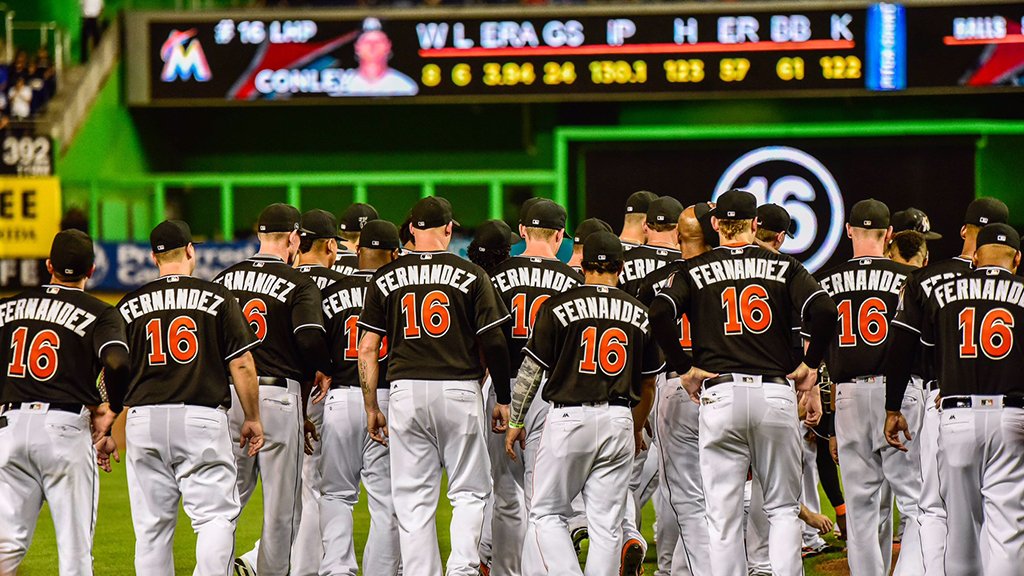 For most of today's photos, you can click to enlarge
Unprecedented move yesterday evening in Miami, as the Marlins memorialized fallen teammate José Fernández by having every member of the team wear his No. 16 and his NOB for last night's game against the Mets. To my knowledge, it marked the first time a contemporary player has been saluted in this manner. (Obviously, everyone wears No. 42 on Jackie Day, but that's a whole different thing. And yes, I suppose you could say everyone's wearing the "same number" when the jerseys are blank on the back, like when the Yanks and Bosox wore numberless 1912 throwbacks to celebrate Fenway Park's centennial in 2012, but that too is a category unto itself.)
A few notes from the game, and some related items from around MLB:
•  Much like on Jackie Day, there were some odd visuals, like a batting order comprised entirely of 16s.
•  Although Majestic hurriedly prepared new game jerseys for the occasion, the players wore their usual BP jerseys with their usual numbers: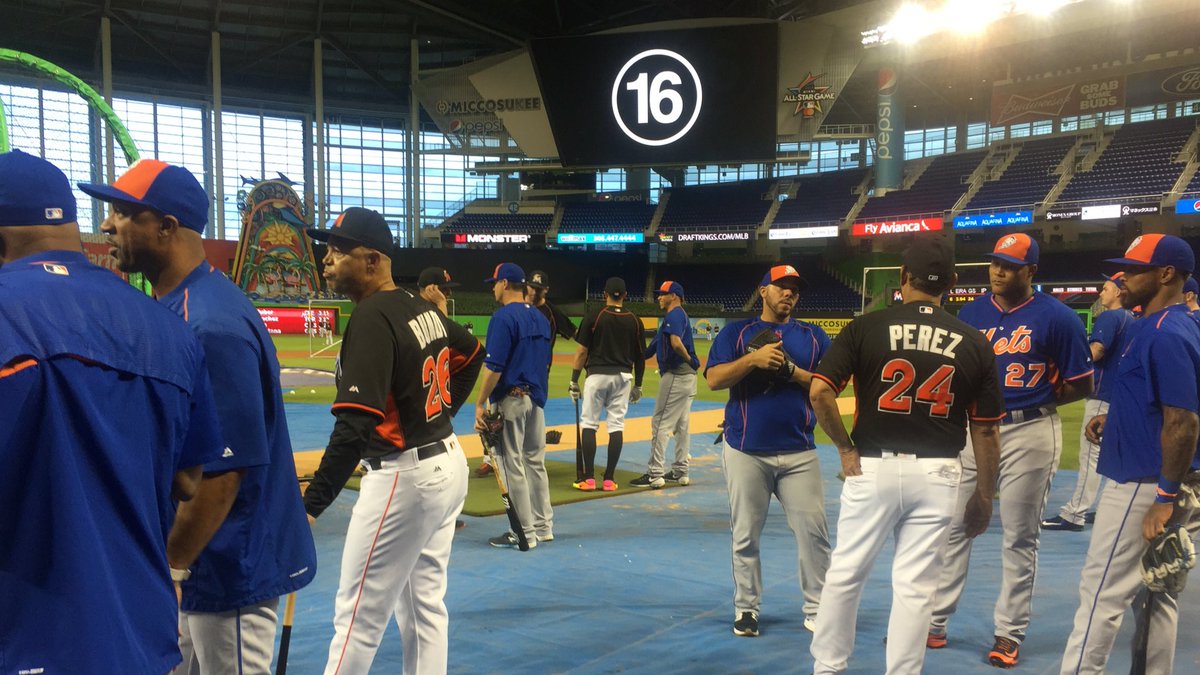 •  Marlins second baseman Dee Gordon was wearing a powerful "Fernández RIP" T-shirt before the game.
•  Speaking of Gordon, he normally bats left-handed. But when he came to bat to lead off the bottom of the 1st, he stepped into the right-handed batter's box and mimicked Fernández's stance. He was also wearing Fernández's batting helmet for that pitch: Check that — I'm now told he was wearing a right-handed helmet in his own size, with "16" on it:
Dee Gordon stepping into the right-handed batter's box wasn't the only tribute to José Fernández — he mimicked his stance/load too pic.twitter.com/3KNrUKgzuT

— Cespedes Family BBQ (@CespedesBBQ) September 27, 2016
Gordon then switched to his normal helmet, moved to the left-handed batter's box, and homered. You can see him swap out the helmet in this video:
•  Gordon also had "16" shaved into his hair.
•  Most of the Marlins and some of the Mets had memorials inscribed on their caps. The most flamboyant one was definitely worn by Marlins pitcher Jose Urena. I couldn't keep track of all of the others, but you can see a few of them here:
.@Giancarlo818 offers some parting words to pay respects to #JDF16: https://t.co/Xe2MPo9qRf https://t.co/D8LAdT8YhH

— Cut4 (@Cut4) September 27, 2016
Baseball is family. #JDF16https://t.co/8xWmNoIBbi

— MLB (@MLB) September 27, 2016
•  The Mets, who had hung a Fernández jersey in their dugout for Sunday's home game, took that jersey with them to Miami and displayed it again last night (creating the odd sight of a Mets throwback home jersey being showcased on the road):
For a second day, the Mets' Jose Fernandez jersey hangs in their dugout. They carried it with them to Miami. pic.twitter.com/cOA6dc6RdO

— Anthony DiComo (@AnthonyDiComo) September 26, 2016
•  After the national anthem, the two sets of players, who had lined up along the baselines as is typically done for the World Series or Opening Day, approached each other and embraced, and then the Marlins circled the mound, where Fernández's number had been inscribed, and kneeled down:
Bigger than baseball.#JDF16 pic.twitter.com/VAnZXVBh1j

— Miami Marlins (@Marlins) September 26, 2016
What a moment.#JDF16 pic.twitter.com/iT7KLTEmaQ

— Miami Marlins (@Marlins) September 26, 2016
•  Little-known fact: During spring training of 2013, Fernández wore No. 78: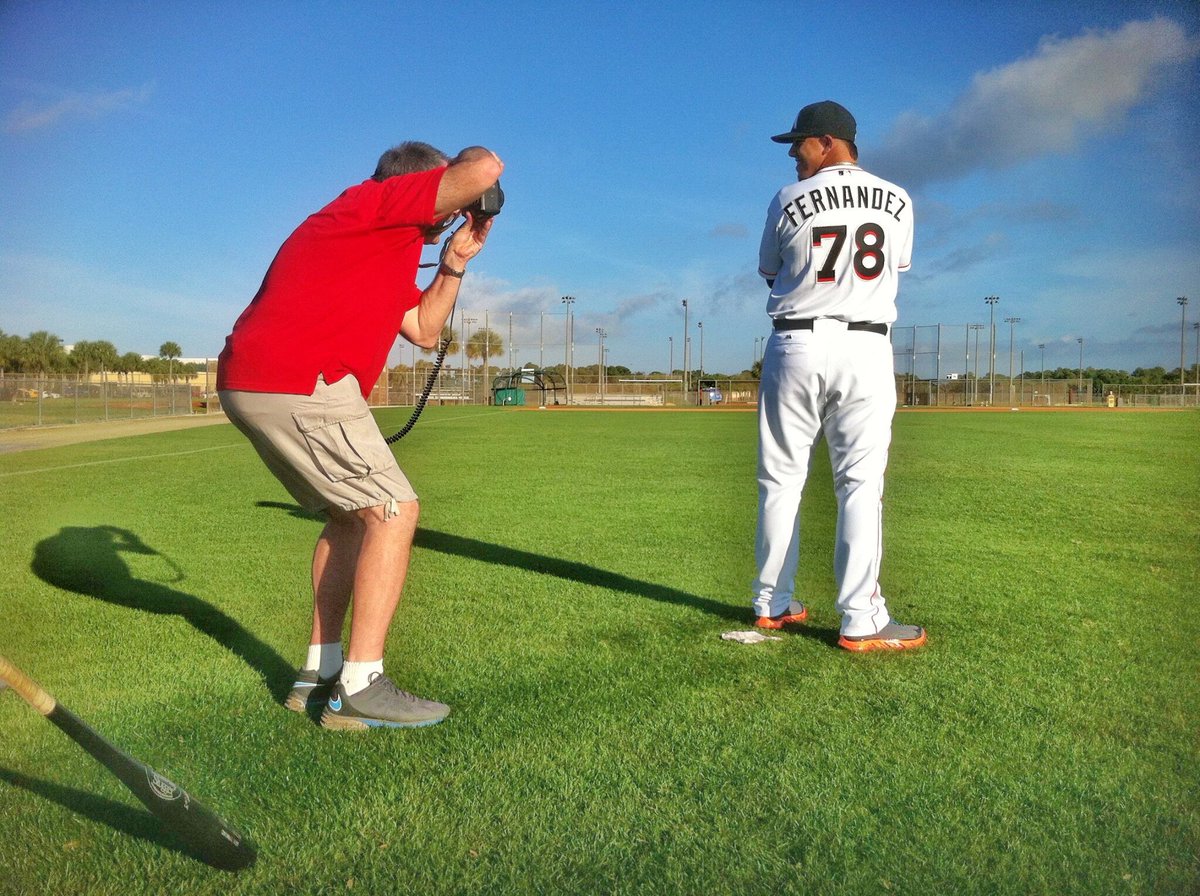 •  The Marlins' wives wore Fernández T-shirts.
•  When the game ended, the Marlins once again circled the mound and then left their caps on the mound: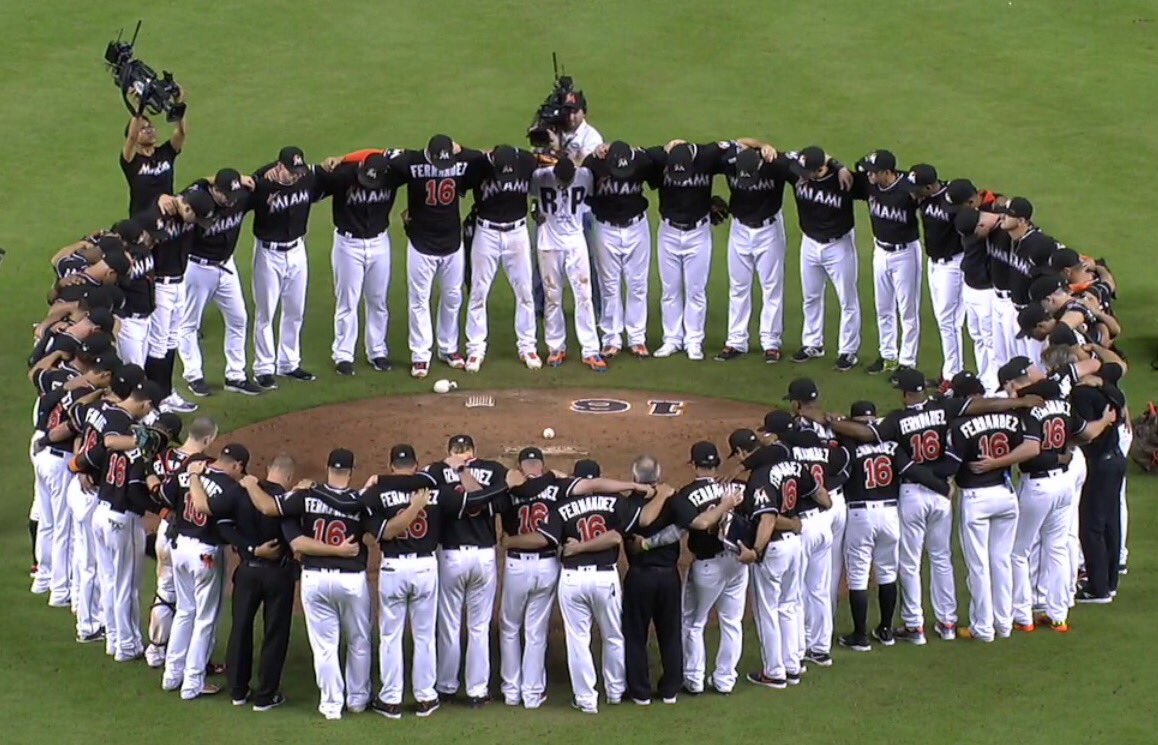 •  And in a move that was widely expected, Marlins owner Jeffrey Loria said that the team will retire Fernández's number. So while many players wore it last night, nobody will wear it again.
•  Meanwhile, at least two teams honored Fernández by hanging jerseys in their dugouts: the Astros and Rays.
•  And players around MLB continued to salute Fernández by inscribing messages on their caps and other uniform elements, including Rangers pitcher Martin Perez and White Sox first baseman Jose Abreu.
I'm sure there were other Fernández-related gestures last night that I missed. Feel free to post them in the comments.
A final thought: This was one time when black jerseys seemed appropriate.
•  •  •  •  •
New Era logo creep, continued: Yesterday I filled in the final blank regarding the three instances of New Era logo creep on MLB game caps in 2005 (Padres on April 20, Twins on July 3, and White Sox on Sept. 9). I thought that might have closed the book on previous instances of New Era logo creep, but reader J.A. muddied the waters yesterday afternoon by posting the following note in the comments: "The Padres wore two cut panel retros in 2010 as part of [a] weekly home game throwback promo[tion], and both versions had tonal [New Era logos] on them."
That sounded fishy to me — I certainly had no memory of it — so I did some photo digging. And sure enough, look what I turned up:
That's pitcher Heath Bell wearing a throwback cap that definitely has a tone-on-tone New Era logo (i.e., the logo stitching is the same color as the background fabric).
According to Bill Henderson's guide, the Padres wore that throwback uniform, including the cap, four times in 2010: May 27, July 29, Aug. 12, and Aug. 26. They also wore a different throwback uniform, with a slightly different cap, on April 15 and Sept. 30. Did that cap also have the tone-on-tone maker's mark? Yup.
I'm fairly certain I wasn't aware of this back when it happened in 2010. It's impossible to see except in close-up photos. Too bad the New Era logo creep that's about to infest MLB won't be tone-on-tone.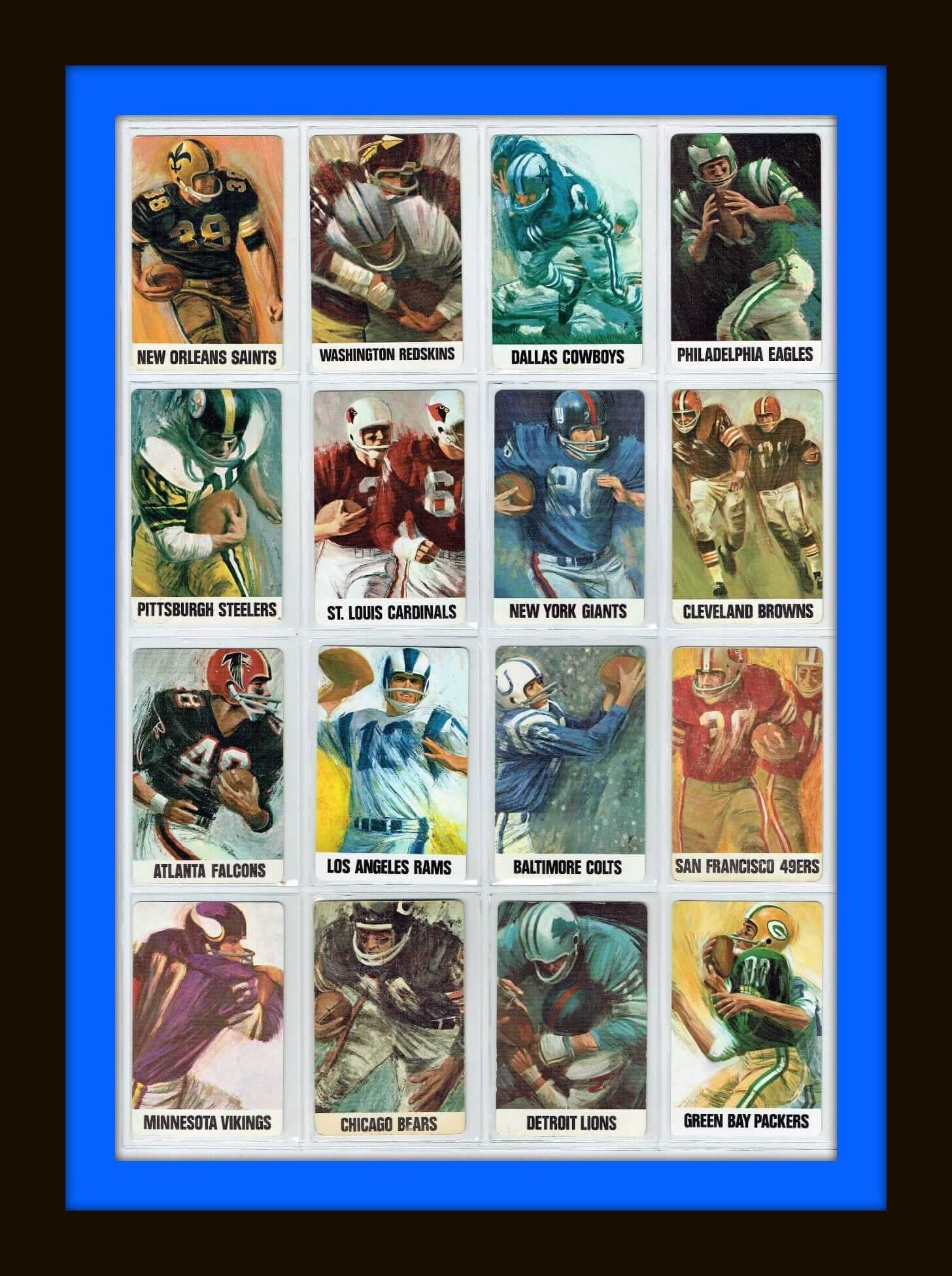 •  •  •  •  •
Collector's Corner
By Brinke Guthrie
Ah yes, the Master himself: Dave Boss. His very name conjures up memories of the late 1960s and early '70s. Take a peek at this set of NFL playing cards with his artwork on the back. These would all end up on other items like posters, of course.
A few more Boss gems for you: How about this New York Giants painting. This 1973 Giants yearbook has some typical classic Boss on the cover. And here's a 1966 matted Niners print.
But you can't live exclusively on Dave Boss artwork (although don't think I haven't tried!), so here are the rest of this week's picks:
•  Here's a 1978 NFL Properties Team Shop Brochure for retailers.
•  Back in the day, I think I would have snapped this 1970s Bengals gear bag right up.
•  This 1967 NFL electric football game from Tudor shows the Browns "CB" logo on the side.
•  1970s Chicago Blackhawks wristbands, right here!
•  Helmet plaques are a regular Collector's Corner feature, but we rarely ever see one for the St. Louis Cardinals. (Yes, kids, they used to be in St. Louis — and Chicago before that!)
•  This wooden 1970s suitcase has all the appropriate MLB logos of the period.
•  This late-1970s NFL poster is from Damac, featuring Saints quarterback Archie Manning.
•  Stancraft also did a great job in the 1970s with NFL posters, like this one for the Chiefs and this one for the Cowboys.
•  Had this! The 1971-1972 Pro Football Hall of Fame Appointment Calendar Book. Great art inside, as I recall. Of course, when I was 11 I didn't have any appointments other than being at the school bus stop on time.
•  Great art on the program cover for the first-ever Phillies game at the Vet.
•  •  •  •  •
Click to enlarge
Best Summer Ever, continued: The Tugboat Captain and I have spent a lot of this summer in or on the water: fishing on Independence Day, kayaking on the Hudson, all the beaches we visited during last month's California/Oregon vacation, etc. On Labor Day weekend we walked in the surf from Brighton Beach to Coney Island and figured that would be our last beach walk of the summer. But the next weekend we were invited to a friend's beach house on Fire Island, so we had another final summer walk on the beach, which turned out to be so nice that we decided to keep having "one last" beach walk for as many additional weekends as possible. The next one was at Fort Tilden Beach in Queens, and then this past weekend we had a very nice stroll at Midland Beach on Staten Island (see photos above), which is the only NYC beach that provides a view of the Verrazano-Narrows Bridge.
Not sure how long we can keep this up, but it's been a very nice ritual over the past four weeks.
Midland Beach, incidentally, has a series of flat-top concrete jetties that are full of cracks and gaps. We saw a fisherman on one of them, biding his time before he threw his net. While he stood there, water kept shooting up through a nearby fissure in the jetty "" part blowhole, part geyser. Sometimes the spray from the water created a mini-rainbow in the sun. Magic.
• • • • •
The Ticker
By Mike Chamernik

Baseball News: The Indians are using a custom design for their AL Central title logo. It incorporates the lights at Jacobs Field. Other teams are using a logo from this template (from @Believeland1994, via Phil). … Pesapallo, a baseball-like sport that's popular in Finland, puts a ton of ads on its unis (from Ted Arnold).

NFL News: The Redskins' burgundy pants were a hit on Sunday. They reminded fans of the team's glory days (from Rob Bergeron). … Scott Rogers recently stayed at a Kentucky bed and breakfast that was once the childhood home of Phil Simms. Scott found a neat 1967 NFL kids book there, along with a football signed by Simms. … More details are behind a paywall, but it looks like Steelers WR Antonio Brown got an ultimatum from the league over his baby blue cleats on Sunday: Change, or stay in the locker room (from @redbuppy). … Bills RB LeSean McCoy changed his helmet and gloves during Sunday's game (from Sunny Moon). … Miami Marlins OF Christian Yelich has a Patriots helmet in his locker (from Jared Buccola). … The Bucs will once again wear white at home this Sunday (from Phil). … All the players from the Saints and Falcons formed a circle and joined hands after the national anthem was played prior to last night's game.

College Football News: Really neat details on the Junction Made 1956 Texas A&M throwback helmets: Classic Riddell logos on the chinstraps and KRA-LITE logos on the back of the shell. … Miami will wear green jerseys only once this season, on Saturday (from Bill Schaefer). … McNeese State will wear delightful throwbacks on Saturday (from Chris Mycoskie). … Youngstown State will wear mono red on Saturday (from Robert Hayes). … In 1981, a Central Oklahoma State player dressed up his helmet for a few postseason all-star bowl appearances. The Bronchos had blank helmets, and the player wanted to be easily identified on TV. So, he got decals from a school bookstore to put on his helmet (from John Fitzgerald).

Hockey News: The Oilers introduced a lynx mascot named Hunter. He will wear No. 72, the year in which the team was founded. Here he is in action. … The Ottawa Senators are moving their AHL franchise from Binghamton, N.Y., to Belleville, Ont., after the upcoming season. The farm team will still be known as the Senators (from Wade Heidt). … The Milwaukee Admirals will wear Slap Shot-inspired jerseys for a night this season (from Brian Kerhin). … Here's a cool time lapse that shows how crews painted the Flyers ice (from John Kelemen). … The Stars added a bunch of banners to the rafters at the AmericanAirlines Center (from Kyle Brynsvold).

NBA News: The Nuggets will wear their rainbow skyline throwbacks for their opener, when they'll retire Dikembe Mutombo's No. 55. … The Warriors will wear a memorial band for Hall of Famer Nate Thurmond. … The Pacers will have their 50th-anniversary logo on their court. Here's how it looks on the jerseys (from @HawksPacMan and Phil). … After winning their first title, the Cavs will now have a gold tab on the back of their jersey collar. … Teams are having problems whittling down potential advertisers and determining dollar values for jersey patch ads (from Phil). … The Lynx will wear purple shoes in the WNBA playoffs in memory of Prince. He was, of course, a Minnesota native (from Brett Stone).

College Hoops News: BYU has new shorts with a mountain theme that looks a bit Jazz-ish. … New uniforms for Western Washington, a D2 school (from @FroggySeattle).

Grab Bag: A Michigan field hockey player from the early 1970s finally received a legit varsity jacket. Back in 1974, the school didn't want to give women actual varsity jackets (under the logic that it would devalue the "M"), so they gave them jackets with smaller, off-color patches (from Jason Hillyer). … Church basements don't just host Bingo nights and fish fries. A few hundred of them still have bowling alleys (from Steven Zerhusen).