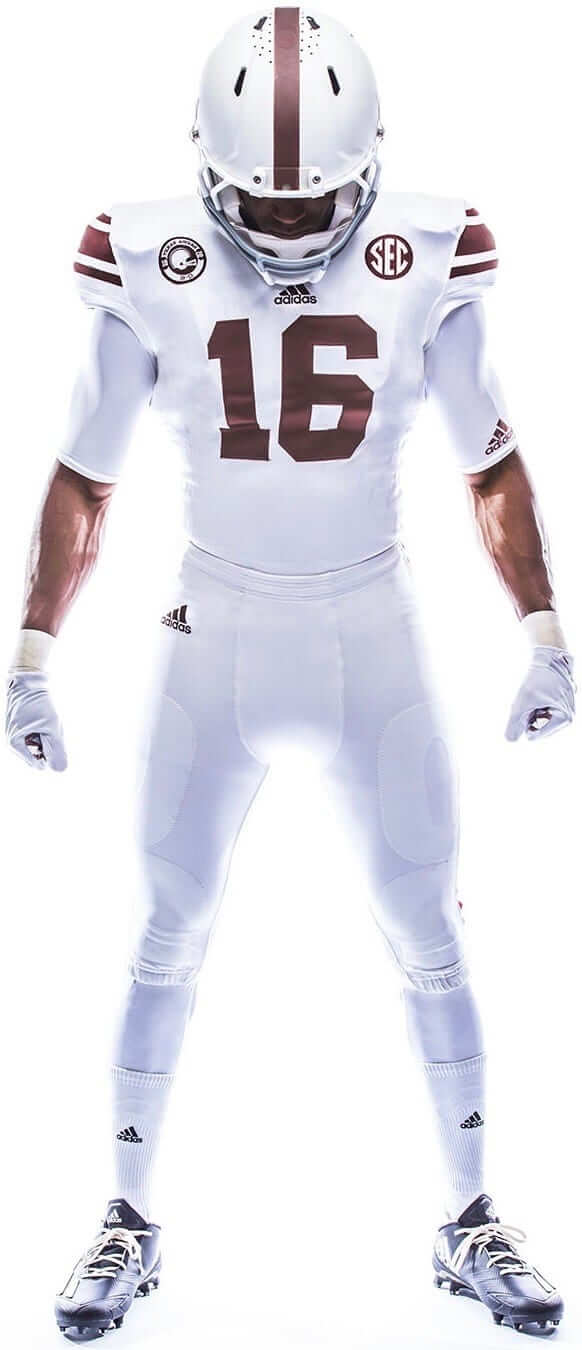 Texas A&M football came out with a new retro alternate yesterday. It's based on the team's uniform from 1956, when the Aggies won the Southwest Conference championship for the first time in 15 years.
Interestingly, the facemask is two-tone — white at the top and bottom and grey in the middle, so the grey bars mimic an old two-bar mask (click to enlarge).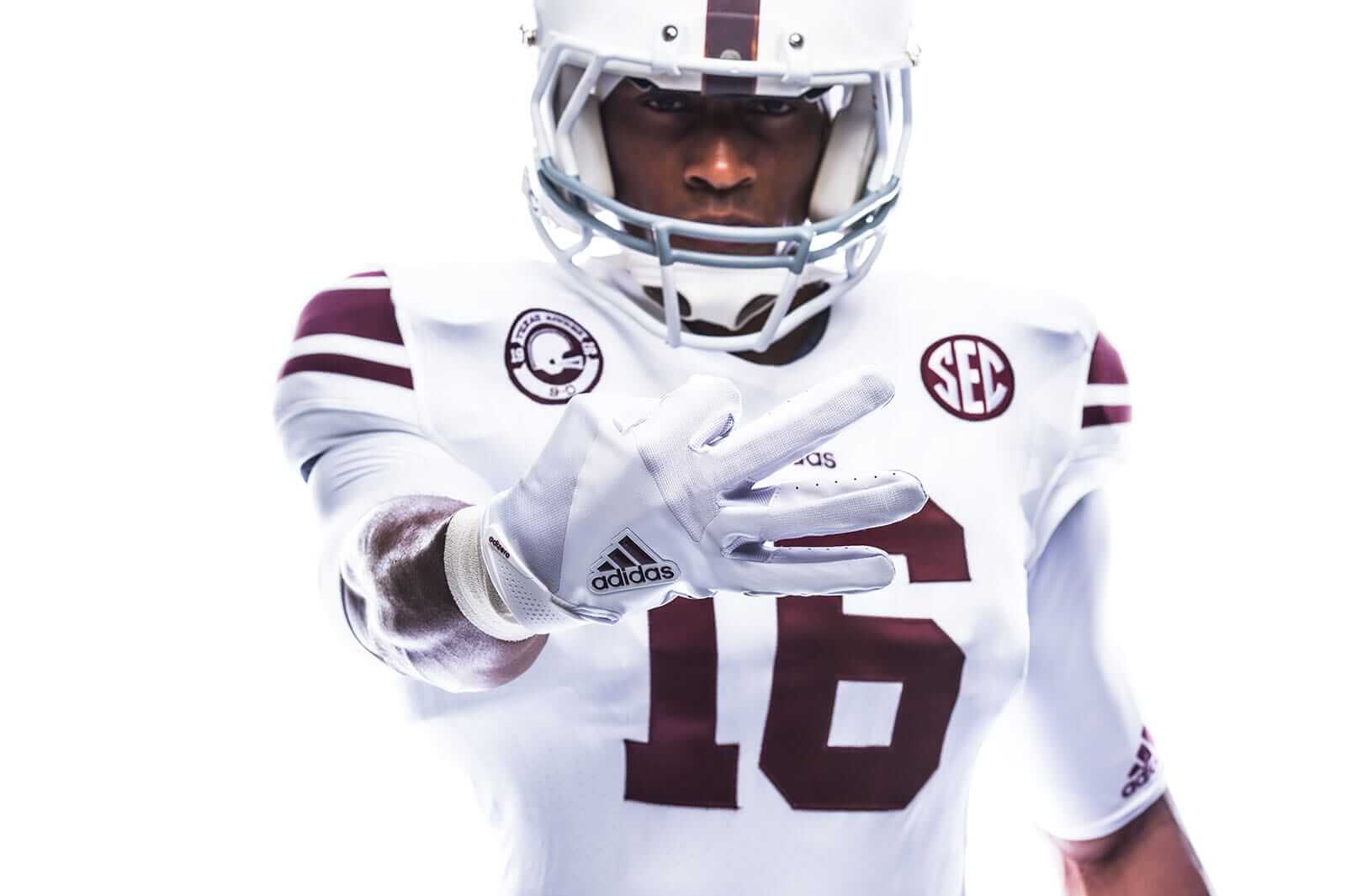 The press release provides further details on this:
The helmet also features vintage Riddell and KRA-LITE brand marks on the exterior shell and chinstrap consistent with those worn by the 1956 Aggie team, as well as a custom painted facemask to simulate the appearance of the single- and double-bar models versions from the period.
I'm pretty sure this is the first time we've seen a throwback chinstrap, no? There's a better view of the strap in this next photo, which also shows how they've painted the nose bumper to simulate the look of no nose bumper (click to enlarge):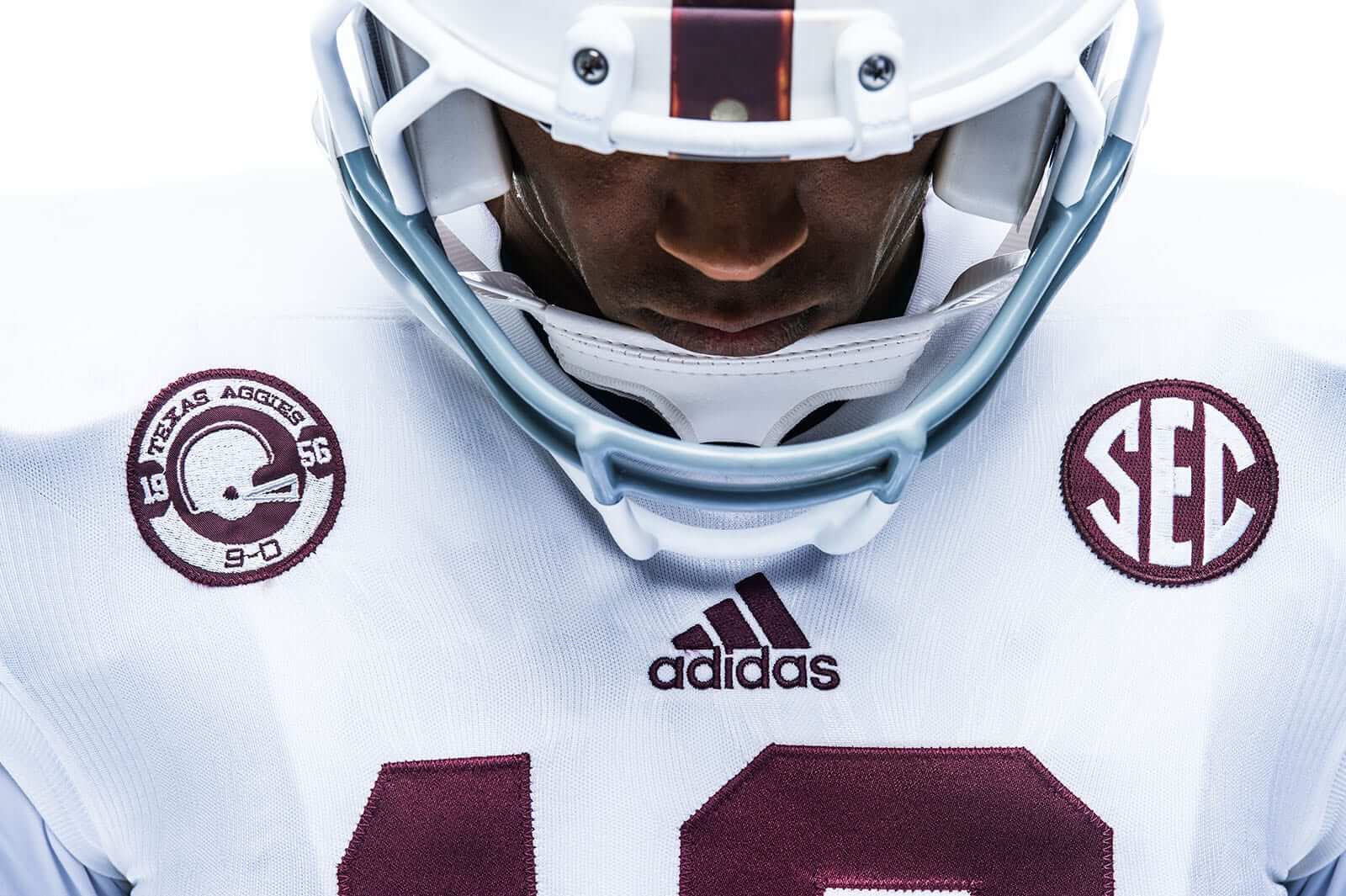 As you can see in that last photo, there's also a jersey patch indicating that the '56 team went 9-0. That's not accurate — they were actually 9-0-1, with a tie against Houston. Oddly, Adidas's press release for the uniform mentions the 9-0-1 record, so why try to fudge things on the patch? Weird.
•  •  •  •  •
New Era logo creep, continued: Earlier this week I said there was at least one previous instance of the New Era logo appearing on an MLB game cap (that was on April 20, 2005, when the Padres wore the logo-clad caps), but I also said I had the nagging feeling that there might have been some additional examples.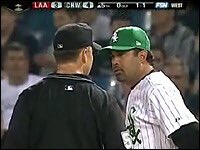 Now reader Mike Schindler has come up with one of those additional instances, and he found it in a funny place: in one of my early ESPN columns! In the Ticker section of my column that ran on Sept. 22, 2005 (yes, my ESPN columns had Tickers back then, because this blog didn't yet exist), I mentioned that the White Sox had worn caps with maker's marks when staging their first "Halfway to St. Patrick's Day" promotion on Sept. 9, 2005, and I linked to the tiny screen shot shown at right. I can't find any other photos from that game that show the left side of a player's cap, so that minuscule image will have to do for now. (Photo research suggests that the green caps the Chisox have worn for subsequent editions of this promotion have not had the logo.)
But here's the intriguing thing: After linking to the Chisox shot, I wrote, "[This was] the third time this season that the milliner snuck its mark onto MLB caps." The first time was the Padres game from April 20 of that year, but what was the second time? I probably I wrote about it at the time, so I poked around in some of my ESPN columns from that year, but so far no paydirt. I'll keep looking.
Looking back, it's funny that I referred to New Era as a "milliner." That's technically inaccurate, because a milliner is actually a maker or seller of women's hats. But it's such a good word, and I don't get to use it very often — maybe that's why I went with it, even though it was a bit of a stretch.
Oh, and speaking of good words: Happy autumnal equinox! I love saying that because (a) autumn is my favorite season and (b) "autumnal" is my favorite adjective. I like how the silent "n" suddenly gains a voice. Isn't that nice?
•  •  •  •  •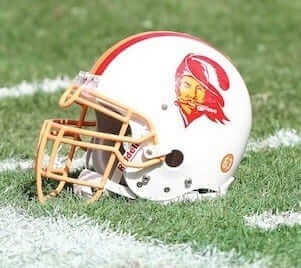 NFL helmet rule FAQ: Three years after the NFL's one-shell protocol was enacted, I still get questions from people who don't understand the rule. So I've created an FAQ page that address all (I hope) of the common questions and misconceptions. Hope everyone finds it helpful, and feel free to let me know if I overlooked anything that should be included.
• • • • •
The Ticker
By Mike Chamernik

Baseball News: For his last home game, Red Sox DH David Ortiz will wear custom cleats with the dates of all his walk-offs. Man, Big Papi was clutch (from @GuySmileys). … On Sunday, Mets P Jerry Blevins wore a standard cap, with an orange squatchee and black underbrim, instead of the proper throwback cap, which has a blue squatchee and grey underbrim (from Vladimir Gonzales). … New gloves for Nebraska. … Mementos from Disco Demolition Night will be displayed at a suburban Chicago museum next year. … A designer drew all 30 MLB wordmarks in Japanese Katakana (from @HoeflerCo). … The Bowie Baysox revealed a logo for their 25th season (from Andrew Cosentino).

NFL News: Actress Sofia Vergara's husband, Joe Manganiello, is a huge Steelers fan. On The Tonight Show, she said that he has Steelers pants, underwear, and a hat and bandana, and that he wears the whole outfit when watching the game at home (from Chris Flinn).

College Football News: Virginia Tech is hosting an "Orange Effect" game on Saturday against East Carolina. The Hokies will wear orange helmets, and orange logos and wordmarks have been painted on the field. Fans can buy orange shirts. A "Maroon Effect" game will be held next month (from Andrew Cosentino). … Air Force will wear white-over-blue this weekend. … A Tim Tebow jersey was part of a clue on Jeopardy! last week. The answer was what college he attended (from Chris Flinn). … Have we ever seen a FNOB handled like this before? That's obviously Mike Carey, a Pitt center, during a game against Penn State in 1973. "What would we call it, LN,FNOB?" asks Gerry Dincher. … Wisconsin-Stevens Point wore white pants two Saturdays ago. The Pointers normally wear mono-yellow (from Michael Bialas).

Hockey News: The Flames' retro red-and-yellow jersey is now officially a third jersey. The set will be worn 12 times this season. … The Blue Jackets released the schedule for when they will wear their third jerseys (from Kenny Saidah). … The Maple Leafs are holding an apparel design contest (from reader MaryPaul). … The Blues had plans for a trumpet-shaped player entrance in 1996. They nearly introduced these third jerseys that year. … The Blackhawks painted their logo at center ice the other day.

Pro Basketball News: In addition to bringing back the Hoosiers Hickory High unis, the Pacers will host six "Decade Games" this year, in honor of their 50th anniversary. Seems like in-game atmosphere and entertainment will be retro-themed, but no throwbacks are planned (though they did wear 1990s Flo-Jo unis in late 2015). … The Jazz will renovate their arena, which opened in 1991. … All members of the WNBA's Indiana Fever took a knee and locked arms during the national anthem prior to last night's game against the Phoenix Mercury. Two Mercury players also knelt. … Meanwhile, the NBA and the players' union are exploring alternative forms of protest and community engagement for the upcoming season. NBA rules mandate standing for the anthem. … New uniforms for the Perth Wildcats, an Australian pro team (from Paul Forrest).

College Hoops News: New uniforms for Penn State (from Tyler Brackbill). … New uniforms for East Carolina, too (from Russ Friedland).

Grab Bag: The logo for UEFA Euro 2020 was revealed (from Griffin Smith, via Phil). … Earlier this year, a famous Toronto discount department store, Honest Ed's, announced it was closing and sold all of its hand-painted signs (from Ted Arnold).
•  •  •  •  •
Click to enlarge

What Paul did last night: Had the pleasure of attending last night's Braves/Mets game with Uni Watch deputy editor Phil Hecken (left) and uniform/logo design Todd Radom (who, thankfully, didn't wear an "I'm Calling It Shea" shirt, or else we would've looked too geeky even for my tastes). The photo was taken by a beer vendor, who unfortunately didn't realize that Todd was nearly obscured by shadows.
It's hard to express how great it is to take in a game in the company of two guys who Totally Get Itâ"¢. Big thanks to both these gents for a fine evening of baseball chatter, and doubleplusthanks to Phil for making it happen and scoring the tickets.