Yesterday's post about the New Era logo being added to MLB game caps prompted a lot of comments from people who said they routinely remove the company's logo from fashion caps with the aid of nail clippers, seam rippers, scissors, and other tools. There's even a video on YouTube, embedded above, that shows how to do it with scissors.
But that apparently won't be possible with the new logo-emblazoned MLB caps, because the New Era mark isn't actually embroidered into the cap. Three readers who've purchased Cubs or Rangers postseason caps described it to me like so yesterday:
•  From reader Jon Robertson: "The New Era logo is pressed on like a patch. On the inside of the cap, there's no stitching on the underside of the logo. … I feel like it could eventually come off with wear and tear. Also, the stitching on the logo is beveled further out than on other New Era caps." You can see what Jon means in the side-by-side comparison below — the logo on the left is from a fashion cap, and the one on the right is from one of the Postseason caps: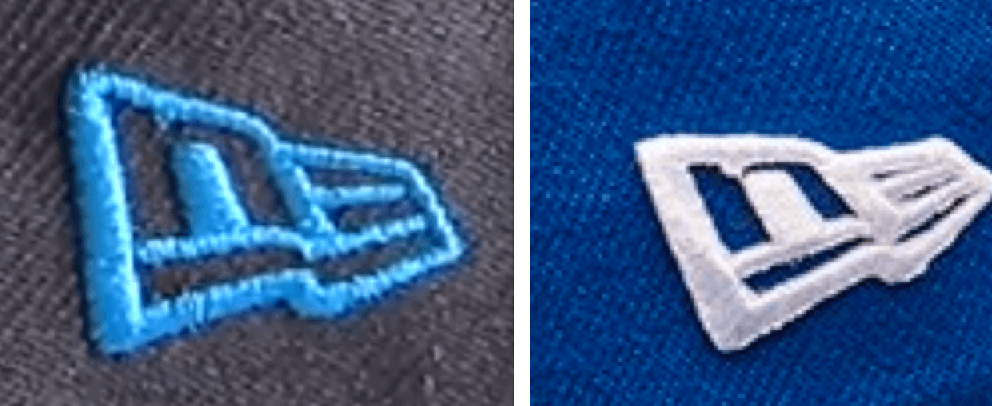 •  From reader Emilio Vialpando: "The New Era logo is a patch, not stitched. On fashion caps, you can see the logo stitching on the inside, but not on the Postseason cap."
•  From reader Kevin Wright: "The New Era logos on the Postseason caps are basically stickers and are not stitched into the hat. The best comparison would be a Chromaflex patch. Definitely was not stitched to hat. I wiggled it, but it was definitely on there. I gotta imagine if you really want it off, you could get it off without damage to the physical cap."
Interesting. This isn't a huge deal to me either way, because I mostly care about what the players wear (and they're obviously not going to be removing their cap logos), not what's sold at retail. But I'm generally in favor of less corporate advertising and influence in the public sphere, so I'm hoping those of you who like to remove the maker's mark from your caps will still be able to do so.
•  •  •  •  •
Another NHL anniversary jersey: Three weeks ago we saw the Flyers' 50th-annivesary jersey, and yesterday the Kings did likewise (can the Blues and Penguins be far behind?):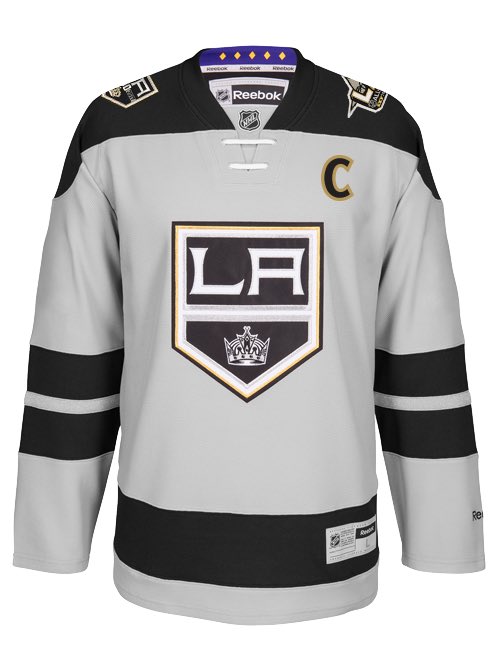 When I first saw that mock-up yesterday afternoon, I definitely wasn't in love with the grey base color, although I do think it looks a bit better in some of these photos that surfaced last night (click to enlarge):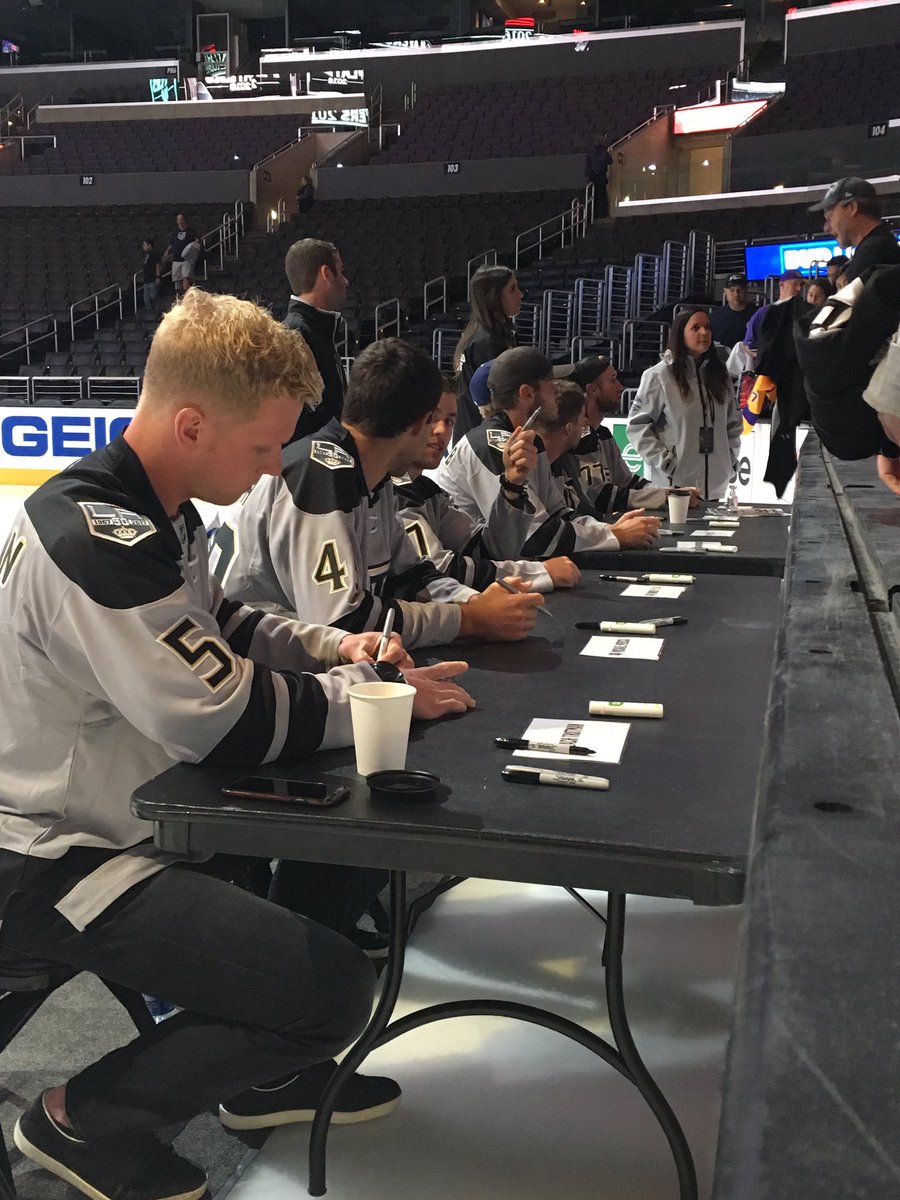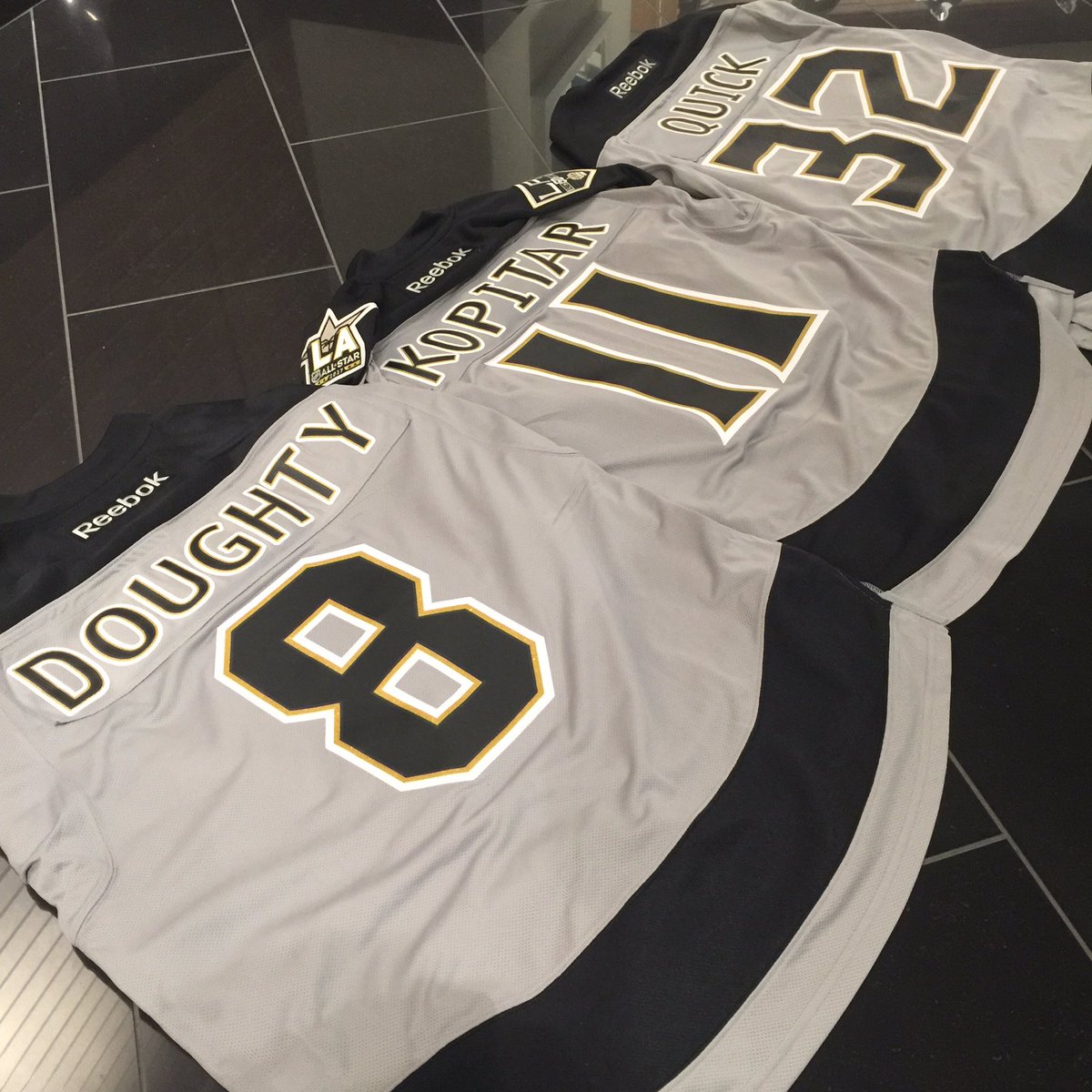 There's also this infographic, which provides additional information on the jersey's various elements (click to enlarge):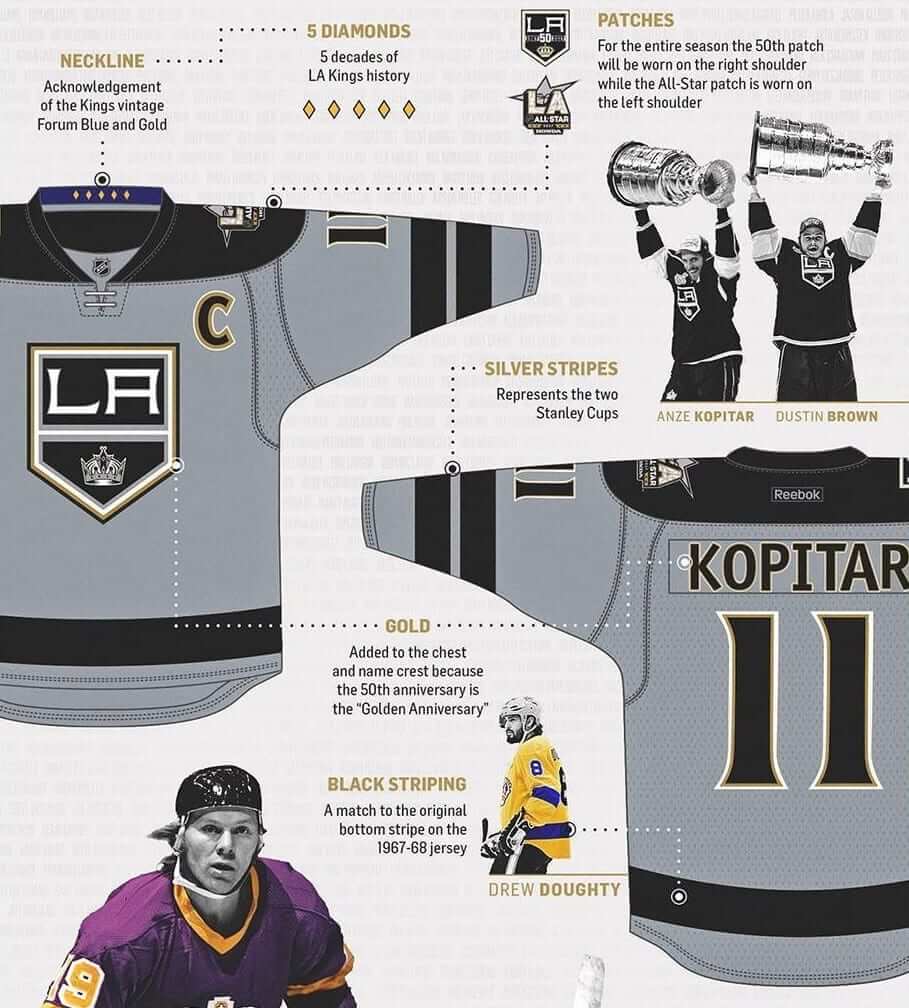 And there's a promo video and additional information, including the dates when the uniform will be worn, on this page.
Incidentally, it would be nice to see the full uni, including the helmet, pants, and socks, but that isn't shown in any photos, graphics, or video footage that's been released so far. Kinda tells you everything you need to know about the thinking at work here — it's not a uniform, it's just merchandise.
Also, if you look again at the mock-up at the top of this section, you'll see that the jersey has two shoulder patches — one for the team's 50th-anniversary logo on one shoulder and the NHL All-Star Game logo. That's also going to be the case with the team's standard home and road jerseys this season: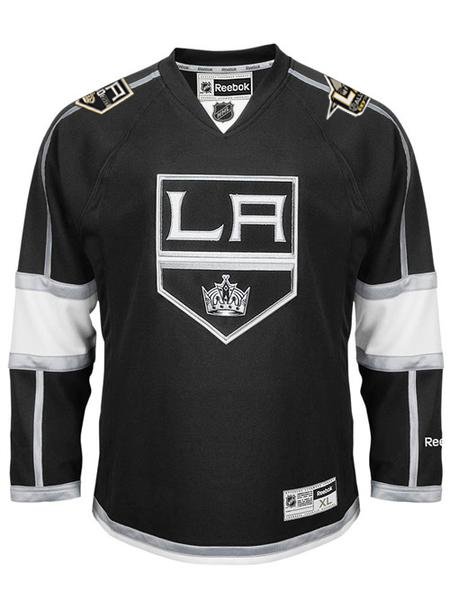 •  •  •  •  •
The Ticker
By Paul

Baseball News: Good spot by Tristan Ridgeway, who noticed that Ron Cash appears to have had a hypen, rather than a period, on his FIOB in 1974. Here's a close-up of the hyphen. The Tigers also had Norm Cash on the roster at the time, which explains the first initial, but I'm not sure I've ever seen the hyphenated format before. … Jerry Wolper found some great video of Angels 3B Doug DeCinces playing — and homering! — while wearing a numberless batboy's jersey. His own uni had apparently been stolen. … Tim Tebow's new team colors as a Met are very close to what he wore as a Florida Gator. … A restaurant in Provo, Utah, has a painting of Don Mattingly in a Mets uniform. … Andy Garms recently went to the Skirball Cultural Center in Los Angeles to check out a temporary baseball exhibit called Chasing Dreams and took these photos. … Pakistan's WBC helmets are pretty cool. Also: The CoolFlo lives! (From @Bryant_rf.) … Infinite regression alert! Check out this baseball card of a player holding the selfsame card (thanks, Mike). … Font inconsistency on Phillies P Joley Rodriguez's NOB. … Last night's episode of Jeopardy! included an answer featuring a Cardinals helmet (from Douglas Ford). … A Mets fan made a quilt out of Mets T-shirts. The Tugboat captain, who is quilting-savvy, was thinking of doing the same thing with a set of Uni Watch T-Shirt Club tees but hasn't had time to get started.

NFL News: Nice find by Jerry Wolper, who came up with this shot of the Steelers' 1967 basketball team, plus their cheerleaders. … Here's a good look at the Broncos' Color Rash helmets (from Mark Johnson). … A Chicago-area store is inviting customers to wipe their feet on a Colin Kaepernick jerseys (thanks, Phil). … Washington Wizards player John Wall is in hot water with DC fans because he wore a Cowboys jersey to last Sundays Dallas/Washington game (thanks, Phil). … Lots of NFL-related M&M's items here (thanks, Brinke). … An upcoming estate sale in Buffalo will feature an item I've never seen before: an NFL vest. Looks like the kind of thing that would be perfect for Collector's Corner (from Matt Willcott). … Vikings WR Stefon Diggs practices in short shorts (thanks, Mike). … Former Rams RB Eric Dickerson wants the team to go back to its old royal/gold colors (thanks, Phil). … Here's a very detailed look at the science behind the Deflategate controversy.

College and High School Football News: Regarding Miami's excellent new back-to-basics uniforms and new merit decals, Austin Gillis writes: "I don't think I've seen anybody note that this is completely consistent with what new Miami coach Mark Richt did at his last coaching stop at UGA. When Richt was hired at Georgia after the 2000 season, their helmets included a superfluous black stripe, and the uniform numbers had a drop shadow. Both of these features had been added in the 1990s. In Richt's first year, the team lost the black helmet stripe and added merit decals (specifically, black and white bones); by his second season, the drop shadow was gone as well. These are the only two head coaching jobs Richt has ever had, so it is hard to call it a trend, but it's interesting that Miami is making the same types of uniform changes that Georgia did back when they brought Richt on board." … Man, the uni numbers on Adidas's 7v7 high school jerseys are really big. How big? Like, really big (from Kevin Driscoll). … Army is adding a memorial decal for Brandon Jackson, the cornerback who died in a car crash two weekends ago. … Minnesota's game notes now show the team's record broken down by uniform. … SMU's helmet logo for this Friday's game against TCU will feature the Dallas skyline inside the familiar pony logo, as a tribute to fallen police officers and first responders. … Looks like Tulane will be wearing the Angry Wave this weekend. … LSU placekicker Colby Delahoussaye was a survivor in the car crash that took the lives of Nebraska punter Sam Foltz and former Michigan State punter Mike Sadler. Now Delahoussaye is honoring them with these custom cleats (from Daniel Fontenot). … White alternates on tap this weekend for Nebraska (thanks, Phil).

NBA News: The upcoming season will apparently feature a lot of striped socks. They'd look great if not for those side panel thingies, right?

College Hoops News: Here's an old Jim Valvano business card (from J. Huckel). … Anyone know the story behind this Big 10/Pac 10 all-star jersey with a "Vaughn" NOB? "I have done a lot of research and haven't found anything so far," says Elan Rodman.

Soccer News: Reader Trevor Williams notes that FC Barcelona press conferences feature coach Luis Enrique standing in front of a wall full of ads, plus there's an ad and two beverages in front of him. "I fear that American sports will soon reach this level of saturation," he says.

Grab Bag: If you've ever been to Chicago, you know it's a great town for hand-lettered signs, especially at supermarkets. Here's an excellent article about that (big thanks to Luis Aranda). … In a related item, I love-love-love the super-stylized 1s and 9s on these Brooklyn bodega signs, which I saw the other day while on my way to meet friends for Mexican food. … Oh baby, check out the amazing typography and logos on these vintage work clothes buttons — spectacular (big thanks to @Univers47). … New volleyball uniforms for the Japanese women's team Toyota Auto Body Queenseis — blue and white — and also for the men's teams Sakai Blazers and FC Tokyo (from Jeremy Brahm). … New rugby league uniforms and logo for the CanAm Grizzlies.