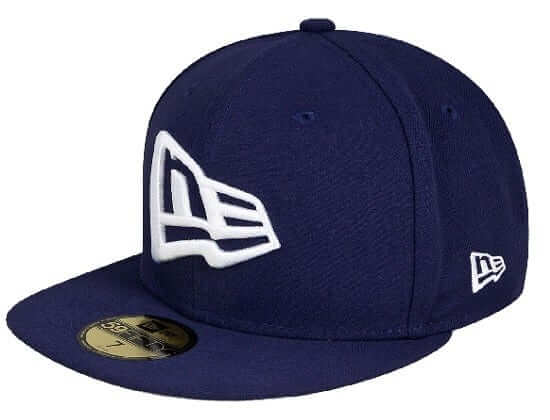 And now it's official: As we speculated yesterday, the New Era logo will indeed be added to MLB caps beginning with next month's postseason, and then will be retained for all games beginning next season (yes, even for the Yankees).
This is, of course, extremely disappointing. It collapses the wall between major and minor league caps, and between game and fashion caps. It also establishes the MLB uniform as one of the most wide-ranging corporate billboards in pro sports. The typical player will now be wearing the logos of Majestic (jersey and pants), Nike (undershirt), New Era (cap), and, in many cases, Stance (socks), along with the assorted maker's marks on his shoes, batting gloves, shinguard, catcher's gear, etc. From MLB's perspective, I imagine this is exactly what they want — a diverse portfolio of corporate partners. But from a visual perspective, it's just a mess.
In days and weeks to come, you'll hear people saying that this is the first time the New Era logo has ever appeared on a game cap, but that is incorrect. On April 20, 2005, the Padres did a camouflage uni promotion (this was back when they went G.I. Joe only once a year, not for every Sunday home game), and their caps for that game did indeed feature the New Era logo. The party line at the time was that it was a "mistake" that nobody caught in time: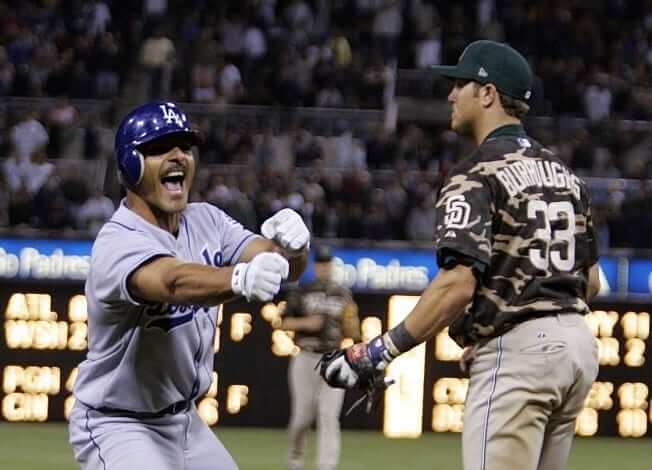 It looks only moderately awful in those pics. But it's going to look a lot worse when they show a close-up of your favorite pitcher on the mound.
If I'm not mistaken, I believe this will leave the batting helmet as the only major uniform or equipment component without a maker's mark. I'm sure the folks at Rawlings are busily lobbying for that to be addressed as we speak.
So even if your favorite team is out of playoff contention, savor these last two weeks of the of season, because it's the last time we'll see clean-looking caps. Meanwhile, I'm dreading 2017, which is now slated to be the year New Era logo creep begins appearing on MLB caps in regular season games, and is also the year when ads will begin appearing on NBA uniforms — not good.
•  •  •  •  •
If you can't see the slideshow above, click here
New 'Canes uniforms: Miami unveiled a new uniform set last night. As had been expected, they have a retro flair, hearkening back to the team's 1980s and '90s look — a very good look indeed. According to this article, this will be the team's main uniform set moving forward. That raises the question of why these uniforms weren't ready at the start of the season, but whatever — this instantly becomes one of the strongest uniform sets in college football.
•  •  •  •  •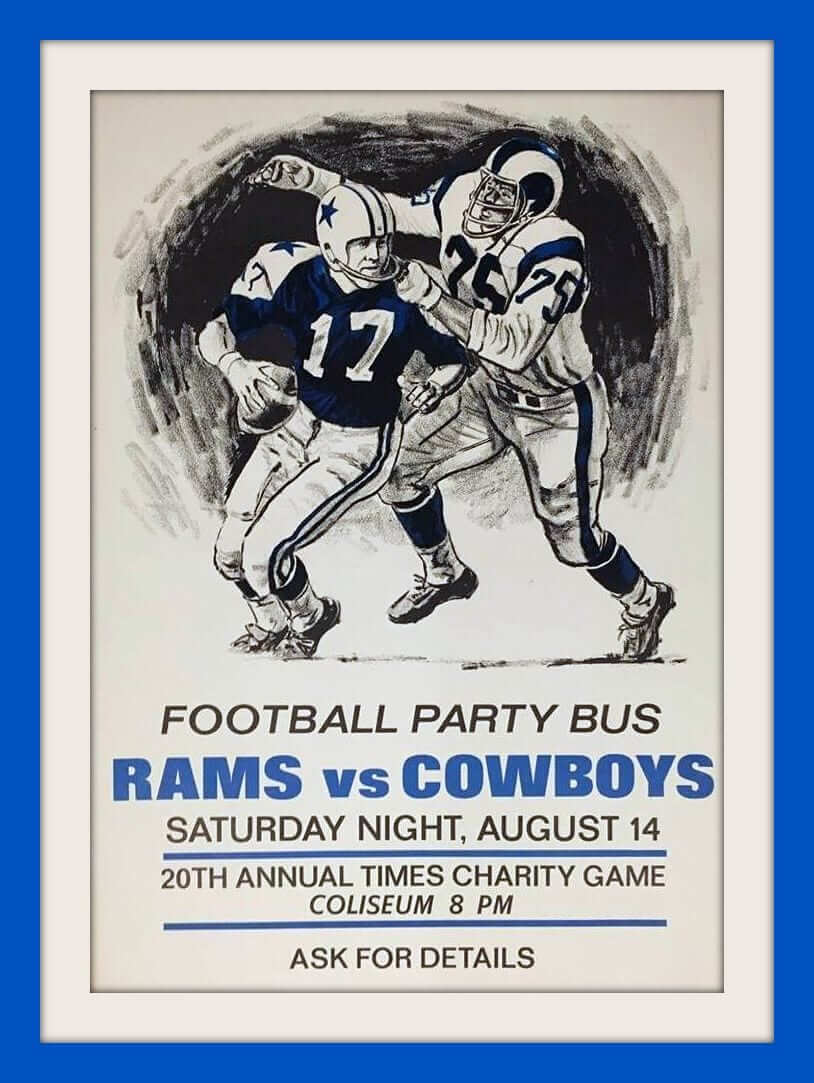 Collector's Corner
By Brinke Guthrie
All board the Party Bus! Heck, you get to see Deacon Jones get a facemask penalty on Dandy Don! This advertisement poster for an LA Times charity preseason game is from Aug. 14, 1965, using the Cowboys' previous uniform look. I sorted through a lot of Google Images to nail down the date before I realized, duh, just look up the calendar, dummy.
Now for the rest of this week's picks:
•  Nice 1970s artwork on this NFL bedsheet, but notice that the fonts aren't accurate. Why not use the accurate imagery when you have the NFL license?
•  Here's a 1970s NFL coaster set (had the Bengals version back in the day). You get 13 NFC teams plus an NFC coaster. You can also hang these on the wall, and the seller says this set hasn't been used before.
•  I have my early 1970s NFC IHOP thermal mug here on my desk (I always roll it out when the new season starts), and you can get your AFC version right here.
•  Looking for some size 11 basketball high-tops? Check out these 1970s "NBA" model sneakers — patterned off a certain Converse model, no doubt.
•  Here's a very cool 1970s Dolphins poster. Kinda looks like Larry Csonka.
•  This 1960s Boston Red Sox pennant has been provided compliments of "Yum-Yum Shops."
•  Great box art on this Official 1960s All-Pro Football board game from Ideal.
•  Despite the seller's claim, there's nothing NFL-related or Bears-related about this generic 1970s football corkboard, but it still looks pretty good.
•  This 1970s O.J. Simpson tee has a "32" on the helmet, rather than the Bills logo. Must not have had a license.
•  Steelers fans will toast their latest victory with this 1970s-era Terrible Towel mug.
• • • • •
Too good for the Ticker: When the Houston Colt .45s (forerunners of today's Houston Astros) began play in 1962, they had some colorfully costumed staffers. The following three photos, which originally ran in The Houston Chronicle, show a press box attendant, a ticket taker, and an usher (or, as she was known, a "Trigerette"; for all of these, you can click to enlarge):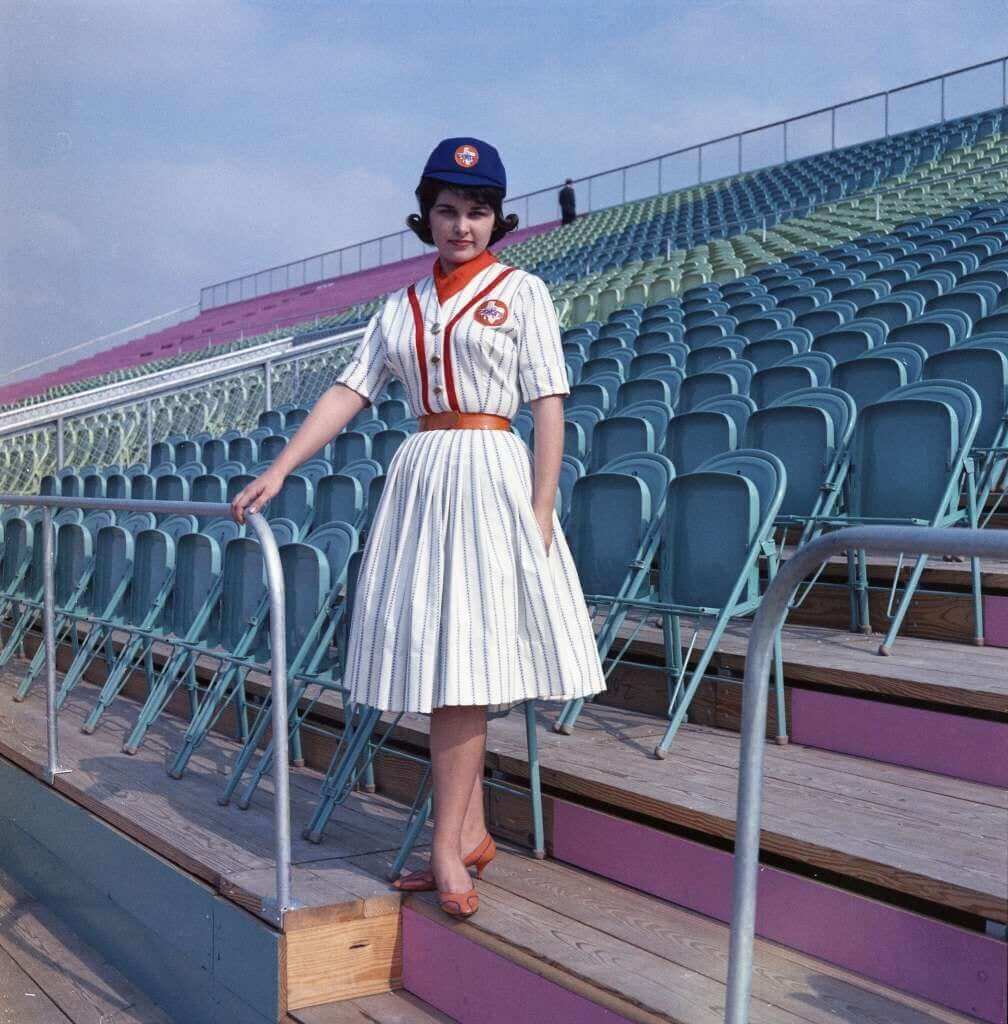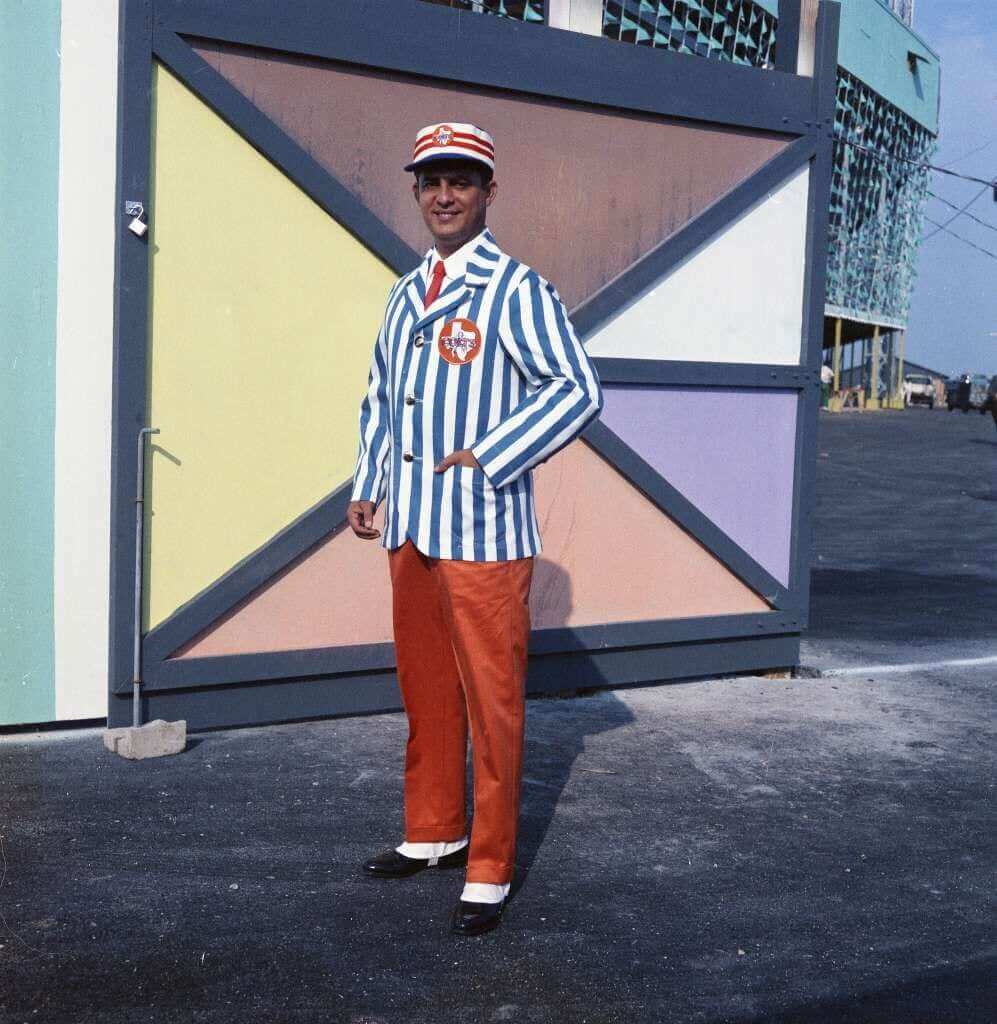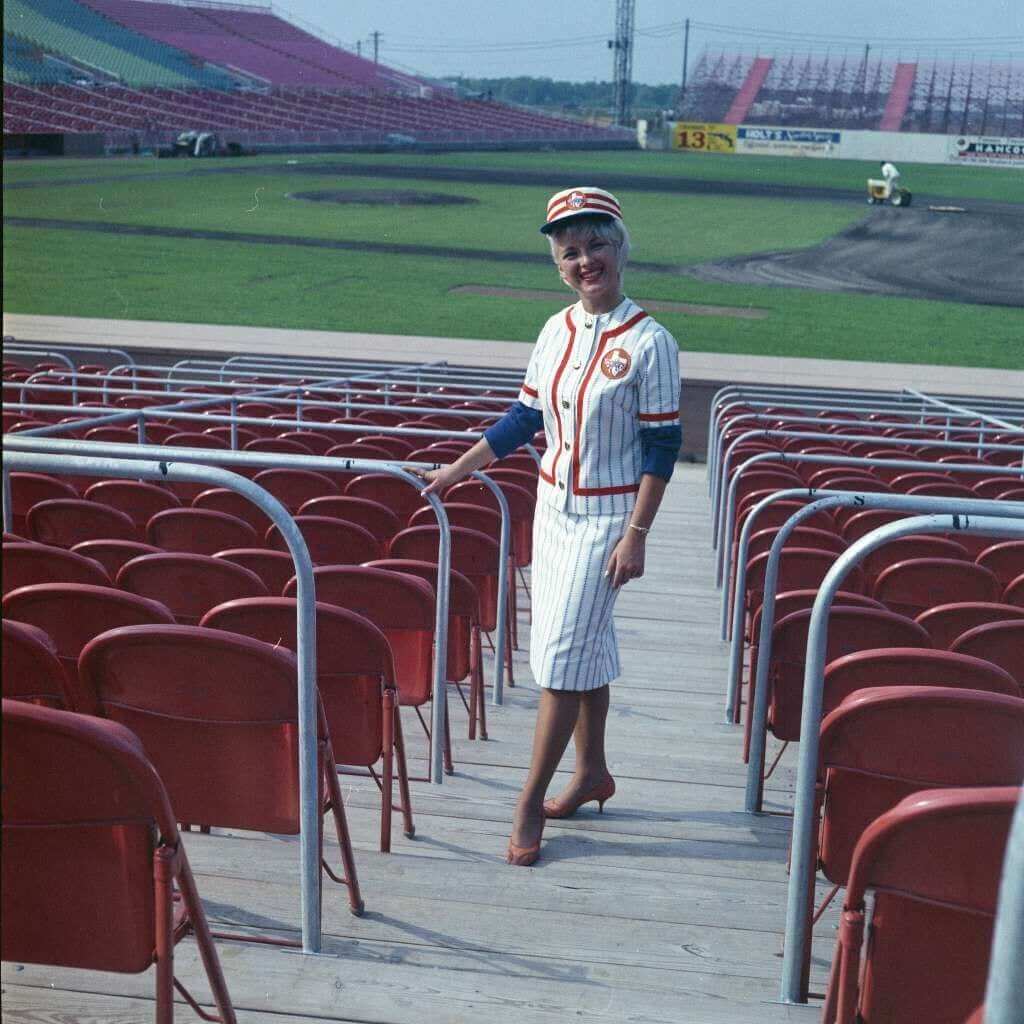 Man — folding chairs and wood planks. Must have felt like a quantum leap when the moved to the Astrodome in 1965.
(Big thanks to Bob Andrews for this one.)
•  •  •  •  •
KRC update: The latest installment of Key Ring Chronicles is about a coal miner's lamp tag (that's the "30" tag shown above) and a pair of bicycle end caps (those are the black and gold thingies). To see how they tie together in one person's life, get the full scoop here.
• • • • •
The Ticker
By Mike Chamernik

Baseball News: The Mets are now selling Tim Tebow apparel. … David Ortiz has city-specific custom cleats for the last few weeks in his career (from Phil). … The Dodgers gave away Clippers-colored LA hats last night. … We're a few days away from autumn, which means corn maze season! Here's an Orioles entry (from Andrew Cosentino). … Yangervis Solarte's wife, Yuliett, died of complications from cancer this past weekend, so the Padres will hang a memorial jersey in their dugout. Solarte's number is 26. … Giants skipper Bruce Bochy wore a BP cap instead of a game cap last night. … Justin Turner of the Dodgers appears to have had some XYZ issues last night.

NFL News: Here's a Reddit useless fact we should find quite fascinating: Sam Bradford has now started for the only three teams in the NFC to not use a primary logo on their helmet: the Vikings, Eagles, and Rams. He just needs to play for the Bengals to make it a clean league-wide sweep. … Aside from throwbacks, the Rams are wearing white unis at home this season. The team has been pushing navy-and-white logos and wordmarks both on social media and in the stadium (from Matt Gamba). … Omar Jalife noticed that Colts coach Chuck Pagano wears four or five bracelets. Over the past few years, Pagano would only wear one or two wristbands. Pagano battled cancer a few years ago and the Colts sold ChuckStrong bracelets, which raised money for leukemia research. … Four Dolphins took knees during the national anthem this weekend, so the Broward County sheriff's union wants to stop providing security detail for the team (from Phil). … Dak Prescott's helmet stripe doesn't separate at the gap in his SpeedFlex helmet. Here's how other teams handle the stripe (from reader D Hempel). … Check out this great footage from the Bills' first training camp in 1960 (from @HelmetAddict). … Inconsistent number spacing on the back of the Eagles' helmets last night. … Speaking of the Eagles, three of their players protested the national anthem prior to last night's game.

College Football News: Tennessee will wear dark gray uniforms against Florida this weekend. … New alternates and silver helmets for Mississippi State this weekend. More photos can be seen here (from Phil). … Marshall looks particularly bad with untucked jerseys. Here's another look. "I wish I had a better photo," says Brice Wallace. "Some players looked like they were wearing mini-skirts or cheerleader skirts. Maybe there's a great new name for ya: T-skirts." … Northwestern will wear helmet decals in honor of Sam Foltz, the Nebraska punter who died in a car crash this summer. The two teams play on Saturday (from Phil).

Hockey News: The NHL released the logo for the 2017 All-Star Game in Los Angeles … The Blues will put their 50th anniversary logo at center ice this season. … New alternate uniforms for the Chicago Wolves (from Ryan Redbeard). … A Lightning fan created her own Bolts-themed dress.

NBA News: New court design for the Rockets. … The Kings are installing a new court into the Golden 1 Center, which opens this season. The court will have a ribbon of Sacramento Elm wood. … This also ran in the baseball section, but it seems appropriate here as well: The Dodgers gave away Clippers-colored LA hats last night. … Bucks G Matthew Dellavedova has a new signature shoe. As you can see, his personal logo is a wordmark of his nickname in the shape of Australia. … Here's a weird one: Rockets C Billy Paultz had a little green tag stapled to his jersey during the 1981 NBA finals. Almost looks like a dry cleaning tag.

College Hoops News: Duke tweaked its home jersey to include a mesh fabric on the chest and a round ACC basketball patch (from Jeff Cox). … New uniforms for Ole Miss. … UTEP unveiled new dark blue unis. … New uniforms for Valparaiso (from Dave Elbrecht). … Utah State's new home jerseys have a sublimated Aggies logo on the back (from Phil). … New unis for Appalachian State. … Missouri State will have a new court. That's a really, really big mid-court logo. … New uniforms for San Jose State (from Ahmad Billal Samady).