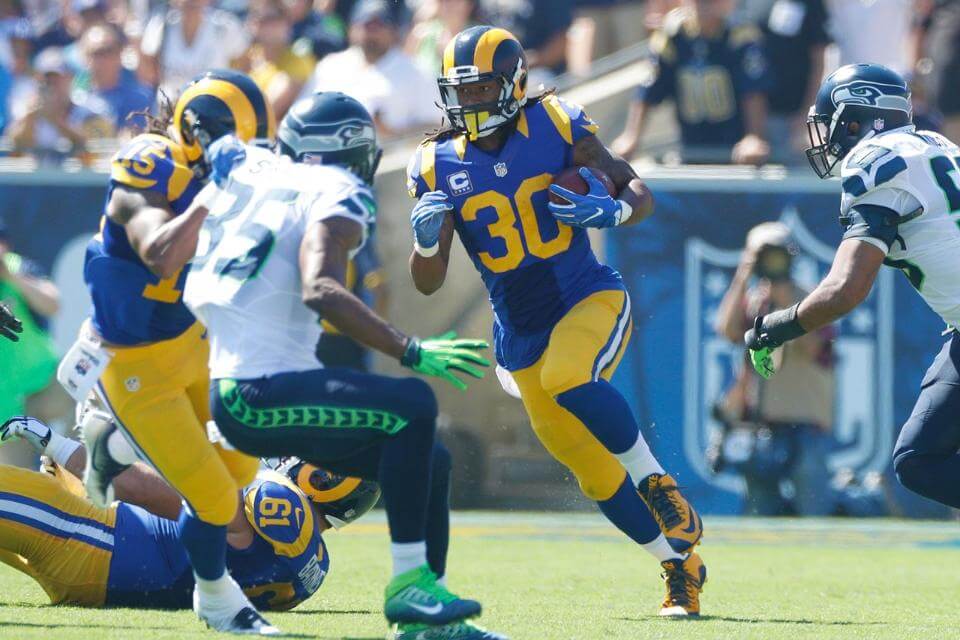 Click to enlarge
Yesterday the Rams played their first regular season game in Los Angeles since 1994, and they marked the occasion by wearing their royal-and-yellow throwbacks — a nice move for their home opener (which was greeted with the usual chorus of "Why don't they wear these full-time?"). Lots of additional game photos here. The Red Hot Chili Peppers even wore throwback Rams attire for a pregame set.
In other news from around the NFL yesterday:
•  I've been surprised all year long that the Vikings haven't come out with an inaugural-season patch for their new stadium. Last night was their home opener and they pulled a surprise move by wearing a new patch. No fanfare, no advance notice, not even a pregame tweet — they just showed up and wore it. Not yet clear whether they'll also wear it on the road. (If they do, that would create an inconsistency, since they didn't wear it on the road in Week 1.)
•  Speaking of the Vikings, Adrian Peterson changed helmet models.
•  The Cardinals wore their new memorial decal for Nancy Bidwill — the wife of team owner Bill Bidwill — for the first time.
•  We got our first 2016 look at the Giants' new home look — white pants and white shoes. They'll continue to wear this for all regular season home games. They had worn grey pants at home during the preseason.
•  The Browns unveiled a Jim Brown statue at their stadium prior to yesterday's game against the Ravens. There's a video about the statue here.
•  I love that the Raiders still play on a baseball diamond for the first month of the season. Yes, this is just kneejerk nostalgia on my part, because it reminds me of how the NFL looked when I was growing up in the '70s. And no, I'm not similarly nostalgic for any other aspect of that era's cookie-cutter multipurpose stadiums. But the sight of dirt infield at an NFL game still makes me smile:
Derek Carr para Clive Walford e… Touchdown para o @RAIDERS #RaiderNation #NFLBrasil #ATLvsOAK 21-14 4 ºqto https://t.co/k9pefa1YUq

— NFL Brasil (@NFLBrasil) September 18, 2016
•  Bengals cornerback Pacman Jones is still honoring fallen teammate Chris Henry by wearing Henry's No. 15, instead of his own number, on the back of his helmet. He began doing that last year.
•  I have definitely noticed an uptick in the number of players with untucked undershirts. Not sure if it's simply a fashion trend, or if there might be a competitive aspect to it (i.e., to make holding penalties more apparent), but it looks like shite.
•  During the Cowboys/Washington game, Fox mistakenly used a Browns helmet icon for Washington — and it wasn't even the Browns' current helmet.
•  I don't usually worry about jerseys worn by fans, but this is pretty funny.
•  Three teams wore white at home: the Panthers, Chargers, and Browns.
•  Players engaging in postgame jersey swaps included Steve Smith of the Ravens and Corey Coleman of the Browns; Ezekiel Elliot of the Cowboys and Su'a Cravens of Washington; Dak Prescott of the Cowboys and Preston Smith of Washington; Lamar Miller of the Texans and Jaye Howard of the Chiefs; Vonn Bell of the Saints and Eli Apple of the Giants; Michael Thomas of the Saints and Sterling Shepard of the Giants; John Jenkins of the Saints and Rashad Jennings of the Giants; Quinton Jefferson of the Seahawks and Aaron Donald of the Rams; Tyler Lockett of the Seahawks and Todd Gurley of the Rams; George Fant of the Seahawks and Tyler Higbee of the Rams; and Kemal Ishmael of the Falcons and Latavius Murray of the Raiders.
•  According to this team-by-team report, at least 16 players protested the national anthem in some manner yesterday — some by kneeling, others by raising their fists, and one by standing behind his teammates instead of being in formation along the sideline. The Eagles are reportedly planning a protest of their own for tonight's game against the Bears.
(My thanks to all contributors, including Braden Claassen, Andrew Cosentino, Chris Flinn, @LandArchGamer, Matt Peachey, and our own Alex Hider.)
•  •  •  •  •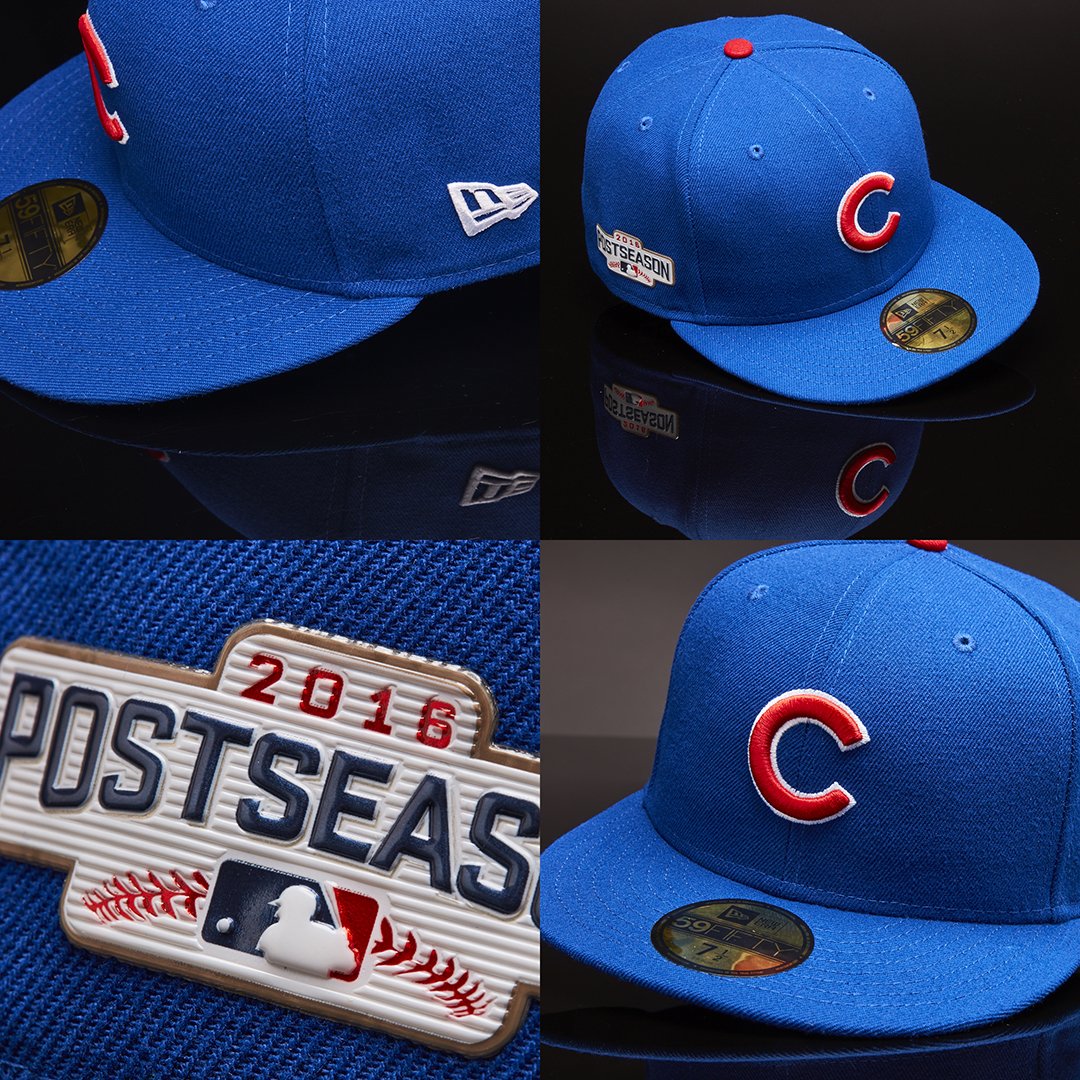 Click to enlarge
MLB logo creep getting creepier? After the Cubs clinched the National League Central Division title last week, the MLB merch machine kicked in and began selling these Cubbies caps with the 2016 postseason patch (see above). No surprise there — but as many people have noticed, the cap also include the New Era logo on the other side. Does this mean MLB caps are suddenly going to have a maker's mark when the playoffs begin next month?
I've asked that question far and wide over the past several days and have been unable to get a straight answer out of anyone. There's a lot of chatter — on Twitter, on the SportsLogos.net forums, etc. — that the New Era logo will not only appear in the postseason but that it will also be worn for all games starting next season, but all of that chatter appears to be of the "Some guy at Lids told me…" variety. That doesn't mean it's wrong, but I have not been able to confirm any of it, so let's not panic just yet. There'll be plenty of time for that if and when we know the full story.
I'll say this much: I'm somewhat surprised MLB caps have managed to go this long without corporate logo creep. Just about every other part of the uniform has a maker's mark — the jersey, the pants, the undershirt, even the new Stance socks — so the New Era folks have probably been saying, "What about us?!" for years now. I'm still holding out hope that logo is only appearing on the retail caps, not on-field, but it does seem like a plausible development. Stay tuned.
Meanwhile, here's a little quiz for you: If it turns out that the New Era logo is indeed being added to on-field caps, everyone will say, "That's never been done before." But that is false! I know of at least one regular season MLB game that featured one team wearing caps with New Era logo creep (and I have two game photos to prove it), and I have the nagging feeling that there have been others. Can anyone out there name the game I'm thinking of, and/or come up with other examples?
•  •  •  •  •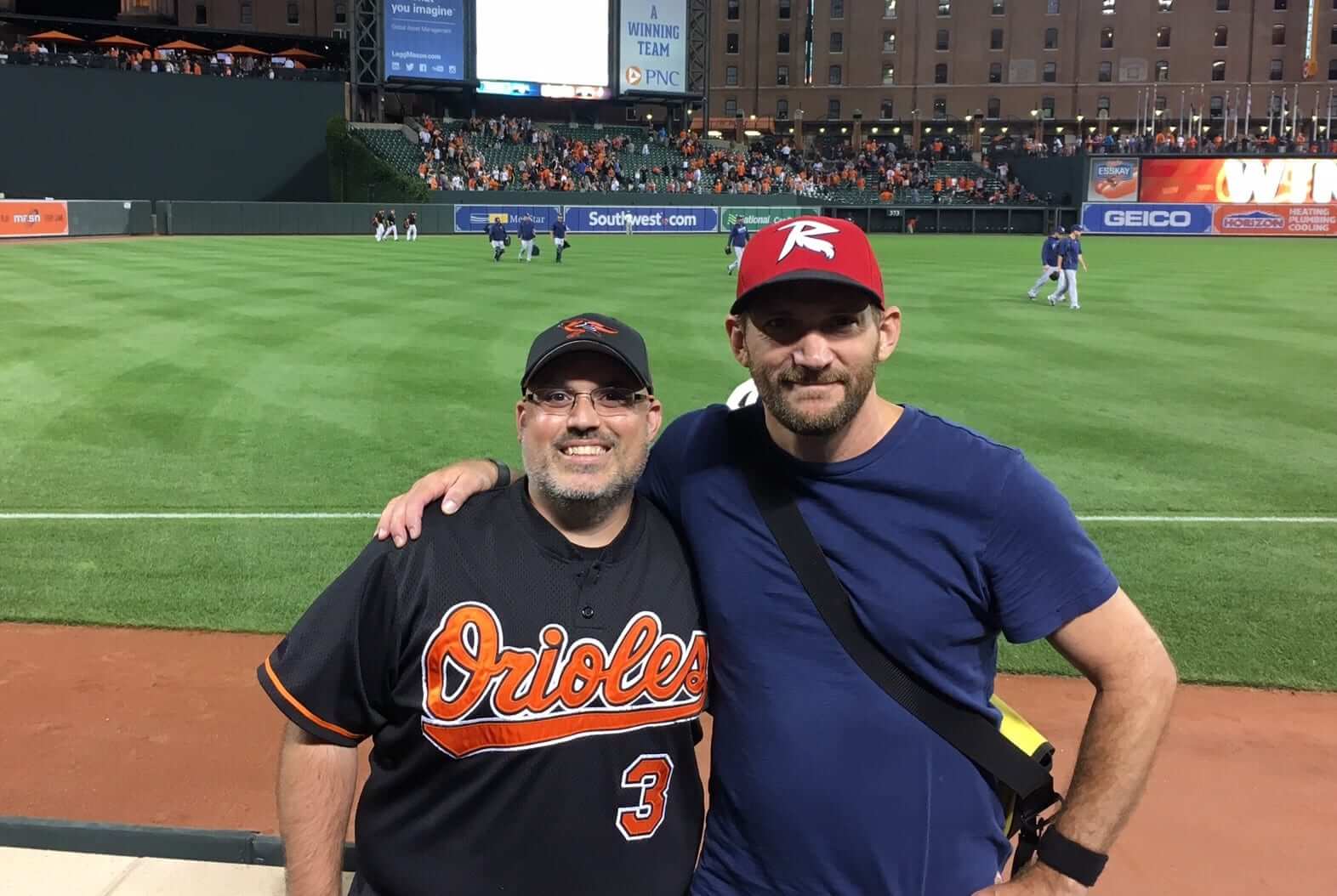 Click to enlarge
Meeting of the uni minds: It's always nice when members of the Uni Watch community can meet up. That was the case on Friday night in Baltimore, as two looongtime readers/contributors — Joe Hilseberg (left) and Rob Ullman — took in an Orioles game at Camden Yards.
Joe's involvement with Uni Watch goes back to April of 2005 (more than a year before this blog existed), when he let me know that Orioles shortstop Miguel Tejada had emerged from a head-first slide with the "1" on his jersey partially torn off and then played the rest of the game as No. 0 — a great spot that cemented his status as a uni-watcher par excellence. I later learned that he'd worked as a stitcher for the Orioles, and over the years I've recommended him to many people who were in search of custom stitching services.
As for Rob, I first became aware of his amazing cheesecake-style uniform illustrations in 2008. His work has been featured on the site many times since then, and many Uni Watch readers have hired him to do jersey-clad cheesecake illos of their partners — or themselves.
I've had the pleasure of meeting both Joe and Rob, and they're both great guys. Very happy to hear that they connected. Our new slogan: Uni Watch — Bringing People Who Get Itâ"¢ Together.
•  •  •  •  •
The Ticker
By Alex Hider

Baseball News: The Reds wore their St. Patrick's Day alts on Irish Heritage Night (aka halfway to St. Patrick's Day). …Ben Zobrist of the Cubs rides his bike to Wrigley in full uniform, and even dangles his glove from his handlebars! (From Phil). … The Braves wore Rockford Peaches uniforms "" skirts and and all ""on their getaway day yesterday (from Steve Vibert). … Folks in Kinston, North Carolina, aren't happy with the new potential names for their hometown Kinston Indians. Potential monikers include the Down East Eagles, Down East Hamhocks, Down East Hogzillas, Down East Shaggers, and Down East Wood Ducks (from James Gilbert).

College Football News: Cleaning up from Saturday: Colorado State wore orange "" this time, with green pants (from Steve Foster). … UNC painted the 22-yard line Carolina blue in honor of former RB Charlie Justice, No. 22 (from James Gilbert). … Looks like Michigan has added Jordan logos to its visor clips this year (from Matt). … New field design for Georgia Southern (from Austin Kohler). … Miami will unveil new uniforms today. Paul will have full coverage tomorrow.

Hockey News: The Kings will use their 50th anniversary logo at center ice this year (from Moe Khan). … Russia and Sweden played a nice color-on-color game Sunday in the World Cup of Hockey (from Ted Arnold). … Couple of shots from the Predators/Lightning preseason game yesterday from Bill Curran: a pair of homophone names and the first in-game shots of Tylor and Tyson Spinks's NOBs.

Soccer News: The MLS game of the week was Toronto FC versus … Jacksonville Jaguars FC? (From Bud Brooks). … Megan Rapinoe of the USWNT knelt during the National Anthem again on Sunday, despite rumors the team would punish her if she continued to protest. … Looks like Alexis Sánchez's Premier League patch was floating a bit high over the weekend (from Ricky Schumaker).

Grab Bag: New hoops unis for Appalachian State. Here's close-ups of the road blacks and the fauxback golds (from friend of the site Steve Uhlmann). … Belle Vernon Area High School in Pennsylvania has gold turf (from Jamason Wiant). … Winnipeg Blue Bombers QB Matt Nichols has some sort of wedding band thing going on. Might be one of those silicone rings, might be tape over a real ring (from Daren Landers).
• • • • •
Click to enlarge

What Paul did last night two nights ago: On Saturday I finally got to meet the great Eltee of DC — that's Larry Torrez, the guy who did all those caricatures of me — along with his lovely wife, Jo Carol. They live just outside of Washington but were in town for an NYC getaway, so we met up in the backyard of a bar not far from Uni Watch HQ.
Larry's had quite a life. He got his start while he was working as a janitor at Disney Studios in California, where someone noticed him sketching during his work breaks and said, "Hey, you really know how to draw!" He was soon transferred to the animation department and has had a great career as an illustrator/animator (along with a seven-year stint in the Air Force).
Our get-together wasn't exclusively social. Larry and I have been discussing a book project that would definitely be of interest to Uni Watch readers, and he wanted to propose some new elements that would take the project in a very different direction. I really liked his ideas — more on all of that soon.