Icing on the 1st place cake. pic.twitter.com/UNhG8lWtqB

— Boston Red Sox (@RedSox) September 8, 2016
Fun game last night in San Diego, as the Padres celebrated the 80th anniversary of the old Pacific Coast League Padres by wearing 1936 throwbacks. Last night's visiting squad, the Red Sox, also wore '36 throwbacks, creating a weird mix of major and minor league looks. You can get good looks at both uniforms in the video shown above. (Update: Commenter Ryan H. informs me that the PCL Padres were actually a Sox farm club in 1936, so there's a throwback connection!)
Here's a closer look at the Padres design (for all of today's photos, you can click to enlarge):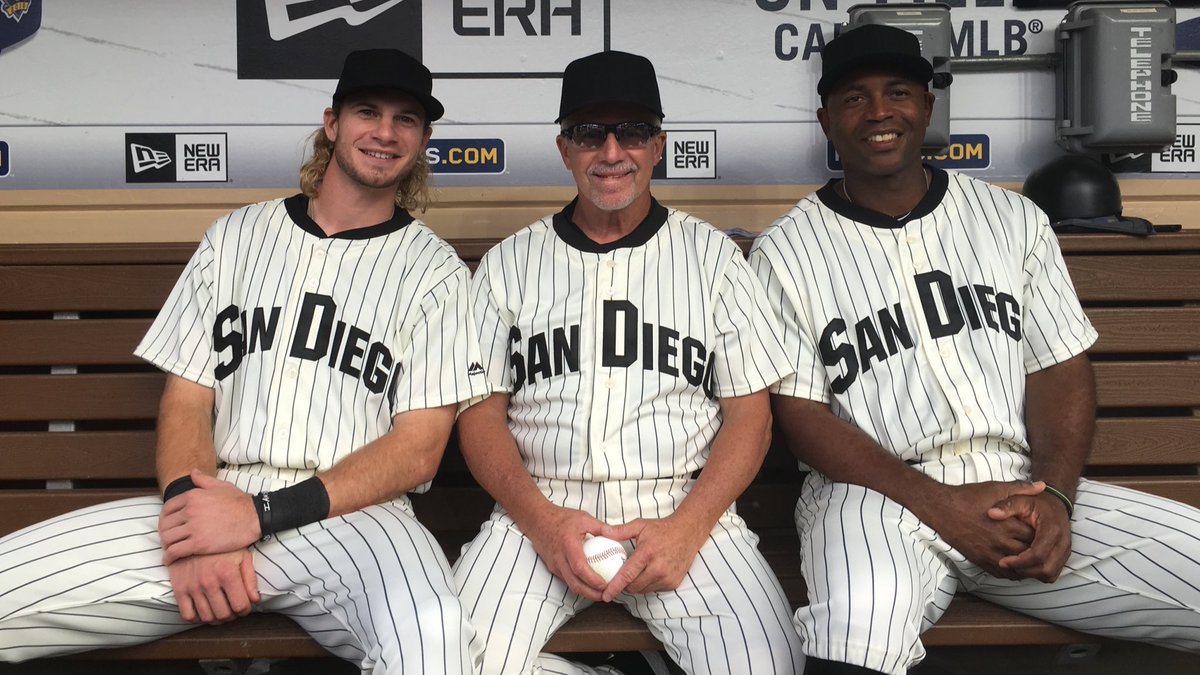 The Padres wore this same throwback design in 2011. As you can see in that link, they had striped red/white/blue socks for that game; this time they just went with solid black (and most of the players went low-cuffed anyway). On the plus side, this time they had blank matte black helmets to match the blank black caps:
Matte black helmets tonight 🔥 pic.twitter.com/J5pnujN6Q9

— San Diego Padres (@Padres) September 7, 2016
If you're thinking that the Sox design isn't all that different from their current road uni, you're right! Here's a closer look: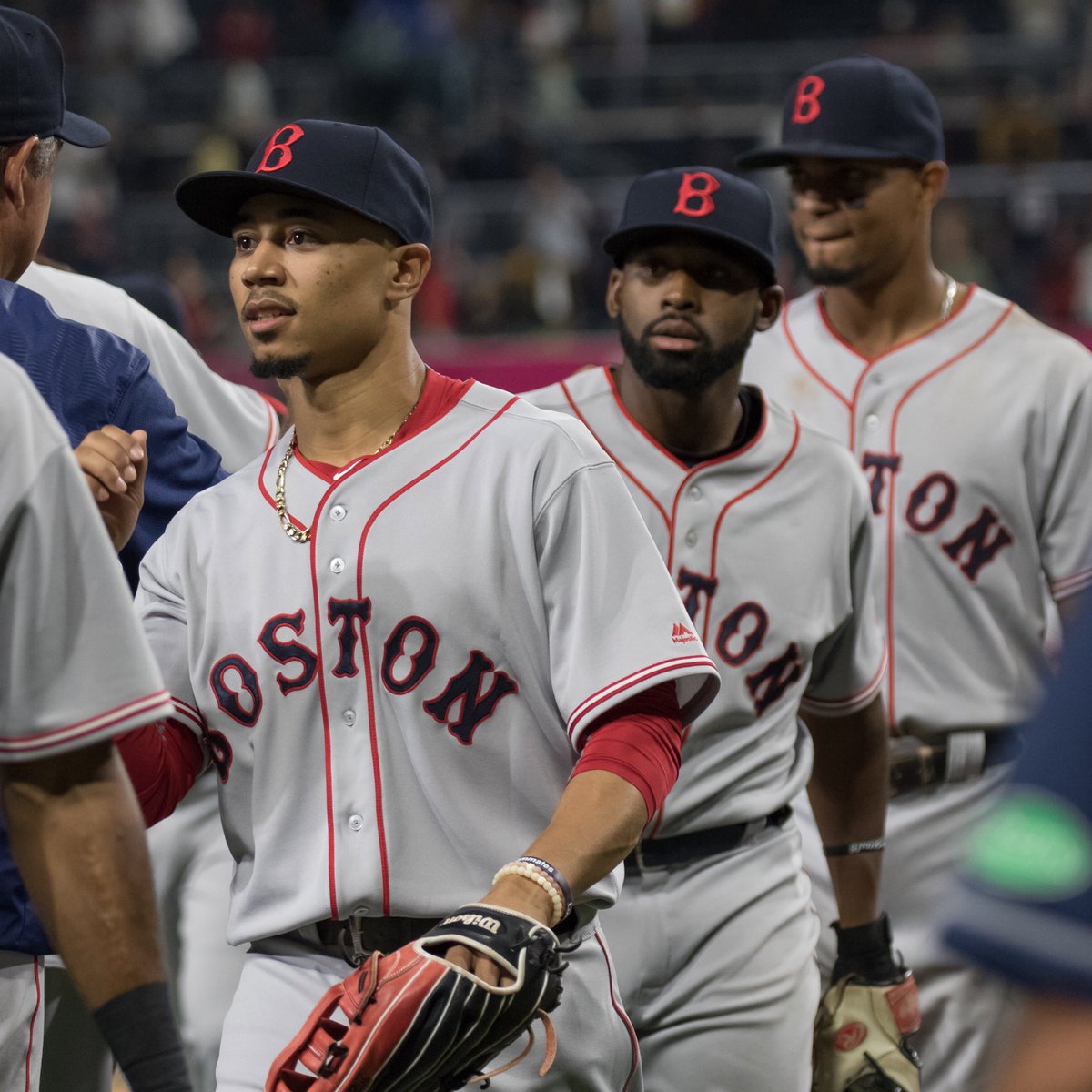 A few Red Sox players showed off some very nice striped hose, which occasioned some broadcast chatter and looked particularly good when the players did their little postgame victory dance: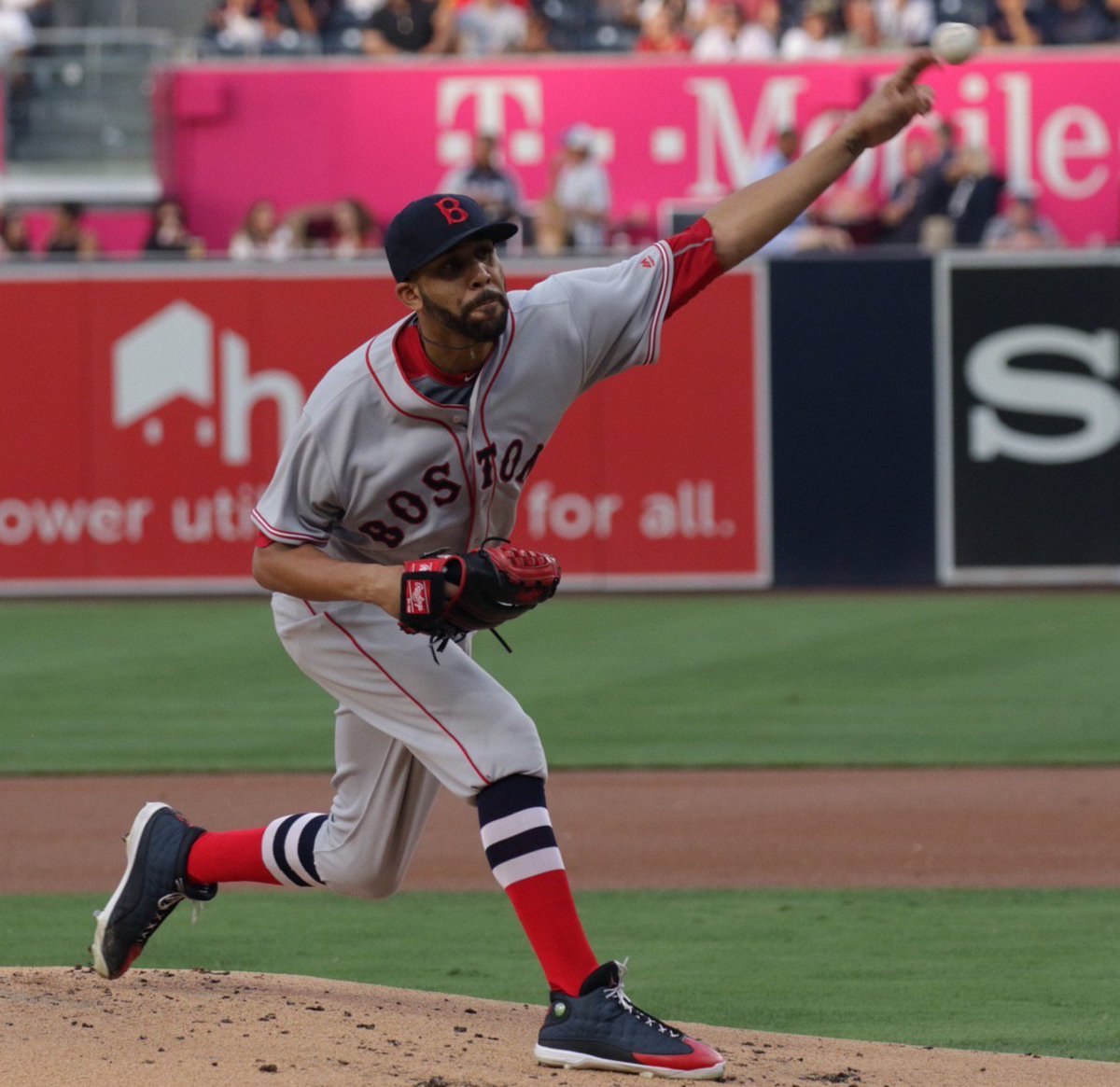 @UniWatch pic.twitter.com/t2rk9UajEO

— Chris Fairchild (@cw_Fairchild) September 8, 2016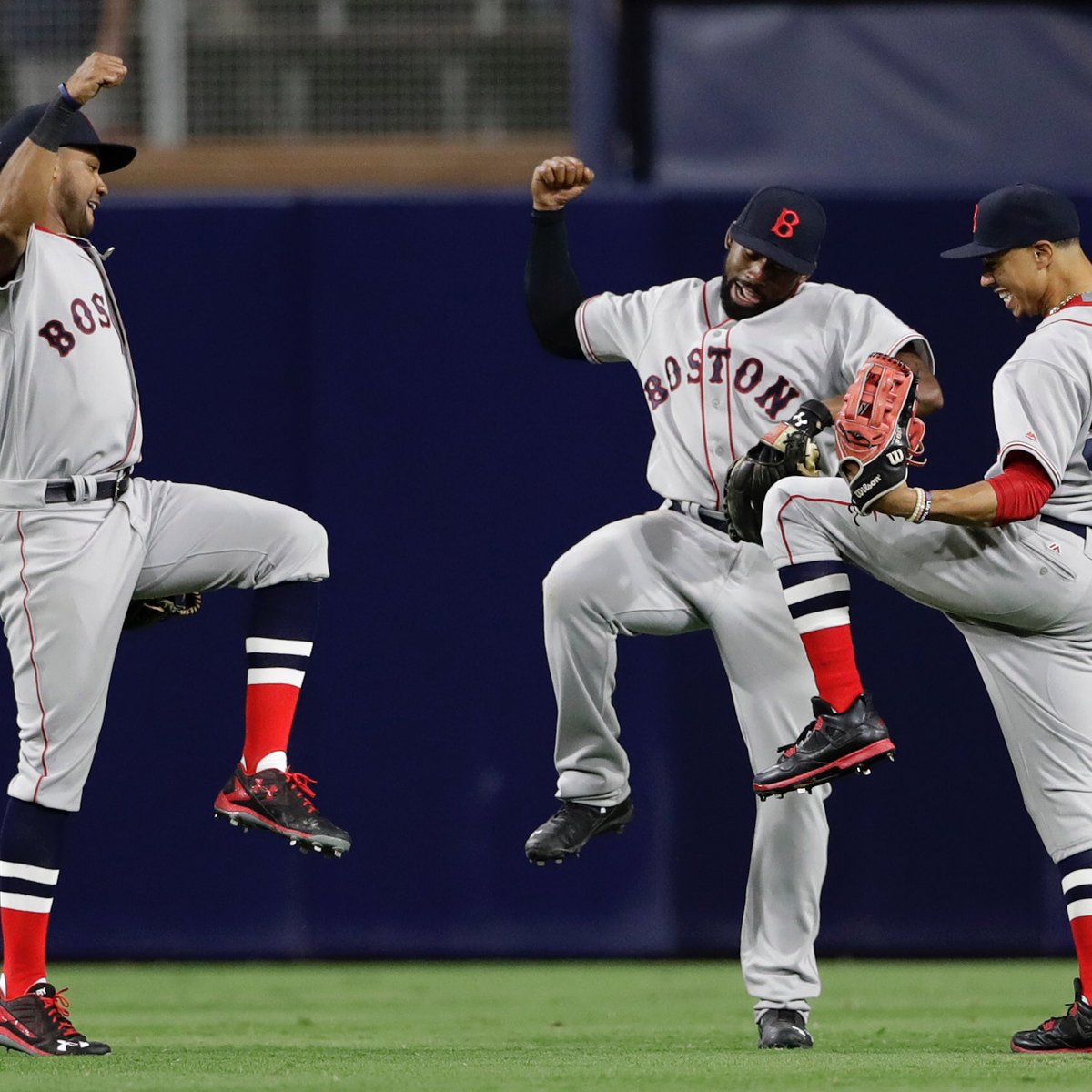 In a welcome development, it was nice to see that the MLB logo wasn't used on these throwbacks:
Another nice touch: All the scoreboard graphics and video were in black-and-white.
@UniWatch Plus the scoreboard and replays were in black and white pic.twitter.com/Win5n1augL

— Willie Price (@williep1414) September 8, 2016
And here's an oddity: During BP, assorted Sox personnel were wearing a mix of BP caps, regular game caps, and throwback caps.
(My thanks to Chris Fairchild and Jared Sloan for their contributions to this section.)
•  •  •  •  •
And a taco truck on every corner: Hispanic Heritage Month technically runs from Sept. 15 to Oct. 15, but MLB isn't waiting. They've initiated a program called "PonleAcento" ("put the accent on it"), which features an accent-clad version of the silhouetted batter logo. I really like the simplicity of using the accent on the logo; I don't like that the accent's placement, as many other observers have noted, makes it look like the batter is wielding a hockey stick.
Several teams have been holding Hispanic-themed promotions this month, including the use of #PonleAcento T-shirts during BP. The Pirates wore the tees last night, and there's a schedule of when other teams will be wearing them here. Judging by the wording on the schedule, it also appears that the Reds will probably be wearing their Rojos jerseys on Sept. 16, and that the Giants will likely be wearing Gigantes jerseys on Sept. 17. Also, it looks like the Cardinals may be wearing Cardenales jerseys on Sept. 30, which I believe would be a first. Sure beats the "Los" approach.
•  •  •  •  •
MVP: Super-giant shout-out and countless thanks today to reader Ken W. He knows why. Thanks again, Ken.
• • • • •
T-Shirt Club reminder: In case you missed last week, we've launched our latest Uni Watch T-Shirt Club design.
My creative partner on the T-Shirt Club project, Bryan Molloy, no longer works at Teespring, so we're doing this shirt with his new employer, Represent, which operates almost exactly like Teespring does. From your standpoint, the customer experience should be virtually identical.
Now then: Our latest shirt is devoted to soccer. Here's the design (for all of these images, you can click to enlarge):
We're offering this design in four different shirt colors — maroon, black, dark green, and heather grey:
The shirt is available here. It's available for a slightly longer period than most of our previous shirts, in part because I want to build in some extra time because of the Labor Day weekend, and also because traffic here on the site is a bit lower during my August break. Basically, I just want to make sure everyone has a chance to see and order the shirt.
One more time, the soccer shirt is available here. My thanks, as always, for your consideration.
• • • • •
And speaking of the T-Shirt Club…: Reader Allan Chandler raised an interesting point in yesterday's comments. He asked if I had considered taking the jersey design shown on the soccer-themed T-shirt and making it avialable for sale as an actual soccer jersey. The same could be done with the jerseys shown on this year's baseball, basketball, and hockey shirts (plus 2016's two remaining shirts, which will feature football and a mystery design).
That might be fun, right? I have a pretty good idea of who could probably manufacture these jerseys, although I don't know what they'd cost. But first things first: Would anyone actually be interested? If so, shoot me a note (and also feel free to discuss this in the comments). Specify which jersey(s) you'd potentially be interested in purchasing. If you want, you can also specify a price ceiling — the most you'd be willing to pay. I'll get back to you if/when we decide to pursue this.
• • • • •
Membership update: Membership enrollments are always slow during my annual August break from the site, although we did get a couple of orders (including one from David Collins, whose Bad Boy-era Pistons treatment is shown at right). I'm going to send those new card orders off to the printer on tomorrow, and there are several additional slots available in the current batch. So if you sign up today, you'll get your card with only a very short wait — a win-win!
As always, you can sign up for your own custom-designed membership card here, you can see all the cards we've designed so far here, and you can see how we produce the cards here.
• • • • •
The Ticker
By Mike Chamernik

Baseball News: Yesterday was Roberto Clemente Day around the league. The Indians had special plates on the bases, while the Pirates wore throwbacks, painted a tribute onto the field, stenciled "21" into the right field grass, and changed their social media avatar. MLB Network broadcaster Dan Plesac wore a Clemente pin. … White Sox 3B Todd Frazier wore stirrups yesterday (from Matt Bond). … Several Indians players are wearing wristbands with their faces on them. They are similar to the Say No To Drugs wristbands of the late 1980s. … A Cleveland fan sent the players, coaches, and broadcasters team-colored hand-crocheted afghans. … The Braves are roughly halfway done with the construction of their new ballpark. … Here's a good piece on outlandish and unconventional first pitches in Korean pro baseball (from Jason Hillyer). … In 1983, Tommy Lasorda, Kareem Abdul-Jabbar and Jack Lemmon all participated in a Dodgers celebrity game (from Morgan Doninger). … New Hampshire Sen. Kelly Ayotte, who's running for re-election, wore a green Red Sox cap in two new political ads (from Sean Connor).

NFL News: The Bengals will unveil their Color Rash jerseys next Tuesday at the Cincinnati Zoo's white tiger exhibit. The unis will be worn for the September 29 game against the Dolphins (from Johnny Bruno). … Speaking of the Bengals, they'll be wearing black on the road this Sunday, which means the Jets will be wearing white at home (thanks, Phil). … The Texans enlarged their midfield logo, and apparently tweaked the colors, too (from Jeff Rohrbach). … The NFL and Twitter revealed emoji hashtags for each team (from Garret Heinrich). … The Chiefs will wear a 9/11 memorial ribbon helmet decal on Sunday. Is the rest of the league doing the same? … Also, it looks like the Chiefs sell a sandwich with the team logo pressed into the bun. … It's been widely reported that 49ers QB Colin Kaepernick's jerseys sales have risen significantly since he began his protest over the national anthem. He now says he will donate the proceeds of the merch sales back to the community. … From yesterday's comments: Falcons players are protective of the team logo on the center of the floor in the locker room. … Patriots number update: CB Eric Rowe will wear No. 25, and practice squad RB Bishop Sankey will switch to No. 34. … As for the Ravens, WR Mike Wallace changed his number from 12 to 17, which he wore with the Steelers from 2009 to 2012 (from Andrew Cosentino). … New custom cleats for Jaguars QB Blake Bortles. … The new banner at the Saints practice facility shows a collection of the best players in team history — but not, unfortunately, in period-appropriate uniforms (from @Boat_Lawyer). … If a NFL team moves to England full time, Tottenham hopes to be its home. The Spurs' new White Hart Lane stadium is slated to host two NFL games a year for the decade after it opens in 2018 (from Phil).

College Football News: Virginia Tech will wear these smooth black helmets for the Battle at Bristol this weekend against Tennessee. … Under coach Urban Meyer, Ohio State has a training camp tradition where freshmen players start with strips of black tape on their helmets and get them removed when they prove to be worthy of being a Buckeye (from Jason Hillyer). … Syracuse will wear all orange on Friday against Louisville (from Phil).

Hockey News: In September 2011, a plane crash killed all the players and coaches on Lokomotiv Yaroslavl of the KHL. The son of goaltender Stefan Liv is honoring his dad with a custom mask (from Mark Coale). … The Saskatoon Blades to wear Gordie Howe-themed jerseys in September. Howe grew up in the city, and a Howe statue stands outside the Blades' arena (from Phil). … New unis for Wisconsin hockey. Here's a better look at the pants, and a tidbit about the sweaters (from Jeff Ash). … It appears that Russia's World Cup of Hockey uniform includes one red glove and one blue glove (from Joey Freshwater).

NBA News: The Jazz showed off their new home jerseys. I still need to get used to the numeral font. … Here's a gallery of the shoes Allen Iverson wore over the years. AI will be inducted into the Basketball Hall of Fame on Friday. … Check out the uniform that Wayman Tisdale wore in high school! Transposed panels, numbers above the letters, and it was untucked (from Chris Corbaz). … Looks like Michigan State changed the waist on its shorts (from Joey Zurek). … Mark Aguirre wore a Raiders jersey when celebrating the Pistons' 1989 title. I'm assuming its a customized jersey because Aguirre wore No. 23 with the Pistons, and the Raiders didn't have a 23 on the roster in 1988. The Bad Boys Pistons had a connection with Al Davis's renegade Los Angeles Raiders. Davis opened up the team's training facility to Isiah Thomas after the guard sprained his ankle during Game 6 of the 1988 Finals against the Lakers.

Soccer News: A hot rumor says that Real Madrid is leaving Adidas for Nike (from Josh Hinton). … The Oly Town Artesians of the Western Indoor Soccer League will wear a patch for Austin Kelley, a player who went missing in the Salmon River in Idaho last weekend.

Grab Bag: Great collection here of 1980s production company intros (from Roy Bellamy). … Hope College's Chapel Choir has different color robes based on voice type. Sopranos wear yellow, altos wear orange, tenors wear red, and the bass wears violet. "I did a little research online and found out that the original robes were designed by the husband/wife designer duo Charles and Ray Eames, who seem to be a heck of a lot better known for their furniture design work," writes Joe Hollomon. This PDF has more of the story.
• • • • •
I'll be away for a good chunk of today, as I'm heading to Baruch College in Manhattan to participate in a panel discussion on the use of Native American imagery in sports. I'll be back later in the day and will definitely be watching tonight's Panthers/Broncos NFL opener. Play nice while I'm out, and I'll see you back here tomorrow, okay? Okay!