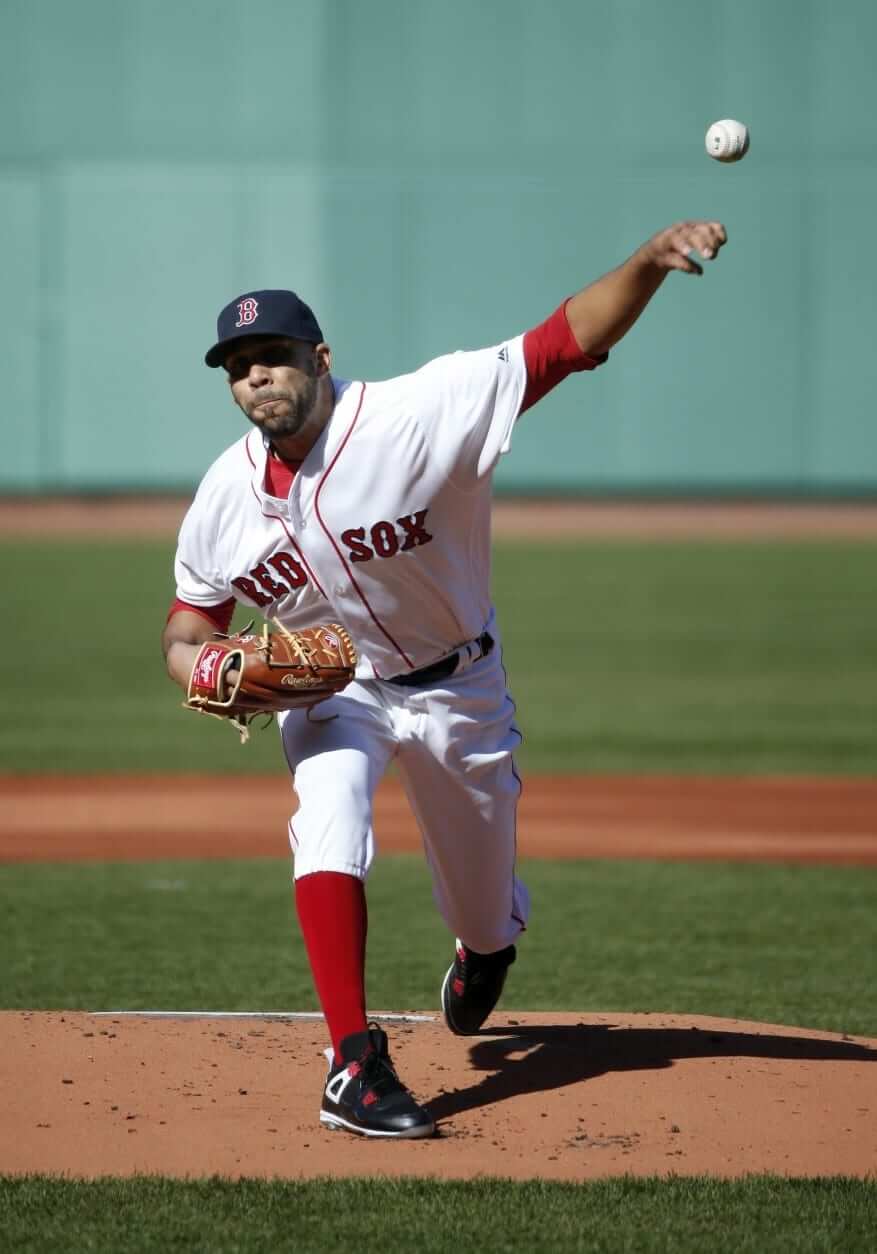 Back on May 12, I wrote that Phil and I both estimated that about 15 to 20 percent of MLB players went high-cuffed, and then I proposed that we try to confirm or disprove that by doing a team-by-team count to see what the percentage of high-cuffers really is. Today we're going to see the results of that count.
Counting high-cuffers is an extremely inexact science. So before we dive in, I strongly recommend that you take a minute to re-read the May 12 entry, just to reacquaint yourself with all the vagaries and grey areas we're dealing with here.
A few notes:
• I received reports from 37 readers, covering 16 of the MLB teams (there was a lot of duplication and overlap). If you add in my Mets report from the original May 12 entry, that gives us coverage of 17 rosters — more than half of the 30 MLB teams.
• Most of the reports were submitted on May 12 (apparently everyone was very eager!). Obviously, rosters have changed since then due to injuries, trades, players being released or sent down to the minors, etc. So the high-cuffer count for a given team might have changed between May 12 and now. And that's fine — these reports are just snapshots of a particular moment. But there's no reason to think it's an unrepresentative moment. In other words, while the players may have shuffled around a bit since May 12, I suspect the overall numbers would likely shake out pretty much the same if we did the counts again today.
• It was interesting to see how multiple people covering the same team sometimes arrived at different numbers. There's only one team I follow on a daily basis (the Mets), so I'm not really qualified to say which is the "right" assessment of high-cuffery for a given team. I decided to accept all of the reader-submitted numbers in good faith, and I averaged the numbers when I received multiple reports for a given team.
• As noted earlier, counting high-cuffers is a highly inexact exercise — all the more so when we have 37 different counters, each of whom may be interpreting and counting in a different way. So this count is by no means definitive; it's just a starting point to give us some frame of reference for future discussions.
Okay, enough preliminaries. Here are the results of our project:
National League East
• Mets. I handled this one one myself back on May 12. The number I came up with was 3.5
• Nationals. Submitted by Douglas Cunningham on May 12:
Oliver Perez: high-cuffed
Stephen Strasburg: high-cuffed
Tanner Roark: high-cuffed
Wilson Ramos: high cuffed day, pajama night
Ryan Zimmerman: high cuffed less than 50% of the time
If we count Ramos and Zimmerman as 0.5 apiece, that gives us a total of 4.
I also received a report from Todd Allen-Gifford, who came up with 6.
If we take the average of those numbers, we get 5.
• Phillies. Submitted by Hank Siarczynski on May 12:
Freddy Galvis
Andres Blanco (mostly high-cuffed)
Cesar Hernandez (occasionally)
Peter Bourjos
If we count "mostly" as 0.75 and "occasionally" as 0.25, that gives us a total of 3.
I also received a report from Chris Fox, who also came up with 3.
National League Central
• Cardinals. Submitted by Josh Claywell on May 12:
Having gone through almost the entire season's worth of pics on various sites, Randal Grichuk is the only Cardinal I can find going high-cuffed on a regular basis. But looking at pics from last several days and he's gone with the pajama look.
So let's call that 0.8.
I also received a report from Bryce Krug, who came up with 2.
If we take the average of those two numbers, we get 1.4.
• Cubs. Submitted by Jordan Cutler on May 12:
Here's my count for the Cubs:

Javier Baez (usually but not always high cuffed):
Jorge Soler (has favored high cuffs this season)
Dexter Fowler (also pretty reliably high-cuffed this year)
Jason Heyward (goes high-cuffed about half the time)
If we count Baez as 0.75 and Heyward as 0.5, that gives us a total of 3.25.
Jordan Cutler also submitted a report and came up with 2.
If we take the average of those numbers, we get 2.6.
• Pirates. Submitted by John Dankosky on May 13:
Always high-cuffed: Sean Rodriguez, Francisco Cervelli. Both wear solid black socks.

Often high-cuffed: Andrew McCutchen, Josh Harrison. Both wear the alternate striped socks, although I've seen both in solid black this year. Gregory Polanco has worn the solid black socks quite a bit this year.

Sometimes high cuffed: Starlilng Marte wears the blacks now and again. Can't figure out his pattern. Gerrit Cole usually doesn't go high-cuffed, but wears the stripes now and again, including on "pink day," which looked terrible. Same with Jeff Locke. Juan Nicasio has, I believe, worn both sock styles this year.
If we count the "Often" players as 0.5 and the "Sometimes" players as 0.25, we get a total of 4.5.
National League West
• Giants. Submitted by Sean Robbins on May 12:
Sergio Romo
Hunter Pence.
Brandon Belt
So that gives us a total of 3.
I also received a report from James Heiple, who came up with 3.5.
If we take the average of those numbers, we get 3.25.
• Padres. Submitted by Martha Cary on May 12:
Brad Hand
Adam Rosales
So that gives us a total of 2.
I also received reports from Jared Buccola (who also came up with 2) and Doug Mulliken (3).
If we take the average of those numbers, we get 2.3.
American League East
• Blue Jays. Submitted by Michael Duffy on May 12:
Five players go high-cuffed on a daily basis for the bluebirds:

R.A. Dickey
Marco Estrada
Brett Cecil
Drew Storen
Kevin Pillar
That gives us a total of 5.
Mike Guterman also submitted a report and also came up with 5.
• Orioles. Submitted by Adam Spangler on May 12:
At this time, I can only recognize four players on the current 25-man roster who I would consider true high-cuffers:

Adam Jones
Tyler Wilson
Ubaldo Jimenez
Jonathan Schoop
So that gives us a total of 4.
I also received reports from Marcus Hall (who came up with 3.5), Chris Fox (4), and and Vernona Elms (1.75).
If we average out all the numbers, we get 3.3.
• Red Sox. Submitted by Chris Cameron on May 12:
Full-Time High-Cuffers
Xander Bogaerts
Chris Young
Brock Holt

Part-Timer
David Price
So that gives us a total of 3.5.
I also received reports from Andy Chalifour (who came up with 4) and Kevin Zdancewicz (4.25).
If we take the average of those numbers, we get 3.9.
• Yankees. Submitted by Chris LaBella on May 12:
Austine Romine, sometimes
Starlin Castro, sometimes
Did Gregorius, sometimes
Ronland Torreyes, sometimes
Brett Gardner, always
Aaron Hicks, sometimes
If we count the "sometimes" guys as half a high-cuffer apiece, that gives us 3.5.
I also received reports from Michael Candelmo (who came up with 3), Josh Claywell (2.5), and Kieran Kelly (3).
If we take the average of those numbers, we get 3.
American League Central
• Indians. Submitted by Jeff Cola on May 12:
Trevor Bauer: 1 (striped socks)
Michael Brantley: 0.5 (striped socks)
Kyle Crockett: 1 (striped and plain socks, I think)
Rajai Davis: 1 (striped and plain socks)
Jason Kipnis: 0.5 (striped socks)
Corey Kluber: 0.5 (striped socks)
Francisco Lindor: 1 (striped stirrups)
Zach McAllister: 0.25 (pretty rare; plain socks)
Jose Ramirez: 0.5 (striped and plain socks)
Danny Salazar: 1 (striped stirrups and high top shoes)
Carlos Santana: 0.5 (biker shorts or extreme pajama; plain socks)
Bryan Shaw: 1 (mix of striped stirrups and striped/plain socks)

Total: 8.75
I also received reports from Ed Hahn (who came up with 11) and Brandon Bush (7).
If we take the average of those numbers, we get 8.9.
• White Sox. Submitted by Charles Noerenberg on May 12:
Some of the time
Zach Duke
Brett Lawrie
Carlos Sanchez

Almost always
David Robertson
Avisail Garcia
If we count the "Some of the timers" as 0.5, that gives us a total of 3.5.
I also received a report from Ryan Lindemann, who came up with one full-timer and a few very infrequent "dabblers," so let's call that 1.75.
If we take the average of those numbers, we get 2.6.
American League West
• Astros. Submitted by Matthew McCormack on May 12:
By my count, the Astros have five players who almost always go high-cuffed. They are Jose Altuve, Carlos Correa, Colby Rasmus, George Springer, and bullpen pitcher Pat Neshek.

The Astros also have a few more players who occasionally go high-cuffed: Mike Fiers, Evan Gattis, Carlos Gomez, Marwin Gonzalez, and Luis Valbeuna. I would safely say that these players would all add up to one more high-cuffer.
So that gives us a total of 6.
• Mariners. Submitted by Karim Mourad on May 12:
These are the Mariners players who wear high cuffs for every game:

Taijuan Walker
Seth Smith
Leonys Martin
Steve Cishek
Ketel Marte
Felix Hernandez
Luis Sardinas
So that gives us a total of 7.
I also received a report from Kenny Ocker, who came up with 6.5.
If we take the average of those numbers, we get 6.75.
• Rangers. Submitted by Benton Payne on May 12:
Daily
Rougned Odor (Socks)
Ian Desmond (Stirrups)
Tom Wilhelmsen (Socks)

Sometimes
Derek Holland
Delino DeShields
Alex Claudio
Ryan Rua
Hanser Alberto
If we count the "Sometimes" players as 0.5 apiece, that gives us a total of 5.5.
Corey Patterson also submitted a report and came up with 7.
If we take the average of those numbers, we get 6.25
———
If we add all the totals together and average them by the 17 teams we covered, the result is that the typical 25-man roster has 4.19 high-cuffers.
That amounts to 16.7 percent of the roster, which is (a) right in that 15 to 20 percent range that Phil and I both estimated back in May and (b) a pathetically low number. MLB needs more high-cuffers!
Big thanks to everyone who took the time to submit a report — you're all awesome. Sorry it took so long for me to circle back to this one, and hope it was worth the wait.
• • • • •
Timberwolves-redesign contest: The Timberwolves reportedly have a rebranding redesign in the works (very welcome news, since they've been one of the NBA's worst-looking teams for what feels like forever), so I'm going to run a new design contest for them. The official announcement will come later today on ESPN, but here are the basics:
• Your entry must include a primary logo and full home and road uniforms. If you like, you can also include secondary logos and an alternate uniform, but those aren't required.
• The NBA will begin allowing advertising patches on team uniforms in 2017-18, so your designs may include ad patches if you like. The NBA's rules for the uniform advertising program call for the patches to be 2 ½- by-2 ½ inches and positioned on the upper-left chest area, so your ad patches should conform to that format. You can use the logo of a real company, or you can simply include a square patch that says, "AD." (You can also choose to go ad-free, since the uniform advertising program is voluntary.)
• Your designs can be created in any digital or analog medium (Illustrator, Photoshop, crayon, whatever) and can be submitted in any standard digital format (JPG, PDF, TIFF, etc.). You can also create a video presentation and upload it to YouTube if you like.
• The files you submit should be named after yourself (PaulLukas.jpg, for example). If you're submitting multiple files, please either number them (PaulLukas1.jpg, PaulLukas2.jpg, etc.) or use some other designation (PaulLukas-homeuni.jpg, PaulLukas-logo.jpg, etc.). Files that don't follow this format will not be considered.
• In keeping with long-standing Uni Watch chromatic policy, entries including even a hint of the color purple will not be accepted.
• Email your entry to Uni Watch HQ. If you have more than one concept, feel free to enter as many times as you like.
• Deadline: next Wednesday, July 27, 7pm Eastern.
The best entries will be showcased in an upcoming Uni Watch column. Get crackin'!
• • • • •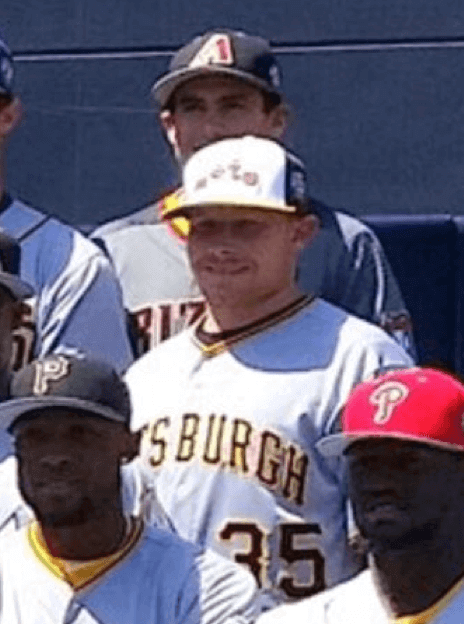 All-Star cap switcheroo explained: As you may recall, one oddity from last week's MLB All-Star Game was that Pirates pitcher Mark Melancon was wearing a Mets BP cap while posing for the National League team portrait. A Pirates beat reporter finally got the explanation from Melancon, and reader Jerry Wolper has provided a transcription:
"I had no hat to wear," Melancon said. "(The clubbie) was going to get the new one that fit, but he had to go all the way to the home side. I had no time. I was going to miss the picture completely. As I was running out there, I grabbed a ball boy and said, "˜Let me borrow your hat.' It happened to be a Mets hat."
And there you have it.
• • • • •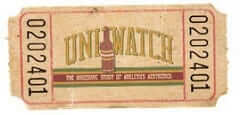 Raffle update: The winner of the White Sox cap is Dermot Sullivan. Congrats to him, and thanks to all who entered.
Our next '47 cap up for raffle is this Cardinals pillbox snapback:
To enter, send an email with your name and shipping address to this address (not to the usual Uni Watch email address, please) by 8pm Eastern TODAY. One entry per person. I'll announce the winner tomorrow, and I'll also announce tomorrow's raffle cap, and then we'll keep repeating that process for each remaining weekday this month. If you win one of the raffles, please be nice enough to step aside and stop entering the remaining ones. Thanks.
• • • • •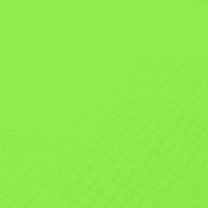 The color that won't go away: I've been bemoaning the spread of neon/fluorescent/highlighter colors throughout the uni-verse for a while now. And if what I saw over the weekend is any indication, the colors are spreading beyond the confines of the sports world.
On Saturday night I saw one of my favorite bands, the Muffs, who were playing at Monty Hall in Jersey City (more on that later). As they set up their gear to prepare for their set, I was surprised to see bassist Ronnie Barnett — a smart guy who should really know better — using a neon cord:
Et tu, Ronnie?
One of my biggest gripes about neon colors is that they're not found in nature and therefore tend to clash with other, more "normal" tones. But I may have to revise that line of thought after what I saw yesterday afternoon, when some friends and I went to the Staten Island Zoo, where I saw some sort of goose (there was no placard listing the exact species, unfortunately) with what I can only describe as a neon-toned beak:
Trust me, those pics don't fully capture how unmistakably neon-like the bird's beak was. Was this Nike's new volt goose or something? Creepy.
As for the rest of the zoo, here are a few (neon-free) highlights:
• • • • •
StripeRite reminder: In case you missed it last week, I've partnered with Scott Turner and American Trench to produce a new line of crew socks with great stripe patterns down toward the ankle, where everyone will be able to see them: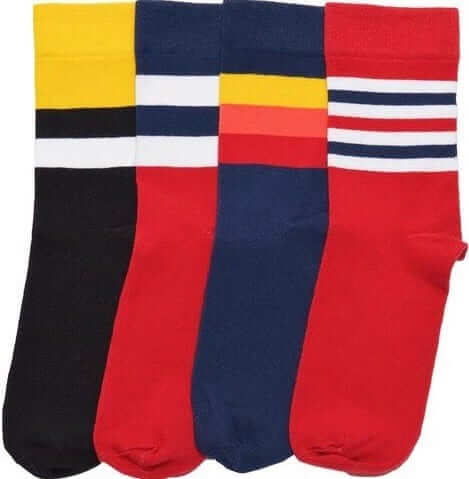 The socks are available here, and there's lots of additional info here.
• • • • •
The Ticker
By Alex Hider

Baseball News: Dodgers OF Yasiel Puig wore awesome Vin Scully cleats yesterday. ESPN's Doug Padilla followed up with a whole piece about them (from Denis Costello). … This may have come up before, but RJ points out that former MLBer Willie Horton made V-necks out of his Tigers and Indians pullovers, and turned his Mariners jersey into a Henley. … Kansas City's Jarrod Dyson wears his sunglasses Guy Fieri-style (from Tyler). … Ben Wiele found some really weird Giants merch at Target. … Anyone know what size cap Cameron Maybin wears? It's huge! (From Scott Novosel.) … Rene Rivera of the Mets has a strap that keeps his catcher's mitt attached to his arm (from Gregg Girard). … Josh Murphy wrote a blog post about the tweaks he would make to each MLB team's unis. … The Bowie Baysox dressed up like their parent club for Orioles Pride Day. I guess you don't need to make it to The Show to wear the uniform. Speaking of the Baysox, are they announcing a uni makeover today? (From Gregory Koch.) … The Akron Rubberducks and the Erie Seawolves went color-on-color yesterday (from Connor Kiesel). … The Orix Buffaloes will wear throwback unis this September. The franchise was known as the Hankyu Braves from 1947-1988, and the Orix Braves from 1988-1989 (from Max Gittelson). … Anthony Perry took in a baseball game in which both teams appeared to be wearing matching Tequila Sunrise jerseys. … Ray Mabus, secretary of the Navy, is the believed to be the only person to throw out a first pitch at all 30 ballparks . … The Reds keep changing their mound logo. On Friday it was a red wishbone-C, Saturday it was a white wishbone-C, and Sunday it was, well, what is that exactly? Looks related to last year's All-Star Game logo (all this from Joanna Zwiep). … Also from Joanna: Reds 3B coach Billy Hatcher was wearing stirrups on Friday. When's the last time a coach did that? … Cubs OF Albert Almora Jr. has been wearing a wedding band — probably one of those Qalo rings — on the field. … The LG Twins — that's a Korean team — has some plaid jerseys in the works.

College Football News: New uniforms for Hampton (from David Otungya). … A judge has thrown out a lawsuit involving Nebraska's tradition of releasing balloons before a game. The case alleged that the tradition was causing harm to children and wildlife (from @GKG_77). … Pat Davis points out that the Big XII used an outdated Texas Tech logo in a Twitter graphic.

Hockey News: Great catch by Fred Teigen, who spotted Bruins players wearing inconsistent collar styles in this 1974-74 photo. That's Bobby Orr with the V-neck, which was the team's collar style that season, and goalie Ken Broderick with the lace-up collar (which was probably a leftover jersey from the previous season).

Soccer News: A judge in Italy has ruled that Juventus must pay Nike two million Euros for an unauthorized apparel release. (from K.L.). … Looks like New York Red Bulls' keeper Luis Robles was having some sleeve issues (from Ian Gerig).

Grab Bag: Report: The Golden State Warriors are willing to sell their souls for $20 million. … The Saskatchewan Roughriders wore their fauxbacks on Saturday night. Nice, no? (From Wade Heidt.) … Really good look at the fashion of cycling. Definitely recommended (from Paul and Drew Stiling). … Is Rory McIlroy being held back on the golf course because of his tight shirts? Johnny Miller thinks so (from Adam Vicavage). … Apparently, Andy Murray doesn't have to wear the Mark of the Beast for UK's Davis Cup team, and he can wear an Under Armour cap (from Chris Morris). … The All Blacks are slated to get new rugby kits this season. … "While watching the Sprint Cup post-race, I noticed the Whelen Modified Tour patch on Ryan Newman's right shoulder," writes Bryan Moore. "Newman ran the Whelen Modified race on Saturday, and also had Whelen as his Sprint Cup race sponsor, but he apparently forgot to put on the Sprint Cup patch before the start of the race. Interestingly, when Sprint Cup drivers run lower series, they tend to use their Sprint Cup suits with sewn-on Sprint patch and put a stick-on series patch over the Sprint logo for the lower race. Here it looks like he had the Whelen patch sewn on, with no Sprint Cup patch to start."
• • • • •
Click to enlarge

What Paul did last night two nights ago: As I mentioned earlier, I saw the Muffs on Saturday night. They're a very uniform-y band: Singer/guitarist Kim Shattuck always wears a babydoll dress, thigh-highs, and red nail polish; bassist Ronnie Barnett usually wears a V-neck sweater (but takes it off once he overheats onstage); and drummer Roy McDonald often wears a horizontally striped T-shirt.
I remember exactly where I was when I first heard a Muffs song in August of 1993, and they pushed my buttons right from that first tune. They've been favorites of mine ever since, and I've probably seen them between 15 and 20 times over the years. Although I don't know them personally, at this point they almost seem like family, so I freely admit that I'm not particularly objective about them, but holy shit were they good on Saturday night. Here are some of the tunes they played:
I also really liked one of the opening bands, the Low Doses, a bunch of New Jersey kids who've apparently listened to a lot of first-wave punk albums released before they were born. Frontman Ryan Masterson is a pretty slick guitarist and has a totally affected vocal sneer that I happen to find very endearing. Here's a photo of them and their best song: