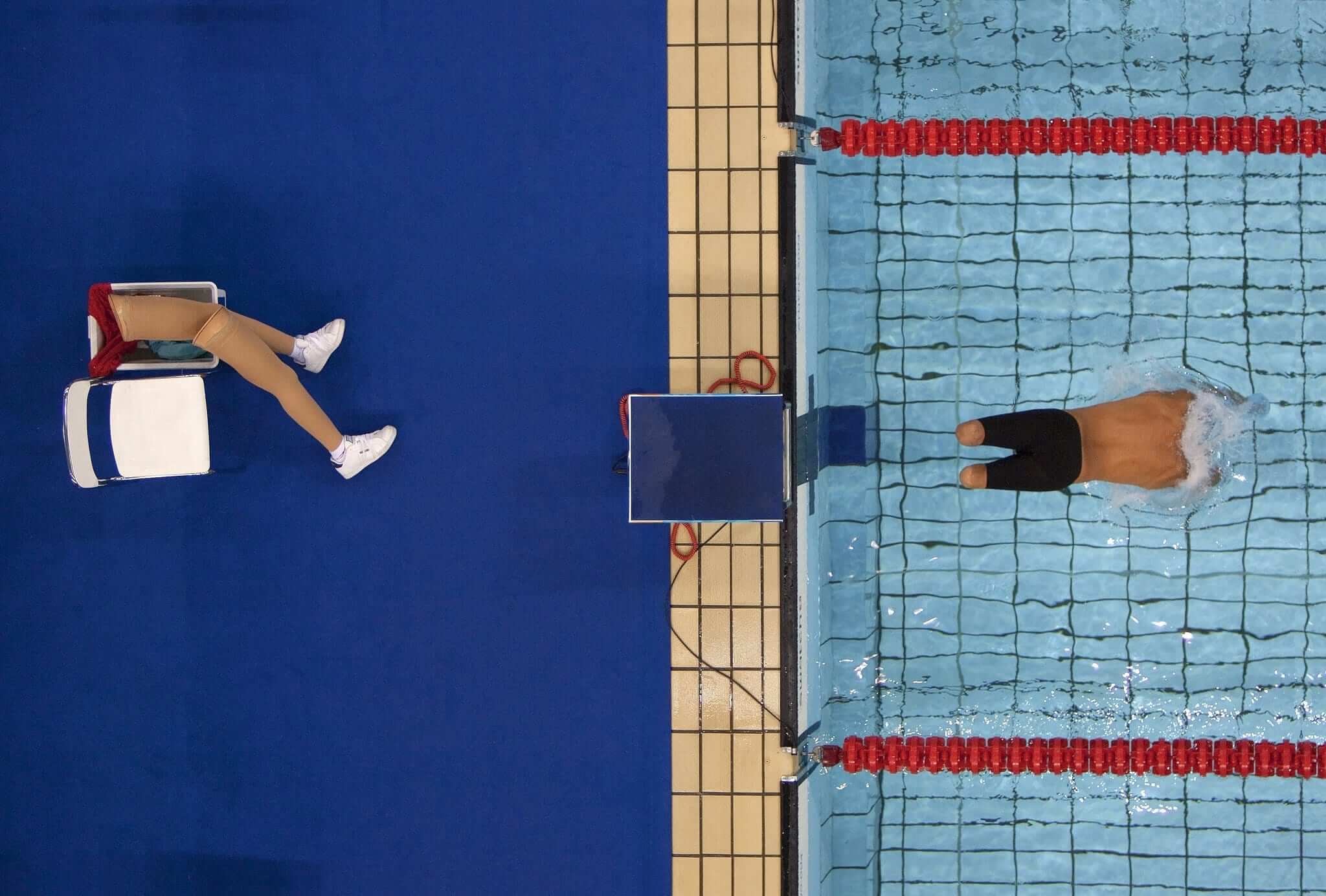 Click to enlarge
Last night I attended the opening reception for a new exhibit at the Brooklyn Museum, called Who Shot Sports, which celebrates sports photography. It consists of hundreds of sports photos — old and new, color, black-and-white, and one daguerreotype — and it's really good. There are some classic shots that I'd seen many times before, but the bulk of the exhibit consists of amazing pics that were new to me (including the incredible shot of Paralympics swimmer Xavi Torres, shown above).
The exhibit sprawls out over four rooms, and I can't recommend it highly enough. If you live in or near NYC, it's a must-see. Further details on the museum's website and in this article/slideshow.
I took a bunch of photos but I didn't have time to edit them — I just dumped them into this Flickr set (if you can't see the slideshow below, click here):
Meanwhile, speaking of museums, there's currently an exhibit about uniforms at the Fashion Institute of Technology. I had high hopes for this one, especially because I've seen really good stuff at FIT in the past (like this great exhibit a few years about Ivy League style), but I was really disappointed. The exhibit is small, poorly conceived, and poorly executed. I do not recommend it.
•  •  •  •  •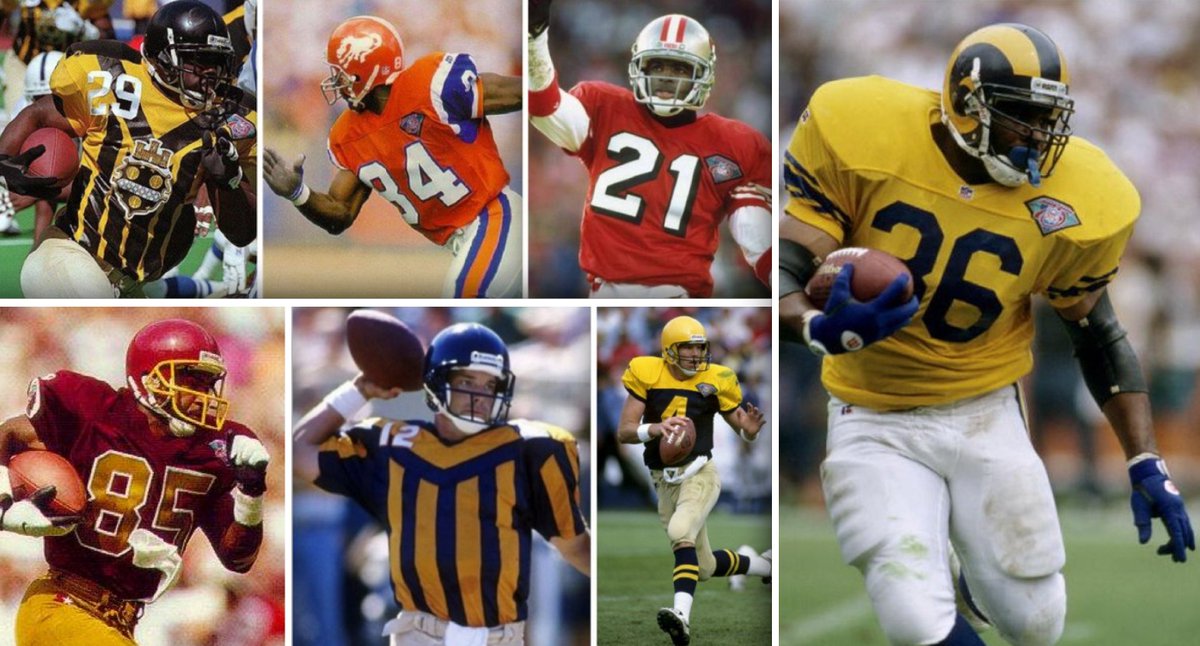 Click to enlarge
Friday Flashback: The anniversary of the White Sox hosting the first throwback game in pro sports history was earlier this week, so my weekly Friday Flashback column on ESPN takes a look at that game — including recollections from some fans who were there at Comiskey — and also looks at some of the first throwbacks worn by the other Big Four leagues (including the NFL's diamond anniversary throwbacks from 1994, shown above). Check it out here.
•  •  •  •  •
Raffle results, and today's new raffle: The winner of the Yankees cap is Chris Kier. Congrats to him, and thanks to all who entered.
Our next '47 cap up for raffle is this White Sox pillbox snapback:
To enter, send an email with your name and shipping address to this address (not to the usual Uni Watch email address, please) by 8pm Eastern TODAY. One entry per person. I'll announce the winner on Monday, and I'll also announce Monday's raffle cap, and then we'll keep repeating that process for each remaining weekday this month. If you win one of the raffles, please be nice enough to step aside and stop entering the remaining ones. Thanks.
• • • • •
StripeRite reminder: In case you missed it earlier this week, I've partnered with Scott Turner and American Trench to produce a new line of crew socks with great stripe patterns down toward the ankle, where everyone will be able to see them: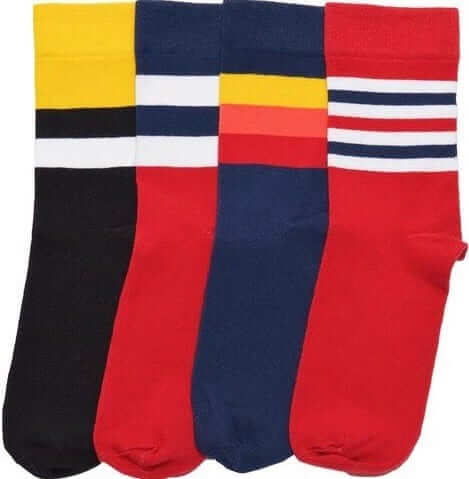 The socks are available here, and there's lots of additional info here.
• • • • •
The Ticker
By Mike Chamernik

Baseball News: The Double-A Corpus Christi Hooks didn't exist in 1976, so they will wear fauxbacks to represent that year instead. Here's another look, and a view of the hats (from Payne Whatley and Nick Lineback). … Fans have a chance to rename the Lynchburg Hillcats, an Indians affiliate. The options aren't very good (surprisingly, "Hillcats" is a choice), but I can get behind the Doves. Reminds me of the old Brooklyn MLB team. Seems quaint. But, if they do choose Doves, it will come with a menacing logo, which might actually be ironically amusing. All I'm saying is, go and vote for the Doves. … A new ESPN 30 for 30 film, Doc & Darryl, directed by Judd Apatow, premiered last night. Matthew Blinco likes the script "New York" jerseys the Mets wore on the road in 1987, and I like them, too. … That film also included a shot of Doc Gooden in a minor league Tidewater Tides uniform that included a sweet pillbox cap. That cap is sold, by the way, by Ebbets Field Flannels. … Everything lovable (or hatable) about Chicago cuisine rolled into one: The Cubs are offering a deep dish pizza loaded with Chicago-style hot dog ingredients. … The Brewers are hosting a '90s Night on July 30. In anticipation of the evening, relievers Will Smith and Jeremy Jeffress reenacted photos of Will Smith, the rapper, and DJ Jazzy Jeff. They posed for a lot of pics, too. … Using MLB: The Show, someone simulated a season with every team having 25 Bartolo Colons on the roster. The results were spectacular. [Wow, that is sheer genius. Don't miss! ""  PL] … A Wisconsin nail salon borrowed the late-1990s Angels logo (from Casey Littmann). … Good photo of Mickey Mantle chomping on a hot dog while wearing a Yoo-Hoo T-shirt. The Mick was a Yoo-Hoo endorser. … I never noticed this, but Lenny Dykstra was wearing Darren Daulton's helmet in this classic photo. Dykstra's uni number was 4 (from David A. Arnot). … Sportsnet interviewed Blue Jays pitcher J.A. Happ. Even after four years in Canada, he still doesn't know how to buy milk (scroll down to the bottom). Apparently, in many parts of Canada milk is sold in bags with separate plastic jugs. This is news to me! … Paul Igel was at a Lids in Las Vegas and found this Red Sox cap with a David Ortiz farewell logo. Wonder if the Sox will wear that on the field during the last few games of the season. The Yankees did something similar for Derek Jeter and Mariano Rivera. … A Bowie Baysox player wore a Triple-A Norfolk helmet in the Double-A All-Star Game. … The brown/gold MLB All-Star merch sold well, and the Padres may be bringing back more brown next season, but those two things are not necessarily related (from Phil). … Also from Phil: Lots of minor league teams doing Christmas in July promotions. … Speaking of minor league promotions, many teams are incorporating food into their uniforms (from Andrew Hoenig). … Here are some uniform shots from the Japanese Home Run Derby.

Pro and College Football News: The new Washington Arena League team will be known as the Valor. The colors and logos were also revealed yesterday (from several readers). … An investment group led by HOF safety Ronnie Lott wants to build a new Raiders stadium at the Coliseum site in Oakland. … Sports Illustrated got Georgia State mixed up with Georgia Southern (from Preston Hornsby). … SMU is getting new turf (from Phil).

Hockey News: The Las Vegas expansion franchise is having trouble trademarking a name. Obtaining the "Black Knights," the preferred name and a nod to owner Bill Foley's military background, would require for the team to negotiate with the U.S. government over a trademark. The NHL isn't fond of any gambling-themed names, either. Rumors indicate the team is leaning towards "Knights" as its nickname (from Alan Kreit). … Here's a really cool-looking hockey-themed pinball machine. Click on the two photos to see larger versions.

NBA News: Timberwolves owner Glen Taylor says his team is planning new logos and jerseys for the near future. … Shaq held up a Heat jersey with a Spurs tag when Miami introduced him after the trade with the Lakers in 2004. I wish the tag said what size the jersey was (from @NVZXR). … Did you know the Mavericks' team name was somewhat controversial when it was chosen? It's the same name used by teams at the University of Texas at Arlington, and they weren't too pleased about the then-new NBA team using their moniker. Details in this 1980 Sports Illustrated piece (from Aaron Husul).

Soccer News: Paul's day was 15 percent cruddier yesterday, as both Real Madrid and Barcelona released new purple kits (from Mark Coale). … Here's a good breakdown of all the new Premier League kits next year (from @TheBigJamesG). … New kits for FC St. Pauli (from Troy R. Wells). … New kits for West Virginia (from @cDubya242). … A designer created soccer jersey concepts for the Buffalo Bills and Sabres. … Barça's new signing Lucas Digne will wear a protective mask. He recently had surgery for a nasal fracture (from Yellow Away Kit). … New jerseys upcoming tomorrow for WisÅ'a Kraków. … Hull fans are unhappy because their away kit looks just like Everton's. "That's the appropriate response to templates," says Casey Hart.

Grab Bag: A friend of Peter Gaston's created a site that automatically colorizes black-and-white photos in seconds. … New logos for the programs at Washington & Jefferson College (from Bob Fittipaldo). … Golfer Jordan Spieth dropped out of the Olympics, so Coke is dropping him from its Olympic-themed packaging and will use a golfer's silhouette instead (from @Walkerdb7). … Tour de France rider Chris Froome crashed with a motorbike yesterday and ran on foot before getting a replacement bike. … Nice cricket matchup of striped blue-and-yellow teams. … Many New Zealanders feel that the country's Olympic uniforms are too generic. Perhaps the athletes have been outfitted by apparel from The Warehouse, a store which Camryn Brown says is the country's equivalent of Wal-Mart. … Greg Mays recently found decades-old documents for California license plates in a his VW Microbus. "Don't think I ever saw a Cali Olympics plate on the road," he says. "Wish I had a set for the bus, even though it hasn't been out of my driveway in a decade!" … New logo for Mastercard. … New package design for BreathSavers. … For many years, female varsity athletes at Michigan received different varsity jackets than the more iconic male versions. The university is now addressing that inequity by giving standard varsity jackets to over 700 past female athletes (from Jeffrey Sak). … Phil Mickelson is still wearing that binder clip!