Click to enlarge
The photo you see above is part of an amazing project that's been unfolding at the Oklahoma City offices of Paycom Payroll, where Uni Watch reader Justin Southwell works. I'll let him explain:
Each year we have several employees participate in "Gavin's Super Groovy NBA Playoffs Bracket Challenge." Twenty-one co-workers entered the third annual bracket challenge for the 2016 playoffs.

The bracket challenge was created by Gavin Otteson. Each participant fills out a bracket to predict the winner of each series, and each round has a weighted point value for correct picks.

But what makes this challenge stand apart from March Madness brackets is that each participant is given a hand-drawn mini-jersey with his or her name.These mini-jerseys are used to show the participants' rankings. The top 10 are placed on "The Leader Board," while the remaining contestants are on "The Bench" [as shown in the photo at the top of today's entry "" PL].

Participants choose primary, secondary, and tertiary colors that they would like on their mini jerseys. Gavin Otteson and I design and create the jerseys using a variety of markers and colored pencils.
Oh, man — how great is that? What an excellent little project. Big thanks to Justin for sharing it with us.
• • • • •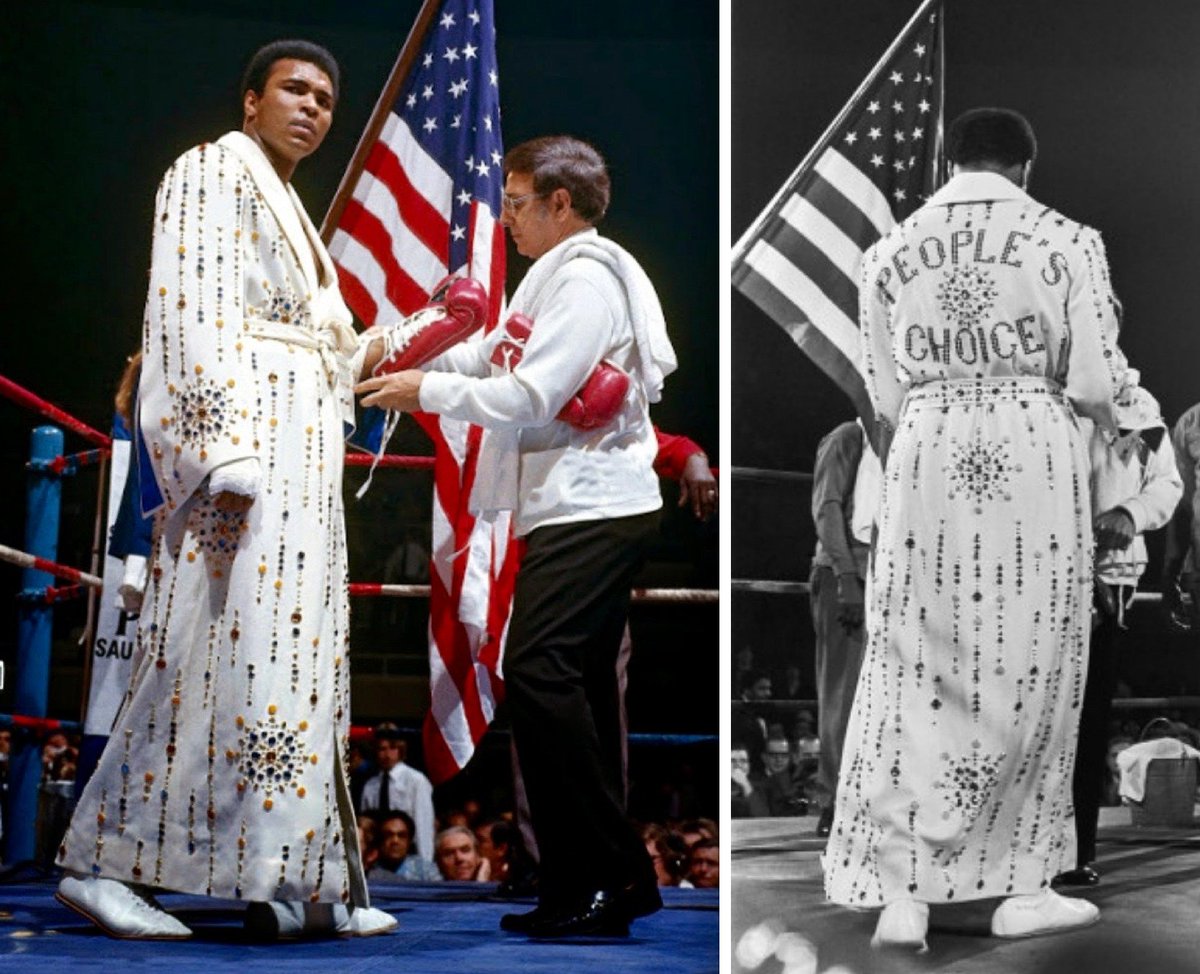 Click to enlarge
Friday Flashback: Back on Monday we took a Uni Watch look at Muhammad Ali. My weekly Friday Flashback column on ESPN expands upon that, with a closer look at Ali's trunks, footwear, and the amazing rhinestone-studded robe he wore for his 1973 bout against Joe Bugner (shown above), which was made for him by none other than Elvis Presley. Check it out here.
Incidentally, if you look at that first photo above, you can see trainer Angelo Dundee putting Ali's left glove on his hand, and Ali's right hand is taped up but not yet gloved. This was fairly common back in the day — fighters often entered the ring with their hands not yet gloved. That's no longer the case, as it's now standard for the gloves to be laced up in the fighter's dressing room, with a representative of the opposing fighter's camp watching, to ensure that there's no funny business.
Speaking of Ali, look at this fantastic photo of Ali "boxing" a three-year-old girl. Here's the story behind it.
Finally, here's a faaaaascinating New York Times article about how lots of newspapers — including the Times — kept referring to Ali as Cassius Clay for years after he changed his name. Really interesting stuff — highly recommended.
•  •  •  •  •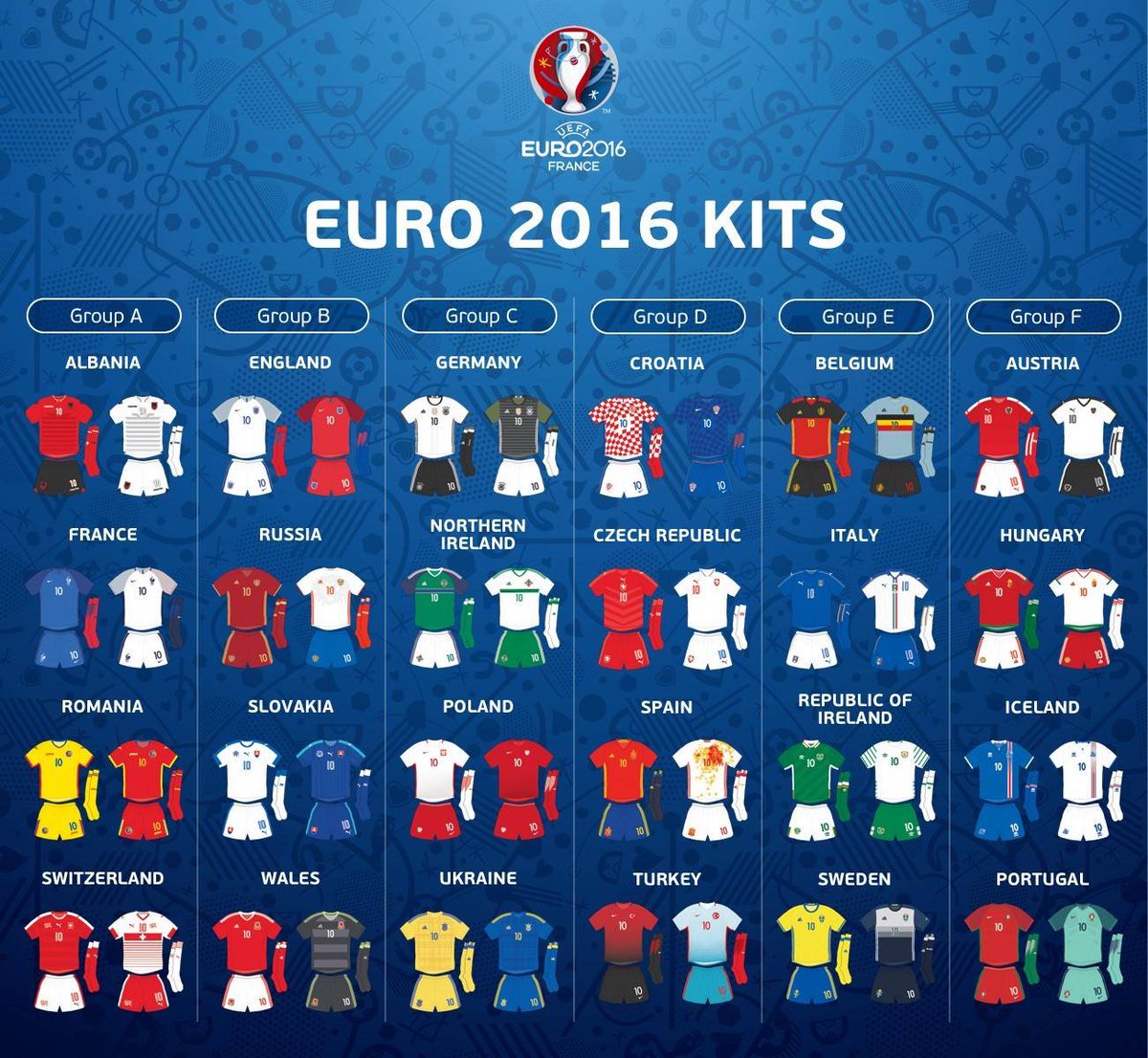 Click to enlarge
Euro 2016 primer: Euro 2016 gets underway today. The chart above, sent my way by reader Conrad Burry, shows all the kits you can expect to see.
In additional Euro 2016 news:
•  Here's a ranking of the home jerseys.
•  The big outfitters at Euro 2016 are Nike and Adidas.
•  Here are some superhero-style illustrations of key Euro 2016 players.
•  Bill Radocy has prepared an excellent spreadsheet showing every match-up, including dates, times, TV networks, and so on.
•  •  •  •  •
William Bell overture: The great 1960s and '70s soul singer William Bell did a free show in downtown Brooklyn yesterday (part of an amazing series of free weekday-afternoon R&B shows that's now in its 22nd year), so I hopped on my bike and went to check it out.
Bell recorded for Stax but isn't as well-known as many of the other Stax artists from that period (Otis Redding, Rufus Thomas, Sam & Dave, etc.), in part because was drafted into the military right after he scored his first two hits, which put his career on hold right when it would have been taking off. But he was a big behind-the-scenes guy at Stax, writing a lot of songs for other artists, and I've always loved his stuff.
He turns 77 next month but looked and sounded fantastic, his voice only a teeny bit diminished by age. Here are two video clips I shot:
How awesome is that? And it was a beautiful day — sunny, mid-70s. Did I mention that this show was free? Sometimes I really fucking love NYC.
•  •  •  •  •
The Ticker
By Paul

'Skins Watch: Yesterday was the first day of the MLB draft. Interesting and encouraging to see that the Cleveland gave its draftees caps with the block-C instead of Wahoo (from John Sabol). … I see they're also using the block-C for their All-Star voting emojis.

Baseball News: Reader Greg Allred volunteers as a clubhouse attendant for the Double-A Birmingham Barons. Here he is at last week's Rickwood Classic wearing a jersey from a previous Classic, based on an old Birmgingham A's uni. … Amelie Mancini's Left Field Cards project, a longtime Uni Watch favorite, is shutting down. … While looking for something else, I noticed that Royals P Yordano Ventura wears his cap over his ears. First guy I remember seeing with that look was Mets P John Maine back in the late aughts, although he more often went with the more conventional fit. … Looks like Orioles skipper Buck Showalter may have a custom front pocket sewn into his pants. … Daniel Graf reports that the current issue of Mad magazine includes a not-very-funny gag that shows a Star Wars storm trooper in baseball attire, including stirrups over his boots. … This year's MLB ASG caps are beginning to show up at retail (from Steven Hom). … Looks like the Giants have a mannequin in their clubhouse showing the uni combo du jour (from David Williams). … Here's the story behind the unusual uniforms worn last night by the Durham Bulls (from @CarolinaDurham). … A look at how the Cardinals', Royals', and Giants' uniforms have evolved over the years.

NFL News: Buried within this Patriots mini-camp report: "For some reason Jabaal Sheard and Malcolm Brown swapped jerseys for the practice. Brown wore No. 93 while Sheard donned the defensive lineman's No. 90."

College Football News: Here's our first look at Old Dominion's new stadium (from Andrew Cosentino). … ESPN had a bunch of its college football writers pick the best uniform in each Power Five conference (thanks, Phil). … Here are the NFL jersey numbers for every Ohio State draftee. … Here's something on the history of Clemson's orange pants. … Florida is naming its field after Steve Spurrier (from Kyle Baker).

Hockey News: Reprinted from yesterday's comment: Here's how NHL team logos might look if they were Vegas-ized (from Chris Hilf). … An amateur animator is claiming that the Panthers ripped off his artwork (thanks, Mike). … 43% of the sticks used in the Finals were made by CCM — the most of any brand (from Richard Obrand).

NBA News: If you go to the 9:15 point in this audio clip, you can hear Derek Anderson talking about the Cavs' 1990s uniforms (from Troy Fowler). … The same company that owns the Raptors also runs the Maple Leafs, so it's not surprising that their CEO says he'd welcome ads on NHL uniforms. Sure, once you've ruined one league's unis, why not ruin another's? Honestly, you've gotta wonder how these people even look in the mirror (thanks, Phil).

College Hoops News: New court design for Youngstown State. … You already knew about Indiana's candy-striped warm-up pants, but check out these old sweats. Very cool (from Darrell Frazier and Matt Mallonee). … incredible Creighton vs. Marquette photo from 1925. Love that Creighton jersey (from Micahel Brighton).

Soccer News: Sunderland striker Jermain Defoe signed a contract extension through 2019 and celebrated with a No. 2019 jersey. … An Iranian goalie was suspended for wearing Spongebob pants (from Griffin Smith). … New kits for Mainz, Bayern Munich (I think we've seen that one before), Leverkusen, and Arminia Bielefeld (all that from Robert Marshall).

Grab Bag: Looks like Wisconsin's athletics department will unveil the school's new Under Armour uniforms on June 30 (from Taylor Meiklejohn). … In a related item, here are the details of UCLA's deal with Under Armour (from Phil). … Really good article about championship merch. Among other things, the losers' merch usually doesn't end up overseas anymore. … I like this patch for the St. Louis [high school] Officials Association. "It shows the St. Louis Arch and a football, a basketball, and a volleyball," explains David Stephens. … Research has come up with the world's ugliest color (not purple, surprisingly), which is being used to discourage people from smoking (from Scott Davis). … Great piece on how Jewish designers shaped British menswear fashions over the past century. … The city of Chicago is bringing back some throwback trains and buses this summer (thanks, Mike). … The Confederate flag will be removed from two stained-glass windows at the Washington National Cathedral in DC. Here's what Webb Simpson and Rickie Fowler will be wearing at the U.S. Open (from Jake Patterson). … New logo for Williamstown, New Jersey. … The latest development in the legal dispute between Nike and track and field star Boris Berian is that Berian can't wear anything but Nike for the next two weeks. Key passage: "After the ruling Wednesday, Berian removed the photo of New Balance racing shoes he'd been using as his Twitter profile picture. He replaced it with a shot of himself wearing a Nike-issued Team USA uniform "" with the ubiquitous swoosh on the chest apparently removed." … Thieves pulled off a big heist at a Manhattan Apple Store. Key quote: "Their cover was [wearing] clothing similar to Apple Store uniforms, which have been converted to a single set of blue shirts rather than their previous seasonal rotation. … Toyota is threatening legal action because the Brexit movement has been using the Toyota logo without permission.