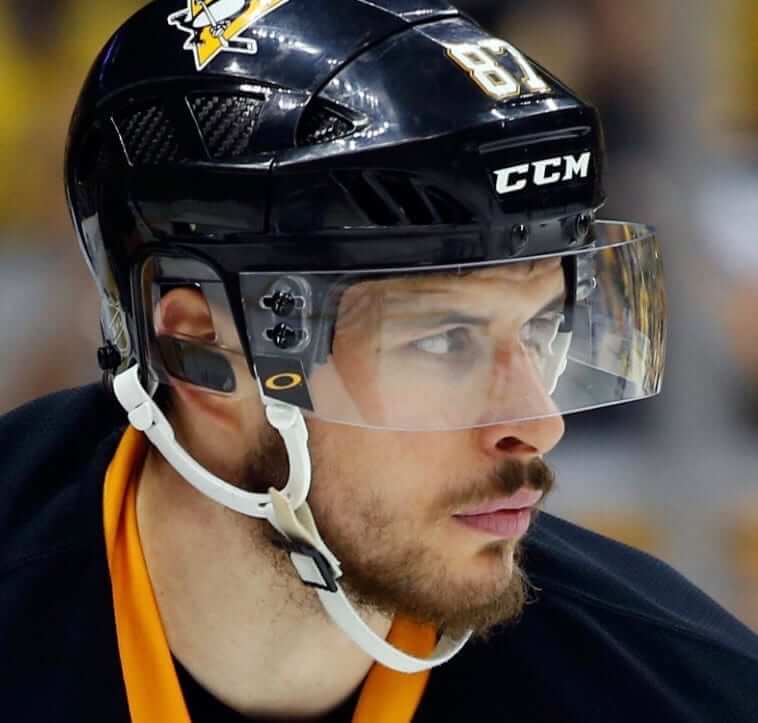 [Editor's Note: Today we have a guest entry by Ben Van Mierlo, who's going to give us a close look at a very small piece of hockey gear. Enjoy. "" PL]
By Ben Van Mierlo
When I went to Uni Watch on June 2 — the day with the recent entry about the Penguins' helmets — and saw the photo of Sidney Crosby with his head turned sideways, showing off his helmet earpiece [shown at right; click to enlarge], I thought to myself, "There it is! Finally, a full Uni Watch investigation into hockey helmet earpieces!" But that entry turned out to be about the Penguins' helmet decals. So if there's going to be an entry about earpieces, it appears that I'll have to write it myself.
If you're wondering what an earpiece is, take a look at this photo, which is what an off-the-shelf hockey helmet looks like [click to enlarge]:
See that clear protective piece beneath the Bauer logo on the side? That is the earpiece. I've been a diehard hockey fan and player for 30 years, and I've been obsessed with that little piece of the helmet for as long as I can remember.
As a minor hockey player, you aren't allowed to remove the earpiece. But almost all of the pros (and a lot of beer leaguers) remove it. The commonly stated reason is, "I can hear better without it" (I can tell you from experience that the difference is minimal to non-existent), but it's more like a rite of passage, like graduating from the full-face "bird cage" shield to the half-visor as you make it to a higher level of hockey.
When a player enters the pro ranks (NHL or AHL), they seem to have the option to remove the earpieces, and almost all of them go ahead and do so. If you look at pictures of NHL players, you're hard pressed to find an ear piece in sight. But there are three players who I've always noticed as earpiece holdouts. They happen to be three of the better players in the league, and two of them are Penguins — Crosby, Evgeni Malkin, and Patrick Kane [for the first and third photos, you can click to enlarge]: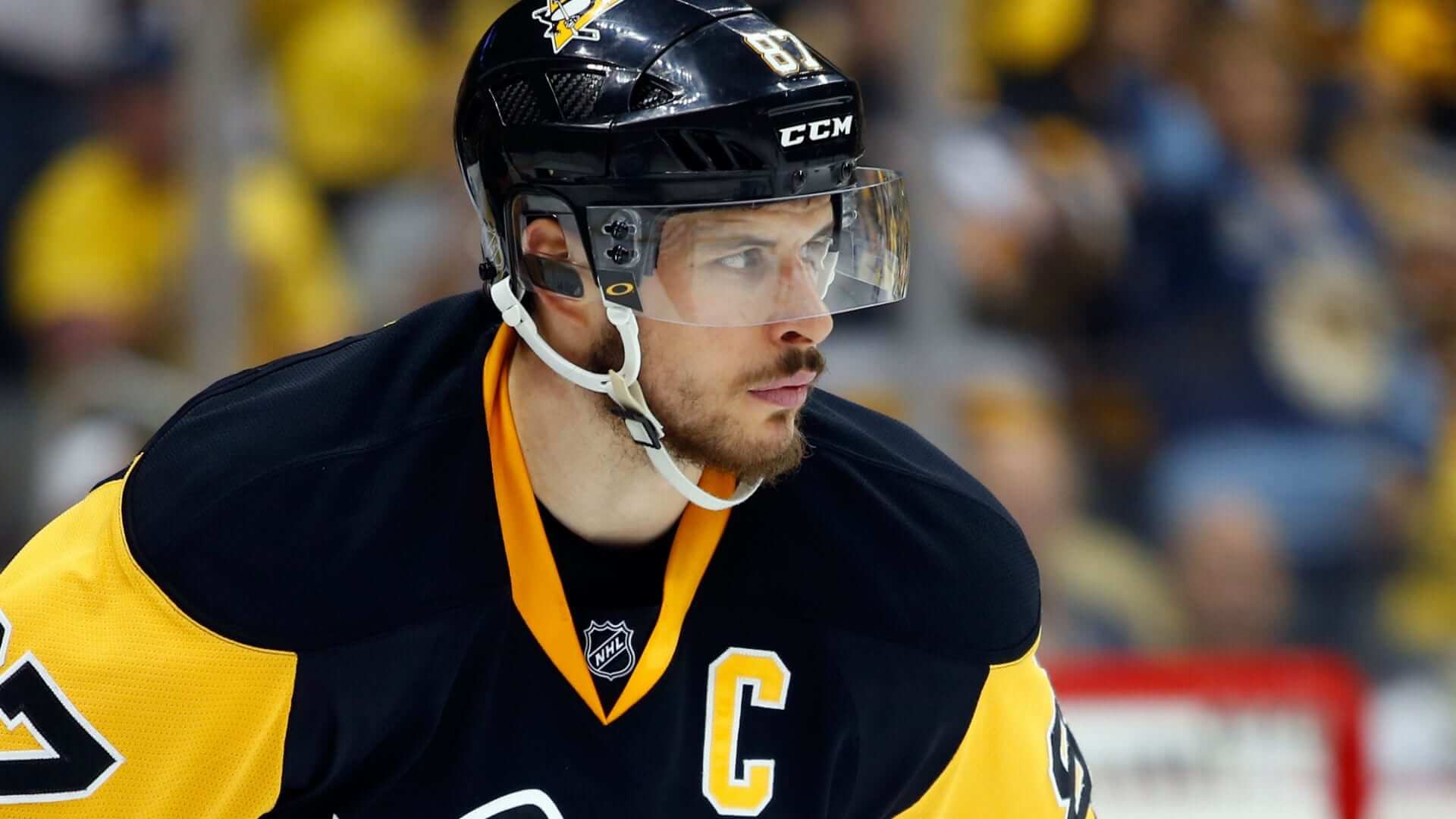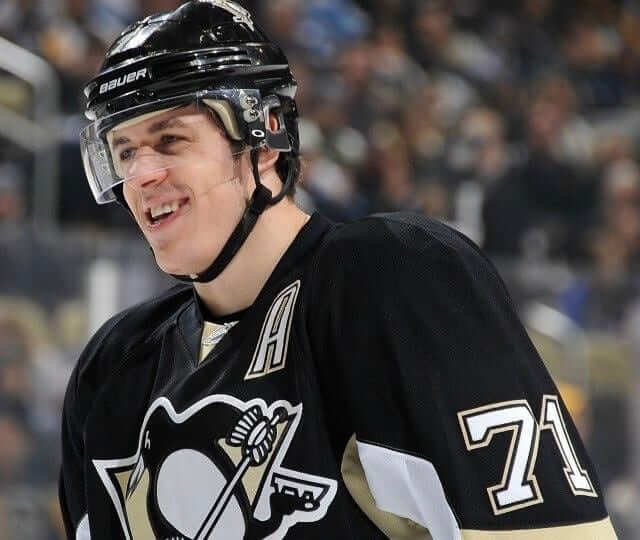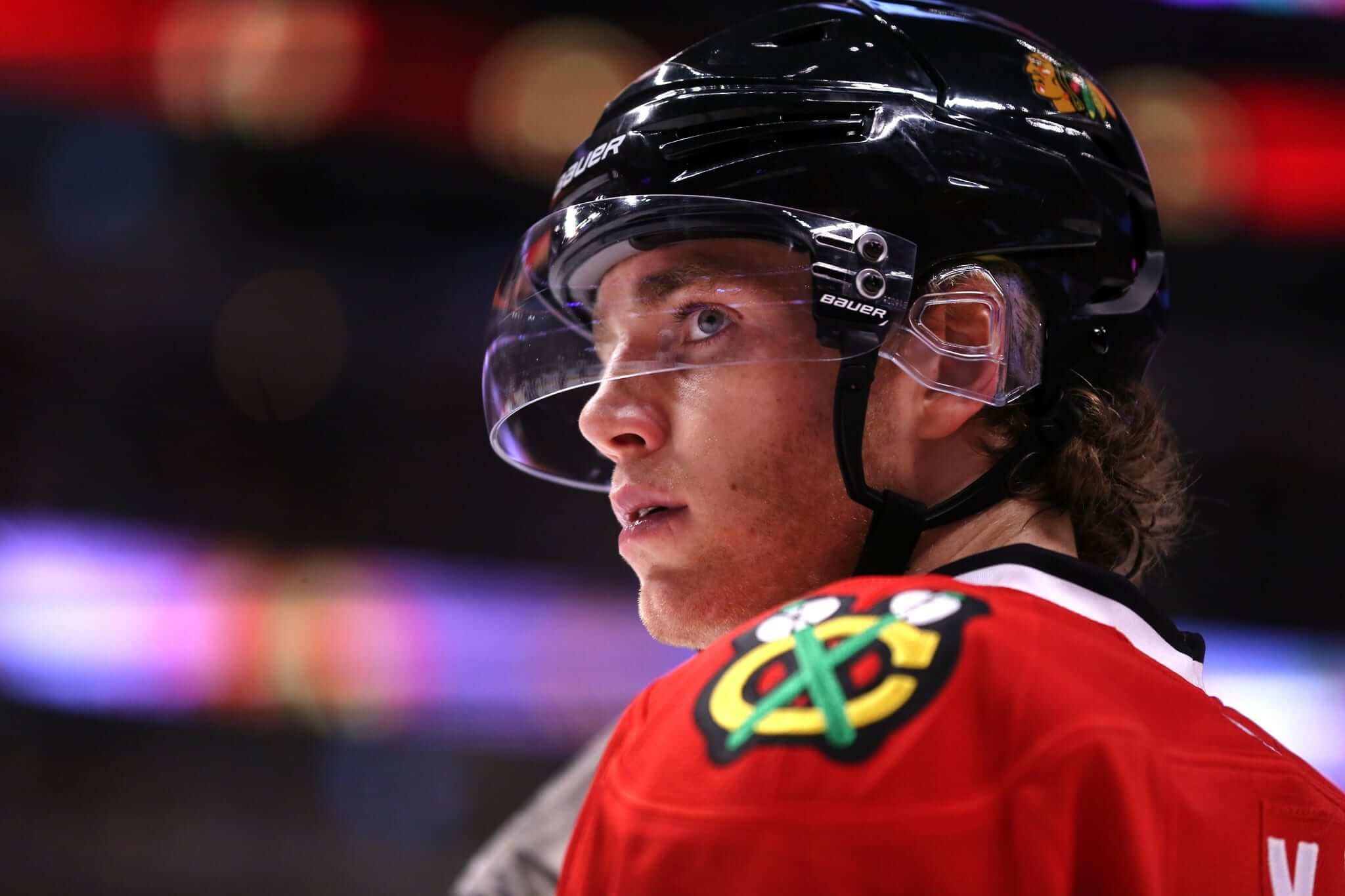 I don't really have a nice wrap-up to this, and I'm not sure what it means, other than that if you want to be a top goal scorer in the NHL, wear earpieces.
———
Great stuff, and very much analogous to how minor league baseball players have to wear double-flapped helmets but can then go single-flapped when they reach the bigs. Big thanks to Ben for spotlighting this oft-overlooked uniform detail.
•  •  •  •  •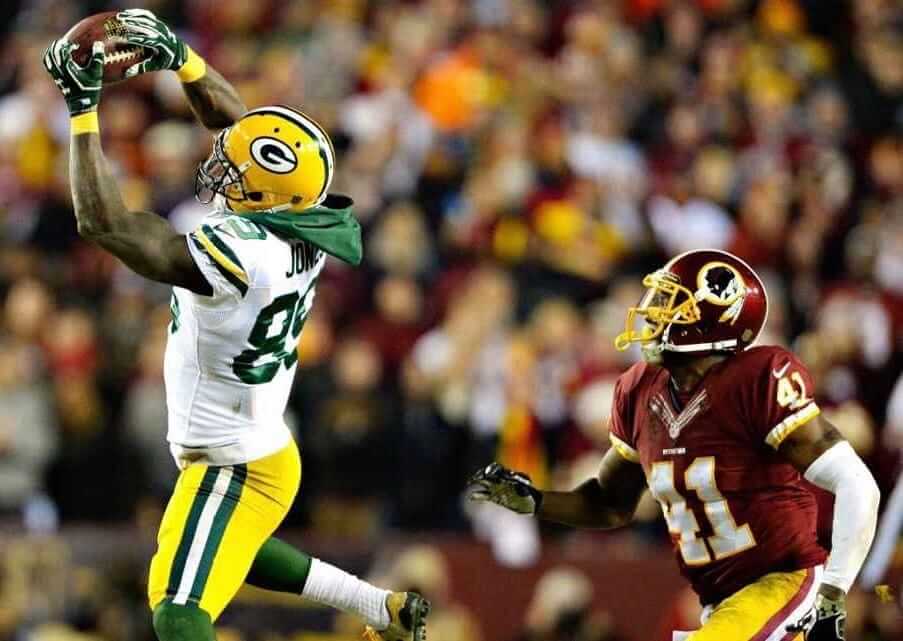 NFL adopts "James Jones rule": One of the odder developments during the last several games of the 2015 NFL season was Packers wideout James Jones's habit of wearing a hoodie on the field. He said it was something he'd started doing in practice and that he'd just gotten comfortable with it. NFL officiating guru Mike Pereira quickly weighed in, explaining that the hoodie was legal because, hey, there was no rule against it.
Well, there is now. It's not clear if this will stop Jones from wearing the hoodie during TV appearances.
Hoodies have also appeared on the baseball diamond lately. Several Red Sox players have worn them this season, including David Ortiz and Mookie Betts (that shot is from May 17 — barely three weeks ago!), and I believe players on a few other teams were wearing them during cold-weather games in April. Hey, there's no rule against it. Yet.
•  •  •  •  •
The Ticker
By Mike Chamernik

Baseball News: The Padres wore 1990s throwbacks yesterday and they didn't appear to have the stripeless side panels. They also stuck with their usual matte batting helmets and just put a throwback decal on them. … Snoop Dogg wore an old Jake Peavy glove while throwing out the first pitch at that Padres game. Peavy last pitched for San Diego in 2009. … Albert Almora, a Cubs OF prospect who was called up a few days ago, will go JrOB. He didn't in Spring Training or with the Double-A Tennessee Smokies (from Noah Wolf). … The Pirates all wore Pittsburgh Penguins jerseys while traveling on Thursday. David Freese, a native of St. Louis and a former Cardinal, wanted to wear a Blues jersey. He and his teammates struck a compromise. … Louisville will wear Muhammad Ali memorial patches on their caps (from Joseph Matlock). … The logo for the 2017 Triple-A All-Star Game was unveiled. It will be hosted by the Tacoma Rainiers (from Chris Daniels). … A man in Virginia has collected hundreds of Nationals souvenir cups (from Emily Gordon). … Rye High School in Westchester County, N.Y., wears White Sox beach blanket uniforms (from Rob Yasinsac). … Johnny Carson impersonated pitcher Fernando Valenzuela in a 1982 episode of The Tonight Show (from Douglas Ford). … Here's a pack of MLB playing cards from 1990. I don't believe the players are in any sort of hierarchy, though. … Peanuts-themed jerseys for the Florence Freedom this Sunday. … A young cancer survivor has a prosthetic eye with the Cubs' logo (from Mary Lynn Delfino). … Ross Yoshida reports that Royals P Yordano Ventura wore 2-in-1 faux stirrups during the brawl against the Orioles the other night. … Mariners P Taijuan Walker's shoes featured a graphic of Seattle's Space Needle last night (from Ethan Allen).

NFL News: Has anyone seen this Jaguars logo before? Rob Warner found that at a Jacksonville sporting goods store. … Not quite sure which player that is, but a Bills player wore a LeBron James jersey at OTAs the other day (from @Buffalo_Tony). … Here's what jersey numbers former Alabama players will wear as rookies in the NFL this year (from Phil). … The 1972 Cardinals had wide number spacing. That's RB Craig Baynham (from Pro Football Journal).

College and High School Football News: Another day of the Jim Harbaugh Jersey Tour: He wore an Archie Manning jersey in Mississippi yesterday. … A former North Carolina safety was reunited with his long lost navy blue jersey. A fan found it last month at a Tar Heels athletic equipment yard sale (from Charles Allison). … Middle Tennessee will have a bevy of uniform combinations this year. … Pretty interesting helmets for the Empire Challenge High School All Star Game on June 21. … Florida's equipment staff tweeted a neat video of old Gators helmets (from @DaveDoop). … Lineman prospect Jedrick Wills tweeted a photo showing new Notre Dame cleats (from Toby Deal). … Ohio State has worn a number of alternate jerseys since 2009 (from Phil).

Hockey News: New 50th-anniversary logo for the Brandon Wheat Kings (from Patrick Thomas). … Scott Rogers was at the USHL's Madison Capitols home office and saw never-used home and away jersey concepts. "The staff told me they were early prototype designs before the team settled on its logos and uniforms prior to the inaugural 2014-15 season," he says. "Bland and anodyne compared with what the team eventually went with, and very much centered on red, rather than the navy that the team opted to make its primary color."

NBA News: NBA players make a point of trying to look good when they arrive at the arena. … The e-commerce analytics firm Slice Intelligence sent in shoe sales data regarding LeBron James and Steph Curry. … Cavs fans booed last night after the jumbotron showed Nickelback wearing Golden State jerseys (from Phil).

Soccer News: New home kit for Sheffield United (from Patrick Thomas). … New home kit for AFC Bournemouth (from reader Josh). … New pink-and-purple third kit for Sunderland. … At Copa American, CONMEBOL teams wear patches on the left sleeve. … The Netherlands and South Africa women went orange-vs.-yellow yesterday (from Yellow Away Kit).

Grab Bag: Barring an appeal, Mars will have to use a capital "M" logo for M&Ms in Sweden because it was found the lowercase logo was too close to another chocolatier's mark (from Brinke). … Check it out: Desserts that mimic contemporary art (from Charles Noerenberg). … A shop in Los Angeles cleans scuffed-up designer sneakers (from Tommy Turner). … NAPA Auto Parts will sponsor Indianapolis 500 winner Alexander Rossi for two more races. "I'm kinda shocked Napa didn't increase their sponsorship, since they are unbendingly loyal as a sponsor for thier race teams," says David Firestone. … Google might be rolling out a new site design (from Brinke). … Bitcoin and 3D-printed smart tags are helping to combat counterfeit sneakers.