[Editor's Note: Today we have a guest post from Scott Lederer, who's taking a deep dive on the Penguins' helmets. "" PL]
By Scott Lederer
I've been watching a lot of hockey lately — just about every game. When you watch this much hockey and you like uniforms as much as I do, you start to notice things. And I've noticed some things about the Penguins' helmet decals.
The Penguins have an excellent equipment staff. They do lots of things right and have great attention to detail. They even have a bunch of excellent behind-the-scenes stuff posted regularly on Twitter by their equipment manager, Dana Heinze. So it doesn't surprise me that there are a couple details about their helmet that caught my attention.
First, I've noticed that when the Penguins wear their black and yellow alternate jerseys (as they have then entire playoffs), they change the color of the helmet numbers and logos to a matching yellow and white [click to enlarge]: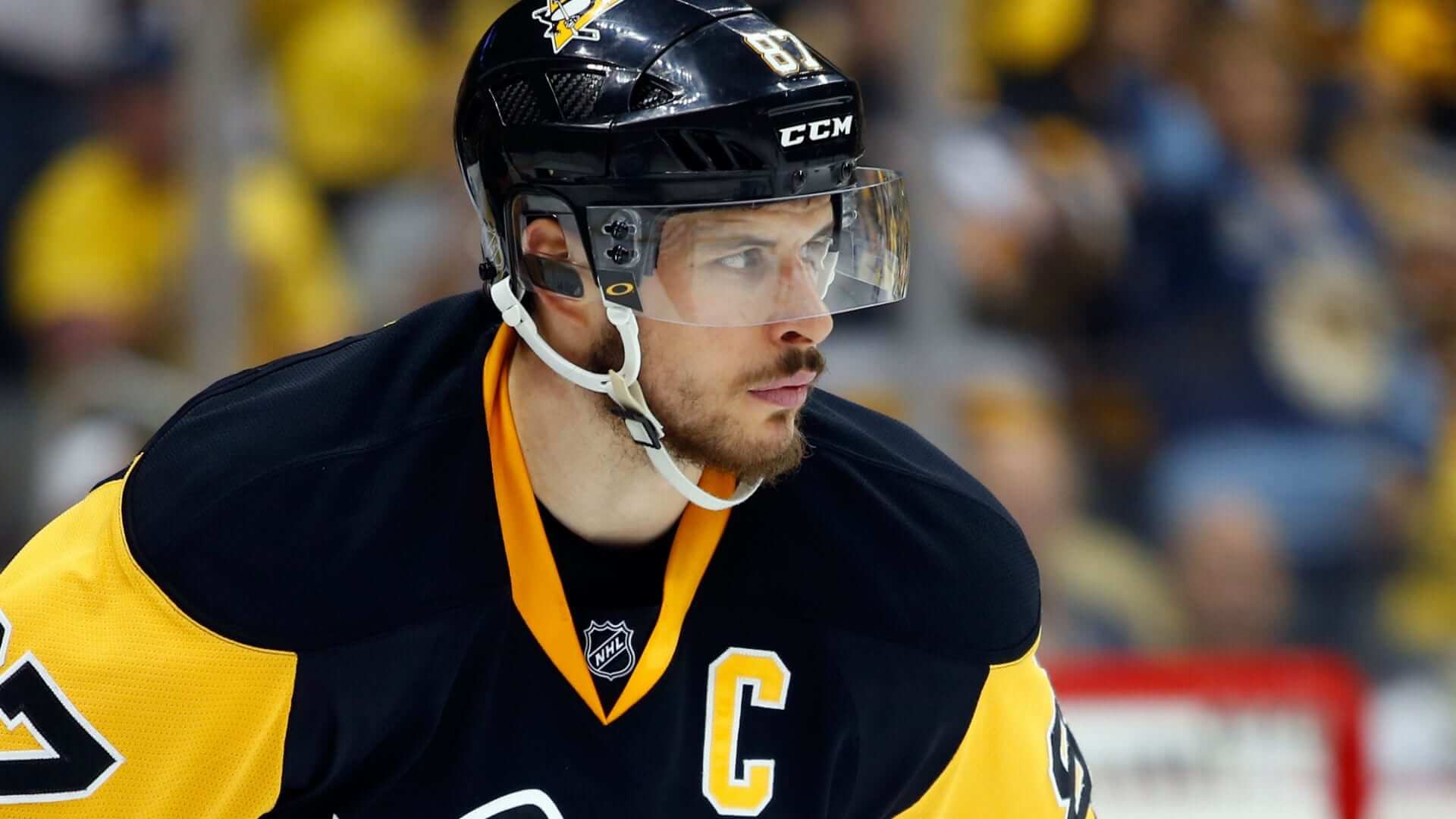 Kudos to them for not being lazy and using the Vegas gold decals.
I'm not entirely sure that they're changing the number font along with the colors, though. The best example I can find of this are guys on the Pens that wear the numeral 4. Look at the different ways that numeral is rendered on Tom Kuhnhackl's two black jerseys [click to enlarge]: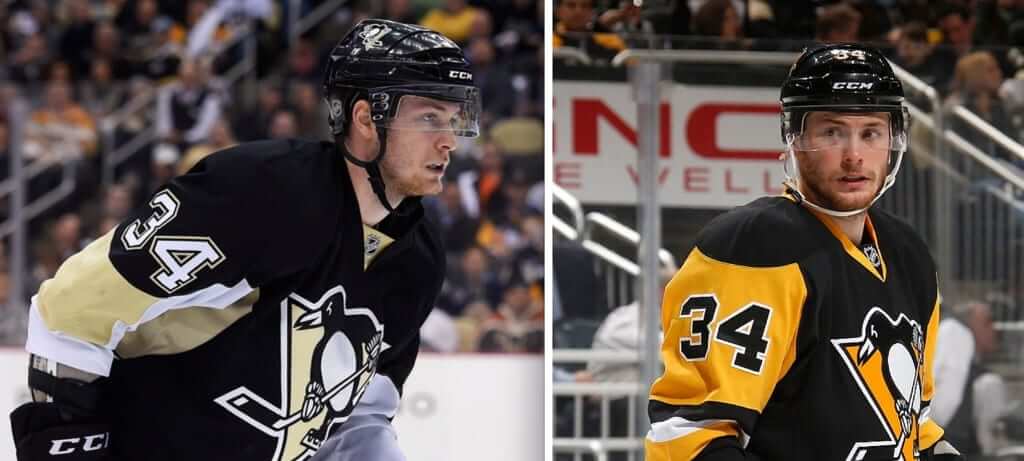 But when you look at the number decal on the top of Kuhnhackl's helmet when he's wearing the alternate jersey, it looks like the colors change but the font does not:
It seems a little weird that they'd go to the trouble to switch out the helmet number decals without getting the font right.
And speaking of the helmet graphics, here's another detail I've been thinking about: The Penguins are one of few teams that use mirror-imaged versions of their logo on opposite sides of their helmet. If you look at other teams with asymmetrical logos, like the Lightning, Stars, Flyers, the logos on the left and right sides of their helmet are oriented in the same direction. But the Penguins have both of their helmet logos "skating forward," so to speak [click to enlarge]:
I like that! But it raises a question: Are the penguin logos on the helmet facing the wrong direction? If you take a look at the team's primary logo on their jersey, it's actually a little strange because the penguin is skating toward the left left. Since we read from left to right, it almost appears that the penguin is skating backwards. But when you look at their helmets, the penguin appears to be skating forward with the stick facing toward the front of the helmet. This feels backwards to me. I think that both logos on the helmet should be facing the other way. What do you think? Do you think I'm crazy?
• • • • •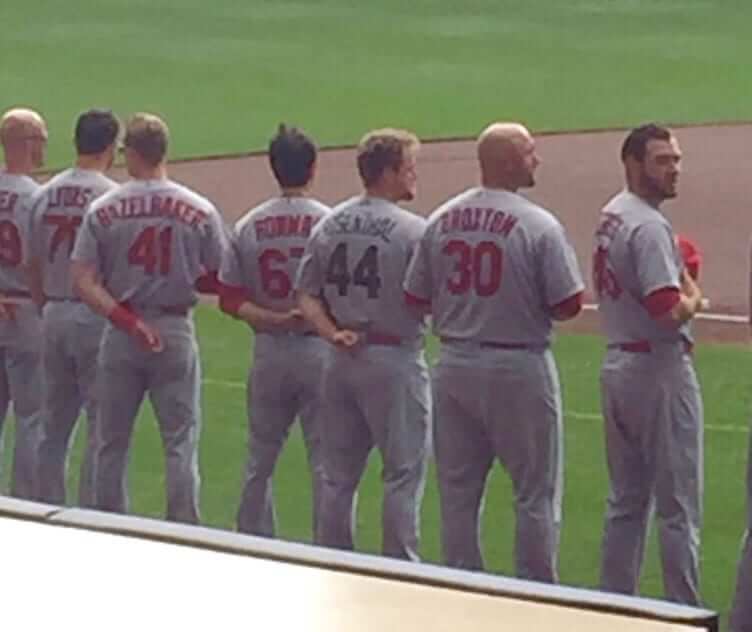 Click photos to enlarge
What's wrong with these pictures? Odd scene yesterday afternoon as the visiting Cardinals lined up for the national anthem at Miller Park, making it very obvious that reliever Trevor Rosenthal was still wearing his G.I. Joke jersey from Memorial Day.
According to this item, the details are as follows:
[Former Cardinals outfielder] Jim Edmonds, now a member of the Cardinals' television crew … texted Rosenthal about his mistake — but Rosenthal was completely unaware that he had been wearing the Memorial Day outfit. None of his teammates told him he was in the wrong, either.

That leaves two possibilities. One, that nobody else noticed Rosenthal was wearing the wrong uniform — after all, they have a lot to do on gameday and might not pay attention to such things. They have specific routines to stick with, after all.

The second and far more amusing scenario would be that they had in fact noticed his outfit gaffe and chose not to say anything at all "¦ which, of course, would lead to all kinds of jokes, chuckles, and amusing video clips.
Rosenthal presumably changed into a proper jersey after Edmonds texted him, but he didn't get into yesterday's game, so we'll never know for sure.
(My thanks to Donald Stricklin for the rear-view photo.)
• • • • •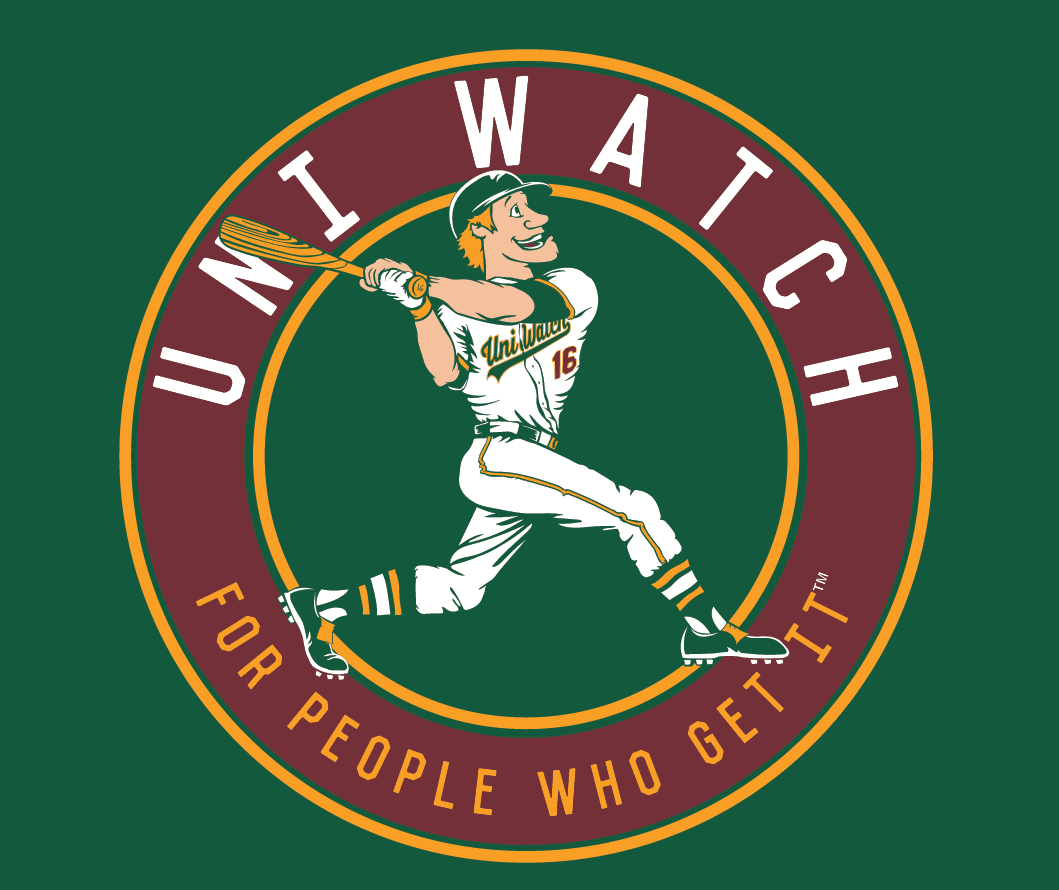 LAST CALL "" Baseball T-shirt 2nd chance reminder: We had some requests for the Uni Watch T-Shirt Club's baseball-themed design (shown at right; click to enlarge) after I wore the tee in last week's Friday Flashback video. So we've made it available again, but without the T-Shirt Club's jock tag graphic.
The good news is that the lack of the jock tag means the shirt is now a bit less expensive, plus we've been able to add a hoodie option; the bad news is that this version of the shirt will not count toward the T-Shirt Club's "Collect 'em all" status. And the worst news is that today is the last day to get it. It's available here up through 11pm Eastern tonight.
• • • • •
The Ticker
By Paul

Baseball News: You know the famous photo of Babe Ruth at Yankee Stadium two months before his death? A copyright dispute over the rights to that photo has been resolved. … Here's what Auburn will be wearing for the College World Series (thanks, Phil). … One designer's opinion: MLB should have Asian Heritage Month jerseys. … Awesome Birmingham Barons throwbacks for the Rickwood Classic (from B.J. Millican). … Brewers mascot Bernie Brewer wears his Twitter handle on his jersey (from @SoCalMindset). … Here's a good look at White Sox INF Brett Lawrie's fang-styled mouthguard (from @RNs_Funhouse). … Why didn't things work out between Jose Bautista and the Pirates? In part because the team had a rule about socks (from Jerry Wolper). … A giant ashtray at Camden Yards had an O's logo drawn in the sand yesterday — with a properly oriented apostrophe! "That makes me think it's the work of a fan [rather than the team]," says Tyler Kepner. … Julio Urías of the Dodgers is MLB's latest single-digitized pitcher. … Here's a new one, at least to me: The New Hampshire Fisher Cats have a jersey design honoring their bat dog (thanks, Phil). … Also from Phil: New superhero-themed jersey, complete with the image of a cape on the back, for the Omaha Storm Chasers.

NFL News: Here's a great shot of the 1964 Raiders, who had black front/back numbers but silver TV numbers (from Adam Vaggalis). … The 2017 Pro Bowl, in addition to moving to from Honolulu to Orlando, will feature a return to the AFC vs. NFC format. "But that's Miami in the background, not Orlando," notes Joel Mathwig.

College Football News: Here's a look at 115 years' worth of Arkansas football uniforms (from Matt Snyder). … White road cleats possibly on tap for Notre Dame.

Hockey News: The Panthers will unveil their new uniforms tonight, sometime after 7pm Eastern. I'll have an in-depth look over on ESPN shortly after the unveiling. … As had long been expected, the uniforms for the World Cup of Hockey will have corporate advertising patches. Does that mean ads are also coming to NHL uniforms? Maybe, but not yet. … A photojournalist's camera lens fell onto the ice during last night's Pens/Sharks game (from Tris Wykes). … In that same game, Joe Thornton punched Sidney Crosby's helmet off of his head.

Basketball News: A Rockets blog jokingly suggested that Donald Trump should take over the team as owner/GM/coach and predicted he would say, "Houston is going to have the best jerseys, the classiest jerseys. I'll tell you." … Some naive soul thinks the revenue from uniform ads will solve the problem of NBA teams getting publicly funded sweetheart deals for their arenas. Yeah, right — dream on. … New sweatbacks for Butler (from Derek Cole).

Grab Bag: Here's more about Neymar's partnership with Jordan. … What does it cost to make a running shoe? Answers here (from Nolan Reagan). … Interesting asymmetrical rugby uniforms for Virginia Tech (from recent Brooklyn pizza maven Andrew Cosentino). … The Peace Corps has a new logo. Here's how their look has evolved over the years (from James Marion and @mikeification, respectively). … Did you know there's an Aussie rules football league here in the States? There is! Here are the new uniforms for the league's Denver franchise. … This is pretty great: beer cap maps! (From John Vahey.) … The PGA is removing its annual tournament from one of Donald Trump's golf courses in Miami and moving it to Mexico. … Do sports teams really need captains? Shmaybe. … JetBlue wouldn't allow a female passenger onto a plane because her shorts were too short. (Rumors that the passenger's name was John Stockton are almost completely untrue.)
• • • • •
I'll be spending a good chunk of today at a medical lab, where I have to get some tests. Nothing serious — just an annoying black hole in my schedule. Play nice while I'm away, and I'll see you tomorrow (or tonight, if you check in at ESPN for my Panthers uni assessment).