So here's an odd situation: Back in February the Penguins revealed an anniversary logo that they'll begin wearing next season (shown at right; click to enlarge). When I wrote about that logo at the time, I mentioned the following:
Speaking of the Penguins, reader Zane Heiple notes that their patch shows three Stanley Cups [for the titles they won in 1991, 1992, and 2009], which could cause problems if they win the Cup this year. Do they have a four-Cup version of the logo set aside, just in case?
At the time, the Pens had a record of 27-26, so a run at the Cup seemed unlikely and Zane's question appeared to be moot. Frankly, I had forgotten all about this until yesterday, when reader Christopher Taylor pointed out that the Pens are now one win away from another Cup and could close it out as soon as tomorrow night.
That raises several questions:
• If Pittsburgh wins the series, will the team revise the logo? I suspect they will, and that they already have a four-Cup version at the ready, just as Zane suggested when he first raised this issue back in February.
•  Is there any merchandise or team items (stationery, e.g.) that had already been produced with the three-Cup logo? If so, what will happen to that stuff? Yes, I know, it'll be sent to Africa along with the "Stanley Cup Champion San Jose Sharks" T-shirts, ha-ha-ha. But no, really, what will happen to those Penguins items with the three-Cup logo? Will they become highly prized collectors' items?
•  Has this type of thing ever happened before, where a logo had to be redesigned because of a team winning another title?
•  Wouldn't it have been easier if the Pens and the other Second Six teams had waited until the off-season to reveal their anniversary marks, instead of trotting them out so early? (Yes, I know, they timed the release to coincide with the anniversary of when their franchises were granted, but it was still really early by anniversary logo standards.)
•  Have I completely jinxed the Penguins by writing about this?
•  •  •  •  •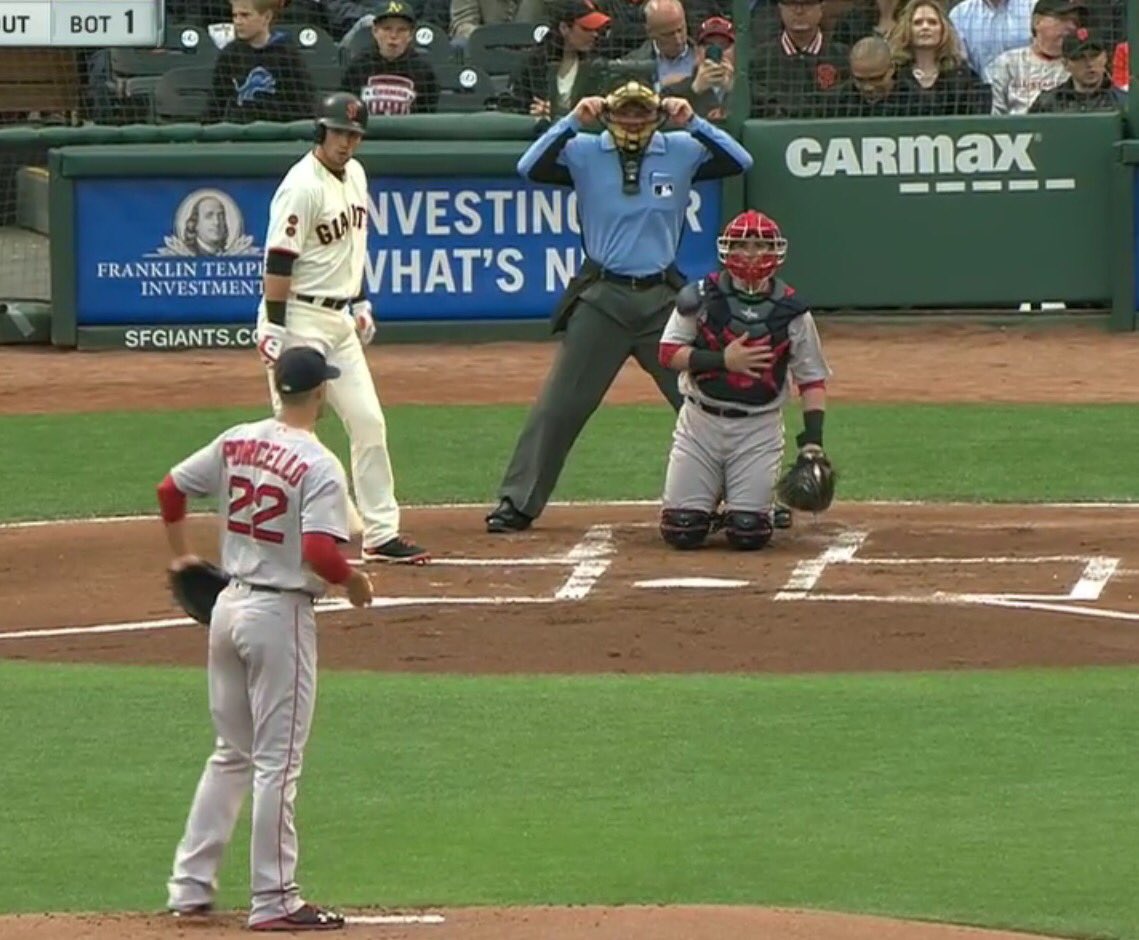 Screen shot by David Sperino; click to enlarge
"Come on, Blue ""  with black stripes!": We've all seen MLB umpires wearing long-sleeved windbreakers, long-sleeved pullovers, and long-sleeved blazers. Until now, though, I don't think I'd ever seen one wearing a long-sleeved polo shirt. That's Mike Everitt working the plate in last night's Giants/Bosox game.
Although I hadn't seen the long-sleeved polo before, some quick photo research reveals that umps have been wearing it here and there throughout the season. Here's Dale Scott on May 21:
And here are C.B. Bucknor (April 12) and Mike Estabrook (May 19) wearing the black version:
The long sleeves wouldn't be so bad, of course, if not for their brutal-looking side-turned-sleeve panels.
Remember when the ump was, by definition, the best-dressed guy in the ballpark? In less than 50 years they've gone from business suits and neckties to some weird hybrid of casual Friday and athleticwear.
•  •  •  •  •
The Ticker
By Paul

Baseball News: Check out this sensational page outlining all the new uniform details for the 1970 Phillies — including the outfits for the usherettes, turnstile clerks, and groundskeepers. Jared Wheeler found that in the Phils' 1970 yearbook. Tremendous stuff. … Here's a question I've often pondered: Why exactly should baseball players have to wear caps? (From David Arnott.) … Good story about how White Sox closer David Robertson prefers to go high-cuffed. … If you mixed MLB mascot bobbleheads with a Japanese anime sensibility, you might end up with something like these. Additional examples here. … The Johnson City Cardinals will become the Johnson City Wagon Wheels on July 9 (from Marcus Brooks). … Bob Owchinko pitched for the Indians in 1980 and the A's in 1981 and '82. But for some reason his 1981 Donruss card lists him as a Pirates player in an Indians uniform (good one from Hugh McBride). … Speaking of baseball cards, check out the amazing jacket worn by Pirates P Grant jackson here. … The Orioles gave away this umbrella last night (from Andrew Cosentino). … The Pirates will be wearing Penguins jerseys while traveling to Colorado tomorrow. … "I apologize for the blurry screengrab, but a Reds promo spot on Fox Sports Ohio showed a player — No. 50 — with his NOB completely blurred out," says Chad McNeal. "The Reds don't currently have a No. 50 on the roster, but I assume this is from 2014 and that it's Neftali Soto. I have no idea why they would blur his name, though — Brayan Peña's NOB is clearly visible and he's no longer a Red either." … Wedding band alert! That's Angels P David Huff, who was apparently wearing his wedding ring — on his pitching hand! — during last night's game against the Yankees (good spot by @Arlington10, via Phil). … Good article about the process of renaming the Binghamton Mets for next season.

Pro Football News: The CFL appears to have a quarterback who wears double-zero. … The latest installment of Jim Harbaugh's Jersey Tourâ"¢ featuring a Julio Jones Falcons jersey. … Wanna see some seriously large NOB lettering? Look here.

College Football News: Tulane has a new helmet with an anthropomorphized wave logo. Naturally, I love it (from Vicious Sid). … New gloves for UNC (from James Gilbert). … Florida is telling fans which colors to wear for the Gators' first three games (from @DavidDoop).

Hockey News: New primary logo, with other new identity elements to follow shortly, for the Columbus Cottonmouths (from Kevin Mills). … Members of Metallica wore Sharks jerseys while performing the national anthem prior to Monday night's game. … The latest NHL video game from EA Sports will include ECHL teams. … Buried within this article about the Greenville Swamp Rabbits extending their affiliation agreement with the New York Rangers is the following: "The Swamp Rabbits will continue to celebrate their relationship with New York with third jerseys modeled after the Rangers uniforms. This will mark the fifth straight year the Swamp Rabbits will don the highly popular alternate uniforms."

NBA News: The NBA has come out with a series of LGBT pride T-shirts featuring rainbow-patterned team logos (thanks, Mike). … For the 2011 slam dunk contest, Blake Griffin wanted to jump over a convertible, but he was told that the car had to be a Kia Optima, because Kia was an official NBA sponsor advertiser. Douchebags (from Martin Hick). … Fun caricatures of NBA players and their signature sneakers (from Andrew Rader). … Steph Curry chews on his mouthguard on 85% of this free throws (Mike again).

Soccer News: Here 10 soccer kits to look out for (thanks, Phil). …mV-Varen Nagasaki of the J-2 League has an alternate kit to mark the anniversary of the atomic bomb attack on Nagasaki. … Adidas misspelled Colombia as "Columbia" in an ad campaign (from @bryant_rf). … Cambridge United is looking for a new person to wear a mascot costume (from The Boot Room). … An ESPN art director discussed what the network has planned for Euro 2016 (from Nate Morrow). … New away kit for West Ham United (Yellow Away Kit). … New away kit for Bayern Munich.

Grab Bag: Here's a debate on the current state of office attire and dress codes. … Here are Ireland's Olympics outfits (from Colm Heaney). … The United States Navy is developing an Iron Man-style augmented-reality diver's helmet. … "Indy 500 Champion, Alexander Rossi looks to have lost his sponsorship from NAPA auto parts and is back in a solid black car without a primary sponsor — again," says Tim Dunn. … New police uniforms for Princess Anne, Maryland. … New rugby jersey for Ireland (from James G). … The political cartoon shows what Democratic presidential candidates Bernie Sanders and Hillary Clinton might look like in basketball uniforms. … Oregon's latest over-the-top uniform is for the track and field team. New shoes, too (from Steve Wagner and Patrick Gallagher, respectively). … A new law in New Hampshire allows graduating high school seniors to wear military uniforms at their graduation ceremonies, instead of the standard cap/gown, if they have completed basic training. … New logo for the city Meridian, Mississippi. … Big controversy in the curling world over a new generation of technologically advanced brooms.