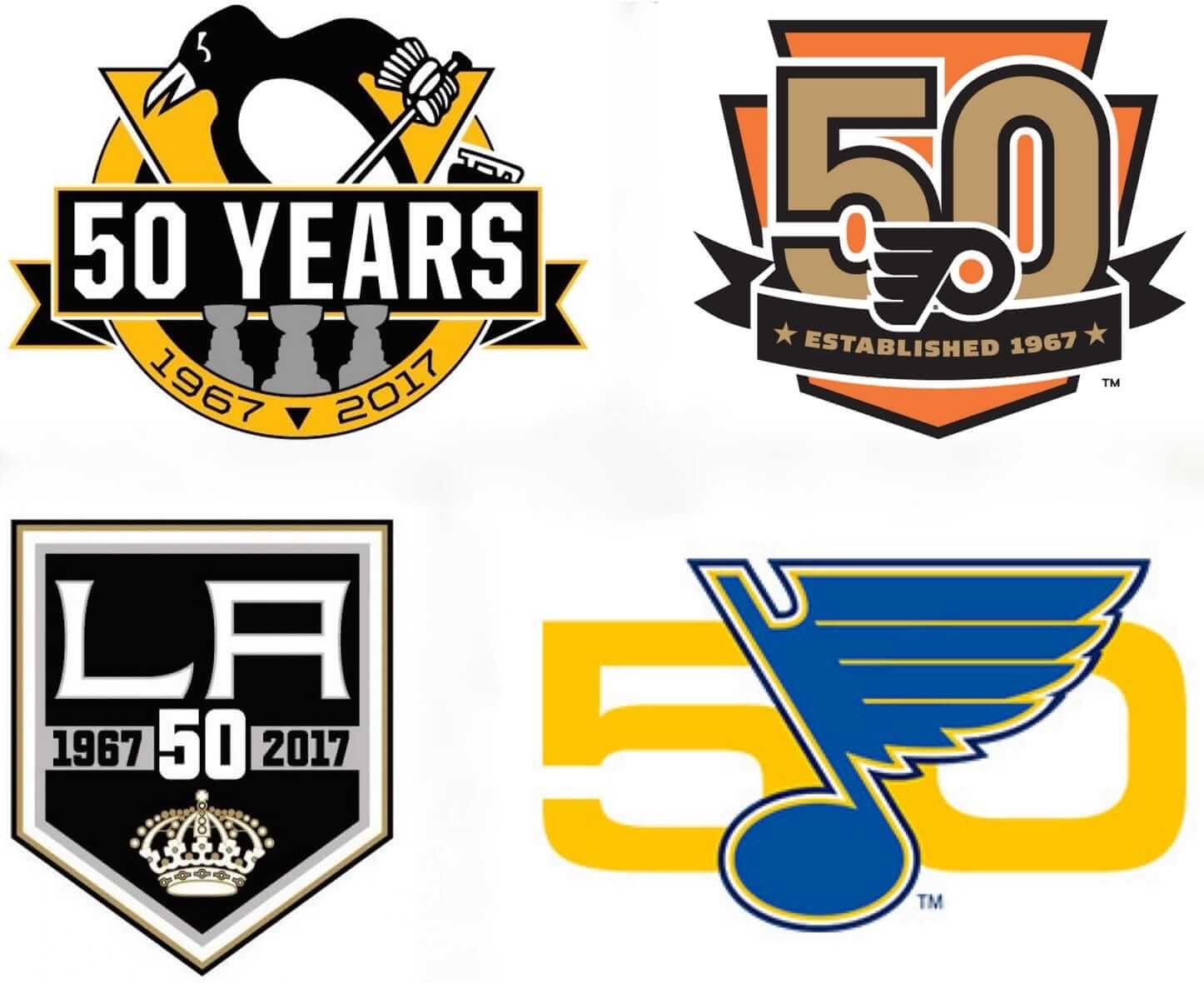 Lots of nostalgia around the NHL at the moment, because yesterday marked the 50th anniversary of the NHL's first wave of expansion, when the league awarded six new franchises to supplement the Original Six teams.
Those six expansion teams began play in 1967, and four of them — the Penguins, Flyers, Kings, and Blues — revealed anniversary logos yesterday in advance of what will likely be a series of big 50th-season promotions for the 2016-17 campaign. (Regarding the other two franchises: The North Stars are now the Stars, who did not release an anniversary logo yesterday, and the Seals, who later became the Barons, no longer exist.)
Notes, thoughts, etc.:
• I like all of the logos except the one for the Kings, which feels too contemporary. Yes, it includes the old throwback crown, but it would be better if the entire logo felt more history-based.
• Speaking of the Kings, they wore their throwbacks last night and added the new anniversary logo as a helmet decal (click to enlarge):
It's not yet clear — at least to me — if this decal will be continue to be worn for the rest of the season, or if it was only a one-game thing until next season, or if it's a throwback-only thing, or what. The logo will also be worn as a patch next season.
• The Flyers will wear their logo as a patch next season (I suspect all four teams will do so, although some haven't yet announced that), and will also have a new third jersey, which they teased with this photo (click to enlarge):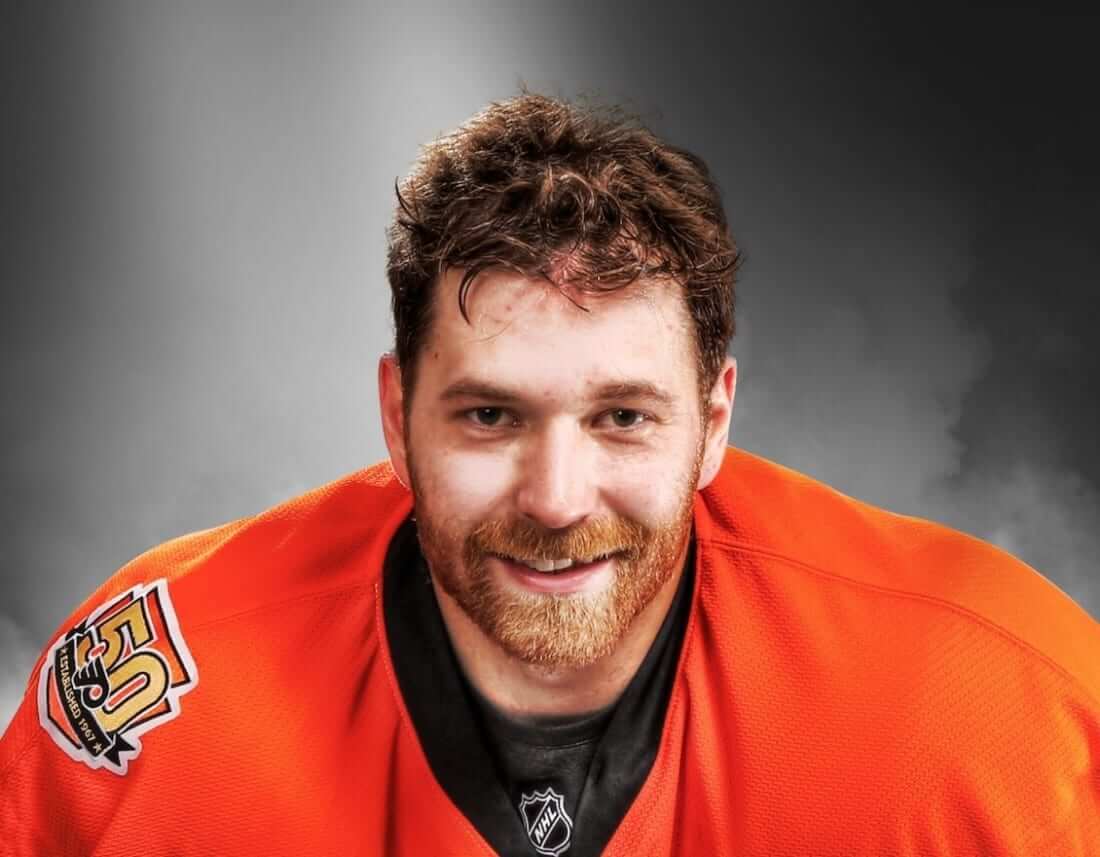 It's not clear whether the other logos will be worn as patches and/or decals next season, although it seems likely.
• I suspect many people will say that the Blues' logo is too plain, but I really love its simplicity. Very classy look.
• Many observers are interpreting the use of classic yellow in the Penguins' logo to mean that the Pens' current throwbacks will become the team's primary uni next season.
• Speaking of the Penguins, reader Zane Heiple notes that their patch shows three Stanley Cups, which could cause problems if they win the Cup this year. Do they have a four-Cup version of the logo set aside, just in case?
• One final thought: I like that they released these logos on the anniversary of the franchises being awarded. But keep in mind that these teams didn't begin play until the 1967-68 season. So next year they'll be marking their 50th seasons, not their 50th-anniversary seasons. I always think it's better to mark the anniversary season, not the ordinal season. But that's just me.
(Big thanks to all the readers who sent in info, and to Mike Chamernik for coordinating that info while I was busy yesterday.)
• • • • •
Click to enlarge
Rams redesign results: The results of our "Let's redesign the Rams" contest are now available on ESPN (including the submission from Alex Rocklein, whose home uni is shown above). Enjoy!
• • • • •
Meanwhile, over in Denver:Who was that wearing a Broncos jersey over his shirt and tie while speaking at the team's victory rally yesterday? None other than Denver mayor Michael Hancock. If you look closely (or if you click the photo to see a larger version), you can see that he's wearing a Reebok jersey, not a current Nike model.
Some might say this means Hancock is behind the times. Others might say he's just using the same jersey he's been wearing for years (as seen in this shot from January of 2012). But I prefer to think he's a man of discriminating tastes who said, "The hell with the Nikelace — I'm not wearing that crap!"
Well said, Mr. Mayor. (Even if you didn't actually say it.)
(My thanks to Twitter user Big Ed for this one.)
• • • • •
T-Shirt Club update: The first Uni Watch T-Shirt Club design of 2016 is now available for ordering. In case you missed it yesterday, here's the design (for all of these, you can click to enlarge):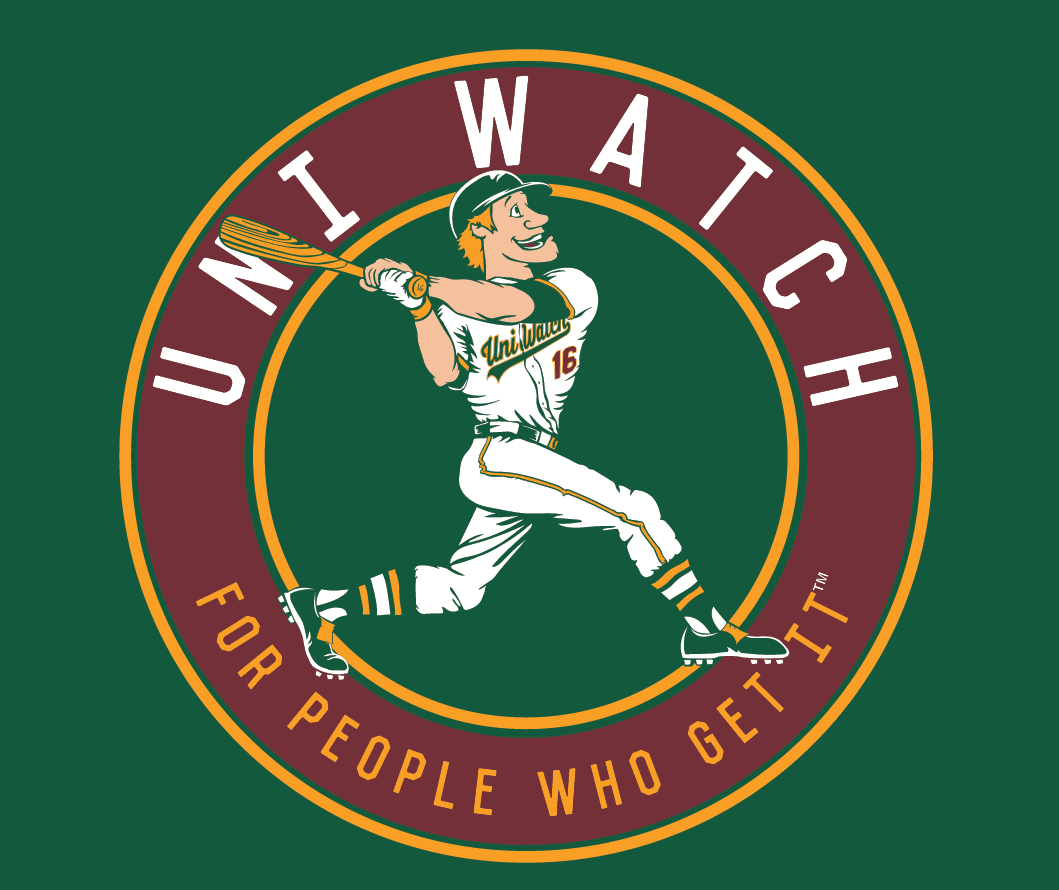 Here's how it looks on a shirt:
And here's a closer look at the jock tag graphic, which will be appearing on all six of our shirts this year:

The Uni Watch ballplayer shown on the shirt is intended to evoke a time when sports graphics and mascots were built around fun, not ferocity. And as you can see, our ballplayer really Gets Itâ"¢ when it comes to wearing his uniform. Allow me to point out some of the details:
• He's wearing a flapless batting helmet. (I wanted to have him also wearing his cap under his helmet, but that turned out to be too subtle a detail to render.)
• He's wearing only one batting glove, on his bottom hand — an old-school style that was popular in the late '60s and early '70s (and is still used today by Hunter Pence).
• He's written his uniform number, 16, on the bottom of his bat knob. No newfangled knob decal for him!
• His jersey is modeled after our 2015 "Home" T-shirt.
• His high-cuffery, blousing, and stirrups are all picture-perfect.
• His spikes feature that old-school flap over the laces.
(You may be wondering why our ballplayer's stirrup design doesn't match the maroon stirrup hanging from the top of each Uni Watch entry. We tried that, but there was no way to make it work unless we made the rest of the uniform more maroon-centric, which I didn't want to do.)
The shirt is available here. And again, in case you missed it yesterday, here's how this year's T-Shirt Club program will work:
1. We plan to offer six shirts. They'll be spaced out fairly evenly throughout the year, although we won't necessarily stick to a rigid bi-monthly schedule.
2. Each shirt will feature an illustration devoted to a given sport. We've started with baseball, and the sequence after that will be hockey, basketball, football, soccer, and a mystery design for the final shirt of the year. (Spoiler alert: No, the mystery design will not be curling.)
3. Unlike last year, these shirts will not have a design on the back — only on the front. Also, there will be no sleeve patches this year. Instead, there will be a jock tag graphic near the lower-left hemline.
4. Just like last year, each shirt will be a limited edition that will only be available for a week (although we're adding an extra day for this first shirt because next Monday is a holiday).
5. There will once again be a prize for people who collect all of the shirts for the calendar year. The prize will probably be another patch, and it will probably be designed to look like the jock tag graphic. (Hmmm, if you collected all of last year's shirts and collect all of this year's shirts, you'll be on your way to collecting all of the "Collect 'em all" prize patches — a meta-collection!)
That's it. Repeated thanks to my Teespring partner Bryan Molloy for all his hard work on this project.
One more time: This new shirt is available here. Thanks for your consideration.
• • • • •
The Ticker
By Mike Chamernik

Baseball News: Mark Trumbo will wear No. 45 for the Orioles (from Andrew Cosentino). … Bernie Stowe, a longtime equipment manager who was with the Reds in various capacities for a vast majority of his life, passed away (from Justin Evans). … Michigan State baseball and softball were the first programs in the nation to install electric heated fields (from @fiverse). … New spikes for Texas (from Mark Johnson). … Dan Bewley was looking around the Oklahoma Historical Society's photo archives and found a great team photo. "There isn't much of a description except, 'The Gold Dust Flour and Supreme Flour Teams. 1895-1950,'" he says. "I wonder what those guys are wearing?" "¦ The Indians will wear 1976 throwbacks on June 4. "¦ Japanese baseball news: New "Marine Fiesta" uniforms for the Chiba Lotte Marines, and the Hanshin Tigers will wear 1975 throwbacks for the April home series against Yomiuri (both of those from Jeremy Brahm).

NFL News: This is really neat: Harry Halloran charted the date of every Super Bowl, which really shows how the game's spot on the calendar has moved later and later over the years. … Kary Klismet went to a Potbelly sandwich shop in Denver and saw an odd pennant. Not only does the Broncos helmet on it have an orange facemask, but it also calls them the 1977 World Champions. Denver lost Super Bowl XII to Dallas. … This week at a New Jersey bakery, Dane Drutis found a Panthers-Broncos cake that had last year's SB logo. Also, the Panthers logo is outdated. … Roughly 100 former players are expected to file lawsuits against helmet maker Riddell over anti-concussion claims (from Phil). "¦ NFL players and other athletes can't endorse beer products, which is a bit silly (from Brinke). "¦ Now that the season is over, the NFL's logo is reverting back to its regular color scheme (from Jerry Nitzh).

College Football News: Here's a recap of the best and worse Big XII uniforms from this season. … Texas sure liked horizontal stripes in 1894 (from Mark Johnson).

Hockey News: The Seals and North Stars wore prototype jerseys during a preseason game 50 years ago. … Dion Paneuf was traded from the Leafs to the Senators yesterday, and Ottawa's team store already had his jersey for sale. Phaneuf will switch from No. 3 to No. 2 (from John Muir). … As was mentioned yesterday, the USHL's Green Bay Gamblers will be renamed the Cheese for a game in March. The players will have different kinds of cheeses as their NOBs (from Brian Kerhin). … Because they are covered in pads and equipment that are difficult to remove, goalies try their best to avoid having to use the bathroom during games (from Brinke).

Basketball News: The Heat will retire Shaq's No. 32. … New alternate shorts for Kansas. They're apparently going to be part of this throwback uniform. "¦ The numbers and NOBs used by First Love Christian Academy in West Virginia sure are hard to read (from @cDubya242). "¦ Remember how the Kings scrapped their "Year of the Monkey" T-shirt giveaway after DeMarcus Cousins complained about the monkey imagery being used on first day of Black History Month? Now the Warriors have quietly removed the monkey sleeve patch from their Chinese New Year jerseys (from @JerseyChaser).

Soccer News: New logo and wordmark for the Premier League (from Randy Williams). … Juventus's Paul Pogba got a Poké ball, from Pokémon, shaved into his head. … Amando Moreno wears No. 293 for Club Tijuana. … The Orlando Pride, a new NWSL team, showed its primary kit, which includes purple shirts and light blue shorts (from @wdw_ben). … The Houston Dynamo are letting fans color in the club's soon to be unveiled alternate kit (from Ryan Dunsmore). "¦ New away kit for Switzerland. "¦ New secondary jersey for Orlando FC (from Terry Mark). "¦ The Seattle Sounders apparently have a new jersey in the works (from @PleatedFront).

Grab Bag: Georgia legislators are seeking to pass legislation allowing religious messages to appear on public school sports uniforms (from Phil). … Paris unveiled its 2024 Olympic bid logo.