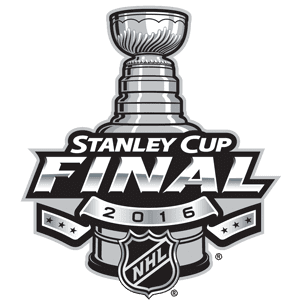 With the Stanley Cup Final(s) match-up now set to go with the Sharks vs. the Penguins, longtime reader Mike Engle sent a list of uni-related things to watch for and consider.
Under normal circumstances, I would have worked with Mike to find photos of everything he referred to, and might also have asked him to clarify a few points. But he sent his email late last night, and I didn't get home until even later, so I didn't have a chance to do any of that. Still, I think most of this is pretty self-explanatory, even without photos. Take it away, Mike:
1) Penguins left wing Carl Hagelin's all-black gloves with the black jerseys: not standard, not enough white.

2) The Penguins logo on the ice won't match the jerseys: Vegas gold on the ice but Steelers gold on the jerseys. If I had to guess the last time that happened, probably North Stars 1991?

3) The Penguins are the first team since Philly in 2010 with playoff jerseys that don't quite match. That's how it goes when you elevate an alternate.

4) Speaking of which, San Jose had a mini-tradition of "Black Armor" for the playoffs [until this year, when they wore teal at home in the postseason instead of black]. Pathetic advertising and marketing. Are hockey gods Uni Watchers? I think so.

5) The Sharks have to be the most patched jerseys in the Cup Final since … the Penguins in 1992! Those Pens had a 25th-anniversary patch and a Badger Bob Johnson memorial patch.

6) If the Sharks take off the 25th-anniversary patch to make room for the Cup patch, it will be the first time a team patch has been replaced since the Avalanche in 2001.

7) As other have noted, both teams' main logos are on triangles and incorporate sticks.

8) Maybe this is just me, but I think it's awesome how No. 7 Matt Cullen in the throwback Penguins jersey reminds me of NO. 7 Joe Mullen. Somebody put a clover on his helmet!

9) For the eighth year in a row, the Cup winners shall have black helmets in the equipment room. Gotta go back to Red Wings in 2008 to break that streak.

10) Assuming the goalies are Martin Jones and Matt Murray: Both wear Vaughn, and Jones has a very traditional old-school look on his equipment, but Murray only goes old-school with the throwbacks. On the road, Murray's gear looks more distinctively Vaughn from a distance. But Murray's throwback pads have little Penguins logos on them.
Thanks, Mike! Game 1 is Monday night in Pittsburgh.
• • • • •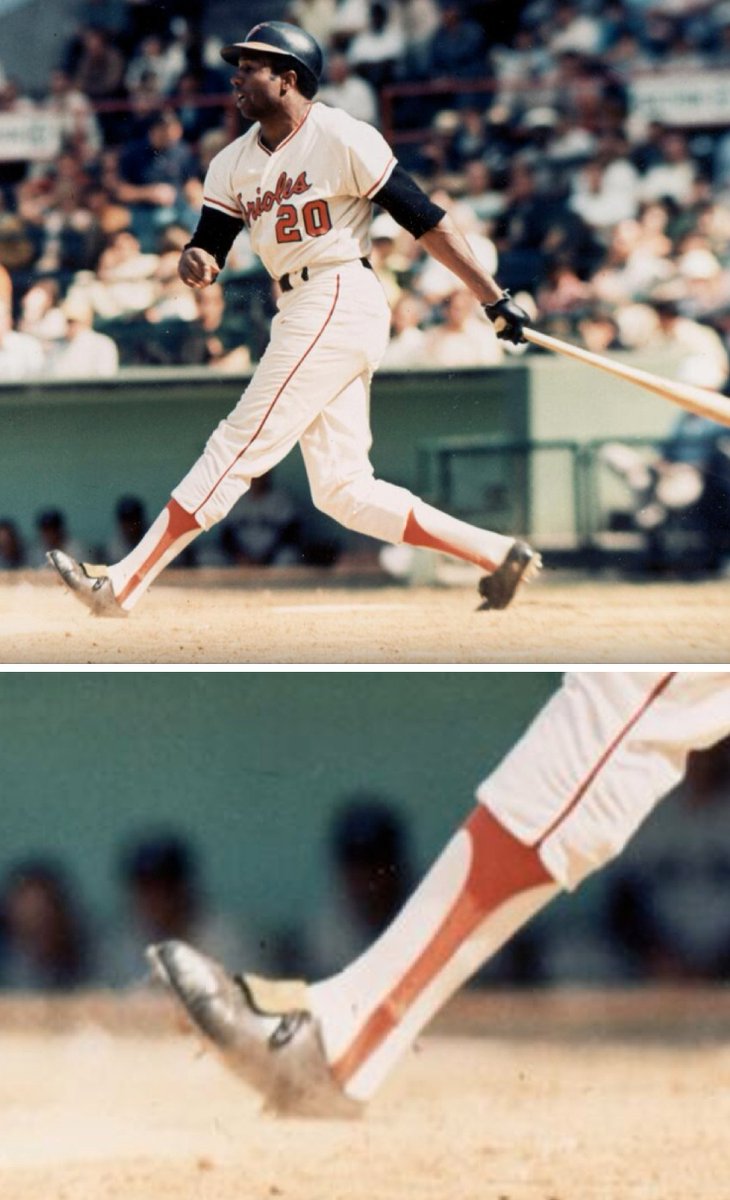 Click to enlarge
Friday Flashback: With MLB having announced its new sock deal with Stance earlier this week, my latest Friday Flashback piece on ESPN looks at the history of baseball hosiery (including the late-1960s trend of players lengthening their stirrups by having extra fabric sewn into them, as exemplified above by Frank Robinson). Check it out here.
Incidentally, in the Skype-recorded video for that Flashback, I'm wearing the Uni Watch T-Shirt Club's 2016 baseball-themed shirt, because I used the ballplayer's stirrups as a visual aid. (I considered actually wearing stirrups, but getting my foot in front of my laptop in the middle of a live video seemed a little dicey.) After the video shoot, ESPN anchor Cary Chow, who had shot the video with me, asked were he could get that T-shirt. I explained that, unfortunately, it was a limited-edition design that was now out of print.
After thinking about it, though, we've decided to re-launch the shirt, but without the jock tag graphic (which means it's a little less expensive, plus we're now able to offer a hoodie, which wasn't possible with the jock tag). This version will not count toward this year's "Collect 'Em All" status. You can get it here.
• • • • •
Stencil sharpener: It's well-known that the world's best ground-level graphic can be found on the Roberto Clemente Bridge bike line near PNC Park in Pittsburgh. But reader Lyle Huber has come up with one that's almost as good. Here's the deal:
I work at New Mexico State University. For the third year in a row (maybe the fourth), a pair of Swainson's hawks has decided to build a nest in a tree near the middle of campus. Beautiful birds. And also a bit defensive. Especially when their babies are young, the hawks will dive-bomb passersby to the point of actually striking them. A couple of dozen reports of minor injuries have occurred over the last two years, in addition to many unreported strikes. Last year I got hit once — I thought I was out of their range so I wasn't looking around, took 10 steps from my car, and got whacked in the head. It felt like someone had thrown a football at the back of my head. No damage, though.

Last year the university started putting up signs warning people about the hawks, like so [click to enlarge]: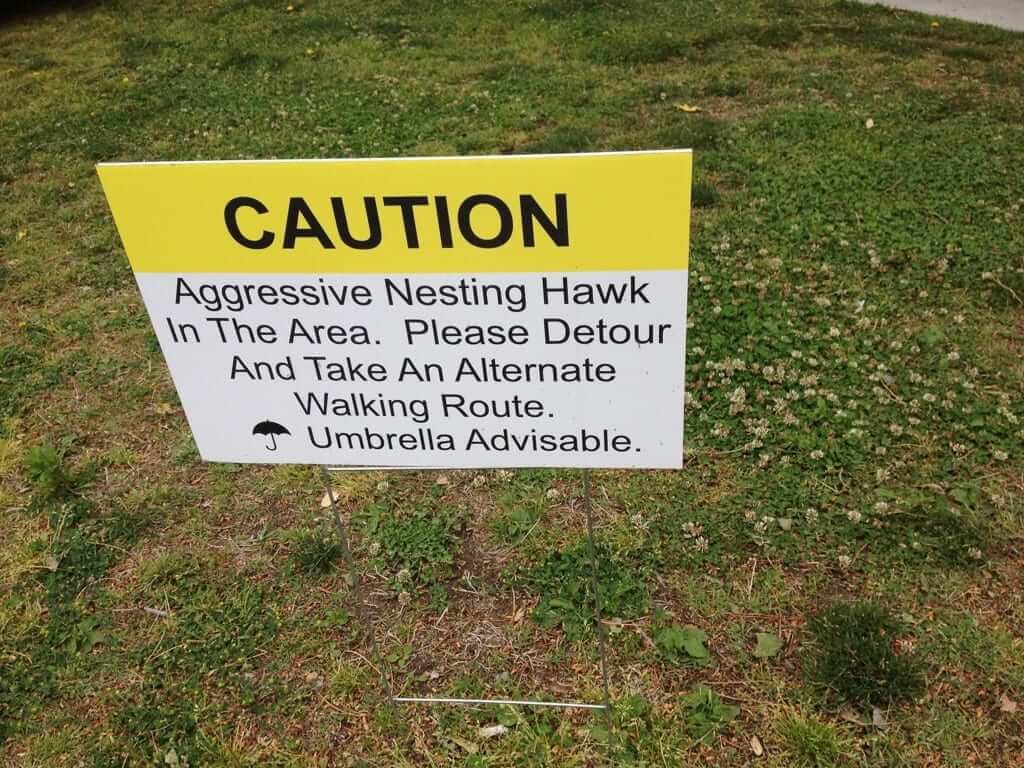 There's also a version in Spanish. The university made some attempts this year to "discourage" the hawks by cutting down a tree branch after the hawks started building a nest, but it appears that the hawks have won and are staying. (Yay!) But because many people on college campuses these days don't pay much attention to things going on around them and pay a whole lot more attention to items in their hands, the university has done this [click to enlarge]: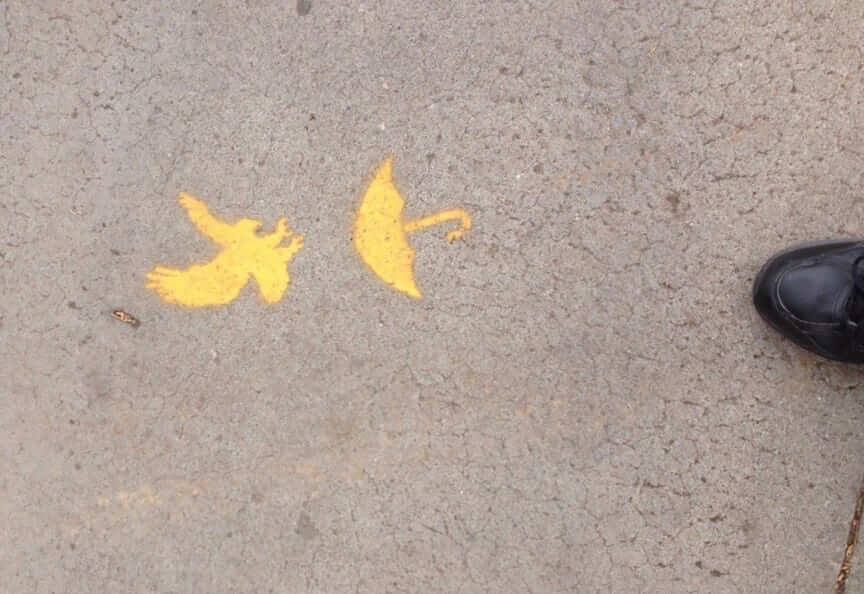 They've painted these symbols every 10 yards or so along the sidewalk in the "danger zone." I have no idea who created the stencil for them to paint through but I'm sure you will agree that it is glorious.
Indeed! Great story, Lyle — thanks for sharing.
•  •  •  •  •
The Ticker
By Paul

'Skins Watch: The Fort Wayne school district in Indiana has unveiled its new logo and team name, which was created to replace the old Indian-head logo and "Redskins" name (thanks, Phil). … Here's how SI's Peter King and NBC's Bob Costas have reacted to The Washington Post's recent "redskins" poll. … This article provides a two-pronged critique of the WaPo poll. The first line of attack is largely methodological (which, as I explained on Monday, is an argument that I don't find entirely persuasive) and the second chides the Post for ignoring studies that show real psychological damage done to Native American youth by Native mascotting (which, as I said on Monday, is the poll's most serious blind spot).

Baseball News: Wade Boggs wore a Yankees World Series ring to a 1986 Red Sox event. … Purple Prince-themed jerseys upcoming for the Columbia Fireflies (from Joel Mathwig). … Check out this 1959 White Sox team portrait with equipment manager Sharkey Colledge wearing a T-shirt with the team's old winged logo. That's him in the third row, far left (from BSmile). … Brutal uni match-up in Pittsburgh yesterday, as the Pirates went G.I. Joke and the D-backs looked like the umpires. … The St. Lucie Mets have managed to combine flag desecration and G.I. Joke-ism into a single godawful design. … MLB's new sock supplier is wasting no time jumping on the G.I. Joke bandwagon. Thankfully, those are just for retail, not on-field (from Mark Lackinger). … Here's something you don't often see: navy stirrups with light-blue sannies. That's Spring Valley High School in West Virginia (from Brice Wallace). … Astros SS Carlos Correa has some pretty snazzy cleats. … Bryce Harper started last night's game wearing batting gloves. After going 0-for-2, he went bare-handed last night as a slump-busting move and promptly hit a home run, after which he took a scissors to his batting gloves (from Steve Dodell and Jason Mott). … Harper also wore cleats featuring the logo of teammate Ryan Zimmerman's MS foundation (from David Raglin). … The Fresno Grizzlies' mascot is now authorized to perform marriages (from Nick Lineback).

NFL News: Pretty funny: Someone at a Bernie Sanders rally in San Diego was wearing this Chargers-style Sanders T-shirt (from Seth Shaw). … Hey, remember Saranac wristbands? Randy Williams found an old pack of them at a thrift store warehouse.

Hockey News: Here's a 1961 flier promoting the Charlotte Checkers' first game. Interesting that the first photo they chose to promote their new team was an image showing a fight (from John Muir).

Basketball News: Just what the world has been waiting for: team logos in your coffee. … Paul George of the Pacers is wearing his own jersey while on vacation (thanks, Mike). … Michigan State coach Tom Izzo, a self-declared sneakerhead, is excited about a new Nike store in Detroit.

Soccer News: Here's an article on the Champions League trophy. … "With Mikel Arteta leaving Arsenal, the team's No. 8 shirt, traditionally worn by a central midfielder, is being taken over by Aaron Ramsey, who up until now has worn No. 16," says Laurence Holland. "Looks like the team, which just released next season's shirts, will be reimbursing fans who bought a new shirt with Ramsey's NOB and old number." … Did you know Mexico's 1978 World Cup kits were made by Levi's? (From @_Bones).

Grab Bag: Adidas is selling off Mitchell & Ness (from Steve D). … New uniforms for Quebec police officers. … This is completely awesome: a photography project based on foodstuffs arranged in gradient-style progressions. There's even more here. Don't miss (big thanks to Judy A). … Four library branches in Queens, NYC, are loaning out neckties to people who need them for interviews or other occasions. … Here are the updated liveries for this weekend's Indy 500 (from Tim Dunn). … Meanwhile, here's the logo for next year's Indy 500, along with a video about the design (from Clark Ruhland and Tim Dunn, respectively). … Great article+slideshow on the world's best female duckpin bowler, and what's left of the dwindling ducks scene (from Tommy Turner). … F1 drivers will now be allowed one helmet design change per season. … Brutal blue camouflage paint scheme for NASCAR driver Chris Buescher (from David Firestone). … Also from David: Brad Keselowski is running a scheme based on the 1972 can of Miller Lite. … To one and all: Have a great holiday weekend. See you next week.