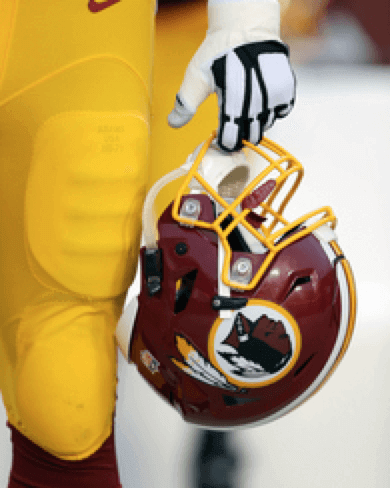 On Friday I said that at some point this week I'd be sharing my thoughts about The Washington Post's "Redskins" poll results. Today is that day.
Before we dive in, let me remind everyone where I've stood on all this. While I've supported the movement to eliminate "Redskins" as a team name, that's just one component of my larger concern about the use of Native American imagery in sports. "Redskins" and Chief Wahoo have been the low-hanging fruit for this movement, but I've also been opposed to the Braves' tomahawk imagery, the Chiefs' arrowhead imagery, and so on.
In addition, I've generally been in favor of a permission-based model. I'm fine with Florida State calling its teams the Seminoles, for example, because the Seminole tribe has given its permission for them to do so (and ditto for the Utah and the Utes, and CMU and the Chippewas). My reason for favoring the permission-based model is simple: I think Native imagery belongs to Natives and shouldn't be used by non-Natives to sell stuff — not because the imagery is "offensive," but because one of the first things we learn as children is that we shouldn't use something that doesn't belong to us.
With all of that in mind, here are some of my thoughts on the poll results. I apologize for the length — there was a lot to process here. For the sake of convenience, I'm going to occasionally use the terms "name-changers" (for people who have advocated changing the 'Skins name) and "name-keepers" (for those who've wanted the name retained).
1. I hear lots of name-changers dimissing the poll results by saying, "It's just one poll." True enough, but it's one more than we had a week ago. For more than a decade now we've been saying that the 2004 Annenburg poll was out of date and that we needed new data in light of the renewed public debate on the topic. Well, we now have that new data, and it's powerful. Is it the last word? No. But it can't and shouldn't be dismissed with a cavalier wave of the hand simply because it's "just one poll."
2. Many name-changers and Native American activists have attacked the poll's credibility by questioning its methodology. Their biggest gripe is that more than half of the poll respondents were simply "self-identified" Native Americans rather than registered members of tribes. As Indian Culture Today writer Simon Moya-Smith noted:
Self-identification can include people whose evidence of indigenous parentage is based on rumors or family lore (think Massachusetts Senator Elizabeth Warren's claim that she is Native American) or those who are not Native American but claim to be Native American anyway (think Rachel Dolezal identifying herself as black, though she is incontrovertibly white).

Last June, the Pew Research Center found that half of all adults in the U.S. who claim to be multiracial self-identify as white and American Indian.
This argument may have some merit in a vacuum, but I don't find it convincing regarding this poll. According to the Post, the results were remarkably consistent among tribal and non-tribal members (and among virtually every other demographic sub-grouping among the respondents). For example, on the question, "As a Native American, do you find that name [Redskins] offensive, or doesn't it bother you?," 90% of tribal members said it didn't bother them; for non-tribal members, the number was also 90%.
Moreover, if the poll had only included tribal members, there would no doubt be people saying that non-tribals also deserved to be included. The reality is that there is no perfect sampling for any poll, especially for something like racial or ethnic identity. In this case, however, it appears that weighting the demographics one way or another would not have mattered, because the results were so consistent across the various demographic groups.
3. Many name-changers have also said that the poll ignores and flies in the face of psychological studies showing that the use of Native American mascots and team names like "Redskins" can have harmful effects on Native children. This strikes me as a more serious criticism. It would have been easy enough, for example, to include a question along the lines of, "If research showed that a team name like 'Redskins' is harmful to Native children, would that affect your opinion of the name?" (I'm sure a polling professional would tell me that this is not a good way to word such a question — no argument there. My point is that there should have been a way for the research on this subject to have been addressed in the poll.)
And even if the poll respondents had said they were untroubled by the research, then what? Should personal feelings trump scientific research about harmful effects on children?
Name-keepers are probably saying, "Hey, that's just one study" or "Academic studies can show whatever you want them to show." But of course the same thing can be said about public opinion polling.
4. For me, the single most surprising revelation in the poll was the response to the question, "If a NON-Native American person called you a Redskin, would you be personally offended, or not?" Overall, 80% of respondents said they would not be offended. Once again, the numbers were remarkably similar across all demographic breakdowns.
For name-changers, myself included, who've long said, "If you think there's nothing wrong with the word 'redskin,' just try walking onto a reservation and saying that," this poll data is a powerful rebuke. Granted, the 20% who would be offended shouldn't be ignored (and I wouldn't recommend actually walking onto a reservation giving "redskin" a test drive, since you'd still have a one-in-five chance of pissing somebody off), but I can't imagine any name-changer thought that number would be so low. Language evolves, and this term appears to be evolving. Simply referring to "redskin" as "a dictionary-defined slur" — a talking point that many name-changers trotted out in response to the poll — feels willful in the face of this polling data. Remember, dictionary entries change over time, too, and this one may have to be revised if the overwhelming majority of Native Americans don't have a problem with the word. (As a few writers have suggested, it may simply be that the inherently high profile of an NFL team has overwhelmed and outweighed any other context for the word "redskins." When most people hear it, they now think of the football team, period.)
For the past several years I've declined to refer to the 'Skins by their full name. Will I now start using the full name? I'm not there yet, for reasons I'll get to. Still, this poll question was a serious eye-opener.
5a. The poll question I just referred to was one of several questions that hinged on the word "offensive," or "offended," or some other permutation. Most of the media coverage of the poll has also focused on the term "offensive" (including the Post's own news story announcing the poll results, which was headlined, "New poll finds 9 in 10 Native Americans aren't offended by Redskins name"). I find this emphasis on "offended" to be disappointing. For one thing, "offensive" has been thrown around so much in recent years that the term has lost much of its meaning. Moreover, as noted above, my gripe about sports teams using Native imagery isn't about "offensiveness" — it's about the (mis)appropriation of cultural imagery by people it doesn't belong to, which to me is the crux of the issue.
That leads us to…
5b. The poll did address the cultural imagery issue in one question: "Regardless of your opinion on the Redskins team name, how much, if at all, are you bothered by the use of Native American imagery in sports?" The results to this question were about the same as the "offensive" results — the overwhelming majority of respondents said they were not bothered by it.
That would seem to be that — except…
5c. In follow-up interviews, several poll respondents — including those who said they were not offended by "Redskins" — said they were very bothered by fans dressing up in Native headdresses and/or redface. (There was no poll question about that, unfortunately — a major omission.) To me, that constitutes a contradiction: How can you say you have no problem with teams using Native American imagery and then say you're bothered when fans use that team imagery in precisely the way the fans of any other team would do?
I'm not calling these poll respondents hypocrites or intellectually inconsistent. Rather, I'm saying that the follow-up interviews suggest that they clearly do have problems with teams using Native imagery. For me, this gets at the heart of the issue: Wherever you stand on "Redskins" or Wahoo or any of the other stuff, I think the vast majority of us understand that non-Native fans shouldn't be dressing up as Natives. Think about that: Fans of every other team are allowed to paint their faces and wear costumes honoring those teams — but not fans of the 'Skins, Indians, Braves, and the other Native-named teams. Doesn't that tell you something? If you'd be embarrassed or ashamed to embody the team's identity, doesn't that mean there's something wrong with the identity? That's a big problem with these teams: They provide legitimacy and cover for behavior that we all know is indefensible.
6. A frequent talking point among name-keepers in recent years has been, "If you really care about Native Americans, give them jobs, lift them out of poverty — don't worry about something like a football team name." (My rejoinder has always been, "Why can't we do both?" For example, I don't just oppose the use of Native American imagery in sports — I also donate to Native charities.) That point was reinforced by some of the follow-up interviews with poll respondents. For example, there was this passage:
Rusty Whitworth [a Native American who said the 'Skins name "ain't hurting nobody"], who has a GED and labors on a ranch despite back problems, said on the reservation there are few employers, poverty is ever present and children are going hungry. Rampant substance abuse, he said, is tearing apart families.

"We're not taking care of our people, and I think that's where the money should go," he said of the campaign against Washington's team. "Let's start taking care of our people and quit worrying about names like Washington Redskins."
This reminded me of something from five years ago, when I was working on an ESPN story about a 1964 minor league baseball team that wore a Confederate flag sleeve patch. In the course of my reporting for that story, I interviewed J.T. Johnson of the Southern Christian Leadership Conference, who was a field organizer for Martin Luther King during the 1960s. He told me that feelings about the Confederate flag were a lot different back then than they are now: "There was too much work to be done in the '60s to be worried about a flag. Things like that never crossed our mind. The flag issue came much later."
The message there is similar to the talking point about the 'Skins: Forget about symbols — we have real issues to deal with here.
On its face, that sounds reasonable. But symbols matter. And the reality is that the Confederate flag has remained a toxic and divisive element in American life for another half-century, and counting, providing cover for segregationists back then and white supremacists now. Maybe it should have been addressed as part of the civil rights movement. (Moreover, my job is writing about uniforms and logos — symbols. I can't just ignore them because there are other, larger issues that also need to be addressed.)
And even if you think the "real" issues on the ground are more important than the symbols, that doesn't mean the symbols have zero importance — it just means they're not at the top of the priority list. That may mean the Native-based team identities will be dealt with eventually — but maybe not right now.
7. Another longtime name-keeper talking point has been, "We need to keep these team names and logos because otherwise it's pretty much the only public exposure for Native American culture. Without the teams, Natives will be completely ignored!" I've never understood this argument, but sure enough, it came up in a follow-up interview with one of the poll respondents, a Cherokee woman named Gracie Olsen:
Growing up, Olesen said she was taught little about Native Americans in school and that the football team is making sure Indians are not forgotten.

"At least they're acknowledging us," she said. "We're not even in the history books."
It's hard to know where to start with this. First and foremost, obviously, Native Americans are represented in history books and educational programs. But even if they weren't, wouldn't the solution be to improve the education? The idea that the plight of a marginalized group can be improved by naming a professional sports franchise after them seems absurd on its face. If you really believe in this, are you also ready to have teams with monikers like the Poor, the Handicapped, the Battered Wives, and the Opioid Addicts? I mean, I guess it would bring more attention to those groups, but I've gotta believe there's a better way.
8. In response to the poll results, a lot of old arguments that we've dealt with many times before have resurfaced. I don't feel like going through all of them again, but one that I find particularly disappointing is this:  "The poll just proves that only white people care about this issue."
A few thoughts on that:
•  Based on the poll percentages and extrapolating via U.S. Census data, more than one million Native Americans care about this issue. They may be in the minority within the Native community, but you can't just blithely ignore a million people and say they don't exist.
• There are plenty of other non-whites who care about this issue (including the President of the United States).
• Even if most name-changers are white, here's a new flash: Most name-keepers are white as well. If the former matters, does the latter? If not, why not?
• It's true that most of the journalists who've declared themselves to be name-changers, myself included, are white. But that's because most journalists — especially those who've reached the point in their careers where they've permitted to express opinions instead of just doing straight reporting — are white. Most journalists who declare a position on any issue are white. Is that a problem in the media industry? You bet. But it's not an indictment of this movement per se.
• A whole lot of people who supported the 1960s civil rights movement were white. Are you really suggesting that their views were somehow invalid or unworthy because they weren't black? Most readers of this website are male, but I'm pretty sure most of you support equal rights for women. And so on.
•  While I can't speak for anyone else, I want to make it clear that my own involvement in this issue is not just about improving the lot of Native Americans (although that would certainly be nice). It's about improving our world, period, and about right and wrong (or at least my conceptions of them). I don't think it's right for one ethnic group's culture to be appropriated and sold by corporate sports franchises; I don't think it's right for a marginalized group to be reduced to a mascot.
So am I now going to start calling the 'Skins by their full name? No. Not because the name is "offensive," and not because of the million-plus Native Americans who want it changed, but because it's still the prominent symbol of something larger — something I don't think is right. (And no, we're not going to change our policy about not accepting membership card orders for Native-themed teams, either.)
If there are Native Americans out there in the Uni Watch readership who think I'm wrong — not just about "Redskins" per se, but about the larger issue — I'd love to hear from you. Everyone else is welcome to chime in as well, of course. As always, let's please keep it civil.
I realize this is a charged topic. The plight of Native Americans is one of this country's two original sins (the other, of course, being slavery), and it's nearly impossible to discuss any aspect of it without inflaming people's passions. I've tried hard today to write in a way that won't do that. Thanks for listening.
Finally, if you want to read more, here are some additional stories that have surfaced since Friday:
•  Indian Country Today, which has strongly advocated for changing the 'Skins name, had this response to the poll results.
•  Washington Post columnist Robert McCartney, a committed name-changer and a longtime foe of Daniel Snyder, announced that he will no longer support changing the team's name, although he will continue to avoid using it and will not wear any apparel featuring it.
•  The Post published an analysis of how the poll results might affect the pending 'Skins-related trademark litigation.
• The Post also published a good behind-the-scenes story about the increasing pressure that's been brought to bear on the 'Skins and Snyder regarding the team's name, and how that pressure was ratcheted up when President Obama weighed in on the topic in 2013.
•  The New York Times published a good piece about how language, including ethnic slurs like "redskin," evolves over time.
Finally: Now it's your turn, Cleveland Plain Dealer — let's see a poll on Native Americans' feelings about Chief Wahoo.
• • • • •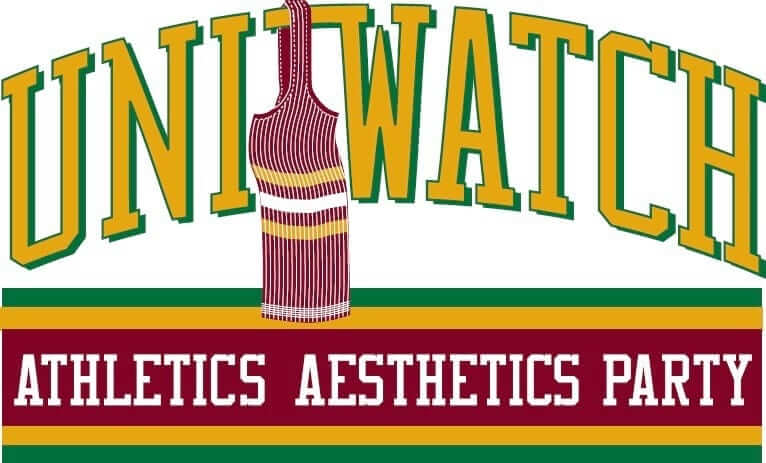 Party reminder: Remember, Uni Watch party this Wednesday, May 25, 7pm, in the backyard of the Fourth Avenue Pub in Brooklyn, with special guest Chris Creamer of SportsLogos.net. Chris is inviting his readers to join us, so maybe we'll have some sort of smackdown between his crew and my crew. Come out and make me proud, people!
And while we're at it: The following night — Thursday, May 26, 7pm — I'll be a featured guest at this live "Talk Show" event, where the host will be interviewing me on the finer points of what it's like to be a uniform reporter. It's free — you should come.
Thursday is also an important date because it's the 17th anniversary of the first Uni Watch column being published in The Village Voice. Happy almost-birthday to Uni Watch!
•  •  •  •  •
Membership update: A bunch of new designs have been added to the membership card gallery (many of them featuring purple, like Brian Sales's Northwestern football treatment, shown at right). These cards will be printed today and should mail out to enrollees in a day or two.
As always, you can order your own custom-designed membership card here, you can see all the cards we've designed so far here, and you can see how we produce the cards here.
•  •  •  •  •
The Ticker
By Alex Hider

Baseball News: Good eye by Jason Yellin, who noticed that the Mets have been using Rotex labels (also known as Dymo labels) on their racing stripe throwbacks, just as they did in 1986. … A few readers shared photos of a decal malfunction on a White Sox player's helmet. … An auction house claims to be selling the jersey Bryce Harper wore during his infamous brawl with Jonathon Papelbon last year, but Harper claims he has it. … A Reds player needed emergency pants repair following Sunday's game (from Jeff Walter). … According to the Mariners' marketing department, this weekend marked the first time they've worn blue for three straight road games (from Trevor Milless). … Check out this awesome photo of the 1910 Pittsburg Base Ball Club from BSmile. So many sweaters! … Good stuff in this video of high school baseball at Ebbets Field circa 1956. "Striped stirrups, proper pant length, and one of the two teams has no numbers on their unis," says Kenn Tomasch. … The Pensacola Blue Wahoos will become the Mullets on Thursday (via, fittingly, The Rally Mullet). … Lots of juicy stirrup action in college softball this weekend: Ohio State played along (from Mark Lindsay), as did Oklahoma State, Georgia (from Jeffrey Seals), and Utah (from Mike Barnhisel). The Utes also rocked tequila sunrise jerseys. (from Tyler Carlson). … Was a Louisiana Lafayette softball player wearing mechanics gloves during her at bat? (From JJ.)


Pro and College Football News: Texans rookie Will Fuller will apparently go RNOB this season. Is V the highest Roman numeral that's ever been used on an NFL jersey? (from Casey McHugh). … J.J. Watt has a new personal logo (from Twitter user @svndrtywrds). … Spotted at a Bo Jackson signing event: a Royals-themed football helmet. All that's missing is a Raiders baseball helmet (from Thomas Northcutt). … Take a look at this classic Steelers-themed hatchback car (from Lee Wilds). … New receiver gloves for Notre Dame football (from Warren J.).

Grab Bag: Here's Premier League side West Brom's new soccer kit for 2016-17 (from Tim Cross). … An interesting look at what went in to the branding for San Diego's new AHL team. The bit about the team nickname and colors begins about halfway down the page. (from John Muir). … Here's your chance to vote on NASCAR's paint schemes of the week. … An early high school graduate and current Marine in Illinois was not allowed to participate in her class graduation ceremony because she wore her Marine Corps dress blues instead of a cap and gown, which violated the dress code for the event. … CBS News did a cool package on vintage matchbooks this weekend (from Barry Brite).
•  •  •  •  •
Click to enlarge

What Paul did last night: In the late 1980s I got very into the New Zealand indie-rock scene, which featured a swath of spectacularly gifted pop bands that nobody in the States had ever heard of, most of them on the Flying Nun label — the Clean, the Bird Nest Roys, the Able Tasmans, Tall Dwarfs, the 3-D's, the Verlaines, and a bunch more. Their records, which I first read about in fanzines starting in 1985 or '86, were initially like unconfirmed rumors — you could read about them, but there was no way to get them. Eventually, though, some American distribution became available, and I sucked up those records like a sponge.
In 1993 some friends and I went to New Zealand, where we saw a lot of those bands (and scooped up a bunch of the records that hadn't yet made it to American shores). Three years later I went back for NunFest, Flying Nun's weeklong 15th-anniversary party, which featured a bunch of bands I hadn't seen the first time around. Both trips were tremendous, life-altering experiences.
One of the earliest and most influential bands from that generation of musicians was the Chills, who played (and continue to play) a very shimmering form of pop. Somehow I didn't see them on either of my trips to the other side of the world. Two decades later, I finally saw them last night here in Brooklyn, literally one block away from my house. Funny how those things work out.
They were really, really good — worth the wait! Here are some of my favorite songs of theirs, all of which they played last night (except the last one, which I wish they had played, but whaddaya gonna do).