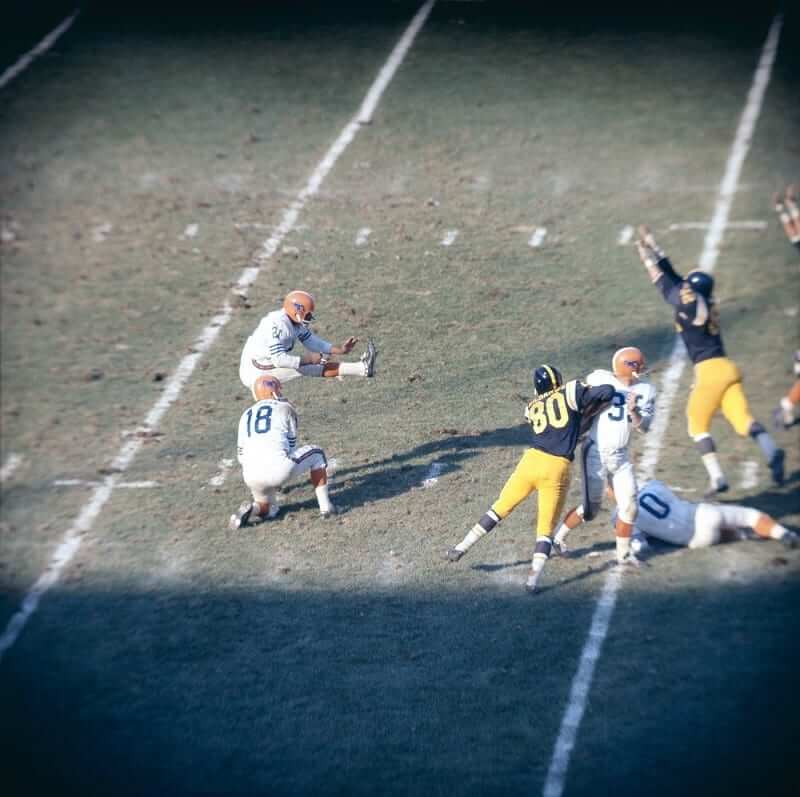 Click to enlarge
About a month ago I linked to four photos from the Broncos/Titans game played on Sept. 30, 1962 at the Polo Grounds. Those shots, provided to me by Broncos historian Tom Jacobsen, gave us best looks yet at the Broncos' blue helmet logo, which was worn for the first five games of that season (and then was changed to white, so it would contrast more with the orange shell).
Now Tom has sent me another shot from that game (see above), and it's notable for reasons that go beyond the blue helmet logo. For starters, the kicker is Gene Mingo, who's credited with being pro football's first African American placekicker.
But the real prize can be seen near the right edge of the shot — a player wearing No. 0! That's Johnny Olszewski, who normally lined up as a fullback. "That's the only No. 0 I've ever seen in a Broncos photo," says Tom. "From what I can tell, this was the only year the team had a 0 on the roster."
The Broncos were the fourth and final team Olszewski played for in a 10-year pro career. According to Pro-Football-Reference.com, he had already worn No. 0 for the 'Skins and Lions. (The number may have referred to his nickname, "Johnny O.") And sure enough, I did a little digging and found that our own stalwart NFL historian Ricko had posted a comment back in 2010 that included photos of Olszewski wearing No. 0 for both of those teams:
"Never have found a photo of him with the Broncos," said Ricko at the time. Well, now we have one.
• • • • •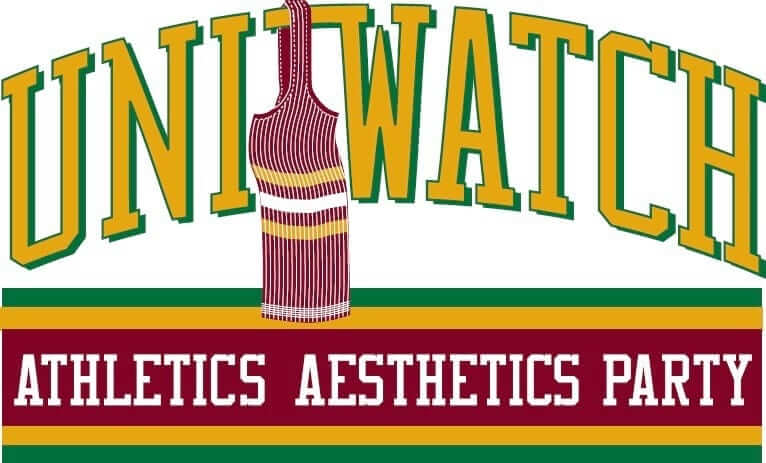 Party reminder: Uni Watch party tonight, May 25, 7pm, in the backyard of the Fourth Avenue Pub in Brooklyn. This will be a serious summit meeting, as Chris Creamer of SportsLogos.net will be on hand. Chris is inviting his readers to join us, so maybe we'll have some sort of smackdown between his crew and my crew — come out and make me proud, people!
While we're at it: Tomorrow night — Thursday, May 26, 7pm — I'll be a featured guest at this live "Talk Show" event, where the host will be interviewing me on the finer points of what it's like to be a uniform reporter. It's free — you should come.
Tomorrow is also the 17th anniversary of the first Uni Watch column being published in The Village Voice. Happy almost-birthday to Uni Watch!
• • • • •
The Ticker
By Paul

Baseball News: Longtime reader/pal Joe Hilseberg DIY'd himself an Orioles TATC jersey and also made custom O's jerseys for his one-year-old twins. They will all be worn during a trip to Camden Yards on Father's Day. … A Pennsylvania high school has a pitcher who has only one hand, like former MLBer Jim Abbott (from Mary Bakijia). … Like most MLBers on minor league rehab assignments, Alex Rodriguez wore his big league helmet last night. That's because minor league helmets are, by rule, double-flapped, so MLBers are allowed to take their single-flapped helmets with them when rehabbing. … Pretty bizarro BP jerseys for the Cincy Bearcats (thanks, Phil). … Cottonwood High in Utah wears yellow sannies that match the team's yellow jerseys. Nicely done (from Christopher Jones). … If you think minor league theme unis are wacky, check out the Buchbinder Cup, a German tournament — yowza! (Phil again.) … Lots of vintage flapless replica MLB helmets available here (from @the_boot_room).

NFL News: Here's a first (at least for me): a Plexiglas interview backdrop. Gotta include that corporate advertising wherever you can, eh? Douchebags (from James Gilbert). … Whoa check out this early color Bears photo. Naturally, I love all the stripes. … Hmmm, are the Eagles switching to white cleats? … New stadium food offerings for the Vikings. … The Bills have an idiotic new media policy but an honest GM. … Key quote from This 1941 newspaper article: "The league should not permit uniforms so much alike as Green Bay's and Cleveland's [referring to the Rams, who had not yet moved to LA]. When the Rams perspired, their lighter blue became almost as dark as the Packers' jerseys" (from Kenn Tomasch). … Former Bear Ryan Mundy is suing Schutt over a 2014 injury (thanks, Phil).

College Football News: UCLA has inked a new deal with Under Armour, believed to be the biggest apparel contract in NCAA history (thanks, Phil). … In a related item, here's an updated list of FBS schools' outfitters (from Zach Barnett). … Tennessee Tech has a new five-year deal with Adidas. Interesting that the story says the contract is just for the football team, not the entire athletics program (thanks, Phil). … New BFBS jersey for Northern Iowa (thanks, Phil). … Here's this year's Shamrock Series logo. … Interesting: According to a poll of recruits, Alabama has college football's worst uniforms. And yet they still manage to recruit great players, imagine that. Could it be that recruits don't actually decide which school to attend on the basis of uniforms? Shocker. Also of note: Maryland's unis are ranked as both the third-best and the fourth-worst (from Phil).

Hockey News: This is pretty great: Patrick Warburton — the actor who played face-painting Devils fan David Puddy on Seinfeld — posing with goalie Scott Wedgewood's mask, which features an illustration of Warburton! … 1980 "Miracle on Ice" goalie Jim Craig is selling his gold medal, mask, and skates (thanks, Phil). … Good story on the winged design of the Michigan hockey helmet (thanks, Phil).

NBA News: Check this out: Early-1990s Clippers C Elmore Spencer wearing eye black on the court! He talked about it in this article (from @EyeBlack_com).

Grab Bag: Interesting piece about how being a costumed sports mascot is more dangerous than you might think (from Tommy Turner). … Check out this window ad, which my childhood friend John Vahey recently spotted at the corner of Broadway and 18th St. in Manhattan. Were they respecting Xerox's trademark, or just getting creative — or sloppy — with the spelling? … Our current food culture really fetishizes the word "slow": slow cooker, slow-roasted, "low and slow," the Slow Food movement, etc. We all understand the reason for this: Slow takes time, time equates with expense/care/effort, etc. Until now, however, I had never seen "" or maybe had just never noticed "" something described or promoted as being "slow baked" (see start of second paragraph). … Hilarious story about how big corporations have decided that paying big bucks to "influencers" — i.e., people who are paid to put photos of products on Instagram, just like you do every day only you don't get paid big bucks for it — is a waste of time. All these idiots deserve each other. Highly recommended reading. … New Indigenous Round Aussie football jumper for Adelaide. … Two UK youngster designed cycling jerseys for riders in a local race. … Yesterday's French Open match between Jan Lennard Struff and Jo-Wilfried Tsonga was not so easy on the eyes (from Drew Stiling). … Faaaascinating piece by PTI's Michael Wilbon about how blacks aren't into advanced statistical metrics. Only scratches the surface of what I'm sure is a very complicated topic, but still very interesting. Recommended. … Pro golfer Bubba Watson has a candy store in Florida, and that store now has a logo. … Here's a photo gallery of the Team Penske shop (from David Firestone). … New soccer kit for Nottingham Forest (from Ryan Walters).
• • • • •

What Paul did last night: Last night at NYU there was a free screening of Big Gold Dream, a documentary about the Scottish punk/indie scene of the late '70s and early '80s. The Tugboat Captain and I really enjoyed it, plus it was great to bump into so many friends who were also there to check it out.
Afterward, we went out with our friend Robert for a bite at a Soho pub, where I made a quick pit stop at the men's room before we sat down to eat. As I stepped up to the urinal, the guy to my left, in mid-piss, said, "Hey, Paul Lukas — you're Paul Lukas of Uni Watch!" I wasn't sure what to say, other than, "Yes, I am," to which he replied, "Wow, this is so great, Paul Lukas of Uni Watch right here in the bathroom! I'm a big fan, I read all your stuff! Hey, I have some ideas about things you should write about…"
He was genuinely nice about it all, but he was also a bit drunk and ramble-y. So I said, "I'm gonna finish taking a leak, and then I'm gonna wash my hands, and then I'm gonna go back out and have dinner with my friends. So you have that long to pitch me a story idea — go!" And he did. (More on his story idea later.)
Michael, if you're reading this, it was a pleasure, if a somewhat awkward one, to meet you. Hope you'll come to tonight's Uni Watch party, yes? Yes!