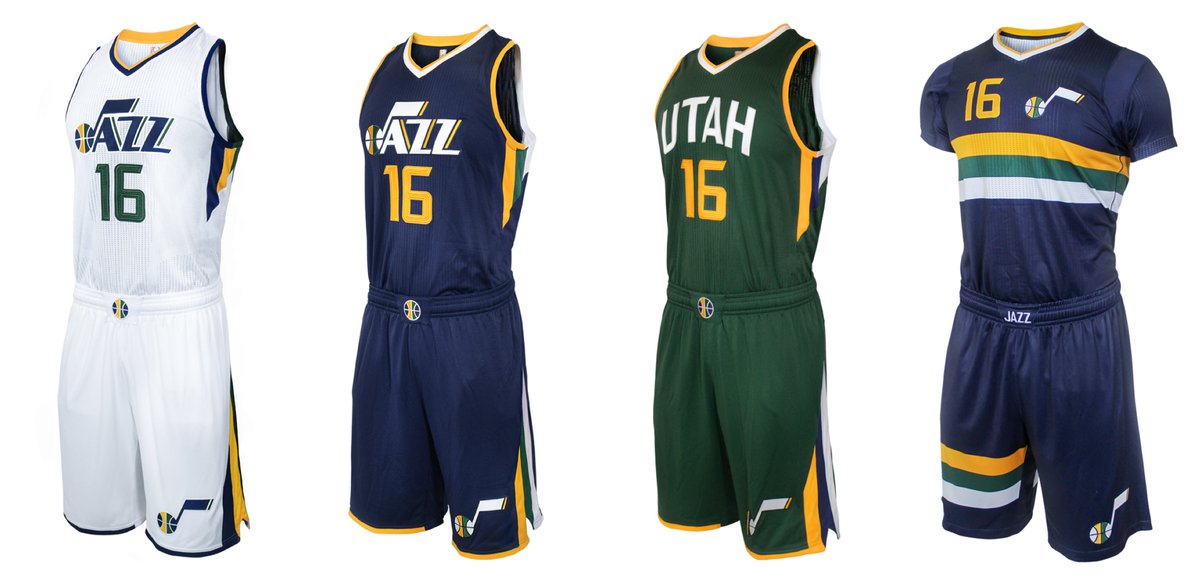 Click to enlarge
As expected, the Utah Jazz unveiled new logos yesterday, and they matched the designs that I had already reported after obtaining them from an industry source. But in an unexpected move, the Jazz also unveiled a new uniform set and a new court design, both of which I figured would be coming later this summer. There's full info on all of this on this excellent interactive page. (As an aside, NBA teams have been doing a really good job with these web pages that showcase their new designs. The pages are attractive, playful, and informative — kudos.)
You can see my thoughts on the new uniforms in this ESPN piece, which was posted yesterday afternoon.
Worth noting, incidentally, that the Jazz went ahead with this redesign without waiting for the Adidas-to-Nike changeover. Imagine that.
•  •  •  •  •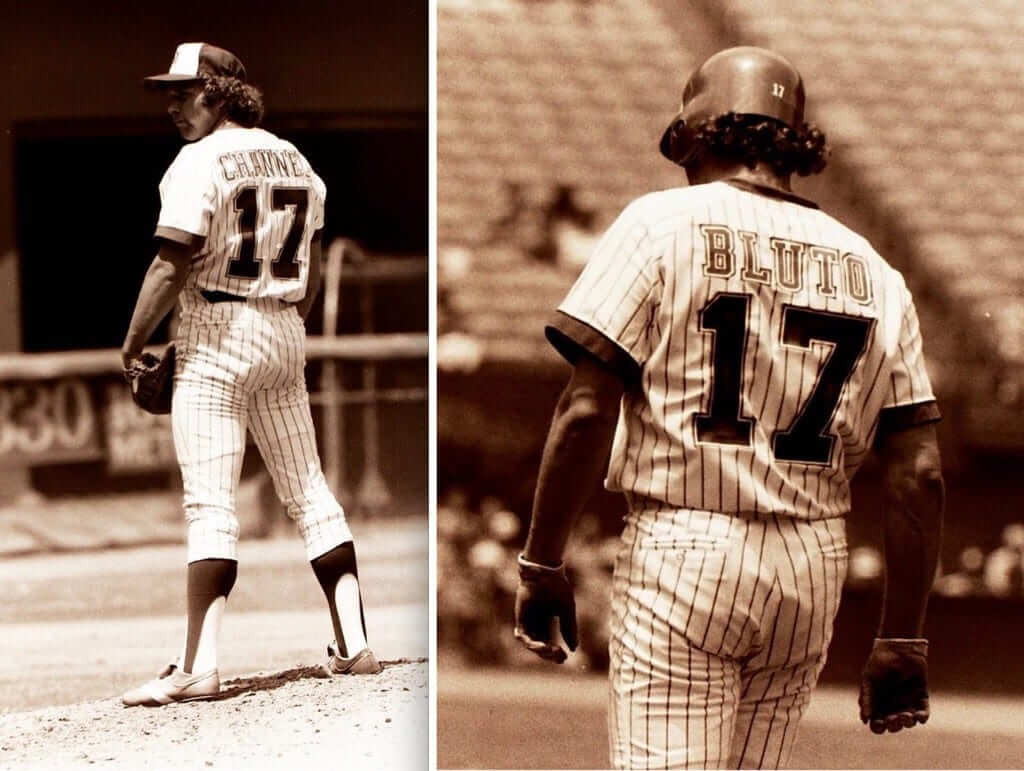 Photos courtesy of Braves Museum Archives; click to enlarge
Friday Flashback, and it's a doozy: For years our only photo of Braves pitcher Andy Messersmith's infamous "Channel 17" nickNOB from 1976 was this one. But now, as you can see above, we have an in-game shot — along with the first photo of I've ever seen of Messersmith's "Bluto" nickNOB, which he switched to after National League prexy Chub Feeney put the kibosh on "Channel 17."
Those two photos are from a trove of never-before-published shots of the Braves nickNOBs that I was recently given access to by the Braves. The team's researchers also provided me with lots of new (to me) information, including the story behind Messersmith's "Bluto" and a key aspect of how the nickNOB promotion came about in the first place.
As longtime readers are aware, the Braves' nickNOBs have been a favorite topic of mine over the past four years or so (look here, here, here, and here). The newly discovered photos and information have helped to fill in most of the gaps that remained from those blog entries.
I've cobbled together all of the old and new data into my latest Friday Flashback piece on ESPN, which I believe to be the most comprehensive treatment of the nickNOBs ever published. Check it out here.
And in case you missed it yesterday, I had an ESPN piece about the increased use of umlauts, accents, and other diacritical marks on NOBs these days. It includes news of a previously undisclosed MLB memo on this topic. Check it out here.
•  •  •  •  •
Click to enlarge
New CFL uniforms: The CFL is now being outfitted by Adidas, and all nine teams unveiled new uniforms yesterday (although several of the looks are just minor tweaks). The most significant move, or at least the one that the league really wants you to know about is that the Ottawa Redblacks have become the league's first team to wear a hashtag on their pant leg (click to enlarge):
My apologies for not providing more in-depth coverage, but yesterday was a crazy day and I just ran out of time. You can see pics of all nine teams' uniforms in the slideshow below (if you can't see the slideshow on your mobile device, click here):
•  •  •  •  •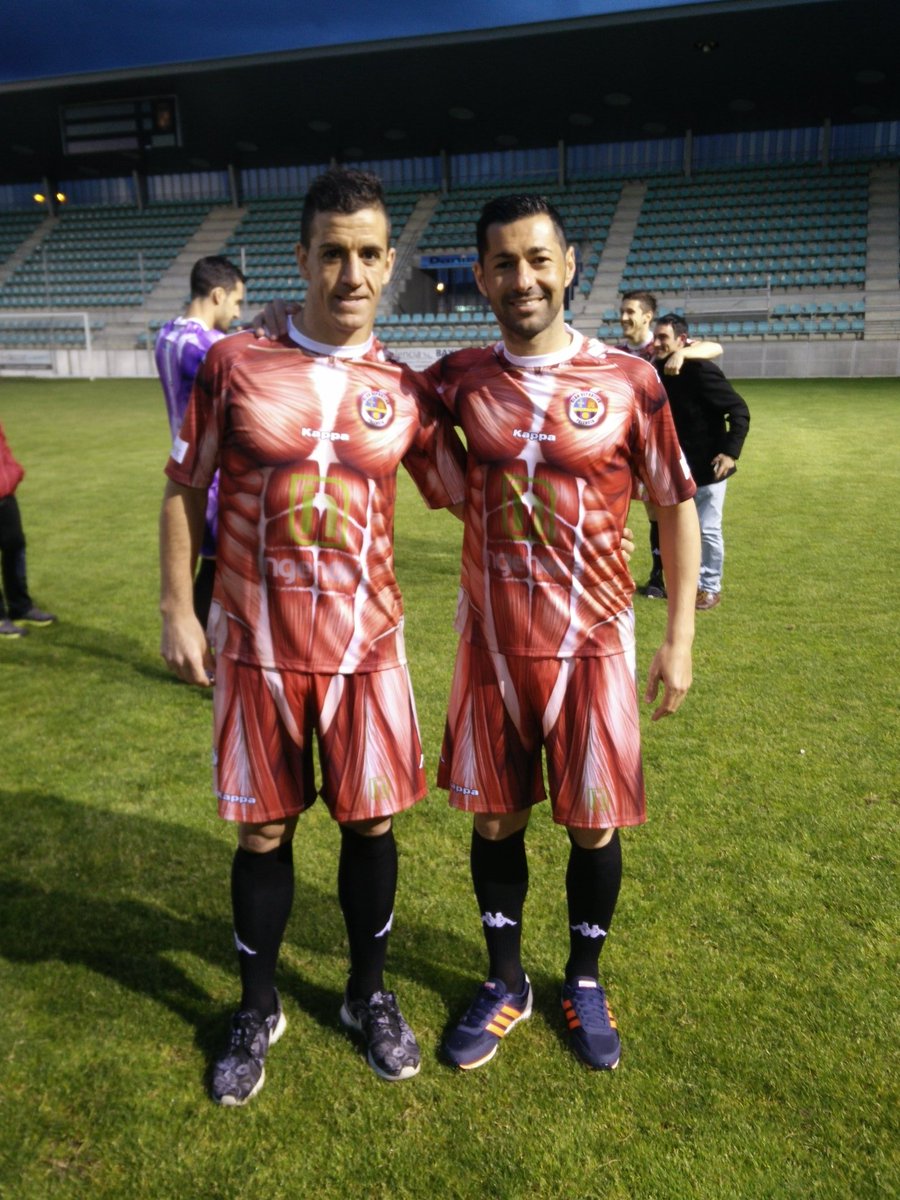 Click to enlarge
Under your skin: Club Deportivo Palencia, a fourth-tier Spanish soccer team, got people chattering yesterday by unveiling a new uni design that shows what the human body would look like without skin. Let's see you top that, Oregon!
Here's a closer look at the chest design:
This is the part where I say that the new design is an improvement over the team's regular uni, which is purple. They've maintained that color in the new flesh-themed kit by dressing the keeper in purple flesh: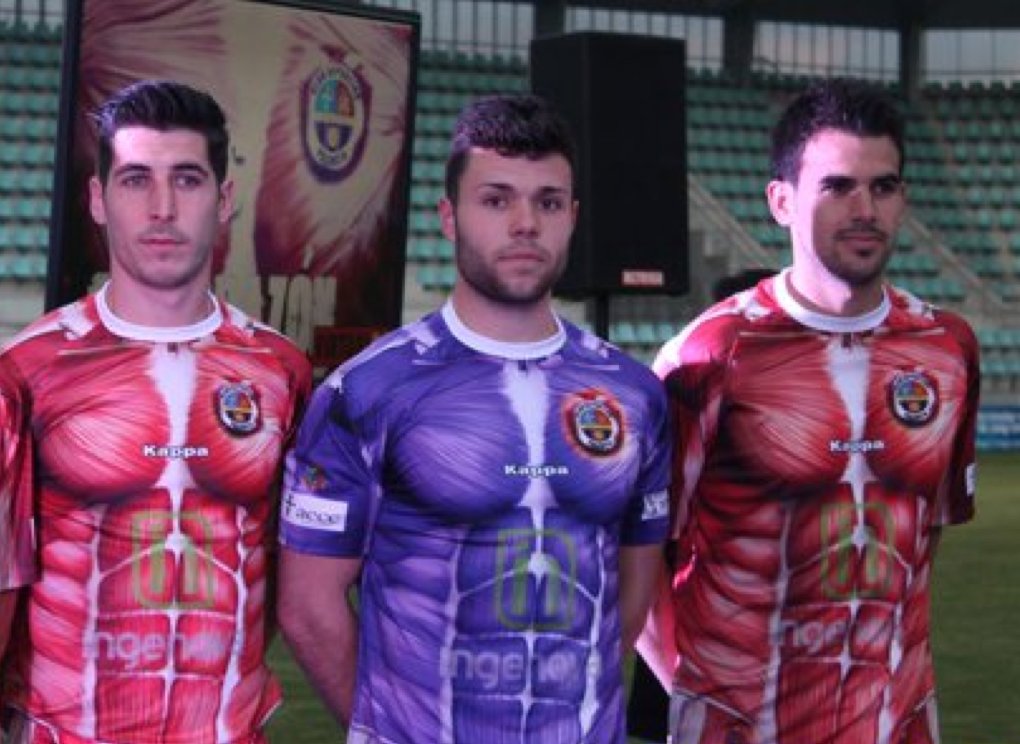 There's further info here. And now, if you'll excuse me, I need to dig an old educational toy out of the closet.
•  •  •  •  •
Membership update: A few more cards have been added to the membership card gallery (including Thomas Clouse's card, shown at right, which is based on the uniforms worn by the 1966 Reds — pretty cool, right?). This batch is now done, and the printed/laminated versions of these cards will mail out early next week.
Speaking of which: Remember, Purple Amnesty Day, the one day of the year when I'll accept purple-inclusive membership card orders, is next Tuesday, May 17 (which is also the 10th anniversary of this website). We will also have a special T-shirt available that day — and only on that day. Mark your calendars!
As always, you can order your own custom-designed membership card here, you can see all the cards we've designed so far here, and you can see how we make the cards here.
•  •  •  •  •
PermaRec update: What does a beekeeping supply company (with a really awesome letterhead design, as you can see above) have to do with a uranium-enrichment facility? Find out over on Permanent Record.
• • • • •
The Ticker
By Paul

'Skins Watch: "My high school has been affected by California's 'Redskins' name ban," says Scott Seeger. "At first I was hoping they would change it to Miwok, the local native tribe, but that's not an option now and maybe still offensive to have a group of people as a mascot. Now it is up for a vote online, and the options are Reds (boring, copying name and symbol of the baseball team), Redhawks (I like it generally, second choice), Calaveras High School (extremely boring and a cop-out because all the imagery would stay the same), and Skulls ('Calaveras' means skull, it's a little edgy, my favorite, but maybe a little too morbid for a high school name)."

Baseball News: For the Mother's Day game at Wrigley, the home plate ump wore a blue shirt while the other umps wore black (from @MBDChicago). … A New York Times sportswriter was sitting in the Yankee Stadium bleachers the other night and caught Royals OF Lorenzo Cain's third home run ball of the night. Fans wanted him to throw back the baseball, but he did something else with it instead. … New cream alternates for Washington University. … Credit where it's due: Yesterday Majestic sent out a tweet saying MLBers would be wearing G.I. Joe uniforms on Memorial day to "honor those who serve." After Phil and I both pointed out to them that this is bad civics, because Memorial Day is for mourning those who perished, not honoring current service members, they deleted the tweet and replaced it with this one. Still a brutal design, of course, but at least they're not misrepresenting the holiday. Good for them for responding to our concerns. … The FBI is seeking a bank robber dubbed the "Ball Cap Bandit" (from Tommy Turner). … Negro Leagues throwbacks last night for the Jacksonville Suns (from Blake Pass). … "This pitching tutor at a New Hampshire Little League field got me thinking," says Tris Wykes. "The last great field player to wear No. 41? Might be Eddie Matthews. Tom Seaver, if you include pitchers. I wonder if the guy who invented this device or the graphic designer who created the illustration wore No. 41 in their playing days? Strange choice when viewed without a backstory." … Yesterday I suggested that we do a census of MLB high-cuffers but mentioned that it might be tricky because rosters are always in flux. As if on cue, the Mets called up pitcher Sean Gilmartin, who goes high-cuffed with stirrups.

NFL News: Here's something I didn't remember: ABC's scorebug for a 2000 Vikings/Packers game listed the team names as "Vikes" and "Pack." … Looks like newly acquired Jets RB Matt Forté will have an accent on his NOB this fall. Very timely, given my ESPN piece yesterday about the increased use of accents, umlauts, and so on (from Michael Mrozinski).

College Football News: In a move that seems a little messed up, Notre Dame is trying to entice recruits with their own ND trading cards, complete with fabricated "career highlights" on the back (from Warren Junium). … I often complain that today's uni designs look too much like superhero costumes. But damn, check out this shot from the 1933 Wofford College yearbook — now that's a superhero outfit! (Great find by Ronnie Poore.) … I'm no fan of GFGS, but Purdue's new two-tone grey uni is pretty good. It'd be a lot better without all that nonsense on the shoulders, though (from Sean Pellatz).

NBA News: Strong article on the crying Jordan meme (from Jorge Cruz). … Here's an assessment of Golden State's "Strength in Numbers" campaign (from Ian B). … Stunning journalistic revelation: The NBA's move to allow jersey sponsors advertising "could generate significant income for the league's teams." Insightful!

Soccer News: New home kit for Everton (from Johnny Hockey). … New kits for Borussia Dortmund (from Eric Shaver). … Here's Crystal Palace's new home kit and away kit (from Jim Collier).

Grab Bag: A design contest is looking to improve Milwaukee's flag (from Jason Goede). … The Malaysian flight attendants' union thinks Malaysia Airlines' plan for new uniforms is a waste of money. … The Australian rugby league team Parramatta has lost two uniform sponsors advertisers. … Olympic runner Nick Symmonds will have a T-Mobile ad temp-tattooed onto his shoulder for upcoming races (from Tim Dunn). … Interesting discussion of how Nike fits in on the list of the world's most valuable fashion brands (from Jason Hillyer). … The latest Aussie rules team to showcase its new indigenous guernsey is North Melbourne (from @Doyoubaseball).
• • • • •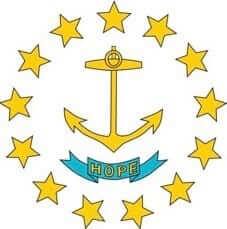 On the Rhode: People, I don't mind telling you that I am totally fried. Been working way too hard while coping with two separate medical situations (neither is serious but both have entailed a annoying amount of appointments, procedures, insurance bureaucracies, etc.). So later today the Tugboat Captain and I will be hopping in the car and heading up to Rhode Island for a badly needed weekend getaway. Expecting to eat a lot of hot weiners, stuffies, and johnnycakes, and to drink a lot of coffee milk, Awful Awfuls, and Del's Lemonade (and, uh, alcohol), among lots of other enjoyments. Hope your weekend is as much fun as I expect mine to be. See you next week.