Last week I wrote about how Iowa's basketball team had worn unitards (well, at least in practice, although not in a game) back around 1989 or '90. Today we can add another school to the unitard list: Seton Hall. But as you'll see, their unitard was different than the ones worn by N.C. State, Oklahoma State, and Iowa.
Credit for this one goes to reader Jon Volpe, who began by sending me this photo of former Seton Hall player Anthony Avent:
As you can see, Avent was clearly wearing compression shorts. But the jersey doesn't look like it was that tight, and it's not clear whether the jersey and shorts were joined together in a one-piece uni.
Volpe then followed up with two additional photos: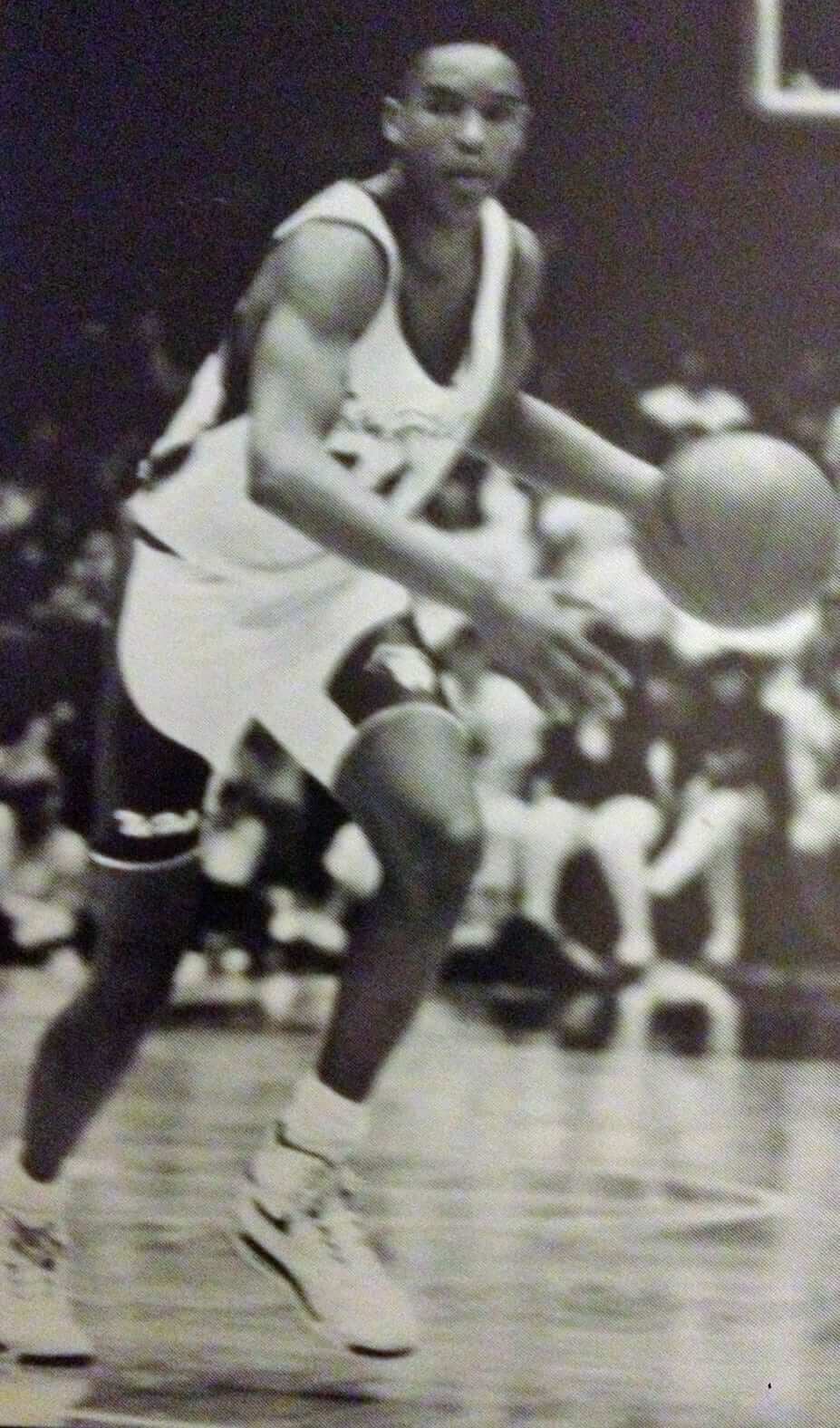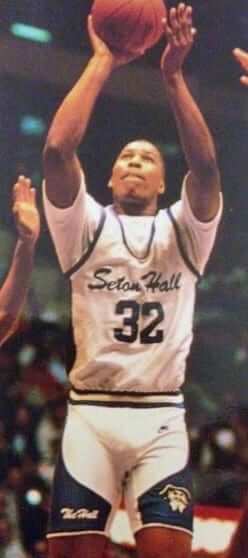 These shots (the second of which was on the cover of Seton Hall's 1990-91 media guide) show pretty much the same thing: compression shorts, non-compression jersey, uncertain connection between the two.
I presented all of this to Seton Hall communications honcho Thomas Chen, who said he'd look into it. He got back me with four additional photos, which provide our best look at this uniform (for these four, you can click to enlarge):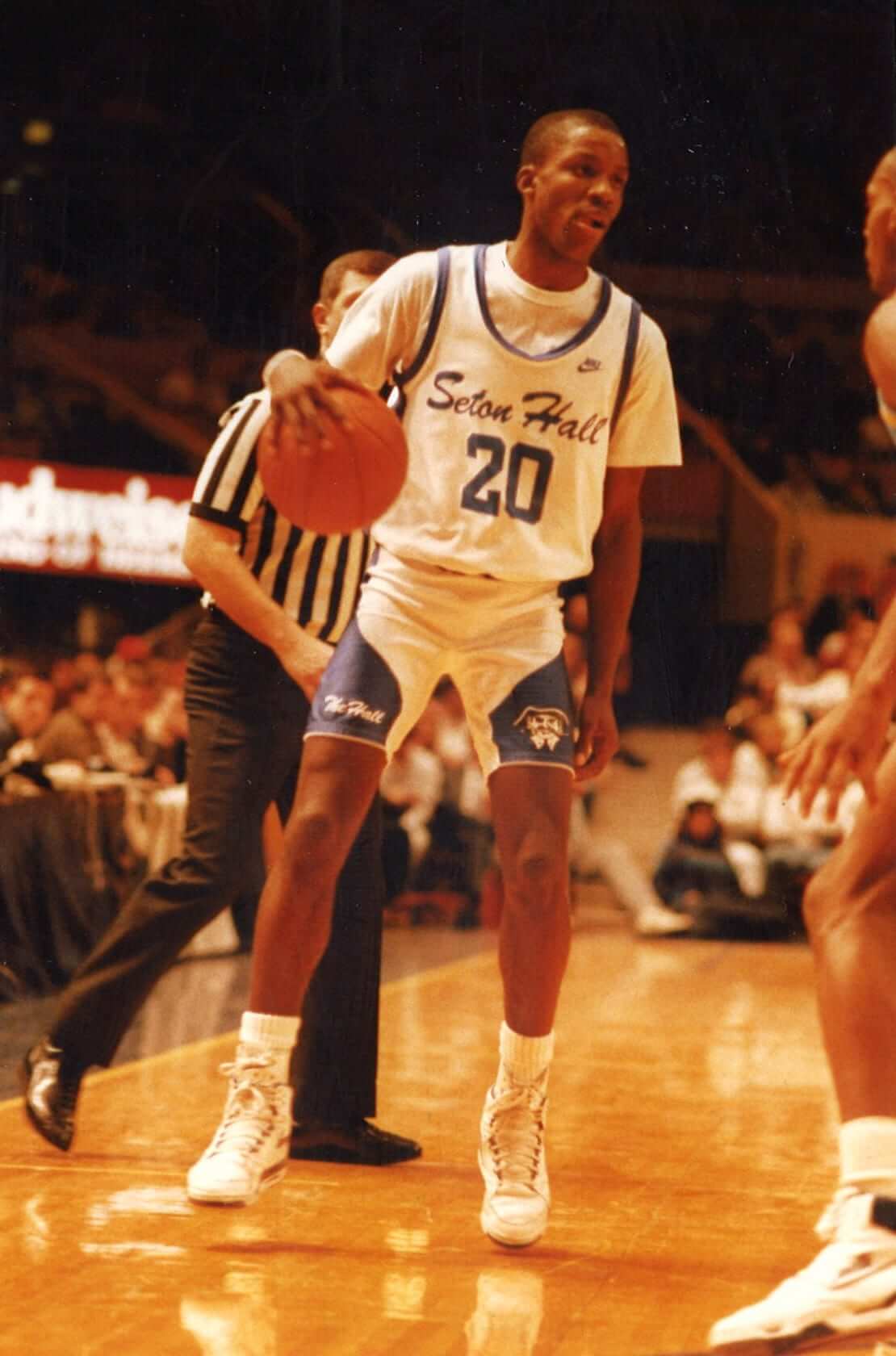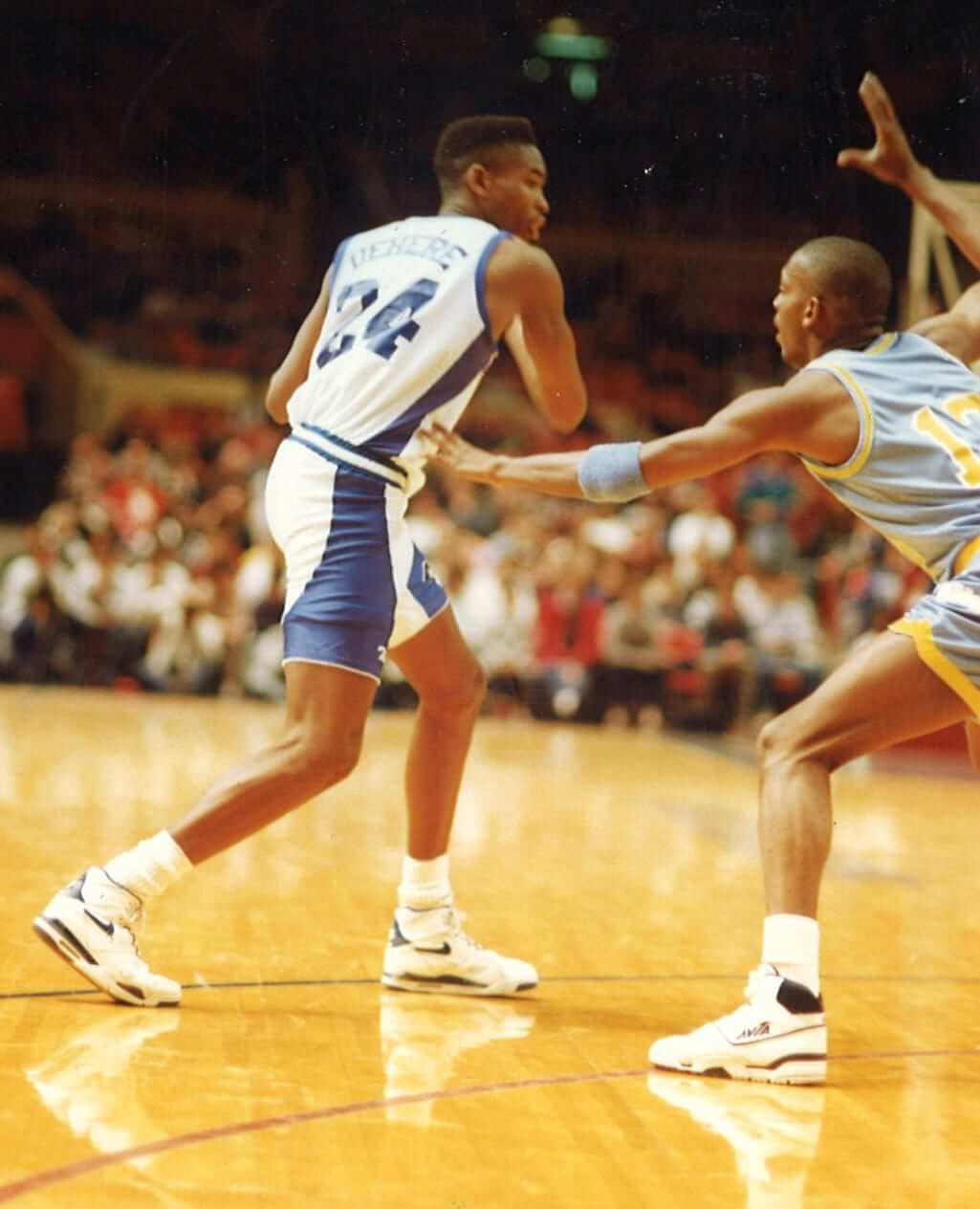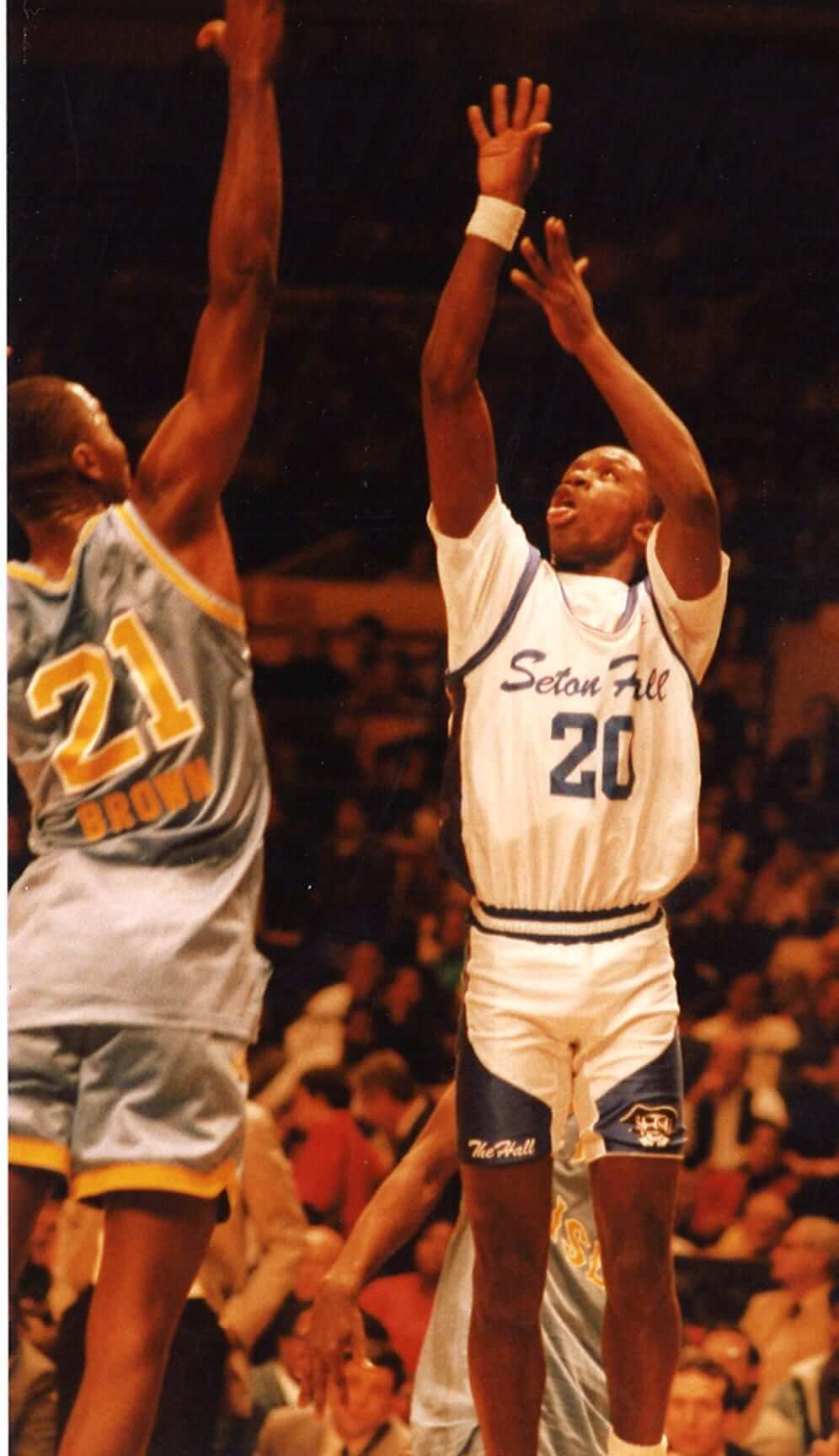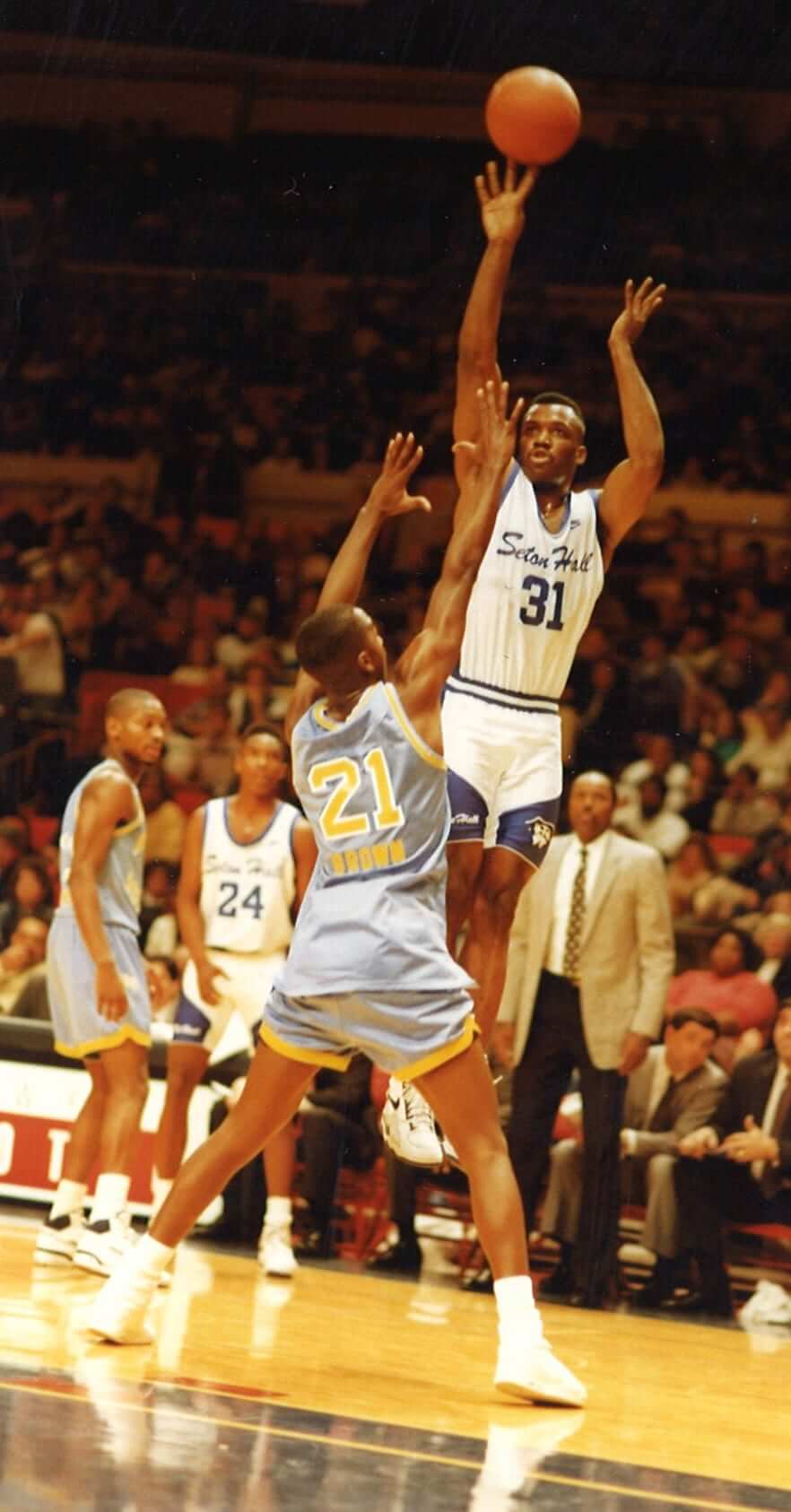 Those pics are all from a game against Rhode Island (who, as you can see, wore drop-down NOBs and had at least one player who went untucked). Again, it's not clear whether the jerseys and shorts are connected. Frankly, it wouldn't even occur to me to think that this might be a one-piece uni if we didn't have the background context of other schools having worn compression unitards. Based on the photos alone, I'd just think, "Hmmm, they wore compression shorts instead of regular shorts — odd."
But Chen, the Seton Hall communications guy, provided the answer:
I checked with a former player — Anthony Avent — who said the uniform was a one-piece. He said it lasted around four games, but I could not find any pictures outside of the Rhode Island game, which took place on Dec. 27, 1989.
And there we are. That wraps up our unitard investigation, unless anyone knows of any additional schools that might have worn the one-piece design.
(Big thanks to Jon Volpe and Thomas Chen for making this post possible.)
• • • • •
A mystery hiding in plain sight: When the Mets opened up their Hall of Fame and museum in 2010, one of the big attractions was a mannequin wearing an original papier mâché Mr. Met head that dated back to the live mascot's debut in 1964. (The cartoon version of the mascot had been introduced the year before, but that's a whole 'nother rabbit hole.) Phil and I visited the Hall while attending Sunday's Mets/Giants game, and the mannequin with the first-generation head is still there (click to enlarge):
As you can see, the mannequin is accompanied by a placard with some background info and a few photos. I've probably looked at that display at least half a dozen times over the last few years, but this time one of the photos jumped out at me:
The thing that caught my eye was that this photo shows Mr. Met wearing a jersey with a "Mr Met" script (no period after "Mr"). In all my years of following the team, I've never seen Mr. Met — either the live version or the cartoon character — wearing his own name on his chest. He's always worn the basic Mets script, or some other variant based on what the team is wearing.
I wanted to know more, so I contacted Mets creative director Mike Zulla. He was able to come up with the original photo (click to enlarge):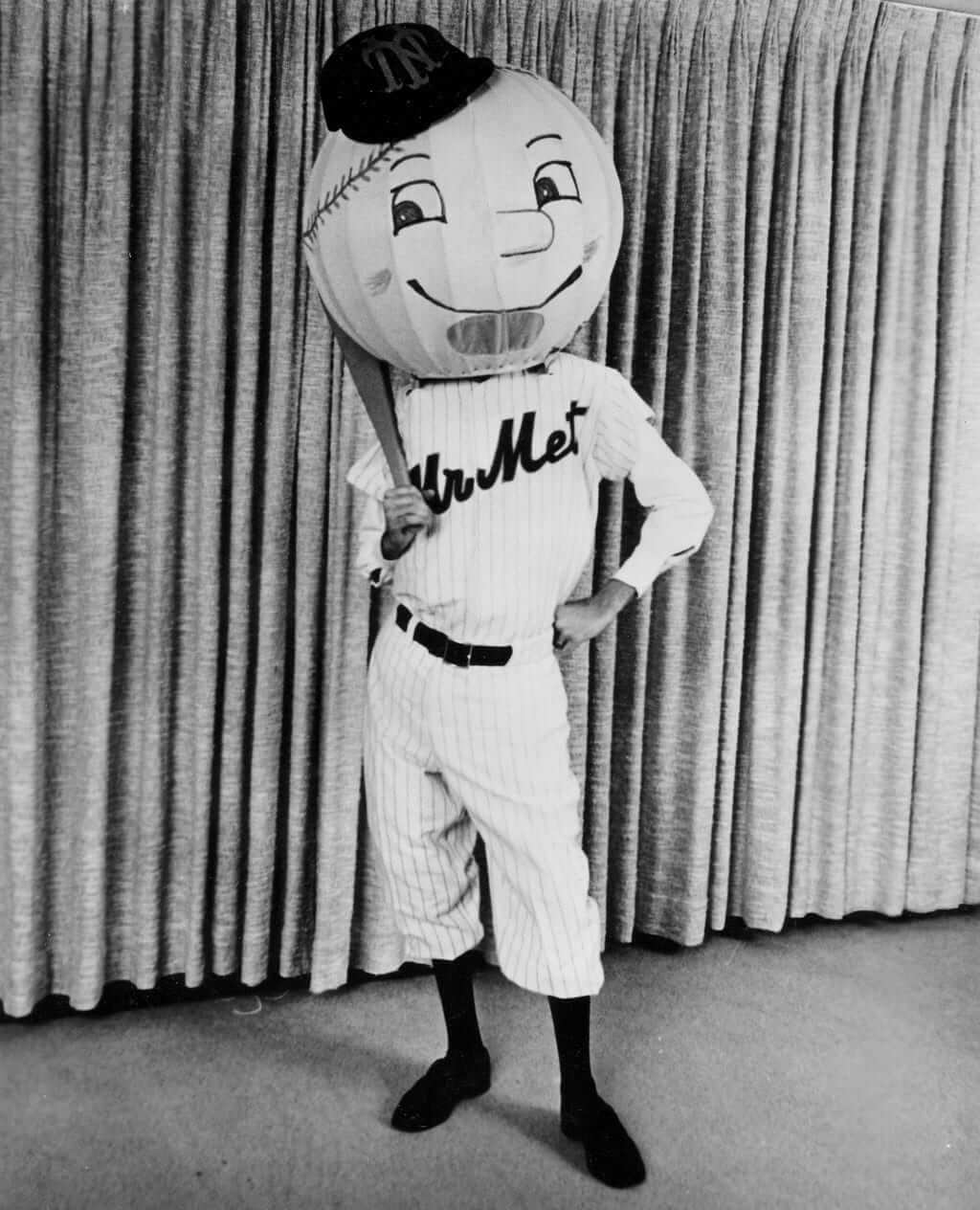 Obviously, this photo also shows a different and probably earlier version of the head, complete with what appears to be a ventilation panel. But it's the jersey that really interests me — when was it made? Did Mr. Met ever wear it at the ballpark? What happened to it?
Although the Mets have the original photo in their files, they don't have any info regarding when, where, or under what circumstances it was taken. If anyone knows more, I'm all ears.
• • • • •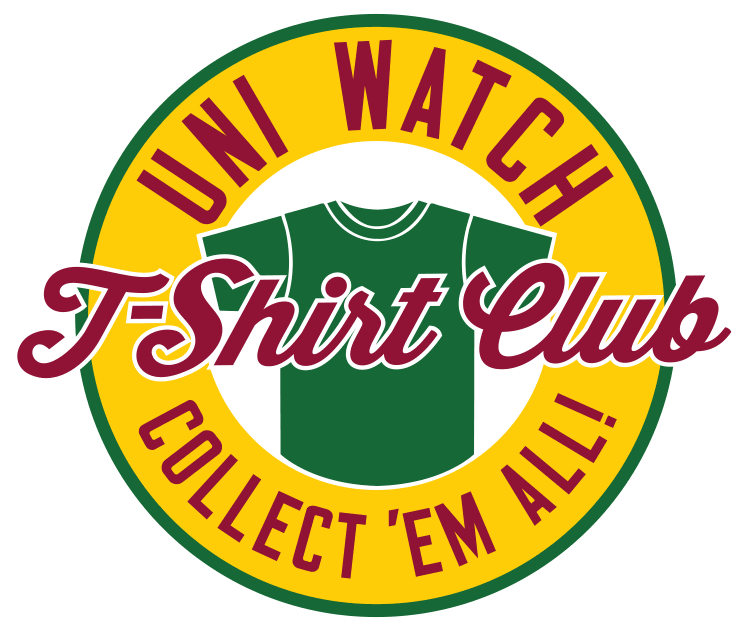 T-Shirt Club launch: It took a while, but we finally have the Uni Watch T-Shirt Club's second release of 2016.
Just to refresh everyone's memory: We're doing six shirts this year, with a different sport each time around. We already did baseball, and now it's time for hockey.
We kinda agonized over whether to do a goalie or a regular skater, ultimately deciding to go with the skater, in part because we wanted to show the full uniform without having part of it obscured by the pads, and in part because we wanted our player to have a captain's "C," which wouldn't be appropriate for a goalie. Here's our base design (click to enlarge):
As you can see, our skater has an old-school helmet, a lace-up collar, a captain's "C" in the Uni Watch magnifying glass motif, and — of course — a playoff beard.
We're offering this shirt in three colors — black, grey, and white (all of which are available in both short and long sleeves):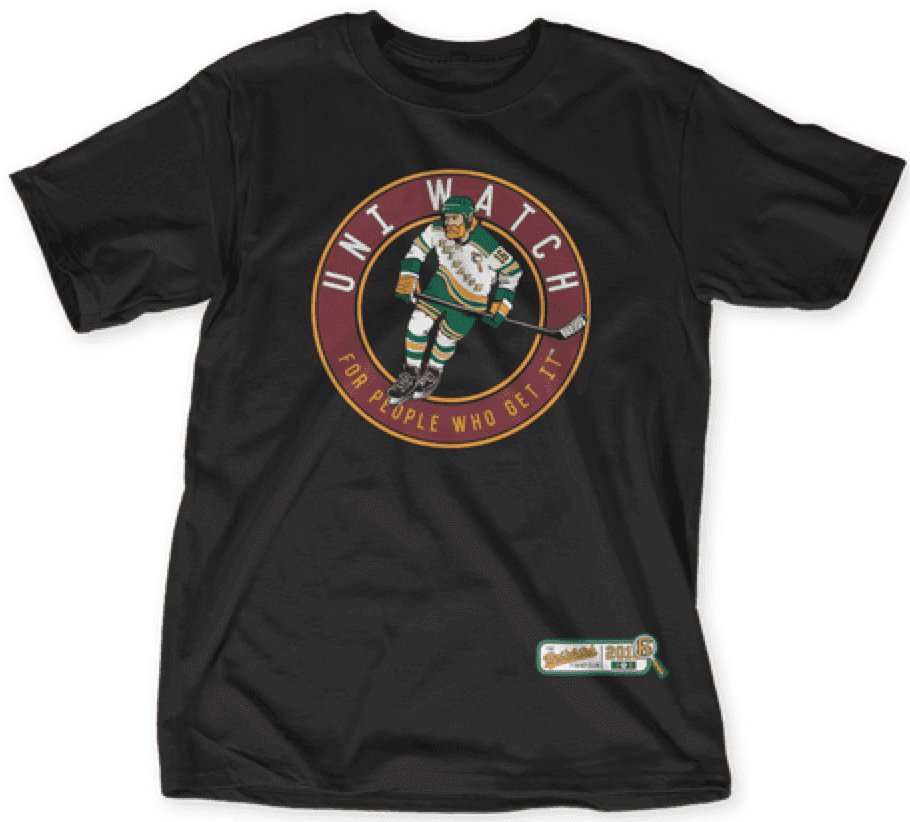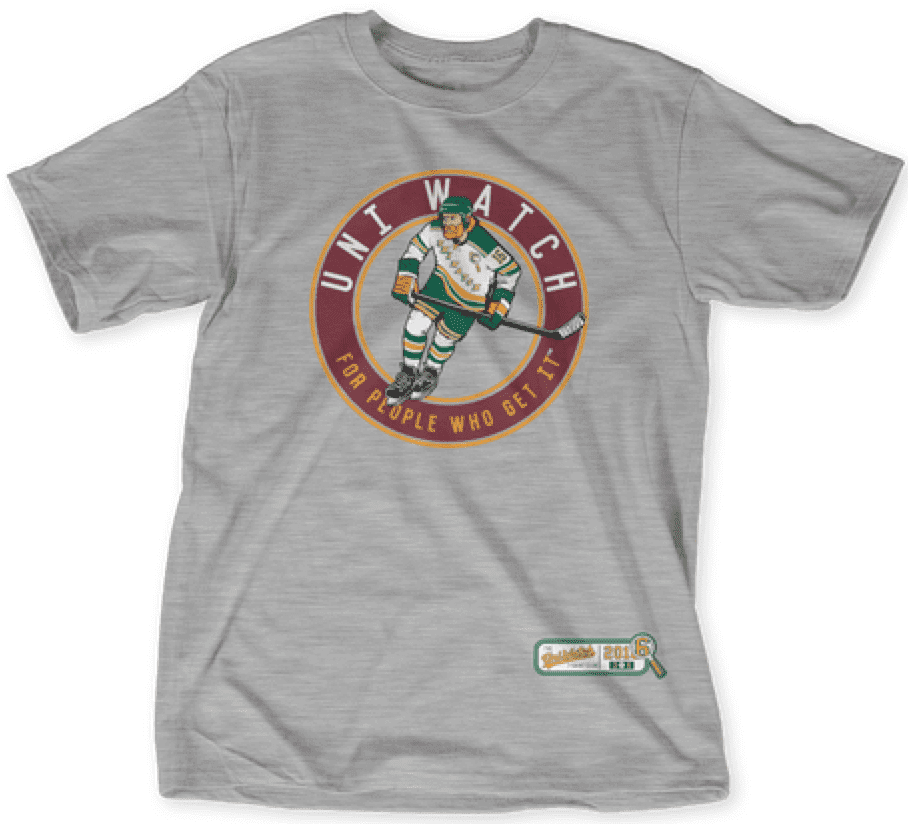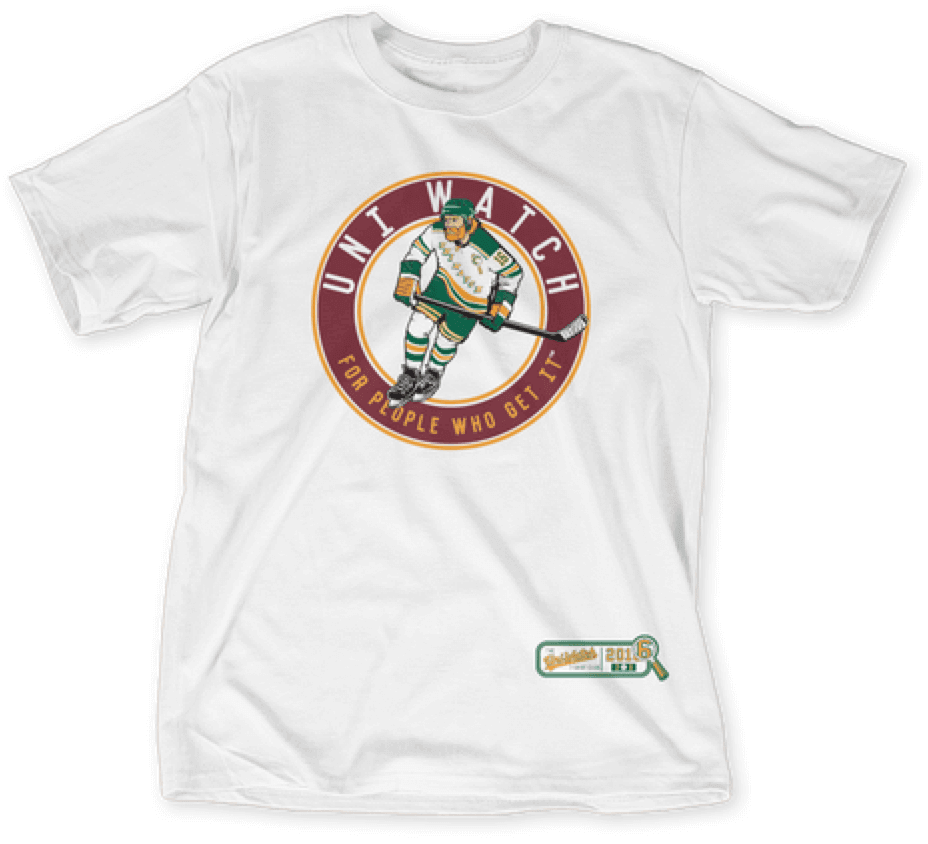 The shirt is available here from now through next Tuesday.
As I mentioned, we toyed with a goalie design as well — it was too much fun not to. Here's how that turned out (click to enlarge):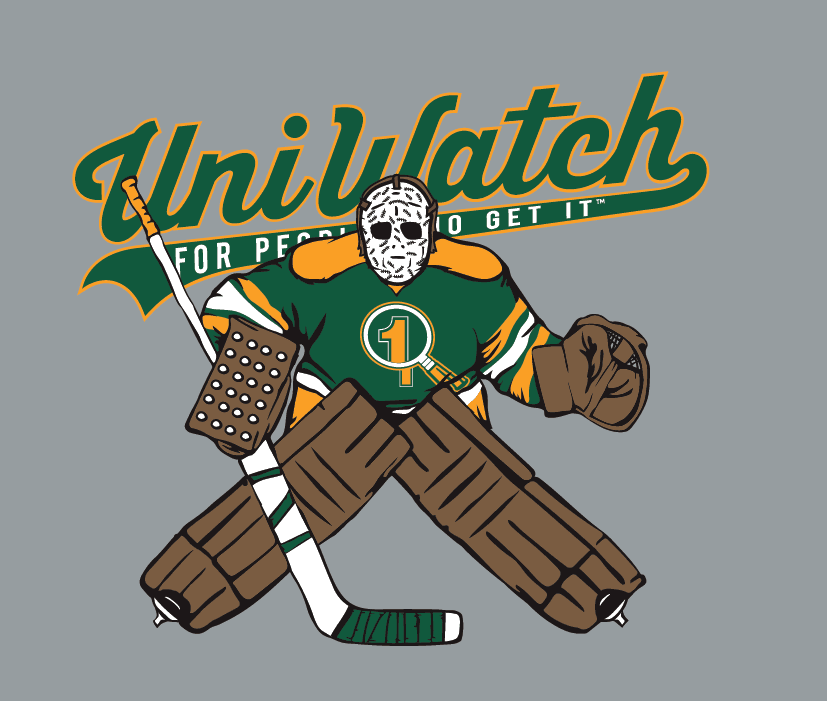 If there's enough demand, we'll make the goalie design available as a bonus shirt offering. It will not be part of the T-Shirt Club, will not have the jock tag graphic (which means it'll be a bit less expensive), and will neither count toward nor be required for "Collect 'Em All" eligibility. Just a fun "extra" design. Speak up in today's comments if that interests you. (And no, sorry, we will not make the goalie design part of the T-Shirt Club — only the skater.)
Also-also: Purple Amnesty Day is less than two weeks away (May 17). Just like last year, we'll have a shirt for the occasion, which will be available for only one day.
Again, the hockey shirt is available here. As always, big thanks to my Teespring partner, Bryan Molloy, for all his help and dedication with this project.
• • • • •
The Ticker
By Paul

Baseball News: Here's a really nice touch I hadn't been aware of regarding the Mets' 1986 Sunday throwbacks: The bat boys are wearing No. 86 and their first names, just like back in the day. The bat boys' non-throwback have no names or numbers — just a big "BB" on the back (big thanks to Jeremy Posner). "¦ Got seven or eight hundred bucks that you don't know what to do with? Give it all to me already Allow me to suggest spending it on this century-old baseball uniform catalog, complete with swatches. Looks to be a real beauty! Back in 2013 we had a guest post by Jim Lonetti about his glove-repair business. Now DIY genius Wafflebored has created a vintage-style jersey based on Jim's glove-repair operation. Brilliant glove-shaped buttons, too! "¦ Andy Pettitte bobblehead on tap for the Rochester Red Wings. "¦ "You must wear the ribbon!": Marshall players will wear caps with cancer-awareness ribbons, with each ribbon representating a cancer that has affected that player's life in some way (from Fletcher Keel). "¦ Check out this shot of Brooks Robinson wearing the "Star-Spangled Banner" sesquicentennial patch, which the O's wore in 1964. Here's a closer look at the patch design (from BSmile). "¦ There's pants piping and then there is pants piping. That's Greenup County High School in Kentucky (from Brice Wallace). "¦ I always thought Vida Blue wore FiNOB with the Giants, but not with the A's, and most photos of him during his time in Oakland do indeed show him wearing a conventional NOB. But Gary Gage found a shot of him going FiNOBwith the A's. Good one! "¦ Nats OF Bryce Harper has inked a massive extension with Under Armour (from Tommy Turner). "¦ Louisiana-Lafayette is saluting Ron Guidry with some weird hybrid jerseys. Never seen anything like that before. "¦ Padres-style fauxbacks this weekend for the El Paso Chihuahuas (from Brady Phelps). "¦ Love the uniforms worn by these girls' teams who got a visit from Babe Ruth in 1939 (BSmile again). "¦ D-backs pitching coach Mike Butcher wore teal shoes last night (from @ZJL00). "¦ Coupla Twins players appeared to be wearing striped stirrups last night. Look closer, though, and you can see they were actually two-in-ones. Pfeh (from Gary-O). "¦ Orioles' media notes last night included a logo commemorating the 50th anniversary of their 1966 championship. Hadn't seen that before (from Tyler Kepner).


NFL and College Football News: Lions rookies have received their uni number assignments (from @YourFoodSherpa). "¦ This week's Sports Illustrated cover photos show NFL first-rounders with gold-logo NFL footballs. I'm assuming those won't be used this season (good spot by Micah Tannis). "¦ For those who choose to believe stuff that's posted on Reddit, Jason Greening offers this: "The Broncos and NFL subs on Reddit have both had posts today about either a Nike summer catalog leak or someone doing URL manipulation and finding images on the Nike website. No pictures for the the NFL stuff, but the guy did call the Browns uni change last year. He found the Color Rash images last year, too (but only a few hours before they were announced). In the post, he hits on a number of other teams, like an all-black Vikings uni, and an all-white Saints, and a throwback to the red-blue horizontal stripes Giants from the '20s or something. For the Broncos, the uniforms supposedly look like the 1968 preseason uniforms (orange, blue sleeve, blue helmet) but with the old Crazy Horse logo. No mention of pants. This does kind of mesh with that white-orange-white stripe on a navy helmet that I saw on the Paxton Lynch welcome video on Friday. The user has no history [on Reddit], but it looks like his username is a not subtle hint at working at Dick's. Normally I'd just ignore it, but coming on the same day as the other guy is just odd timing." … New uniforms for Rutgers. That's part of a revamp of all of their sports (thanks, Phil).

Hockey News: Lots of people noticed that a fan at last night's Islanders/Lightning game was wearing an Isles jersey with a "Jewish" NOB. So if he has a playoff beard, maybe he's just Orthodox, eh? "¦ NBCSN showed a graphic with an outdated Blues jersey last night.

NBA News: Why would a Canadian team have a T-shirt with an American flag design? (From Andrew Daniels.) "¦ Steph Curry had a workout yesterday, and the Warriors tried to protect his privacy with a partition — which, surprisingly, had a really outdated team logo (from Piero DePaoli). "¦ Menswear magnate Alexander Julian, who designed the Hornets' first uniform set, is reviving his clothing brand (from Tommy Turner).

College Hoops News: A reader who prefers to remain anonymous write: "According to Jason Scheer of wildcatauthority.com (an Arizona scout.com recruiting website), he was told by a basketball recruit that Arizona will have a full new set of basketball uniforms next season. You need a subscription on the website to see his message board post, unfortunately." "¦ New unis for Rutgers (from Michael Lipinski).

Soccer News: Here's a list of EPL champions and their kit manufacturers. Leicester is the first Puma entry on the list (from @TheLupineOne). "¦ New black anniversary kit for PFC Beroe Stara Zagora (from Ed Å»elaski).

Grab Bag: One observer's opinion: The skirt suit needs to go. "¦ Howard University has entered into a new multi-year deal with Under Armour. "¦ Here are some hints at Virginia Tech's upcoming rebranding redesign across several sports (from Andrew Cosentino). "¦ A Chinese sports apparel company whose logo looks an awful lot like Under Armour's insists that it has nothing to do with Under Armour (from Sean Spitzer). "¦ New rugby union jerseys for the Wallabies.