When I recently wrote about Oklahoma State basketball's 1989 unitards, I mentioned that reader Dave R. had said he remembered seeing Iowa wear unitards, but that I had checked with Iowa and they said, "No, we never wore anything like that."
That might have been the end of that. Fortunately, two Uni Watch readers have come to the rescue. Let's start with this:
That's reader Mike Franzman. He's wearing an Iowa unitard that he picked up at a Goodwill in Iowa City about 15 years ago. Since the uniform was presumably produced in 1989 (the same year NC State and Oklahoma State wore their unitards), that means the uniform knocked around for about a decade before Mike found it at that Goodwill.
Here's a look at the uniform by itself:
The NOB refers to Brigg Tubbs, who played for Iowa in the late 1980s. You can see him in this team portrait — back row, fourth from the right, wearing No. 43.
And that's not all. Another reader, Michael Homan, came up with this: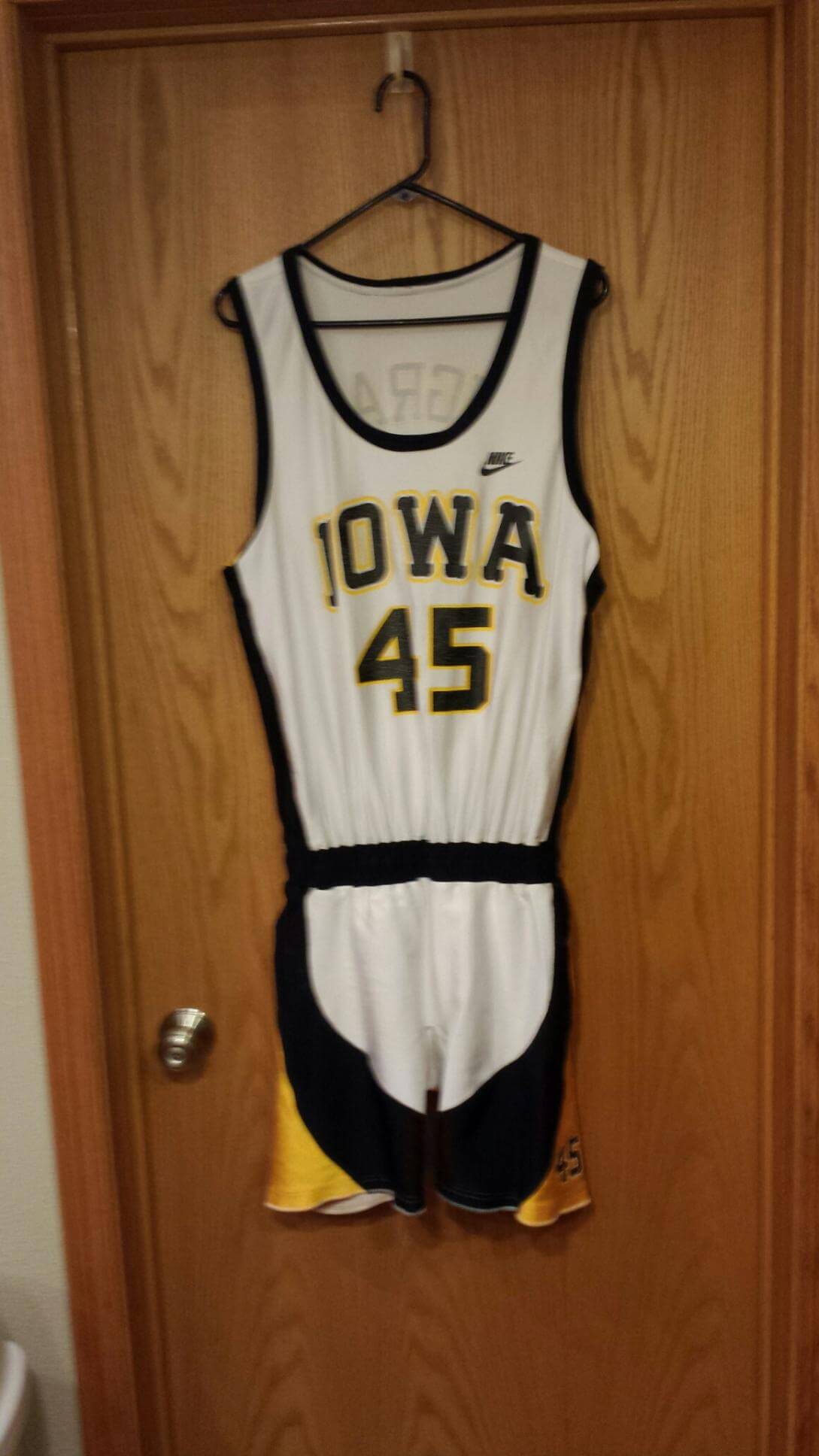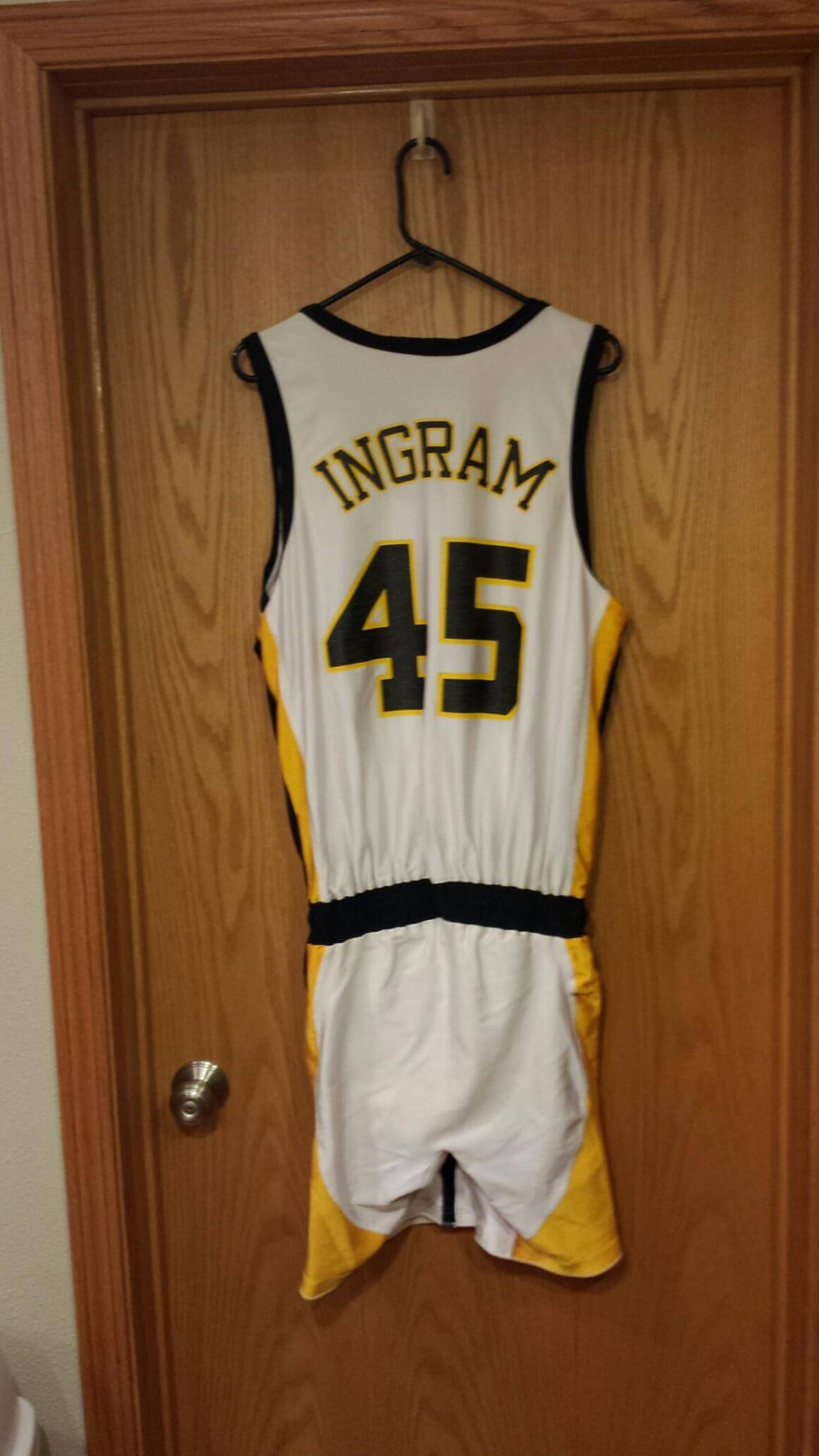 Michael explains the story behind this one:
A friend of my dad's, Jerry Strom, used to be the Iowa Director of Basketball. He would help us out with tickets, autographs, and occasional gear. When I was in high school, we were at the Amana Hawkeye Classic (an old-school early-season, Iowa-hosted four-team cupcake tournament). I believe Jerry hooked us up with the unitards at that point.
This one was made for Michael Ingram, who currently coaches an AAU team.
So the Iowa unitards definitely existed. But were they ever worn?
The answer is sort of yes, but mostly no.
I recently spoke with former Iowa players Brigg Tubbs (yes, the player whose unitard ended up at the Goodwill) and Wade Lookingbill. Both very nice guys, and both still live in Iowa. Tubbs works at a bank, Lookingbill as a pharmaceutical rep.
They both remembered the unitards and were rather amused to be talking about them again after all these years. Although their memories were a little fuzzy, they agreed on the following points:
•  The unitards were supposed to be worn for a game in Nevada against UNLV. The game was part of a package of games being promoted as "the Duel in the Desert." Several or perhaps all of the schools involved were outfitted by Nike, and some of those other schools may have been supplied with unitards as well.
•  The Iowa players definitely wore the unitards for at least one practice, and probably for two.
•  The players didn't like the fit of the unitards, and also didn't like how the form-fitting fabric didn't leave much to the imagination in the crotch area. Many or perhaps all players ended up wearing shorts over the unitards.
•  The players decided they couldn't wear the unitards in a game, and coach Tom Davis (who apparently never liked the unitards to begin with) gladly backed them up. So these uniforms were only worn in practice, never in a game.
And there you have it. Major thanks to Mike Franzman and Michael Homan for sharing these items from their collection and adding a piece to this puzzle.
Meanwhile, I'm happy to report that I now have solid info on yet another school having worn the unitards around this same time. I'll tell you about that one in an upcoming post, probably later this week.
• • • • •
Click images to enlarge
Completely, totally, 100% awesome: I'm pretty sure most Uni Watch readers like specificity-driven classification systems. Many of you also like interesting visual projects. Those two things come together in the most spectacular way imaginable in Dear Data, an absolutely amazing project involving two information-visualization artists who traded data-illustrated postcards with each other for 52 weeks (like the one above about one of the participants' cell phone use). Super-impressive, super-inspiring, simultaneously geeky and artistic — Uni Watch's highest rating! Not to be missed.
(Big thanks to the Tugboat Captain for tipping me off to this one.)
• • • • •
The Ticker
By Paul

Baseball News: Marlins SS Adeiny Hechavarria wore the team's BP cap yesterday (from Richard Paloma). "¦ Cross-sport move in Toledo, as the Mud Hens wore Toledo Walleye-themed jerseys (from @therms1999). "¦ The Braves announced back in February that they'd be wearing a memorial patch this year for longtime coach Bobby Dews. The first weird thing is that they haven't worn it; the second weird thing is that their Triple-A affiliate, the Gwinnett Braves, has worn it. "¦ Dodgers OF Yasiel Puig's helmet logo broke again yesterday, although they quickly got it fixed. Meanwhile, Puig switched from high-cuffed to pajama-pantsed in the space of a few innings. "¦ Cleveland P Bryan Shaw apparently wears one of those Qalo wedding bands, which prompted a complaint yesterday from Tigers manager Brad Ausmus. "¦ Dwayne White sent in a buncha stuff, including a 1978 St. Petersburg Times article about the Reds' original St. Paddy's Day uniforms; a 1978 photo of Pete Rose helping his son with his St. Paddy's Day uni; and photographic proof that the 1976 National League All-Star team's pillbox BP caps were snapbacks. "¦ Oooh, check out these softball pants with side piping based on the Chicago flag! (Nice find by Brian Crago.)

NFL News: With the NFL Draft fast approaching, it's time for the annual run of articles about the company that puts the NOBs on the jerseys as the picks are announced. Expect to see more stories like that one this week. "¦ I loooove NFL dickies. Anyone know who those Colts players were? (From Dwayne White.) "¦ Here's a look at the uniforms that were originally announced — but not worn — for the Jaguars and Panthers.

Hockey News: NHL teams — most notably the Sharks — are increasingly concerned about players' sleep habits. Among other things, San Jose players are encouraged to swallow chamomile, lavender, and tart cherry juice every night.

NBA News: We've seen this type of thing before, but it's still annoying and depressing: "Before Saturday night's Mavs/Thunder game in Dallas, the Jumbotron was shaming people into putting on the giveaway Mavs T-shirts, lingering on anyone dressed otherwise, with a fuming Mark Cuban cartoon appearing on the screen when anyone was delaying," says James MacNeil.

Soccer News: "Saturday night was the French League Cup Final," says Eric Falcon. "Both teams, PSG and Lille, had gold uni numbers and NOBs to mark the occasion. Don't know if they've done this in years past. Hopefully this doesn't get picked up by U.S. sports leagues." "¦ Impressive-looking pitch design yesterday for Leicester City (from Tim Cross).

Grab Bag: With concerns running rampant about athletes contracting the Zika virus during the upcoming Rio Olympics, South Korean uniforms and casual attire at the games will reportedly feature long-sleeved shirts and long pants. The designs will be officially unveiled on Wednesday. "¦ Faaaascinating story about how the Confederate flag has become an enduring symbol in a town in Brazil. Highly recommended (big thanks to Trevor Williams). "¦ This is cool: a guide to the secret language of manhole covers (from James Gilbert). "¦ Great slideshow and accompanying article on "Post No Bills" signs around NYC. "¦ Anzac Day jumpers for six Aussie rules football teams (from Jeremy Brahm). "¦ Here's your chance to vote for this week's NASCAR paint scheme of the week. "¦ After the original logo for the 2020 Tokyo Olympics was scrapped due to concerns about plagiarism, a new logo has been unveiled.