Most uniform changes are, for lack of a better term, official. They're announced via press releases (or at least via social media), listed in the league style guide, and so on.
But there are also unofficial uniform changes — things that aren't announced or even acknowledged but are nonetheless plainly visible to anyone who looks closely.
With the MLB season just a few days old, it's apparent that at least two teams — the Phillies and Braves — have made unofficial changes to their jersey scripts. Let's start with the Phillies. They use the same script on their home and road jerseys, and that script has clearly become thicker, or fatter, or bolder, or whatever you want to call it, this season (for all of these, you can click to enlarge):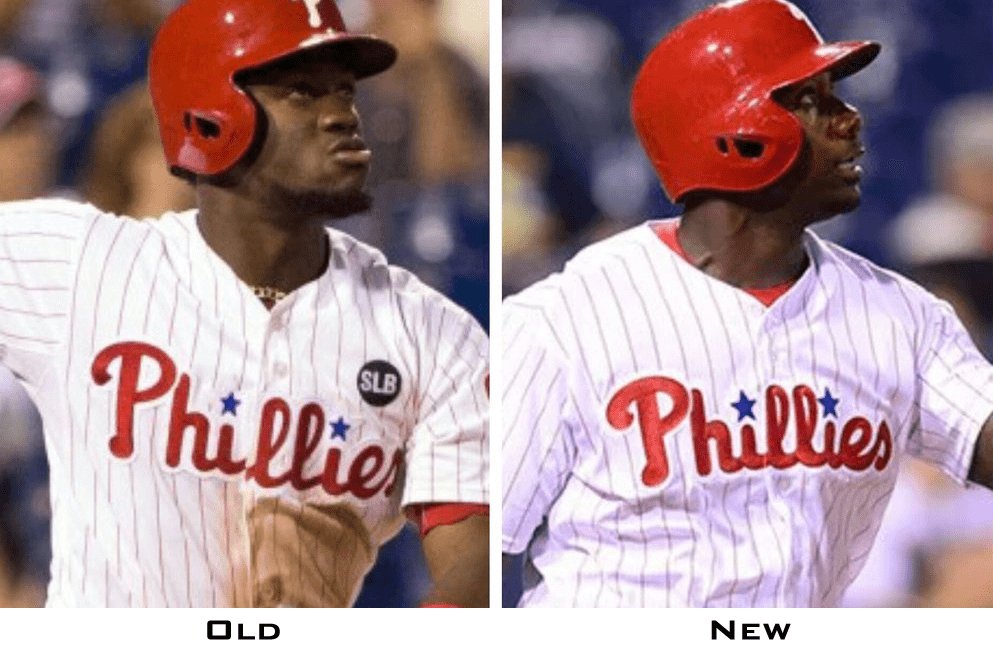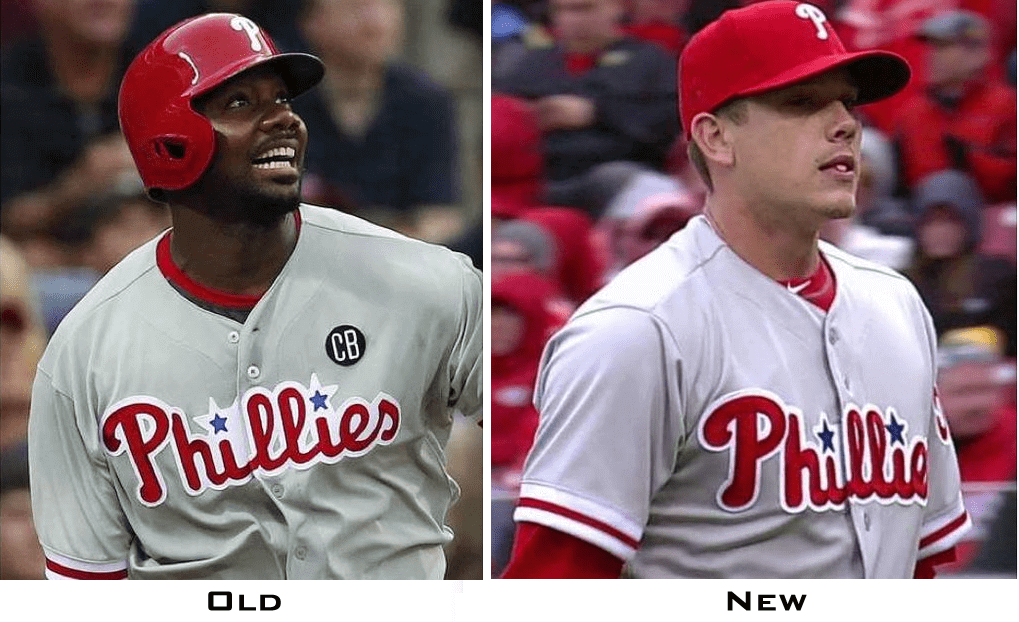 What are we to make of this? First I checked the MLB Style Guide to see if the specs for the Phils' script changed between 2015 and '16. It didn't — it's exactly the same. But here's the thing: It looks like the script in the Style Guide is actually closer to the new version — the one being worn this year. Here, let's look at the side-by-side photos again, with the style guide mock-up underneath them: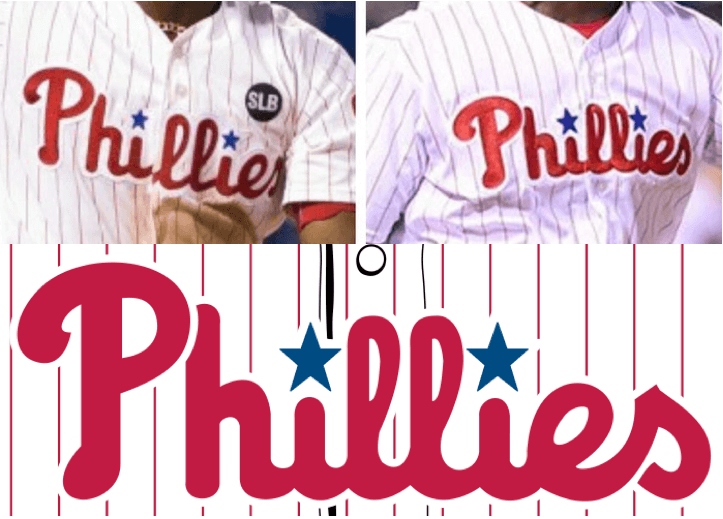 If you compare the letterforms — especially the negative space on the P, l, and e — it looks to me like the new, thicker script is closer to the Style Guide standard. So maybe the Phils' script underwent some unintentional modifications over the years (this can happen as manufacturers change, factories are retooled, etc.) and now they're getting it back to its official specs. If so, this isn't so much a change as a restoration.
Now let's turn our attention to the Braves, whose home script has changed significantly. It's not just a matter of the strokes getting thicker or bolder — the script itself has been altered: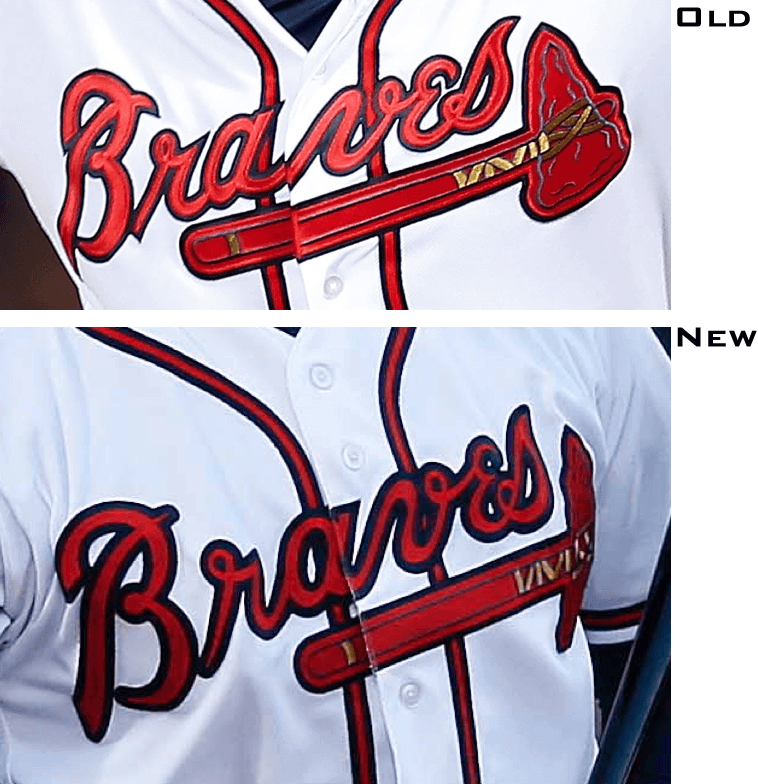 There are lots of little tweaks that have been made here. Among the things that have changed: the point where the script crosses the placket; the negative space on the B, a, e, and s; the top-right point of the B; the bottom-left and top-right points of the r; and more.
Once again, I went to the Style Guide and found that nothing had changed from last year to this year. Then I compared the script in the Guide to the ones on the uniforms (old on the left, new on the right, Guide on the bottom):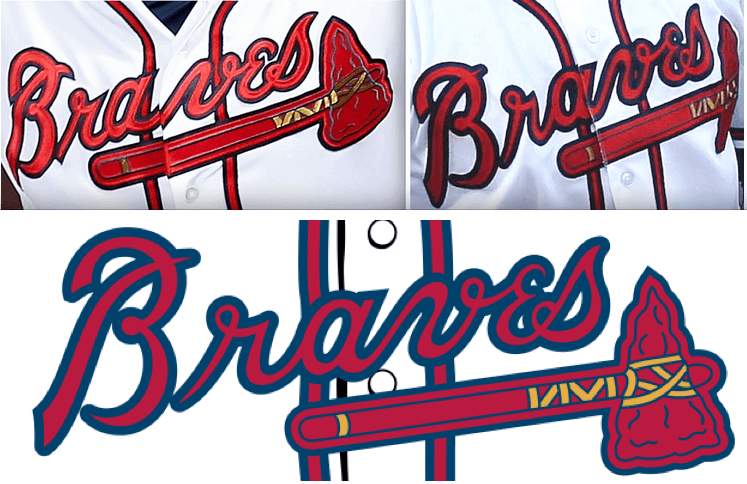 Once again, it's clear that the new version is the one that's closer to the standard set by the Style Guide. And once again, I'm assuming that the script underwent small, incremental changes over the years — maybe intentionally, more likely due to carelessness or neglect — and now someone finally said, "Time to clean that up and get back to the way it was always supposed to look."
It would be interesting to know if these initiatives came from the teams or from Majestic. I asked them yesterday but they said they were busy because of Opening Week. I hope to learn more soon.
All in all, a fun rabbit hole. I wonder if there are any other teams out there whose jersey insignia have been quietly adjusted. It would also be good to know when these logos began deviating from their official versions. If anyone would like to photo-research that, I'm all ears/eyes/etc.
(My thanks to @KeyvonPahz for pointing out the Braves discrepancy, and to the many, many readers who pointed out the Phillies discrepancy.)
•  •  •  •  •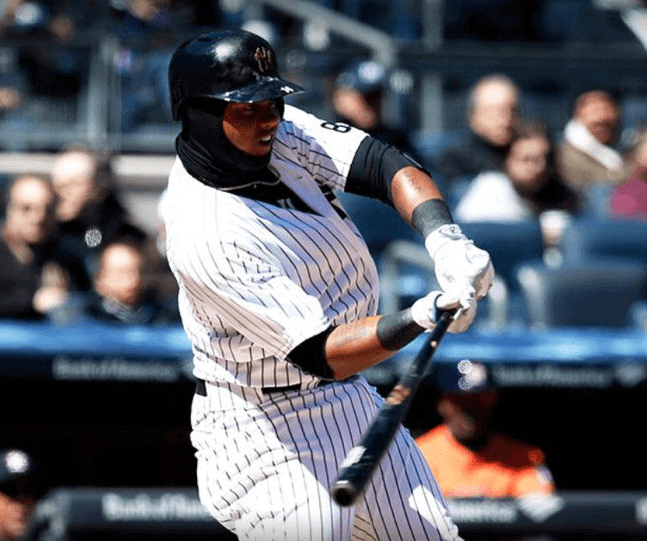 Some teams are more equal than others: As you can see above, the Yankees' new Flex Base jerseys don't have the mesh side panels that everyone else's have. This had been expected, based on spring training, but I still wanted to see it for real in a regular season game, in part because a Majestic representative had specifically told me about two months ago that all teams would have the mesh panels, including the Yanks. That information turns out to have been false.
When I asked Majestic about that yesterday, here's the response they sent out on Twitter:
@UniWatch The Yankees uniforms mimic their tradition uni and will not have panels or logos.

— Majestic Athletic (@MajesticOnField) April 5, 2016
"Mimics their tradition" is odd wording (I think they meant "mimics their traditional uniform," or maybe "honors their tradition"), but whatever — the point is that the Yankees get a dispensation from the Flex Base bullshit because they're the Yankees.
You could call this special treatment, but you could also call it earned treatment. The Yankees may be a disgusting corporate behemoth that behaves in all sorts of off-putting ways, but they generally get the optics right, at least when it comes to uniforms. NNOB, no softball tops, no maker's marks, no Cool Flo helmets, no Cool Base panels, and now no Flex Base panels. Why? Because they put their foot down and said, "We're not interested in any of that shit." Granted, they have a certain kind of leverage that makes it easier for them to put their foot down than it might be for, say, the Brewers. Still, it all reinforces the old line about how all that's necessary for evil to triumph is for good men to say nothing. In other words, if you just go along to get along, you'll end up in the shit (or wearing mesh side panels, which is basically the same thing).
This isn't to say the Yankees are perfect when it comes to uniforms. Let's not forget this. Or this. Or this. But for the most part they've resisted and successfully rejected all the crap that's infected the rest of the sport. Good for them.
•  •  •  •  •
The Ticker
By Paul

Baseball News: Lots of teams, including the Angels, put their logo on the back of the mound. But I hadn't realized until now that the Angels also created a halo around the mound. They've apparently been doing this for years, as you can see in this 2012 shot, but I hadn't noticed it until Jonathan Cain pointed it out to me. "¦ Virginia Tech managed to go G.I. Joke and desecrate the flag all in one game yesterday (thanks, Phil). "¦ Here's a nice piece on the Royals' team seamstress (Phil again). "¦ Cubs 3B Kris Bryant has his name on his shinguard strap. "¦ Padres C Derek Norris is going with a yellow-caged mask. "¦ It was 100 years ago that the Indians came up with MLB's first uni numbers (thanks, Phil). "¦ Whopper of a snafu reported by a reader who prefers to remain nameless: "Sunday, at the Rays' opener, they invited a few former players to mingle in the season ticketholder lounge — Hernandez, Wheeler, etc. Seems as if someone forgot to get the jersey prepared for former catcher Toby Hall." Yikes! "¦ The Tri-City ValleyCats appear to have stolen their 15th-season logo from the Charlotte Checkers hockey team. "¦ Cold weather in Cleveland yesterday, so lots of Red Sox players wore hoodies under their jerseys, including David Ortiz, Dustin Pedroia, and Jackie Bradley Jr. "¦ Cold in the Bronx as well, with lots of Yanks and Astros wearing balaclavas, including Colby Rasmus — who bundled up but batted bare-handed. Wedding band on his throwing hand, too (screen shot by David Feigenbaum). "¦ Bosox David Price was squatchee-free yesterday, as usual. "¦ The Brooklyn Cyclones are giving away a Wilmer Flores "Tears to Cheers" bobblehead. "¦ Indians SS Francisco Lindor wore striped stirrups yesterday. As you can see, Cleveland went with red sleeves and hose, prompting lots of people to comment that it was like the 1990s all over again. And they also wore their alternate Wahoo cap, prompting some of us to shake our heads. "¦ Mike Piazza isn't happy about the Mets selling his jersey from the first home game after the Sept. 11 attacks, and the Mets now say the shouldn't have sold it (thanks, Brinke). "¦ The Rochester Red Wings have added a memorial patch for Anna "Bert" Silver, the widow of former team president Morrie Silver. Anna died over the weekend (from G. Mittelstaedt). "¦ Two pieces of wearable technology — a sleeve that measures stress on elbows and a heart/breathing monitor — are reportedly now approved for in-game MLB use. Reminds me of when Tigers P Jason Johnson, who had diabetes, wore an insulin pump clipped to his belt in 2005. "¦ You've heard of cheeseheads? Here we have cheesesleeves (from Jeff Ash). "¦ Here's a good set of info on the Royals' World Series ring design. "¦ The White Sox have a new scoreboard. "¦ The Brewers debuted their new ball-in-glove alts yesterday. "¦ Blue Jays SS Troy Tulowitzki will do anything to keep using his ancient glove (from Chris Flinn). "¦ Ebbets Field Flannels owner Jerry Cohen has written a good piece on Jackie Robinson's Negro Leagues and winter league uniforms. "¦ New waffle-themed jerseys for the Richmond Flying Squirrels (from Tommy Turner). "¦ Good spot by Darryl Pickworth, who noticed that part of the button placket on Dodgers OF Adrian Gonzalez's jersey appears to have been sewn shut, creating a faux-button-front jersey that's actually a pullover. "¦ The Padres debuted their new brown retro alts, which included matte brown batting helmets. Additional photos here. No photo, but I'm told that the catcher's gear was blue. If so, that's unforgivable. "¦ There are clown costumes and then there are clown costumes. Wow — that is a seriously atrocious uniform (from JJ).

NFL News: Forty-two years ago yesterday, the Bills changed their primary logo (thanks, Phil). "¦ As you can see on that last page, the Bills have an "Important Dates in Bills History" logo, which is nice, but it includes the M&T Bank logo, which is not so nice. Douchebags. "¦ Here's a new one: An NFL draft prospect has become the first athlete to sign a shoe deal with Zappos (from Chris Flinn).

College Football News: Looks like Florida's white alternate helmet might be making a comeback. "¦ Michigan State's spring game will feature B1G championship/CFP patches (from Mike Bendert). "¦ Looks like Kansas is trying to woo a potential recruit with a new helmet design. This happens all the time, and most of these shiny objects don't make it onto the field (from Benny Armstrong).

NBA News: Yesterday's Ticker mentioned that the Rockets presented Yao Ming with a FNOB jersey at his introductory presser. That prompted this from Zach Loesi: "Yao Ming also wore FNOB in his first preseason game against San Antonio. I believe it is the only time he wore 'Ming' on the back of his uniform." "¦ The NBA hasn't yet pulled the trigger on uniform advertising, but the Raptors have already set a price for selling out the integrity of their unis. The article includes the word "inevitable" but somehow omitted the term "Manifest Destiny." Go figure. #NoUniAds (from @keithspisak). "¦ There's a uniform shop in Perote, Veracruz, Mexico, of all places, that has four NBA team logos painted on its outer wall (from Raymie Humbert). "¦ NBA sideline reporters on various networks wore garish outfits to show support for Craig Sager, who battling cancer (from Zach).

College Hoops News: Here are the logos of all the non-winning NCAA tourney teams (i.e., all the teams except Villanova) getting the "crying Jordan" treatment. "¦ CBS broadcaster Jim Nantz takes the necktie that he wearing during the national championship game each year and gives it to a graduating senior on the winning team (from Tommy Turner). "¦ The UConn women's team has a logo to celebrate its 11 championships.

Soccer News: After more than 30 years, Philips will no longer sponsor advertise on PSV Eindhoven's jerseys. "¦ A design by the singer from One Direction received the most support in an online jersey-design poll by Doncaster Rovers (from @holycalamity). "¦ New crest for the U.S. Open Cup (from Jay Winkler). "¦ Andres Iniesta wears two captaincy armbands — one for Barcelona and from UEFA.

Grab Bag: France, a country that is essentially a giant humidor with a famous tower sticking out of it, has taken the extraordinary step of mandating plain, logo-free cigarette packaging, and the UK will soon be doing likewise. I'm fairly certain this could never happen in America, unless maybe the tobacco companies' logos were replaced with photos of handguns or something like that. Which, when you think about it, would actually be rather appropriate. "¦ The Ottawa Senators' press box had Sens-themed cookies available for reporters (from Jerry Wolper). "¦ After a decades-long wait and an online petition campaign, Greg Louganis is finally being featured on a Wheaties box. "¦ Golfer Bryson DeChambeau uses unusual clubs. His irons and wedges that are all the same length and weight. "¦ A Sikh officer in the U.S. Army can keep wearing his turban and beard, even those things are normally banned in the military. "¦ New logo for the Rock & Roll Hall of Fame. Interestingly, the "and" in the Hall's name is now an ampersand (from Jason Hillyer). "¦ New logo for HP's new "premium" product line.