Remember when we recently talked about Kevin Durant's new signature footwear blurring the line between sneaker and sock? He blurred it a lot more seriously during pregame warm-ups for last night's Jazz/Thunder game, wearing a sneaker with a built-in orange sleeve that went all the way up to his calf — yowza! There's a fairly entertaining article about this here.
Durant wore something a bit more sedate for the game (and, as you can see the Thunder wore their sleeved alts).
•  •  •  •  •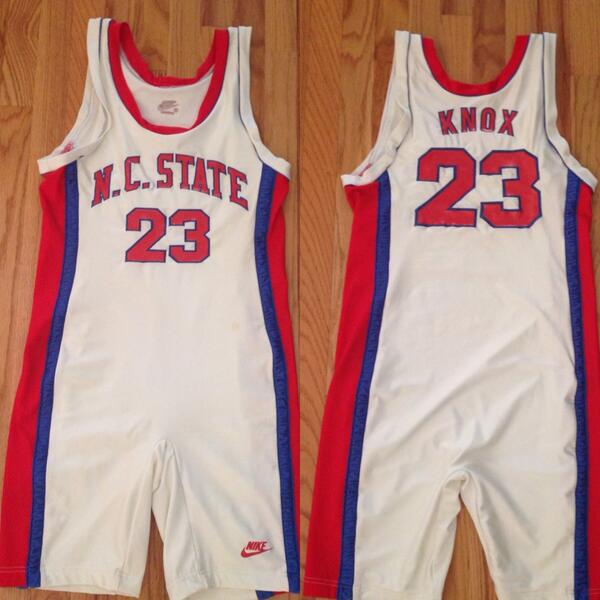 Click to enlarge
Friday Flashback: With college hoops still the dominant sport of the moment, my weekly Friday Flashback column on ESPN takes a look back at North Carolina State's infamous unitards from 1989. Check it out here.
And as long as we're talking ESPN, here are the results of the Lions-redesign contest and my Sweet 16 rankings.
•  •  •  •  •
Photos by Mary Bakija; click to enlarge
Uni Watch live show: I gave a presentation last night on the evolution of baseball pants and hosiery. As you can see above, I began by contrasting the looks of two pinstriped New York sluggers — Babe Ruth and Lucas Duda — and then proceeded from there.
At a few junctures, I served as my own visual aid:
And look, they even listed me on the marquee, if you want to call it that:
The evening also featured interviews (not by me) with a locksmith and a gossip magazine fact-checker, both of which were really interesting — a very good night.
• • • • •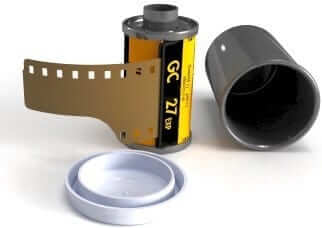 PermaRec update: We're all familiar with the phenomenon of found photography — old snapshots available at flea markets and such. They're intriguing, but there's a guy out there who specializes in something even better: found undeveloped film, which he then develops, with very interesting results. Get the full story over on Permanent Record.
• • • • •
The Ticker
By Paul

'Skins Watch: The Tewksbury (Mass.) School Committee has voted to keep calling its teams the Redmen and retain the school's Indian-head athletics logo. The 4-1 vote went against the recommendation of the school superintendent.

Baseball News: Mets P Matt Fratboy continues to embarrass himself regarding matters sartorial. Latest example: He says, "I think a lot of women would be impressed by my shoe collection … It's getting to the point where it's ridiculous: I have too many suits, over 20. My suit game has stepped its level up, and that has a lot to do with my stylist, Khalilah Beavers." Uh-huh. Let's remember that this is a guy who as of one year ago didn't know how to tie a necktie. Boys with toys. … Buried within this story is the news that the Trenton Thunder will wear pink jerseys on May 13. … Nats promos this season include depicting Bryce Harper as Frank Sinatra, Luke Skywalker, and a Chia Pet (from Tommy Turner). … Here's set of pretty cool illustrations of 1990s sluggers. "I like the use of teal and purple to tie in the aesthetics of that era," says our own Mike Chamernik. Surprisingly enough, I agree! Nice work. … The Softbank Hawks have come out with a line of trading cards for the female beer vendors (from @holycalamity). … Ohio University's softball team has a pretty distinct helmet design (from G. Mittelstaedt). … I did fun a radio interview yesterday in which I discussed MLB unis and March Madness unis. … Here's a really fun idea: For Mother's Day, what if the Cardinals changed their birds on the bat to female cardinals? (From David Stephens.) … Under Armour is apparently pressuring Auburn to wear some newfangled baseball jerseys (from Clint Richardson). … Thanks to a video game leak, we have our first looks at the National League and American League BP jerseys for this year's MLB All-Star Game. Not bad! Note that the N.L. is shown wearing grey pants and the A.L. in white, because the A.L. is the designated home team this year, even though the game is in San Diego (from Bryan Wiedley.) … Autism awareness jerseys for the Myrtle Beach Pelicans. … Watsonville High in Arizona has some crazy mono-mustard uniforms. … Here's a really good gallery showing the many jerseys — and many jersey sizes — from Bartolo Colon's career. … Cola wars at Citi Field: The Pepsi Porch is now the Coca-Cola Corner. Douchebags.


Pro and College Football News: A devastating new investigative report shows that the NFL's concussion research over the past 20 years or so was even more flawed and inaccurate than previously thought. This continues to show why it's wrong to say players "know the risks" when they suit up, because the real risks have been fudged for decades. … The jokes just write themselves: Someone on Twitter wrote to me yesterday to say, "The Browns were on to something when they made their big change last year. #TrendSetter." I wrote back, "I think you mean they were on something, not on TO something." … Speaking of the Browns: With Robert Griffin III joining the team yesterday, here's your obligatory jersey update (from Brinke). … George Miller missed out on the Lions-redesign contest, so yesterday he submitted a late but amusing entry. … Rams coach Jeff Fisher was on Dan Patrick's radio show yesterday and was asked about the team's uniforms (from Tim Dunn). … The Packers are seeking fan photos that will appear on tickets for one game this season (from Jerry Nitzh). … Rutgers is going back to a more traditional look (thanks, Phil).

Hockey News: Saturday's minor league action will feature two things you don't often see: Wild Turkey Federation jerseys tomorrow for the Wichita Thunder, and a 400th-game jersey for the Amarillo Bulls. … The NAHL is changing outfitters, switching from Easton to Bauer (from Patrick Thomas). … Player-designed jerseys tomorrow for the Grand Rapids Griffins. … Retired G Mathieu Garon had his mask stolen a while back and has now found it for sale online (thanks, Mike). … Just what the world has been waiting for: Islanders dynasty sneakers.

NBA News: Actor Ken Howard died yesterday. He played Ken Reeves, the fictitious former Bulls player-turned-high school coach, in the old TV show The White Shadow, all of which prompted the following from Steve Mond: "If I were a Bulls executive, I'd absolutely be advocating for a 'KR' patch to commemorate Ken Howard's death. Which, of course, got me to thinking, has there ever been a memorial patch for a fictional character associated with a team?" Good question. Anyone..? … Some rappers have produced a line of NBA-themed T-shirts (from Andrew Cosentino). … The Nets' new D-League affiliate, the Long Island Nets, released their logo and uniforms (thanks, Phil). … The NBA might pull the 2017 All-Star Game from Charlotte if North Carolina goes ahead with its new anti-LGBT law. Good for them.

College Hoops News: I put this in the baseball section, but I'll cross-list it here: I did a fun radio interview yesterday in which I discussed March Madness unis and MLB unis. … Whoa, check out this team wearing untucked jerseys with a giant "X" on the front. "Gotta be late-'70s Xavier, right?" asks Douglas Ford. That would certainly be my assumption, yes. … Oregon, which had worn neon-yellow unis for the first two games of the NCAA tourney, switched to this white design for last night's win against Duke. Much better.

Soccer News: With the death of former Netherlands player Johan Cruyff, here's an article about why he wore two stripes instead of the usual three-stripe Adidas design, plus an additional article about his iconic No. 14 (both from Yellow Away Kit). … New jerseys for Bayern Munich. … Millwall FC — an East London club playing in League One, the third tier of English football — is holding a kit-design contest (from Michael Mrozinski). … New kit for Albania. … Spain G Kepa Arrizalabaga, disappointed in his own play, bit and then tore his jersey yesterday. … In that same match, Spain's non-keeper jerseys were pretty out there. I kinda like it, but Ohad Gilberg wasn't too pleased.

Grab Bag: I've long been a fan of Tender Buttons, a Manhattan shop that specializes in new, old, and collectible buttons. Here's a great article and slideshow about it. … New logo for Northern Kentucky athletics. Most people who've weighed in seem to think it's a downgrade, and I'm inclined to agree. … New logo for the city of Richmond, Missouri. … Some interesting notes regarding college fencing uniforms here. … Here's a really good obituary for the guy who invented the button-down collar, among other shirt innovations. … Vintage cricket photo from Graham Clayton, who writes: "Former Australian cricket bowler Stuart MacGill wore a towel tucked into his trousers when playing, in order to wipe sweat off his hands when bowling."