Nike released Kevin Durant's latest signature shoe yesterday, the KD8 Elite.
I don't usually delve into the world of sneakers, but this one has an interesting wrinkle that merits further discussion. Reader Conor Levey spells it out much better than I could, so I'll pass the baton to him:
The KD8 Elite has an interesting element: the knit sleeve Nike has been adding to the ankle/collar of many shoes lately is calf-length. Moreover, it features large swoosh logos on the inner portion of the sleeve: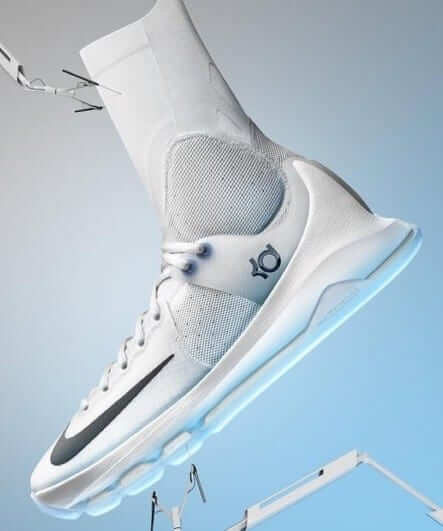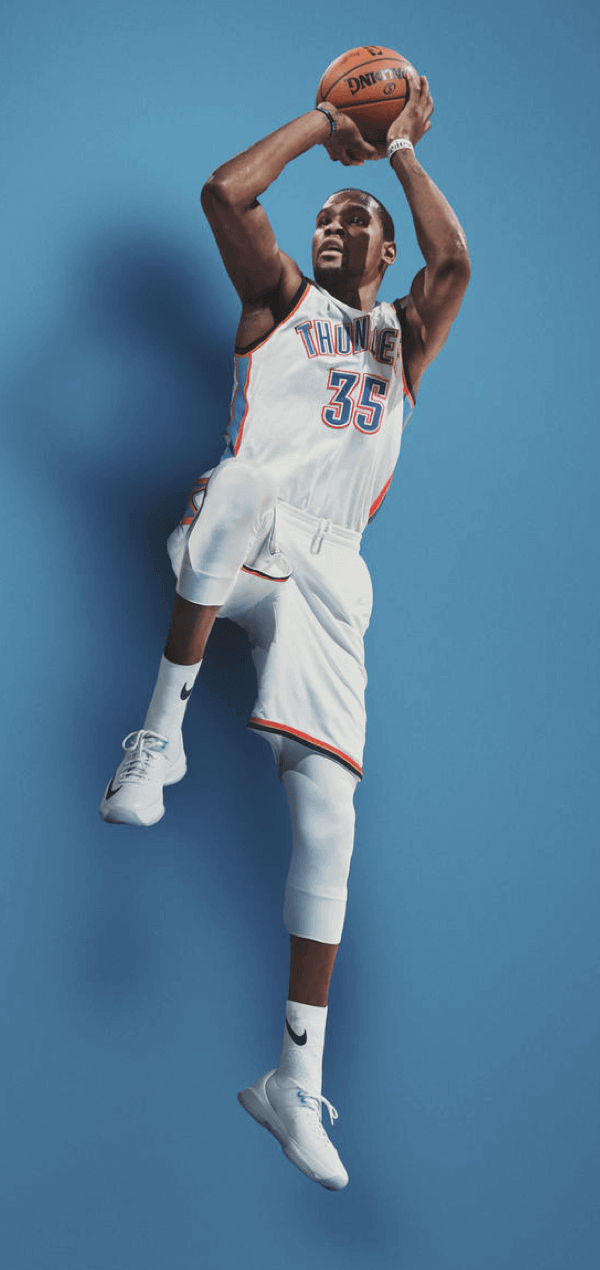 With Stance's recent splash getting the NBA sock deal, it's interesting to see Nike extend the sleeve to the same height as most socks. Leo Chang, the shoe's designer, says, "The KD8 Elite is conceptually designed to blur the lines between the shoe, sock and tight; seamlessly transitioning between each so you can't differentiate where one begins and the other ends."

Okay, but don't you think this might be a subtle move by Nike to get their logo in that space instead of Stance's? Might this be something we see more of as Nike takes over the NBA uniforms in 2017-18? It feels like a semi-logical extension of what they've already been doing with the ankle sleeves, and a semi-cynical attention grab. It strikes me as equal parts annoying and savvy on Nike's part.
Interesting analysis by Conor. As several readers have noted recently, Stance has been getting an outsized share of media attention, even though it seems to me that the new sock designs aren't that visible on most players. Between the tights, the leg sleeves, and now the sneaker-extension thingies, socks have a lot of competition for lower-leg exposure on the basketball court these days. It's interesting to see a uniform region in such flux.
• • • • •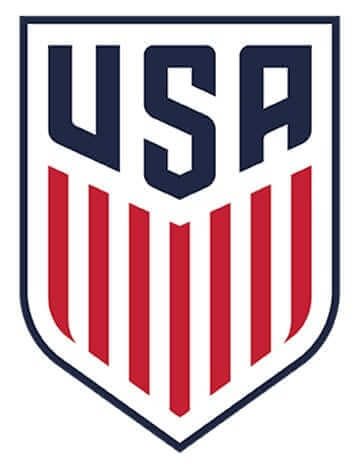 Out of my element: U.S. Soccer unveiled its new crest yesterday. Many of you have been asking what I think, but I feel ill-equipped to comment because I'm not a soccer fan and have no context in which to assess the design (although I will say that I'm not nuts about the typography).
So: What do you think? Soccer fans are encouraged to discuss the crest in today's comments.
•  •  •  •  •
Lions redesign reminder: In case you missed it yesterday, I'm running a Detroit Lions redesign contest over on ESPN. Full details are available here.
•  •  •  •  •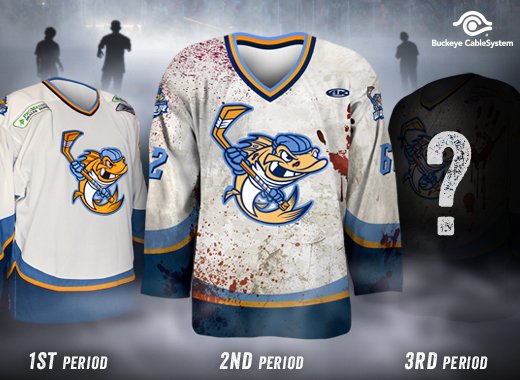 Too good for the Ticker: The Toledo Walleye are the latest team to do a Zombie Night promotion, but they're taking it an extra step: On March 12, they'll wear regular jerseys in the first period, then blood-splattered jerseys in the second period, and then some mystery design (which I figure will just be more blood and gore) in the third period.
Are the players going to be swapping out their jerseys at each intermission? Or, more likely, will team employees be spraying them with red dye? Either way, I like the idea.
(My thanks to @ThatShaggyMatt for letting me know about this one.)
• • • • •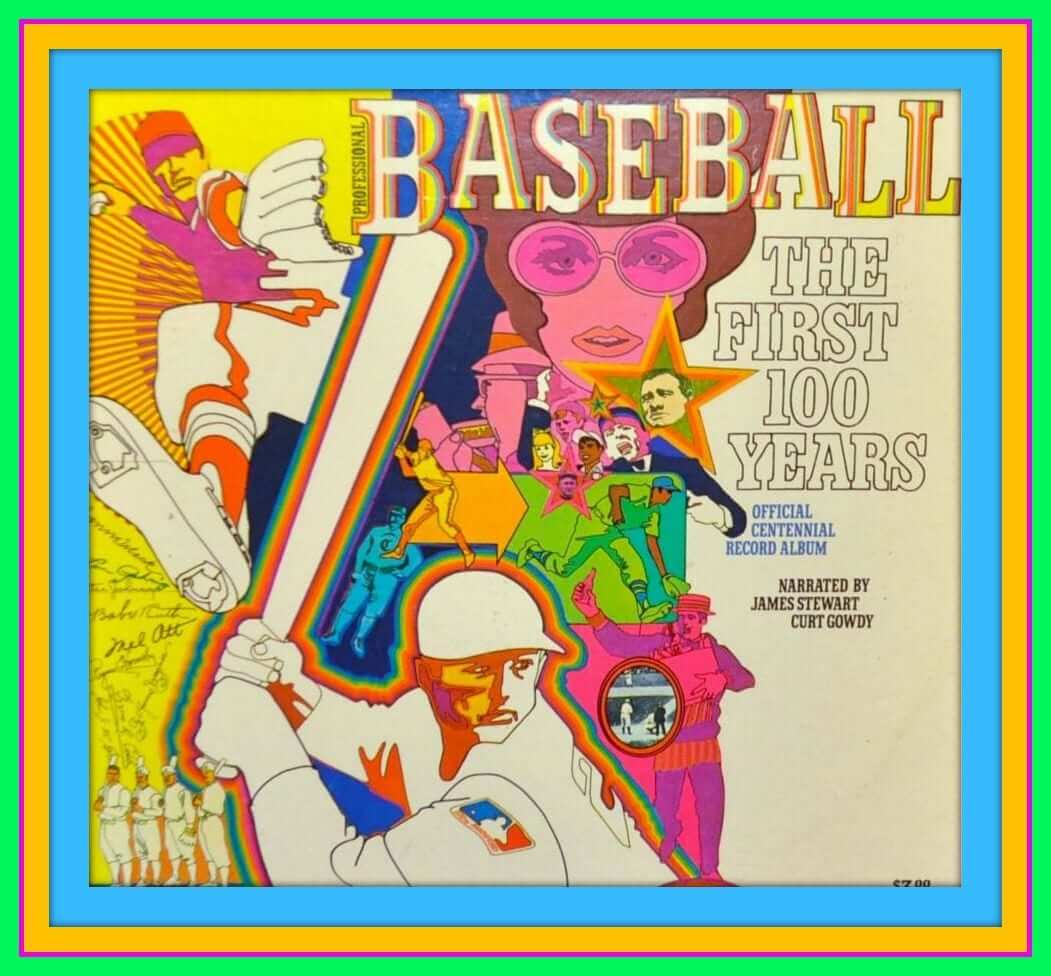 Click to enlarge
Collector's Corner
By Brinke Guthrie
Will you look at this totally funky album cover art on Baseball: The First 100 years, narrated by none other than Curt Gowdy and Jimmy Stewart. (Kids, ask your parents.) This was issued by Fleetwood Records, which released other commemorative records, like the Big Red Machine ones I wore out. Cue Al Michaels: "The pitch to Bench..change, hit in the air to deep right field- Clemente at the fence- she's GONE! Bench, who hits all his homers to left, hits one to right, and the game is tied." Heh, typed that from memory, too. Now here's the rest of the week:
• We've got a classic-looking Pittsburgh Steelers painting here, created by the Master himself, Dave Boss. Prefect for any Stillers fan, eh?
• Will the Rams decide to go back to this look? Doubtful, but it looks good on the cover of Sports Illustrated's 1967 pro football preview issue. Although this player is shown wearing Adidas, it was still about three years before the Three Stripes invaded the league along with Puma. Mainly a Riddell league at that point (back when Riddell was known as much for footwear as for helmets).
• This 1970s Jantzen sweater is "officially endorsed by the National Football League." Yet there's no league branding anywhere.
• Here's a 1960s Stahl Urban New York Giants varsity jacket for the toddler-sized G-Men fan in your family.
• It's not worth anything close to $100, but here's a nice looking St. Louis Blues/Maxwell House promo mug for the 1988 U.S. Olympic Team.
• Dress like an NFL alum with this 1960s necktie.
• Here's a vintage Cincinnati Bengals ski cap from way back in the day, with that great-looking "Official Licensed Product" tag. Whenever I spotted that tag at Sears, I knew it was authentic. It was a Pavlovian thing — see tag, ask Mom to buy it.
• Great artwork on this set of 1971 Instant Replay MLB discs from Mattel.
• Here's a 1960s Campbell's Soup "Grid Kid Club Kit," complete with NFL and AFL decals, membership card, and training manual.
• This 1960s Chicago Bears bobble is in good shape!
Follow Brinke on Twitter: @brinkeguthrie
•  •  •  •  •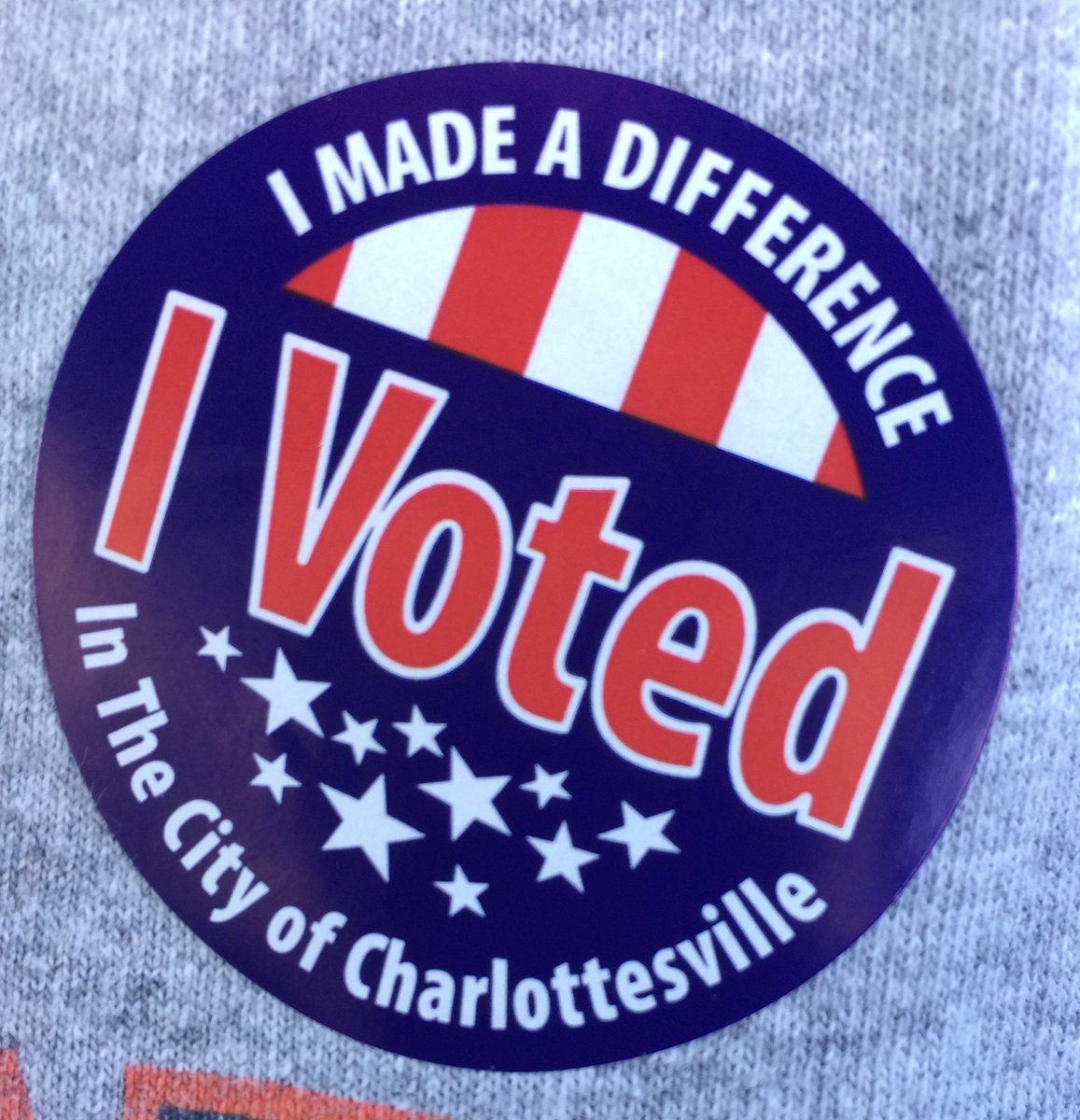 Sticker request: Reader Chris Howell has suggested that a look at the various "I Voted" sticker designs being used in today's Super Tuesday primaries — an excellent idea. If you received such a sticker, please feel free to send me a photo of it. Thanks.
• • • • •
The Ticker
By Mike Chamernik

Baseball News: A Redditor examined MLB players' Wikipedia pages and found that nearly half of their photos come from Camden Yards. The reason? A freelance photographer in Maryland contributes his work towards Creative Commons and Wikimedia Commons, which media outlets can use for free. Sure enough, I used one of his photos in an article I wrote last summer. … Looks like the Pirates will have St. Patrick's Day uniforms this year. … JJ Hardy has new custom New Balance cleats (from Christopher Overholt via Phil). … Yesterday's Ticker mentioned that the Red Sox had two No. 7s in camp. Now they have two No. 12s (from @wdw_ben). … Roughly 39 minor league teams are having Star Wars nights this year, and that includes the Buffalo Bisons. Theirs will be on July 23 (from Matt Wilcott). … Virginia Tech will wear white uniforms today. Andrew Cosentino notes the VT logo on the belt loop. … The Diamondbacks are adding a dog park to Chase Field. … "Just came across the album cover of a new soul/R&B singer Nigel Hall," says Ben Fortney. "What caught my eye was the cap he's wearing on the cover. It's a takeoff on the old MLB WWII Health patch. I'm assuming it's from the skateboarding brand Diamond Supply Co., although a quick look at their site didn't turn it up. Either way, love that the Health patch lives on." … The Mariners' Mayckol Guaipe changed his uniform number from 53 to 48 in memory of late teammate Victor Sanchez, who died last March (from Tim Dunn). … Wayne Koehler took some shots of the Tigers' Spring Training game today, getting some detailed looks at the inlaid artwork in the jersey numbers and letters, the Spring Training logo patch, and Jared Saltalamacchia's delightfully long NOB. … The Kane County Cougars' mascot, Ozzie, will be fiercer and more athletic this year. He was pretty cutesy before. … @HighSockSundays made a really beautiful DIY Cubs throwback pennant. The ivy is a particularly nice touch. … Speaking of the Cubs, here's a look at how bad their home pinstripes look with the new mesh panel.


NFL & College Football News: Uproxx reimagined every team's logo as its respective city's most popular food. While I enjoyed the logos, I also learned about frybread, which is a traditional Navajo treat. It looks delicious! (From @Walkerdb7.) … Virginia Tech has announced the dates of their White Effect (Sept. 17), Orange Effect (Sept. 24) and Maroon Effect (Oct. 20) games. Fans at the game will wear matching color T-shirts for each (from Andrew Cosentino). … New field design for West Virginia (from David Cline). … Michigan QB John O'Korn has a new number, and he was wearing Nike cleats with his Adidas uniform the other day. … According to @TulaneSportsGuy, Tulane will soon unveil a powder blue jersey. Also, the stripe and number outline patterns will be different. … Navy will retire QB Keenan Reynolds's No. 19.

Hockey News: Eric Staal, acquired from Carolina this week, and brother Marc will both wear first initials for the Rangers. That leads to a good question from @redbuppy: Will the Hurricanes remove the "J" from Jordan Staal's NOB now that Eric is no longer with the team? … Carolina wore black alts two nights ago, so Fox Sports Carolina changed the Hurricanes' score bug color to black (from John Muir). … You can vote for Michigan's coolest high school hockey jersey. Many looks are heavily inspired by pro teams (from Alex Dewitt). … The Fargo Force have a new jersey to honor a local police officer who was killed in early February (from Phil). … The Flyers inducted Jimmy Watson into their Hall of Fame last night and wore a patch for the occasion. The festivities also included this very nice Flyers blazer (from J.Walker). … Here's a shot of Blackhawks D Brent Seabrook wearing a Blackhawks bowling shirt.

NBA News: Ads on NBA jerseys will almost certainly not reduce the amount of commercial time during games (from Phil). … The Mavericks are letting fans design and submit court designs. The winner will get season tickets for next year. In 2014, the Mavs held a similar contest where fans designed an alternate jersey that they began wearing this year. … The Clippers introduced a new mascot last night, and everyone has already decided that it's the worst mascot ever. He wears red Chucks, so team employees did likewise last night.

College & High School Hoops News: The teams at Notre Dame High School in Iowa are named the Nikes. "Is this the ultimate logo creep?" Jason Mohr jokes. Of course, they're named after the Greek goddess. Here's some background info on the name. … An Ohio sportswriter is against trends like rolled waistbands and compression tights in high school hoops.

Soccer News: U.S. Soccer has a new jersey typeface (from Conrad Burry). … Toronto FC's 2016 away kit has leaked (from Robert Turudic).

Grab Bag: New jerseys for Professional Bull Riders. … A company is open-sourcing rejected logos for anyone to use. … A Seattle fashion designer is creating new uniforms for Alaska Airlines. … The Hawthorn Hawks — that's an Aussie rules football team — are inviting fans to design the team's new alternate jersey (from Omar Jalife). … A Super Rugby mascot in Japan looks like he's on drugs (from Gareth Hooton).