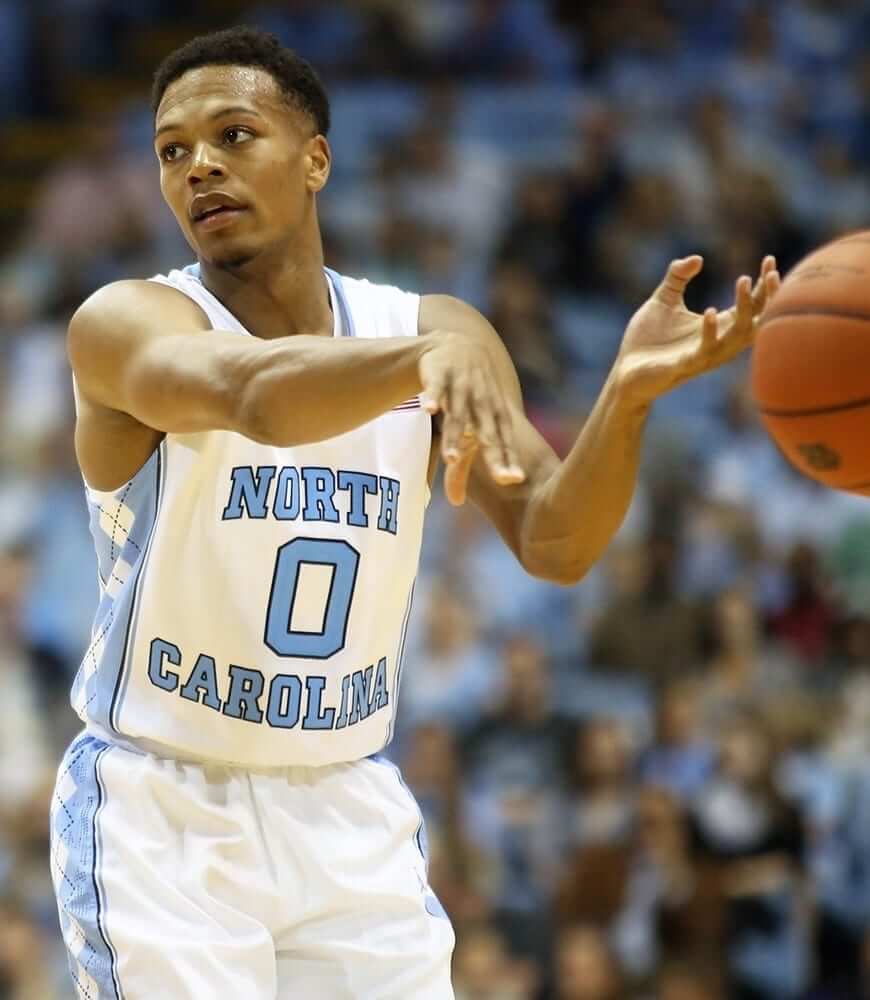 Got a note the other day from reader James Peterson, as follows:
Like many, I haven't been watching much college basketball until March Madness. When did the uniform number 0 become so popular? Seems like nearly all of the games I've watched have had at least one No. 0 on the court, if not for both teams.

Is it Westbrook-related? Aaron Gordon? Was the number not previously available but is now usable?
I initially told him, "Eh, it's just one of those things." But then I saw a few tournament games over the weekend (much like James, I don't watch much college hoops during the regular season), and I too was struck by how many zeroes — and double-zeroes! — I was seeing on the court.
Of the teams that have made it to the Sweet 16, 13 of them have a No. 0 on the roster (including UNC's Nate Britt, shown above), and two more — Oklahoma and Iowa State — have a No. 00. The only holdout is Duke, whose lowest-numbered player wears No. 2. I didn't have time yesterday check the rosters of the teams that have been eliminated from the tournament — come on, it was my birthday, cut me some slack — but I'd be happy to post those stats if anyone would like to compile them for us.
Phil is more attuned to college hoops than I am, so I asked him if he knew why these numbers are currently so popular, and/or if there had been a recent rule change, but he said he didn't know. And I was too busy yesterday to do any real reporting on this (have I mentioned that it was my birthday?), so I'm being really lazy here and asking all of you: What's the story behind all the zeroes and double-zeroes in the NCAA these days? Is it a homage to anyone in particular? Is it in response to a rule change? Or is it just kids these days?
If you know the answers to any of these questions, please enlighten us in the comments. Thanks.
•  •  •  •  •
Click to enlarge
Bombs away: The Tugboat Captain got me some very nice birthday gifts yesterday, including a beautiful vintage bomber jacket that she had recently seen me admiring at a flea market. It's just the right size — for Uni Watch boy mascot Tucker (whose own birthday is coming up in about six weeks, but I guess he couldn't wait).
•  •  •  •  •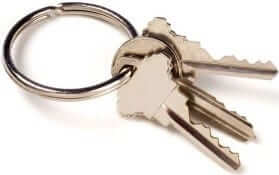 KRC reminder: In case you missed it yesterday, the debut installment of my new McSweeney's column, "Key Ring Chronicles," is now up and running. It's a reprise of the story about the quarter I keep on my key ring, which I've told here on Uni Watch several times, but we'll have fresh content beginning later this week.
This is a crowd-sourced project, so please share the link with friends who you think might be interested. And if you have a special object on your own key ring whose story you'd like to share, please send photos and descriptions/stories/etc. here. Thanks.
• • • • •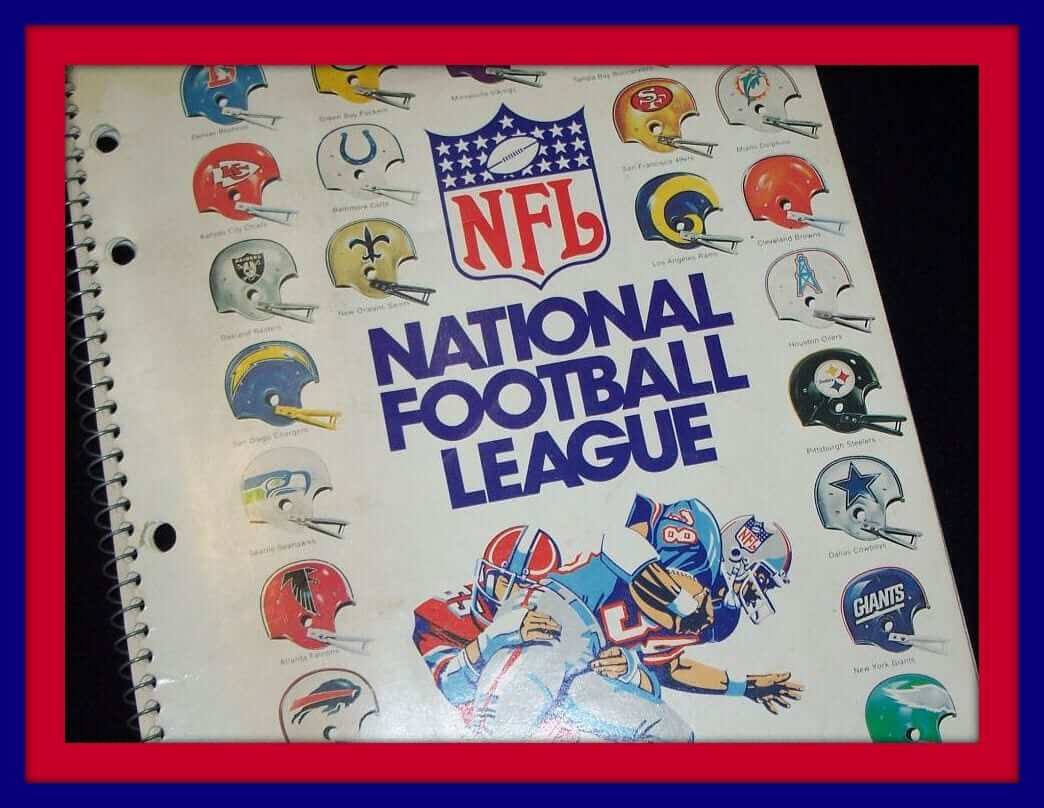 Click to enlarge
Collector's Corner
By Brinke Guthrie
Love NFL helmet style shown on this late-1970s vintage NFL notebook. (And it has team signals shown on the back, too!) Was always partial to this design, too, but only on pennants. The notebook style was on all sorts of printed materials, decals, etc.
Now on to rest of the week:
• Nice artwork on these 1970s-era Gale Sayers playing cards.
• Check out this DIY Dolphins helmet clock!
• The Chiefs design is timeless, as shown on this lightweight jacket from Starter. Can't be 1970s as the listing says — more like 1990s, given the presence of the Pro Line logo.
• "Phil" and Phillis" shown playing some ball on this 1970s Phillies coffee mug.
• This 1970s Reds batting helmet doesn't seem to offer much in the way of protection, does it?
• Here's a 1967 "NFL AFL Pro-Football Guide." You get "Telespotter © Depth Charts For Lineup Matching." And don't forget, "American Airlines sponsors NFL TV Broadcasts and provides this guide to increase your viewing pleasure." This thing had to be printed in the summer, which would really limit its accuracy — how would they know depth charts and starting lineups?
• This 1970s Texas Rangers bobblehead (not 1960s as the listing states, obviously) is in pretty fair shape. Never had one of these, sadly.
• I still maintain that the "'76" font on this Dodgers yearbook cover was done deliberately to match the Union 76 sign in the Dodgers Stadium outfield. Who's with me?
• Of course, I always swear that the three-stripe design for the Patriots' road socks are a holdover from when Adidas did their uniforms. The three-stripe motif exists nowhere else on their scheme, and is well known as an Adidas device. Who's with me?
• Don't recall this promotional logo, maybe because it wasn't geared toward me. The listing calls this a women's "Pitch for Chevy" (and Major League Baseball) promo shirt.
•  •  •  •  •
The Ticker
By Mike Chamernik

Baseball News: The mother of Reds prospect Cody Reed guilt-tripped him into wearing glasses on the mound (from Chris Flinn). … The Red Sox and Cardinals went red-vs.-red yesterday (from Jaylen Lane). … The Bowling Green Hot Rods say they will wear stirrups this year (from Gary Moore). … Nice collection of old Cuban baseball photos and ads (from Ciaran Boyle). … The Padres removed their retired number signs that were atop the batter's eye and replaced them with an ad for a casino. The numbers will now be displayed behind home plate. … The Nats are looking to sell the naming rights for Nationals Park. … A slow-pitch softball team in Fayetteville, N.C., is called the Dirty Stirrups.


Pro & College Football News: The Rams will not be changing their uniforms until 2019, when they move into their new stadium. [I've actually known about this for two months but wasn't allowed to say anything. It's not surprising, given NFL rules and logistical realities. "" PL.] … Interestingly, that same article says that while the NFL requires two years' notice for a team to change its primary uniforms, only one year's notice is required for changing throwbacks, and the Rams might therefore explore getting a new throwback prior to 2019. … Meanwhile, here's an article about the Rams boxing up all their old gear in St. Louis (from Brinke). … Washington's new AFL team will not be named the Bullets (from Phil). … Seems that Miami's website uses a Photoshopped Dolphins game to make it look like the Hurricanes play in a sold-out stadium. James Gilbert notes that the end zones are Photoshopped, too. … Here's as good a look as you'll ever see at the no-frills jerseys that the Jets wore for preseason games in 1969 and '70 (from @diegodougie).

Hockey News: At least one NHL ref wore a No. 91 helmet decal in honor of injured linesman Don Henderson, who was checked by the Flames' Dennis Wideman in January (from Stan Capp). … Minnesota's women's team won the national championship but the players were given Men's Frozen Four caps (from @JeffreyBigMoney).

NBA News: The Pistons still use the Bucks' old logo on the visiting locker room door at the Palace (from Nick Haering). … The Pacers and Sixers went gold-vs.-blue last night (from Michael Preston).

Soccer News: Newcastle manager Rafa Benitez wore Cartman socks this weekend (from @yellawkt). … Portugal's Sporting CP wore intentionally misspelled names on its shirts in protest against counterfeit jerseys (from F.K. Yaaj). … Women's retail jerseys have a lower neckline and shorter sleeves than men's jerseys (from Phil). … New Nike kit for the Caltex Socceroos (from Phil). … Here's a ranking of Australian soccer kits over the years (from Graham Clayton).

Grab Bag: Vote here for your favorite NASCAR paint scheme of the week (from Joseph Dawisha).