Marcus Smart knows how to read a defense: pic.twitter.com/vQ2uc8jXFc

— Boston Celtics (@celtics) March 16, 2016
If you were somehow unaware that today is St. Patrick's Day, the sports world will certainly do its best to remind you. MLB teams will be wearing green for their spring training games, NHL teams will be wearing green for pregame warm-ups, and so on. Green, green, green.
Green has been my favorite color ever since I was a little kid, and it's a color that's way underrepresented in the uni-verse, so I'm happy to see more of it, even if only for one day. Still, the whole green thing long ago started feeling like a played-out cliché, no?
That's why I really liked what the Celtics and Thunder did last night (see video above). Sure, the Celtics wore their gold-trimmed St. Paddy's Day unis, but the key move was that someone had the smart idea of having the Thunder wear their orange alts. Green and orange — the colors of the Irish flag.
So much better than the default green option. Not sure if the NBA intentionally scheduled this game with the green/orange uni match-up in mind all along, but whatever — it looked great. The only blemish: Too bad they didn't complete the flag-color trifecta by having the refs wear their alternate white jerseys.
A few other notes from that game:
• The Celtics wore some very nice St. Paddy's Day socks:
•  The Celtics wore pregame shooting shirts in support of the Boston Marathon:
Tonight, the @Celtics are wearing special shootaround shirts in support of the @BostonMarathon! 🍀🏃💚 pic.twitter.com/4NfYvt4KqG

— Only In Boston (@OnlyInBOS) March 16, 2016
•  And in another pregame note, Evan Turner of the Celtics exchanged jerseys with soccer player Charlie Davies of the New England Revolution: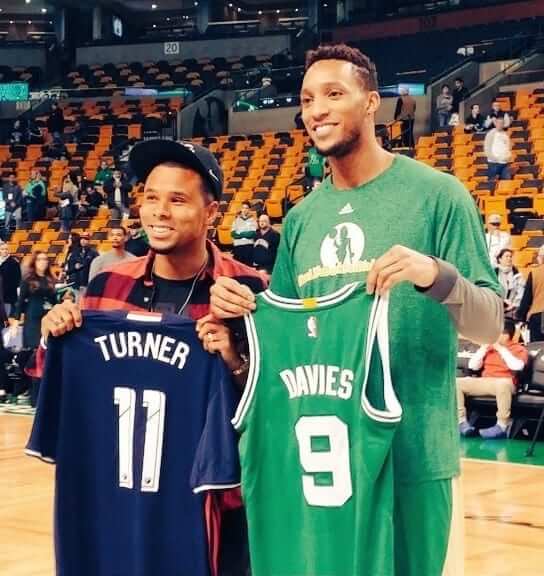 That's a lot of uni bang for one game's buck!
(My thanks to Phil and @zj100 for their contributions to this section.)
• • • • •
The Ticker
By Paul

Baseball News: Rice is wearing an "MG" memorial patch for university president emeritus Malcolm Gillis, who passed away in October. … Bit of a 1970s Padres-ish look for Appalachian State (fromRay Warren Jr.). … Not sure which schools are involved, but a high school game in Oklahoma yesterday featured green vs. green. … New uniforms for the Chico Heat (from Brandon Sparks). … I don't care for the very dark grey that the D-backs and several college teams are wearing, but for some reason I do like these pinstriped dark greys being worn by Kent State (from Jason Tirotta). … The Durham Bulls are adding a new mono-navy alt with several old-school touches — high-cuffed pants, NNOB — and have showcased it on this very nice interactive page. … Here's a good overview of the green St. Paddy's Day gear that the Mets have worn over the years. … Chicago has become the latest city to ban smokeless tobacco at stadiums, and the Cubs aren't happy about it. … Here's a new one: The Stockton Ports will wear Asparagus Night jerseys on May 21 (from Chris Flinn). … Also from Chris: We're used to seeing prospects wearing numbers like 89 or 93 during spring training, but Reds prospect Jake Cave took things a step further last night be stepping up to the plate in a jersey with no number! … The Germantown Red Devils — that's a 16u ASA team from Tennessee — wear mono-red unis with white pinstripes. … This is pretty awesome: A pitcher for Spirit Lake High School in Iowa tossed a pitch that ended up in the umpire's ball bag! Check it out (with big thanks to Chris Flinn):
One of the top plays from our trip. Keep an eye on the umpire's ball bag #FloridaSpringTraining @SLHSNewsbreak pic.twitter.com/tPmlGCWknC

— Spirit Lake Baseball (@SLBaseballNews) March 16, 2016

NFL News: Giants DL Jason Pierre-Paul, who wore a thick wrapping over his injured hand last season, says he won't wear the wrapping this fall. … The first rock show at the Vikings' new stadium will be played by Metallica, which is promoting the gig with Vikings-themed graphics (from John Muir). … Denver fans aren't happy about LB Shane Ray's new tattoo, which features a Chiefs logo. … A startup in Seattle is trying to build a safer football helmet (from Markus Kamp). … In a related item, the family of former NFL player Paul Oliver, who committed suicide in 2013, is suing Riddell, claiming that the helmet manufacturer should be held liable for the brain damage that led to Oliver's suicide. … A Broncos fan/designer has come up with a fairly detailed Broncos redesign concept (from Kary Klismet). … Some of the designer's renderings for the proposed new 'Skins stadium included fans wearing RGIII jerseys. Now that he's been cut loose, those renderings have been updated (from Tommy Turner). … Here's another article on the current state of the L.A. Coliseum, where the Rams will be playing for the next three seasons (thanks, Brinke). … I heard on the radio yesterday that Merrick Garland, President Obama's nominee to fill the vacancy on the Supreme Court, is red-green colorblind. Love to hear his thoughts on that first Color Rash game.

College Football News: Yesterday's Ticker included a photo of a new South Carolina helmet. Here it is being worn in spring practice (from @willchitty4).

Hockey News: St. Paddy's Day jerseys for the St. John's IceCaps (from Jeff Pollock). … The Sabres wore these St. Paddy's Day warm-up tops last night (from @bonesj0nes). … Very nice St. Paddy's Day jerseys for the Cincy Cyclones. … Here are the jerseys for the NAPHL Top Prospects Tournament. You can click on the thumbnails to see larger versions. … Purple Alzheimer's-awareness jerseys tomorrow night for the Tulsa Oilers (thanks, Phil). … A group of fans from Stockholm came to Anaheim last night and wore Ducks/Sweden Frankenjerseys to support Ducks C and Swedish native Rickard Rakell. Here's how they looked from behind (from Kenneth Le, Chris Cruz, and Bejamin Kassel). … Dartmouth G Charles Grant is a lifelong Maple Leafs fan, so his mask design has a Leafs history theme.

NBA News: Here's a day in the life of the Hawks' equipment manager. … Nike has announced its latest generation of basketball uniforms with all the usual claims — lighter, moister-wickier, and so on (thanks, Phil. … Also from Phil: The Pacers' Hickory throwbacks have been a bigger hit than the team expected. … The Rockets wore their red "Clutch City" sleeved alts at home, forcing the Clippers to look like shit as usual to wear white on the road (from @zj100).

College Hoops News: The First Four game between Holy Cross and Southern was color vs. color, and so was the Michigan/Tulsa game (from @LukeTesselink and Nathan Bryson, respectively). … A new study indicates that Notre Dame's uniforms don't much bang for the buck to Under Armour (thanks, Phil). … Speaking of Under Armour, several of their schools have striped side panels, including St. Mary's and Utah (Phil again). … How could someone be so sloppy and careless to position this March Madness decal upside-down? (From James Gilbert.) … If you want to fill out your NCAA bracket based on the best- and worst-performing uniform colors, here's how to do it (from Susan Freeman).

Soccer News: New jerseys for the Pittsburgh Riverhounds. … New uniforms for the New York Cosmos. I believe these are Under Armour's first uniforms for a U.S. professional soccer team, yes? … Here's Poland's Euro 2016 kit (thanks, Phil). … Not sure who this keeper is, but note the "No to Racism" armband (from Tim Cross). … Also from Tim: Juventus's Paul Pogba has joined Adidas, which has given him his own signature cleat. … New Estudiantes jersey. … Nike is debuting a new generation of soccer uniforms — lighter, faster, blah-blah-blah. Details here, and here's a close-up of the new fabric (from Patrick Thomas).

Grab Bag: DC is getting a new arena football team. No name yet (from John Muir). … "Dale Earnhardt Jr, and Jimmie Johnson are racing Batman- and Superman-themed cars, respectively," says David Firestone, "so NASCAR decided to show the evolution of Batman and Superman paint schemes over the years." … Chicago didn't give out "I Voted" stickers the other day, and people are pissed (with Jimmy Couto). … Albany lacrosse goalie Blaze Riorden wore last year's matte gray helmet yesterday while everyone else wore platinum (from Travis Holland). … "I saw this amazing vintage golf photo on the wall of the restaurant bathroom," says Bernie Langer. "I can't find any source information, unfortunately." … Remember when I recently wrote about how the uni-verse is behaving like part of the fashion industry? Now comes an article making it clear that Nike is playing to the fashion biz. Key quote: "While Nike may not overtly identify itself as a fashion brand, and while traditional runway names may not see it as a competitor, to consumers considering what piece of clothing to buy, it increasingly seems like one and the same." Recommended reading. … Kings of Leon drummer Nathan Followill is a big Oklahoma fan and sometimes uses white tape to transform the "O" on his bass drum into Nathan Followill">the OU logo (from Chris Davis. … A reader who prefers to remain nameless was doing scrolling through the channel guide last night and came across a listing for an adult film called 10 Hottest Uniforms. … Now that's a curling club logo (big thanks to OVCAcurls). … Happy birthday to longtime reader/pal R. Scott Rogers, a St. Paddy's Day baby. Have a great day, Scott!
• • • • •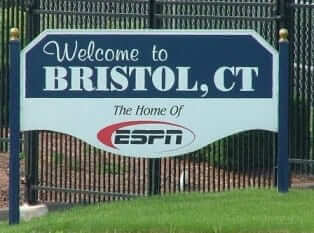 By the time most of you read this, I'll be on my way up to Bristol, where I'll be spending the day taking care of some ESPN business. And since I'll be on-site there, I'll get to record this week's Friday Flashback video in the ESPN studios, instead of via Skype like I usually do, which should be fun.
Because I'll be off the grid for most of the day and won't get home until very late, I won't be up to speed on all the stuff that's slated to happen today — the St. Paddy's Day unis, the new soccer kits, etc. — and won't be able to write about it tomorrow. Mike is on Ticker duty today and will do his best to include everything in tomorrow's Ticker, but my apologies in advance for not having more in-depth coverage. Thanks for understanding, and I'll see you tomorrow.