Click to enlarge
Brutal game last night in the Big Ten tourney, as Wisconsin and Nebraska looked like they were having an intrasquad scrimmage and wearing factory rejects that they picked up at the dollar store. Lots of additional photos here, if you dare.
•  •  •  •  •
Click to enlarge
Friday Flashback: With St. Patrick's Day right around the corner, my latest Friday Flashback column on ESPN looks at the history of St. Paddy's-based uniform promotions — not just green unis but also the Miami Floridians' "O"-based NOBs from 1971 (shown above). Check it out here.
•  •  •  •  •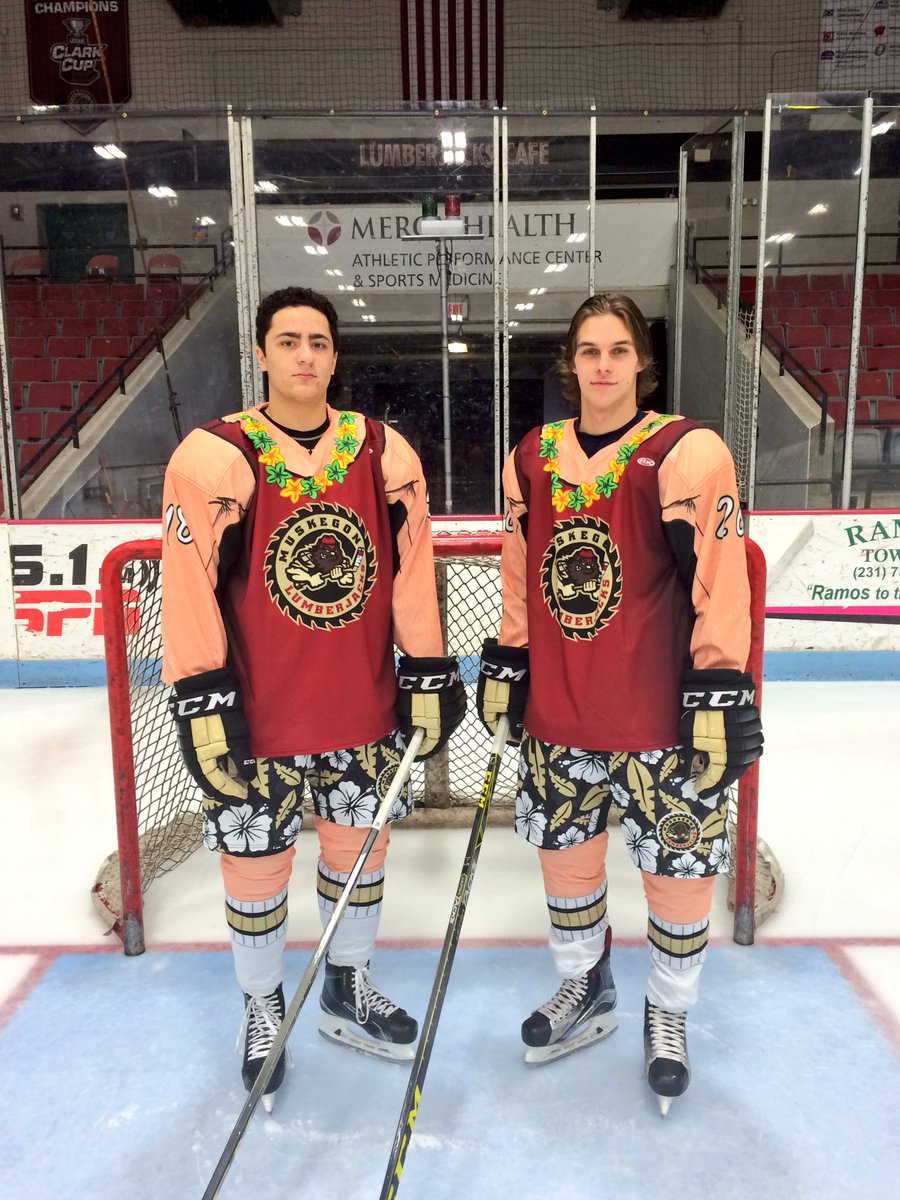 Click to enlarge
That's mighty white of you: The Muskegon Lumberjacks are having a "Beach Night" promotion tomorrow night. The uniforms, shown above, are pretty clever — as long as all of the players are white. Rumors that the team is also giving away flesh-colored crayons are almost completely untrue.
•  •  •  •  •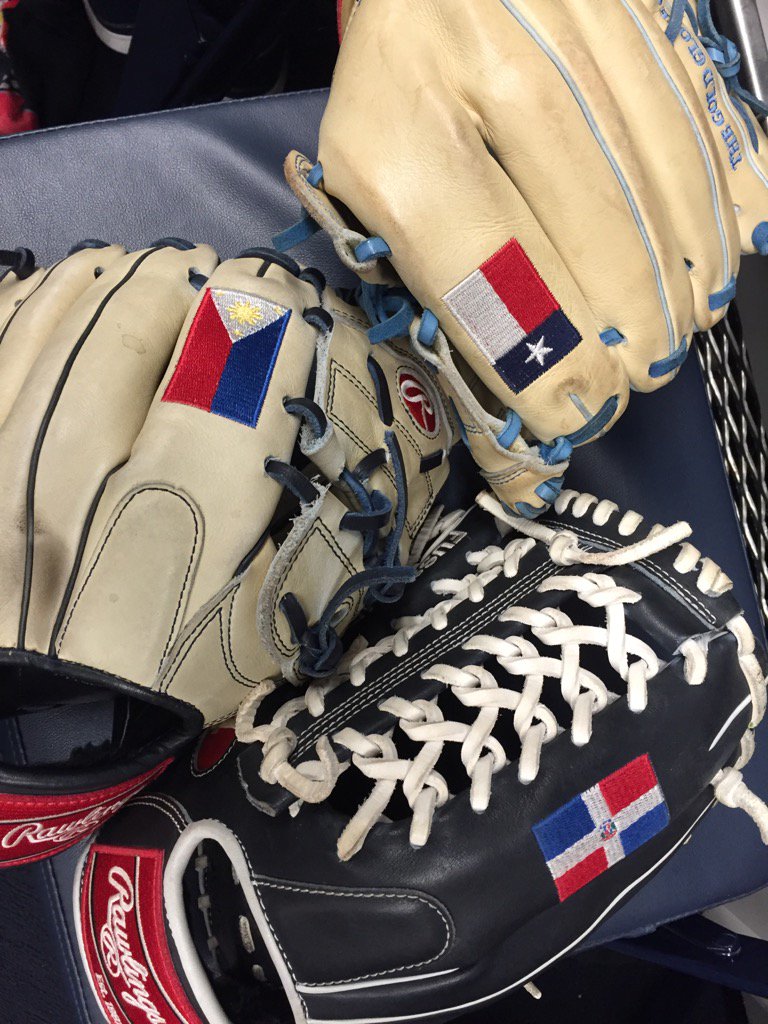 Click to enlarge
Mission district: Here's something really interesting: Most BYU students — about 99% — are Mormons, so their baseball players' gloves include the national flags of the countries or states where they served their Mormon missions.
(My thanks to Steve Rosenbeck for this one.)
• • • • •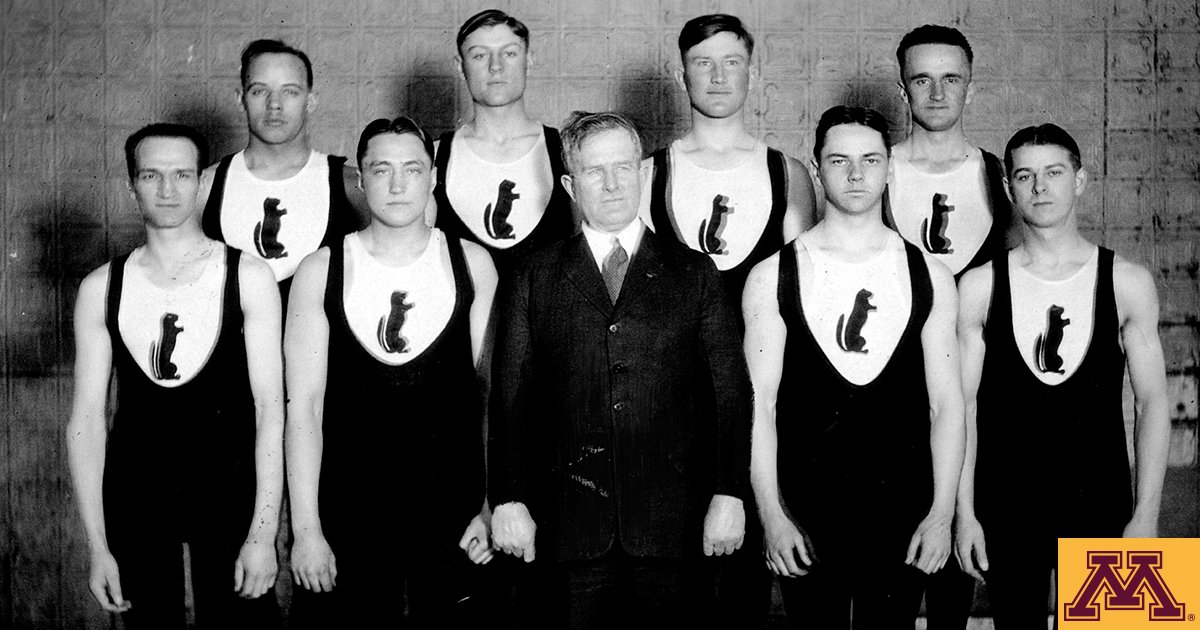 Click to enlarge
Too Good for the Ticker: Oh man, check out the completely awesome gopher logo used by the 1926 Minnesota gymnastics team — tremendous! I don't know if the school's other sports used this logo, but it should really be revived as a throwback, pronto.
(Major thanks to Justine Buerkle for this one.)
• • • • •
The Ticker
By Paul

Baseball News: Several images purporting to show MLB Asian heritage jerseys have been circulating on Reddit over the past 36 hours or so. I had my doubts about them for various reasons, and then Chris Creamer told me his sources confirmed that the images weren't legit. Now it turns out that they're concepts by the same guy who floated the phony All-Star Game pillbox caps last summer. … Pedro Alvarez, newly acquired by the Orioles, will wear No. 29 (from Andrew Cosentino). … Green St. Paddy's Day caps for Millersville (from Tyler Freeman). … The Mets will give away a Noah Syndegaard-en gnome. … MLB Gameday does a good job of capturing the D-backs' bloody pant cuffs (from Bryan Holdcroft). … Several new '80s-themed jerseys for the Frisco RoughRiders (thanks, Brinke). … David Price, now with the Red Sox, usually goes squatchee-free, but he had one yesterday. … New camouflage jerseys for Mississippi State, only this time it's a hunter's camo, not military camo (from Phil). … Hmmm, do the MLB umps have new shirts this season? … Burkburnett and Nocona — those are two Texas high schools — went orange vs. orange with striped stirrups yesterday (from Adam Ostrow). … Really dislike the way the Blue Jays' spring training caps and jerseys have mismatched shades of blue. The party line is that the navy cap matches the darker shade of blue that appears in the lower portion of the Jays' logo. That may be true, but so what? Still looks ridiculous (screen shot by Yogi Combs). … The Double-A Binghamton Mets will be getting a new name for 2017. Details a team-renaming contest will be announced on April 7. … The Nats are letting fans vote on which player should be honored with Sept. 9 bobblehead giveaway.


Pro and College Football News: A restaurant in Gloucester, Va., called the Patriots Grill uses Flying Elvis to denote new menu items (from Mark Hall). … Here's a set of NFL/NBA uniform mash-ups (thanks, Phil). … UCF is telling fans which colors to wear for 2016 home games (from @DaveDoop).

Hockey News: National Wild Turkey Federation jerseys — yes, really — for the Wichita Thunder. … You know the "crooked N" jerseys that the North Stars wore during the 1967 preseason? A game-used specimen is currently available on eBay. Interestingly, the listing says the jersey was later used by a minor league team and then by a VFW team (from Paul Ricciardi). … Very nice green St. Paddy's day uni for the Rochester Amerks (from Chris Meehan). … A Canadian man is involved in a legal dispute because he refused to remove his Edmonton Oilers cap for his driver's license photo (from Mike Styczen). … The Hartford Wolf Pack is going G.I. Joke this Saturday. … The Red Wings wore white at home last night, forcing the Jets to wear blue on the road for the first time in the team's history (from Mike Cole). … Here's a video in which Ottawa 67s coach Jeff Brown explains the story behind his practice helmet, a vintage Jofa he's worn since his NHL playing days (from Aaron Husul). … Just what you've been waiting for: NHL-branded ketchup (from John Muir).

NBA News: Corn Week jerseys for the D-League's Sioux Falls Skyforce (from Ryan Brown). … Here are the NBA's top five "sneaker free agents" (thanks, Mike). … I put this in the NFL setion, but I'll put it here too: a set of NFL/NBA uniform mash-ups (from Phil).

College Hoops News: The uniforms for the court-mopping crew at the B1G tourney have ads for the mop manufacturer Libman. Matching green Chucks, too. Here's how they look from the front (from Cork Gaines and Tyler Pasek). … The girls' team from Mineral Point High School in Wisconsin has checkerboard-patterned socks. And yes, they also UNC-style unis, but the socks are the real attraction (from Holly Anderson).

Soccer News: New logo for the Rochester Rhinos. … Legendary soccer star Pele is going to auction off a ton of his jerseys, trophies, and other memorabilia.

Grab Bag: About six weeks ago I wrote about reports that the Wounded Warrior Project, which is connected to many college teams' camouflage uniforms, was wasting contributors' donations on mismanagement and lavish spending. As a result of those reports, Wounded Warrior's CEO and COO were fired yesterday by the group's board of directors. … Here's a great article on the 100th anniversary of the font used in the London Underground, pretty much the basis for modern sans serif typography (big thanks to @MBDChicago). … Adidas is suing APL for ripping off sneaker designs (from Jason HIllyer). … A new American rugby league unveiled its inaugural uniforms earlier this week (from Wesley Eustis). … Hong Kong cricket player Nadeem Ahmed wore clear goggles last night. … Here are some famous corporate logos redesigned in a very minimalist style (thanks, Brinke). … "Check out this screen shot from last Sunday's NASCAR race in Las Vegas," writes Jared Pike. "The Nos. 2, 3, 4, and 5 cars are running fourth, fifth, sixth, and seventh, respectively!" … The G.I. Joke trend has come to NASCAR, courtesy of the Geico No. 13 car, driven by Casey Mears. Rather incredibly, the camouflage pattern features the Geico gecko, because nothing says "support for the military" like corporate self-aggrandizement. Douchebags (from David Firestone). … Two of my favorite things: Bread clips — which I wrote about for BusinessWeek three years ago — can be made into little kitty cats! (Great find by Chris Bisbee.) … With the looming possibility of the Republican presidential nomination being decided by a contested a convention, an operative for Donald Trump's campaign had this to say: "[Our delegates] are going to go and they're going to wear their Trump uniforms and they're going to do everything they can for Donald Trump." It's not clear, at least to me, what he meant by "Trump uniforms."