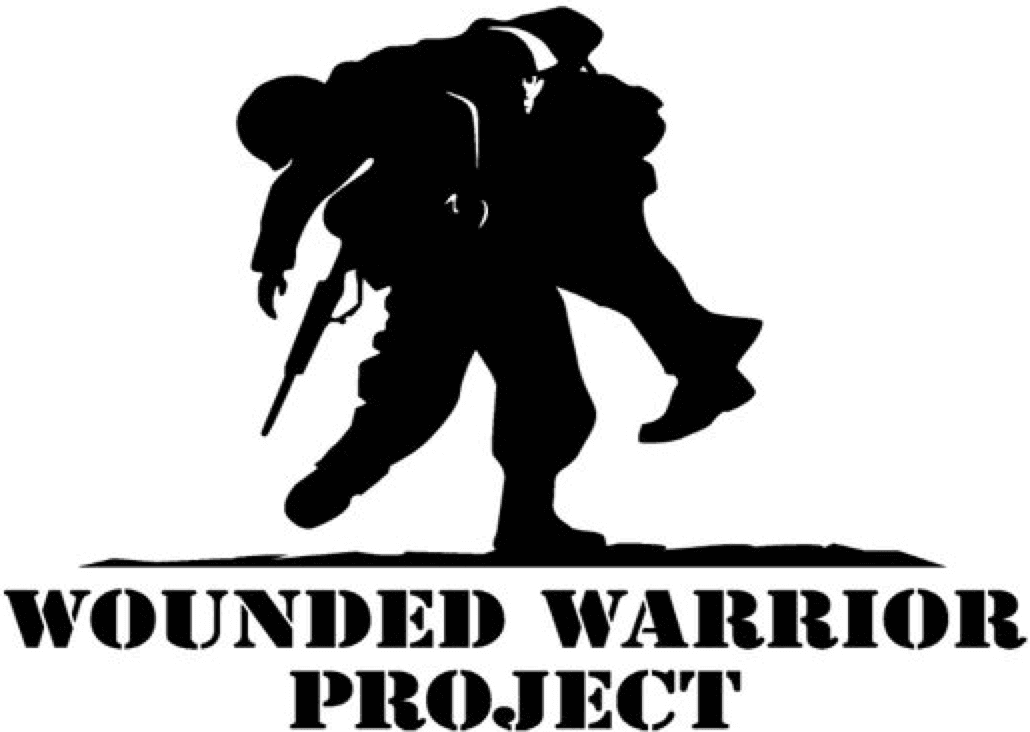 Many camouflage or other military-themed uniforms these days are produced and marketed in conjunction with the Wounded Warrior Project, which has become a popular charity for uniform tie-ins and merchandise lines.
Under Armour has particularly close ties to the WWP. Under Armour is the WWP's official apparel provider, and has created some of the most notable WWP-associated uniforms. Remember Northwestern's "bloody flag" uniform, produced for Veteran's Day in 2013? That was an Under Armour/WWP design, and the company has produced lots of other WWP-branded college football uniforms. Under Armour has a dedicated line of WWP merch, and WWP CEO Steve Nardizzi can often be seen wearing the Under Armour logo.
Whatever one thinks of the uniforms (my own position on them is well-documented, so I won't repeat it here), WWP's mission appears to be a laudable one. But now there are reports that WWP, however laudable that mission may be, is a wasteful, inefficient organization that spends too much on itself while short-changing vets, and is run more like a for-profit corporation than a non-profit charity. Tax returns and other documents show that WWP spends about 40% of its incoming donations on overhead (including booze-filled parties at high-end resorts), while other veterans-centric charities spend less than 10%.
CBS News has mounted an extensive investigative effort on this subject, which it has aired in three parts on its evening and morning news programs over the past 36 hours. The first segment, which aired on Tuesday night, is the most effective, but all three are worth watching:
And there's more. The New York Times must have had its own WWP investigation going on at the same time CBS did, because last night the Times published a lengthy article on this same topic, with pretty much the same conclusions. Here's a key passage:
[I]n its swift rise, [WWP] has embraced aggressive styles of fund-raising, marketing and personnel management that have many current and former employees questioning whether it has drifted from its mission.

It has spent millions a year on travel, dinners, hotels and conferences that often seemed more lavish than appropriate, more than four dozen current and former employees said in interviews. Former workers recounted buying business-class seats and regularly jetting around the country for minor meetings, or staying in $500-per-night hotel rooms.
There's a lot more, including some fairly incredible quotes about corporate branding (at one point Nardizzi, the CEO, actually says he's trying to model WWP after Starbucks — really!), but you should read it for yourself.
Why am I writing about this today? Because the leveraging of military- and veterans-themed sentiments, and the larger leveraging of "heroism," is an increasingly large factor in the uni-verse. There's an underlying assumption among many fans that military-themed uniforms are by definition a good thing, even when the designs are bad, because they help support a good cause. But is it really a good cause if the organization on the receiving end of the funds and the goodwill is spending a disproportionate amount of the funds on itself?
That's something to think about the next time you consider purchasing a WWP-related jersey or cheering for a team that wears a WWP-related uniform. If you want to support veterans or other military causes, remember that there are plenty of other vets-advocacy organizations out there that don't get involved in sports uniforms — and don't spend so much of their donations on overhead, or model themselves on Starbucks.
•  •  •  •  •
Too Good for the Ticker: If you watch basketball long enough, you'll occasionally see a player's shoe come off in the middle of a play. But I don't think I've ever seen what happened during last night's Purdue/Minnesota game: Purdue center A.J. Hammons lost his shoe, picked it up, ran down to the other end of the court with it, and grabbed a one-handed rebound while still holding the shoe in his other hand. Pretty amazing:
Are you serious!? Watch @Boilerball's A.J. Hammons run down the court and grab a rebound… With a shoe in his hand! https://t.co/zP1sOK64q4

— Purdue On BTN (@PurdueOnBTN) January 28, 2016
•  •  •  •  •
New stirrups offer: Longtime Uni Watch reader Rob Ullman recently won an eBay auction for a big ol' box of stirrups like the ones shown above. The box had 13 pair ("12 more than I need," says Rob), so he's hoping to sell the extras to Uni Watch readers. Price: a very reasonable $8/pair, including shipping, while supplies last.
If you want in, send Rob $8 via PayPal, using rob@robullman.com as the payee. Thanks.
• • • • •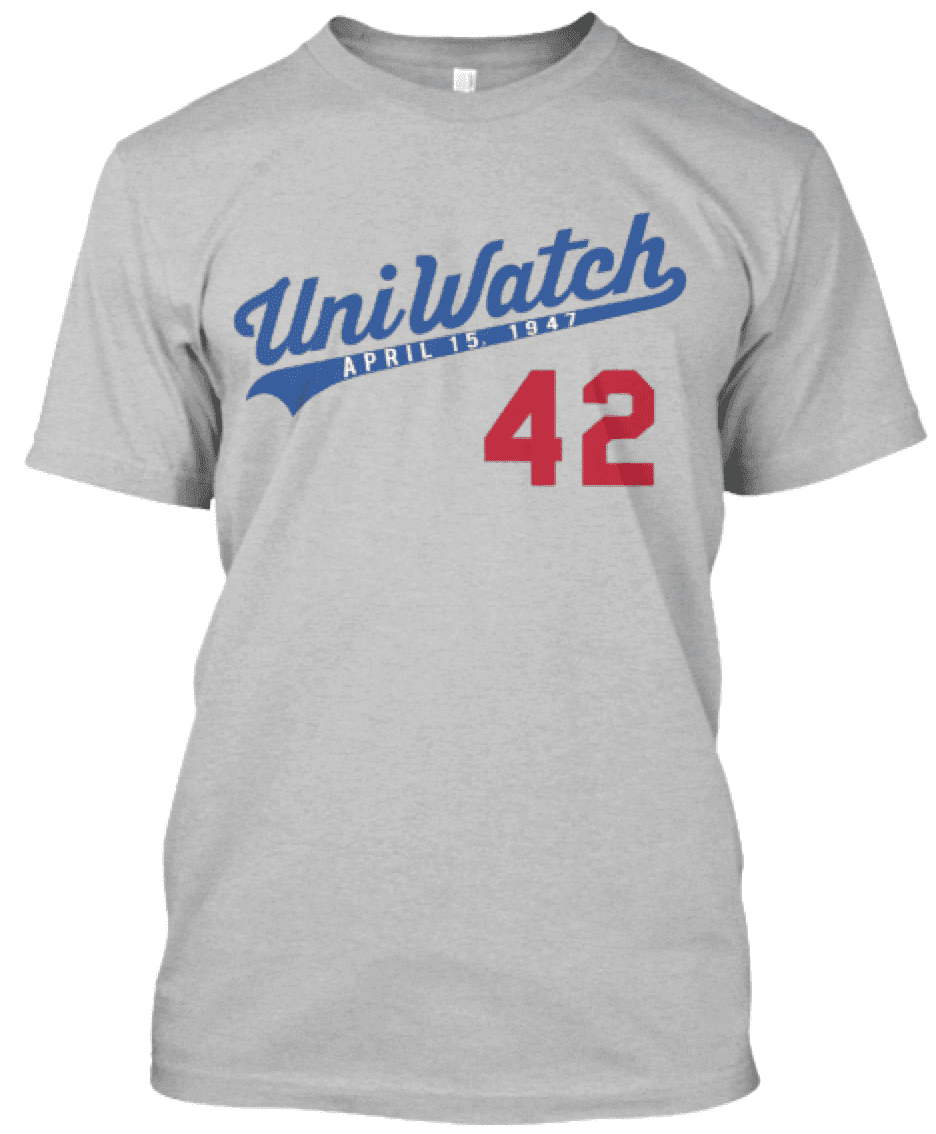 Making Jackie proud: My thanks to everyone who shopped at our Uni Watch T-Shirt Club Second Chance Store, which is now closed. Sales were modest, which is fine, but I was happy to see that our Jackie Robinson Day design was the top seller (just as it was in 2015).
As I explained when we first launched this design last April, I have no interest in profiting off of Jackie Robinson's name or legacy, so I donated my share of the proceeds from the April shirt — $4,431 — to the Jackie Robinson Foundation, and ESPN matched my donation. According to Teespring, my cut on the Second Chance sales of this shirt comes to $180, so I'll be making another donation in that amount, and ESPN will once again match it. Thanks for making that possible.
That closes the book on the 2015 designs — there will be no third chance. As for the 2016 program, we're working on the initial design and hope to have it ready for you shortly.
• • • • •
Click to enlarge
Gromm•It update: What's even better than an oyster with a pearl? See for yourself over on Gromm•It.
• • • • •
The Ticker
By Mike Chamernik

Baseball News: The Mets will give away a Yoenis Cespedes neon compression sleeve in July (from Brian Wulff). … New uniforms for Michigan State. … Someone made a Royals coloring book. … The Columbia Fireflies, formerly the Savannah Sand Gnats, revealed their new uniforms. The caps will have a glow-in-the-dark outline around the logo (from Clint Yarborough). … New uniforms for North Carolina and Ohio. … New hats for VCU (from J Scott). … Oklahoma State has a new digital camo hat (from Dylan Hays). … New uniforms for UNCW. … Todd Radom had a discussion with Dave Winfield about sports visuals, including Yankees pinstripes, Padres brown and gold, the Twins' TC logo, and Winfield's new personal logo, which Radom's new branding firm designed (from Phil).

NFL News: Verizon made a commercial with Super Bowl fans in chintzy replica jerseys with mismatched number fonts. … Thirty-four years after hosting the Super Bowl, the Pontiac Silverdome is in tatters (from Brinke). … Former Packers lineman Jerry Kramer is auctioning off items from his personal collection, including a Packers letter, NFL recruiting letters, and a college All-Star sweater (from Johnny O). … In the late 1970s, George Kunz of the Colts had some oddly placed TV numbers (from Bob Gassel). … Two NFL Shop notes: Outdated Browns items from 2013 and 2014, just before the logo change this year, has been labeled "Historic Logo" merch. Also, Rams clearance items are being called "Classic St. Louis Rams" apparel (from Joseph A. Bailey). … The Chicago Sun-Times printed a throwback cover this week to commemorate the 1985 Bears. As a Chicago resident, it's my personal belief that the members of that team actively root against current Bears teams, like how the 1972 Dolphins root against undefeated teams. As long as the '85 Bears are the city's last football champs, Mongo, Ditka, the Fridge, Samurai Mike and the gang will remain the toast of the town and reap the endorsements, appearance fees, and non-stop adulation and attention. … 7-11 has been selling Super Bowl 50 Slurpee cups with team helmet straws (from Chris Edwards).

College Football News: Donald Trump was presented an Iowa Hawkeyes jersey. … The ACC released its 2016 helmet schedule (from Dave Garabedian).

Hockey News: Jets D Dustin Byfuglien has custom All-Star skates. … Devils G Cory Schneider will wear pads with guitars on them during All-Star weekend in Nashville (from Rob S). … The Kalamazoo Wings will wear Star Wars jerseys this weekend (from Dave Barringer). … The Fairbanks Ice Dogs will wear pink sweaters for three games this weekend. … Goalie Ben Scrivens was traded to the Canadiens this year, but he still uses his old Oilers stick.

NBA News: The Lakers will honor Shaq with a statue outside of the Staples Center. … Celtics G Evan Turner has the ET logo on his personalized sandals. … Here's how the Cavaliers have fared while wearing each of their eight uniforms this season (from K.C. Kless). … A national bank bought the naming rights to the Warriors' new arena. The Chase Center will open before the 2019-20 season. … The Clippers and Hawks went shirts vs. skins last night.

College Hoops News: Baylor's Rico Gathers suffered a jersey tear last night (from Austin Aaron, via Phil). … Unclear if Rick Pitino is wearing sneakers on the sidelines, but his assistants are wearing button-ups and slacks with athletic shoes. … Virginia Tech wore pink tops and pink shoes for warm-ups last night. Then they wore black jerseys with pink trim for the game (from James Gilbert and Andrew Cosentino). … Yesterday's Ticker mentioned that Oklahoma State would be wearing throwbacks to mark the 15th anniversary of the plane crash that killed 10 people. Turns out they also wore throwback warm-ups with memorial NOBs/numbers. … The Sporting News ranked the best active players that wear each jersey number. … Saint Louis has a two-piece warm-up top. … An Indiana sportswriter gave the lowdown on the state's 10 Division-1 arenas (from Steve Jacobson).

Soccer News: New York City FC is letting fans pick the captains' armbands (from Adam Vitcavage). … A kid in Afghanistan fashioned a Lionel Messi jersey out of a plastic bag. After a Twitter search, the kid has been identified, and may get to meet the soccer star (from Phil).

Grab Bag: Under Armour is selling a Jordan Spieth hat. … Interesting anecdote in this story on the rise of Under Armour: A timely check from Georgia Tech's AD helped save the company in its early days (from James Gilbert). … Adidas revealed its men's and women's USA Golf uniforms. John Okray, quoting from Golf Digest, has further details: "The retail versions displayed Wednesday will go on sale in June. The specific apparel worn by the athletes will be identical, except it will not have the Adidas logos on the chest or sleeve, per International Olympic Committee rules. All American golfers competing in Rio will be required to wear the Adidas apparel regardless of any individual endorsement deals they might already have. The lone exception is with their footwear, in which players will have the option of choosing from other manufacturers."… Also from John: Here's a look at USA's Ryder Cup caps.