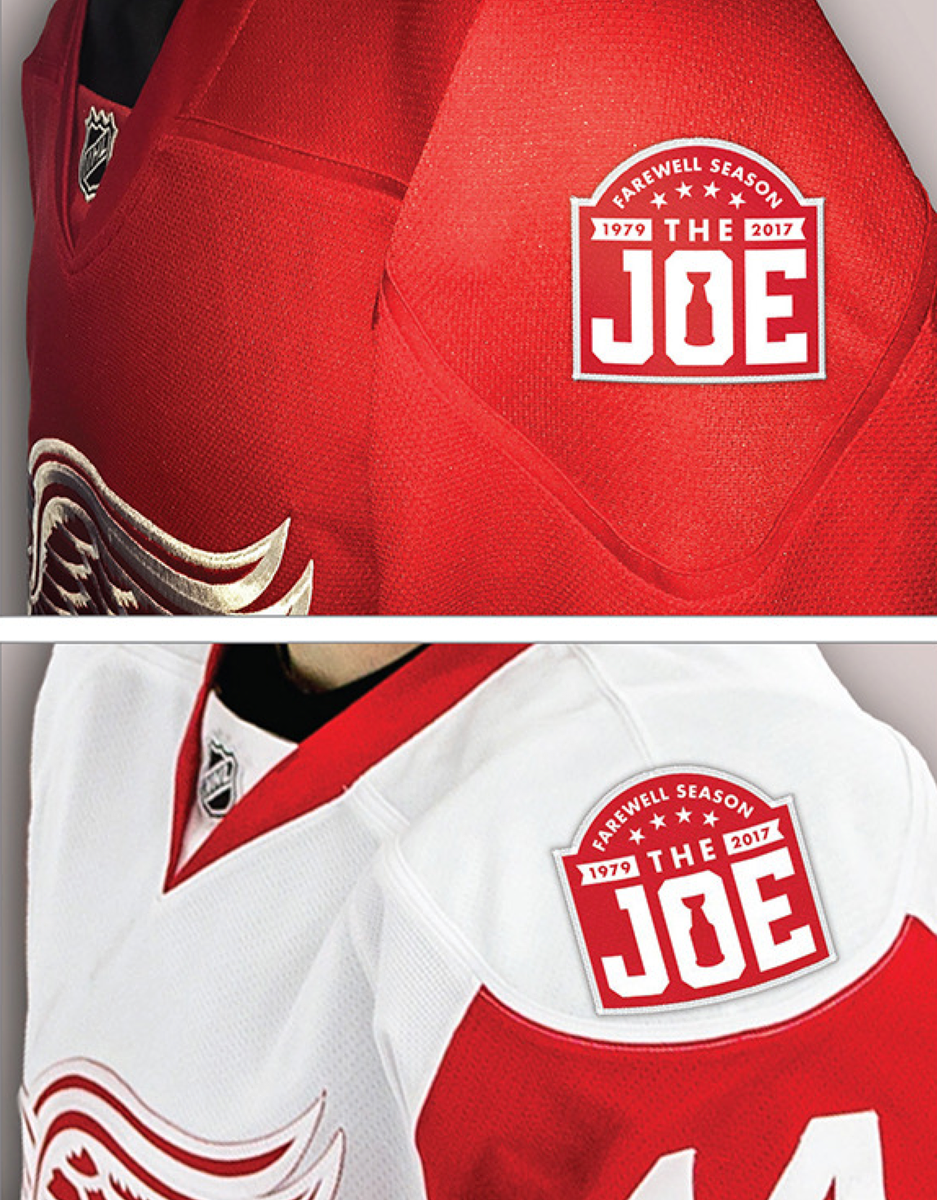 This is shaping up as quite a week for NHL patches. First we had the 1967 expansion teams announcing their anniversary patches a few days ago, and now the Red Wings have announced that they'll be wearing a Joe Louis Arena final-season patch for 2016-17 (further details here).
Not a bad design, although it would've been cooler if the "Farewell Season" lettering at the top had been vertically arched, to match the team's NOB style. Then again, maybe that wouldn't look so good on such a small item. Any of you Photoshoppers wanna take a stab at how that would turn out?
Meanwhile, here's our first look at how the Kings' new anniversary logo looks in patch form (although not on a jersey, at least for now; click to enlarge):
Incidentally, as long as we're talking about the anniversary of the "second six" expansion teams, check out how Hockey Pictorial magazine depicted the new teams' arrival on the cover of its October 1967 issue: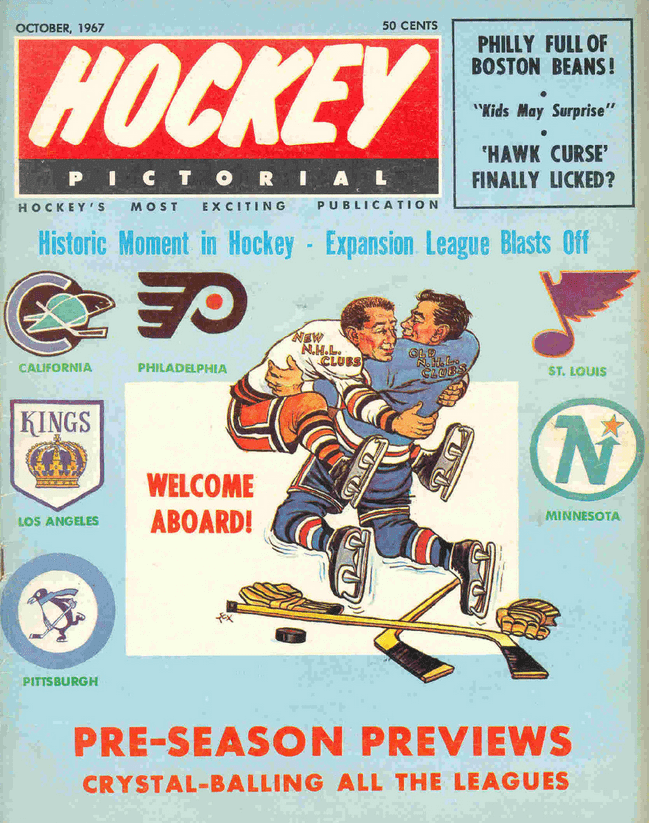 I think it's safe to say that sports graphics have changed juuuuust a bit over the course of 50 years, eh?
(My thanks to reader Jason Terzis for the patch photo and to Jeff Byrniarski for the magazine cover.)
•  •  •  •  •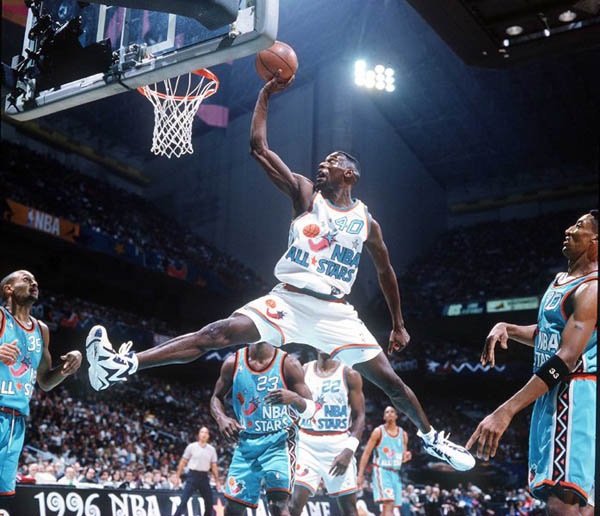 Friday Flashback: The NBA All-Star Game is this Sunday, so my weekly Friday Flashback column on ESPN takes a look at the history of NBA All-Star unis (including the bizarre 1996 design, shown above). Check it out here.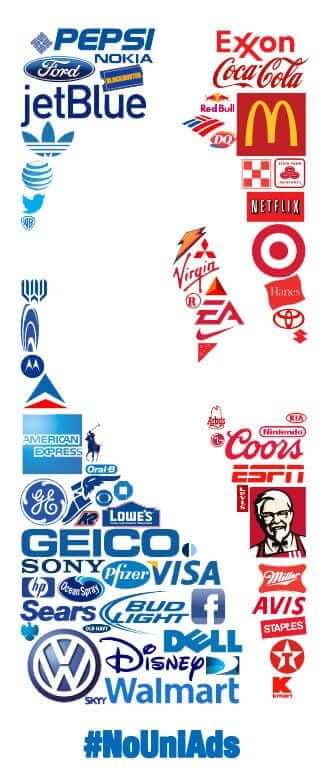 And speaking of the All-Star Game: As you may recall, this year's NBA All-Star uniforms will have Kia advertising patches — the first ad patches ever to appear in an NBA game (although the game is, obviously, an exhibition). Now it turns out that we may be moving a step closer to other jersey ads.
According to this ESPN story that broke last night, there will be an owners' meeting on Sunday in Toronto, where the All-Star Game is taking place, and that meeting will include a committee that will consider adding a corporate jersey ad proposal to the agenda of the Board of Governors meeting scheduled for April.
(So, yeah: a meeting to consider adding a proposal to the agenda of another meeting two months from now. And you thought Washington bureaucracy was bad.)
The system being proposed would reportedly allow corporate advertising patches to begin in the 2017-18 season (when Nike takes over the league's uniform contract, not-so-coincidentally). That's in keeping with what had been reported back when the Kia patch was announced. At that time, the word was that they'd do the Kia patch for two All-Star Games — this year's and next year's — and then see about going with advertising patches for regular season unis after that. So in that respect, this latest report isn't really anything new. It just shows that the gears are continuing to turn apace.
The new thing, at least to me, is that this proposal includes revenue sharing: 50% of the fee for an ad patch on a team's uniform would go to the team, with the other 50% going into a revenue sharing pool. That's presumably to get small-market teams on board (they had reportedly been concerned that uni ads would just make the rich teams richer, because big-market teams would command higher prices for their patches), although it may be a turn-off for big-market teams, since it means their uni ads will essentially be subsidizing the little guys.
That type of big vs. little conflict is precisely why NBA uni patches have now been "inevitable" for about five years running. What with all the greed and competing interests and so on, I continue to have faith that they'll manage to mess this up yet again. Still, there's always the chance that they could actually get their shit together this time around, so we need to stay vigilant. Send emails and tweets to the league, and to your favorite team, tell them in no uncertain terms that you're opposed to this nonsense, and use the hashtag #NoUniAds. Thanks.
•  •  •  •  •
T-Shirt Club reminder: In case you missed it earlier this week, the first Uni Watch T-Shirt Club design of 2016 is now available for ordering. Here's the design (for all of these, you can click to enlarge):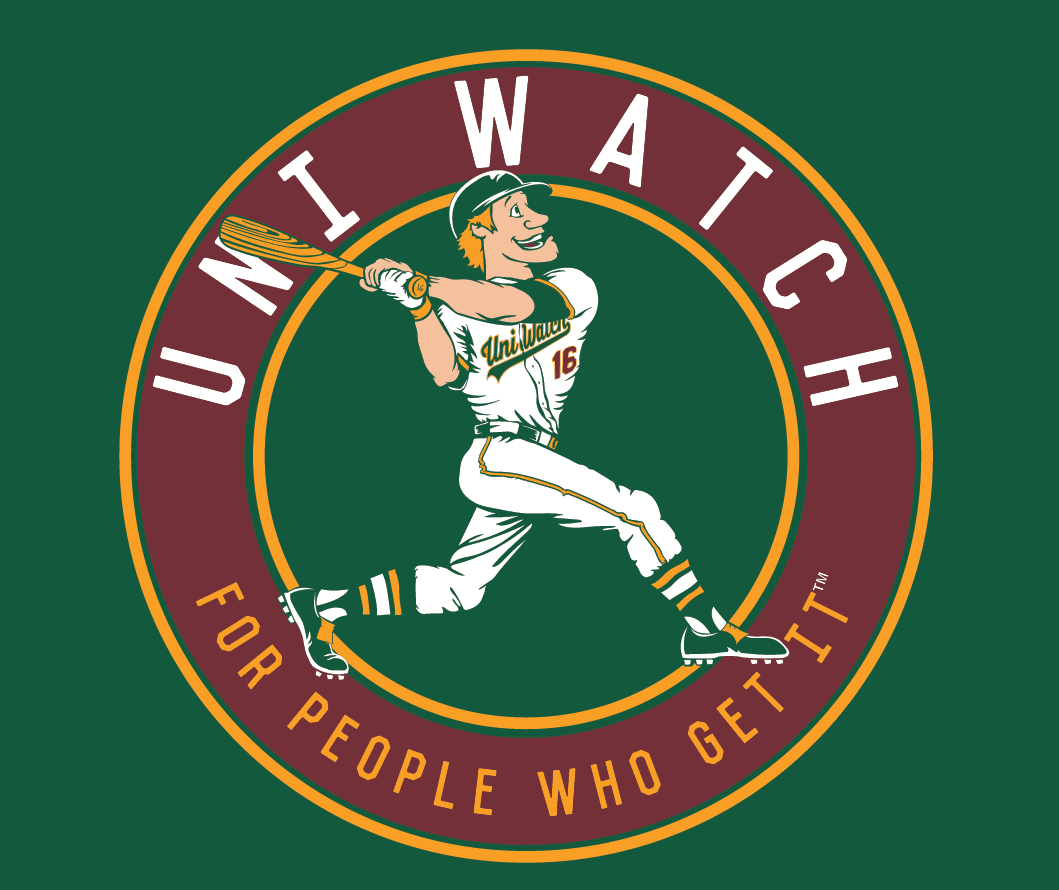 Here's how it looks on a shirt:
And here's a closer look at the jock tag graphic, which will be appearing on all six of our shirts this year:

The Uni Watch ballplayer shown on the shirt is intended to evoke a time when sports graphics and mascots were built around fun, not ferocity. And as you can see, our ballplayer really Gets Itâ"¢ when it comes to wearing his uniform. Allow me to point out some of the details:
• He's wearing a flapless batting helmet. (I wanted to have him also wearing his cap under his helmet, but that turned out to be too subtle a detail to render.)
• He's wearing only one batting glove, on his bottom hand — an old-school style that was popular in the late '60s and early '70s (and is still used today by Hunter Pence).
• He's written his uniform number, 16, on the bottom of his bat knob. No newfangled knob decal for him!
• His jersey is modeled after our 2015 "Home" T-shirt.
• His high-cuffery, blousing, and stirrups are all picture-perfect.
• His spikes feature that old-school flap over the laces.
The shirt is available here. For further info on how the T-Shirt Club will work this year, click here. Thanks for your consideration.
• • • • •
Click to enlarge
Gromm•It update: Sunday is Valentine's Day, which calls for a special grommeting project. You can see an additional photo, along with all the other foods I've experimented with, over on Gromm•It.
•  •  •  •  •
The Ticker
By Paul

Baseball News: The Great Lakes Loons will mark their 10th anniversary by unveiling new uniforms and logos tomorrow (from Alex Dewitt). "¦ You've probably seen this shot of Reggie Jackson wearing a Mariners uniform for the 1979 A.L. All-Star team portrait. Reggie's Yanks uni didn't arrive in time for the photo shoot, so the M's, who were the host team, hooked him up with a Seattle uni. It's a pretty well-known story by now, but I'd never seen this shot from that same photo shoot until now (big thanks to Vinnie Donati). "¦ Someone has ranked the new spring training caps (Alex Dewitt again). "¦ Lots of interesting giveaway items on the Orioles' 2016 promo schedule (from Andrew Cosentino). "¦ Speaking of promo events, the Phillies will be giving away these socks on June 5 (from William Hall). "¦ I'm opposed to pointless retail slop but am generally in favor of anything involving geography, so I'm conflicted over this new line of MLB caps that combine team logos with state outlines. The Nats one is the most interesting, if only because the shape of DC is much less familiar than any of the 50 states' shapes (from Jason Hillyer). "¦ Here's a look at A's caps through the years. "¦ Maryland continues to define "pride" in very unusual ways. "¦ Pro golfer Spencer Levin wore an MLB.com cap at Pebble Beach yesterday. Meanwhile, ESPN broadcaster Chris Berman wore a straw hat with a Giants logo. "¦ Love this ad for socks featuring Willie Mays and a buncha disembodied shins at Shea Stadium. "¦ Pretty cool new softball helmets for Youngstown State (from Robert Hayes). "¦ Doesn't get much better than Clara Bow in a baseball uni (from Bill Francis). "¦ Rainbow Warrior throwbacks for Hawaii softball (from Aaron Wigg). "¦ Check out the Philippines' WBC uniform. Odd that the cap logo has a white outline but the jersey script doesn't (thanks, Phil). "¦ I think this might be our first look at the new version of the Padres' new tan camouflage jerseys, which they'll be wearing for two games this season. They'll be going with blue camouflage for most of their G.I. Joke games.

NFL News: Here's a rare sight: Dick Butkus wearing No. 78 (presumably at a practice). Leather chinstrap, too! (Thanks, Brinke.) "¦ Supe50 MVP Von Miller has been announced as the face of Adidas's new FREAK initiative. Yes, that's FREAK, in all-caps. Innovative! C'mon, people, try to have some dignity out there. "¦ Check out this old shot of Falcons QB Steve Bartkowski. At first I thought his base-layer shirt had striped/ribbed cuffs (which would have been fucking awesome), but then I realized they were actually just wristbands. Either way, it's a great look (from Mike Nessen). "¦ In case you hadn't heard, the Raiders aren't moving. "¦ Electric football maven Gene Sanny has done an awesome job painting a set of 1980s Jets figures.

College Football News: Here's a look back at how Kentucky's uniforms were unveiled in 1990 (from @seacatfan). "¦ New turf design for Central Michigan. Additional info here. "¦ Penn State is the latest school to announce that it will offer only a few uni numbers on its line of retail jerseys (from William Yurasko).

Hockey News: This is awesome: Check out the artwork on these vintage NHL pocket schedules (big thanks to Chris Mizzoni). "¦ Yet another cool item: Devils G Cory Schneider's new mask pays tribute to two Devils greats. "¦ Canucks fans are buying lots of retro/throwback gear apparel. "¦ Flyers D Shayne Gostisbehere used an Avs player's stick last night.

NBA News: Kobe Bryant played his last game in Cleveland two nights ago. After the game, he signed his game-worn sneakers and gave them to LeBron James (thanks, Mike). "¦ Also from Mike: The Pistons, fresh off of retiring Chauncey Billups's number, plan to do the same for Rip Hamilton. "¦ LeBron James has donated a bunch of uniforms, for various sports, to Toronto-area schools. "¦ Man, the uniforms for the Rising Stars Challenge game are brutal.

College Hoops News: Pink "Play for Kay" jerseys tonight for the Seton Hall women's team. "¦ Cal has hoodie warm-ups (from d.c. james).

Soccer News: "Minneapolis City SC of the Premier League of America has released a pretty humorous (but I believe intended to be serious) infographic coinciding with their new logo," says Jason Hicks. "I just love that it makes a mockery of similar infographics, such as this one." "¦ Here's a look at Arsenal's kits during the team's Adidas-outfitted years. "¦ Here's a podcast featuring an interview with a professional soccer kit designer (from Rick Liebling). "¦ New kit for the New England Revolution. "¦ No more Adidas shoulder stripes for Real Madrid (from Anthony Guarraci). "¦ Instead of a design contest, the Houston Dynamo are asking fans to submit concepts of what they think the team's new unis will look like (thanks, Phil).

Grab Bag: NASCAR is changing its business model so it will be less reliant on sponsors. "¦ A list of "10 Things a Newly Single Guy Should Never Wear" includes "Sports Jerseys" at No. 8 (from Mark Loveland). "¦ NASCAR news from David Firestone, who writes: "M&M's is having their 75th anniversary this year, and Kyle Busch is running two scheme for the occasion — one fauxback and one that mixes vintage and modern design." "¦ New logo for Guardians of the Galaxy Vol. 2. "¦ President Obama wants to repeal a tax exemption that essentially provides federal funding for the construction of sports stadiums. Even if this goes through, which I'm assuming is unlikely, it wouldn't completely eliminate public financing of such facilities, but it would be a good start (from R. Scott Rogers). "¦ Pretty sure we've seen all of these before, but here's a slideshow of 30 jersey typos (from David Cline).