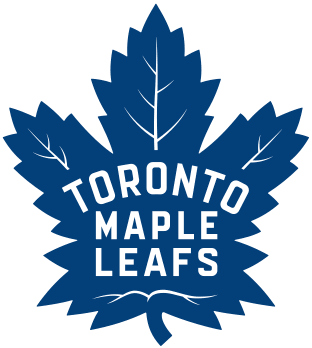 The Maple Leafs unveiled their 2016-17 logo last night (you can click on the image at right to see a larger version). The bad news is that the unveiling itself was a botch — they waited until the completion of their game against the Bruins, which went into overtime, and then there was a televised unveiling with lots of preliminaries, and the net result was the design wasn't officially revealed until about 10:20pm Eastern — way too late for this type of thing.
The good news is that the design is a beauty. It's basically an updated version of what the team wore from the from the late 1930s through the early '60s. As soon as it was unveiled, I dashed off this quick ESPN piece (short version: The design is overfreighted with some very dubious "storylines" but I really like it anyway), but the best coverage came from SportsLogos.net prexy Chris Creamer, a lifelong Leafs fan who lives outside of Toronto and was given early access to the design. He had a very thorough assessment ready to go as soon as the design dropped, and I definitely recommend reading it. If you go to the 18:10 mark of this video, you can even see Chris dropping hints about the logo on a local TV news show yesterday morning, before the design was unveiled.
Also worthwhile: The Leafs put together this fairly comprehensive explainer on everything related to the new logo.
Meanwhile: The Maple Leafs' farm team, the Toronto Marlies also got a new logo last night. It's based on the new Leafs design and, if anything, is even better than what the parent club trotted out:
#MarliesLive News: #Marlies unveil new logo that adopts @MapleLeafs new mark.

MORE :: https://t.co/4HQ7TcFZD7 pic.twitter.com/vzh5raH6kv

— Toronto Marlies (@TorontoMarlies) February 3, 2016
All in all: a good night for Toronto hockey aesthetics. Now we just need to see the Leafs' new uniforms, but we'll have to wait a bit — they're not slated to be revealed until the NHL Draft in late June.
•  •  •  •  •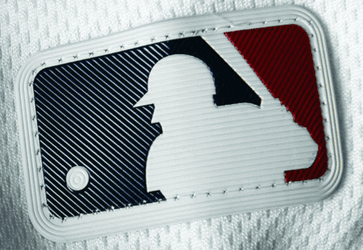 More MLB news: I had a few lingering questions about the new Flex Base uniforms, so I tossed a few questions at Majestic yesterday. Here's the latest:
• Majestic has been saying that the Flex Base jerseys use a new lightweight twill (the fabric used for letters, numbers, and chest scripts) that's significantly lighter than the old twill. But the Cardinals and Phillies don't use twill for their chest scripts — they use beautiful chain-stitching. Are they switching to the new twill? I asked Majestic and was told that the Cards and Phils will be sticking with the chain-stitching. Phew.
• Ever since we've learned that the MLB logo will be appearing on the rear belt tunnel, I've been wondering what this would mean for the Tigers, since they use thin belt loops instead of thick belt tunnels (a style they've had dating back to the flannel era). So I asked Majestic if the Tigers would be switching to standard belt tunnels, or maybe to a custom treatment (they could have a wide tunnel in the back and maintain the loops for the rest of the waistband, for example). The answer: The Tigers' pants will now have standard belt tunnels. Too bad — a sad example of completely unnecessary logo creep chipping away at a team's visual identity.
• I figured the new non-embroidered MLB logo patches were Chromaflex (the same technology used for the Supe50 logo patches), but I wanted to double-check on that. Is it Chromaflex or some other technology? Answer: Yes, it's Chromaflex.
Meanwhile, people continue to freak out about the diaper panel (or fart flap, or butt bib, or whatever we're gonna call it) on the back of the pinstriped Flex Base authentics. To repeat: This panel will have zero effect on the game's on-field look, because the players will tuck it in. It will only have an effect on people who can't live without buying overpriced polyester shirts. Honestly, is it that hard to just keep wearing last year's jersey? Jeez.
•  •  •  •  •
The Ticker
By Paul

Baseball News: Lots of new updates to the great Threads of Our Game site, which is basically Dressed to the Nines for the pre-1900 era. Check them out here. "¦ Here's a new one, at least for me: The Binghamton Mets will be wearing cardiac-awareness jerseys on May 28. "¦ Here's a rare shot of Pete Rose wearing No. 27 during spring training of 1963 (from Joseph Gerard). "¦ New road cap apparently in the works for the Scranton/Wilkes-Barre RailRiders. "¦ New retro-style jersey for Arizona State. "¦ Michael Clary checked in with a bunch of cool stuff. First, check out these shots of Rusty Staub and Joe Morgan wearing prototype Astros caps (and the previous year's road jerseys) in spring training of 1965. That cap design was covered in a Todd Radom blog post about Houston's 1965 headgear, but I don't thin I've ever seen it in color before. Second, here's another shot of Morgan, this one from spring training of 1968, showing him wearing navy stirrups over navy sannies. And last but not least, dig this spring shot of Eddie Matthews and other Milwaukee Braves wearing special sliding pants — and sliding in their stirrup-clad stocking feet! Great stuff, Michael — thank you!

NFL News: Check out this weird Patriots logo. Can't recall having seen that before (from @HungD25). "¦ Great story about the guy who owns the only known tape of Super Bowl I but isn't allowed to sell it because the NFL bigwigs are essentially behaving like assholes. "¦ Going to a Super Bowl party? Better have a flu shot. "¦ Good article on the Supe50 grass. "¦ "I was fortunate enough to go to three Super Bowls in my teens during the 1970s and '80s," says Steven Sernka. "I saved my ticket stubs and buttons and framed them. They hang in my office today. Probably hard to see, but I took a photo of John Stallworth's touchdown catch at just the right moment." "¦ "Former Bears TE Dez Clark is promoting his new book on Twitter," says Kyle Martinek. "One picture shows the book cover with the Bears' logo on the helmets. The other does not. Not sure why." "¦ Yesterday's edition of "Collector's Corner" featured a vintage Panthers jacket by Apex. That inspired Dave Thompson to dig out his own Apex Panthers jacket, complete with the inaugural-season Clemson patch. "¦ Speaking of the Panthers, here's a good article on the guy who's cleaned their uniforms throughout the team's 21-year existence (thanks, Phil). "¦ This was originally reported a while back, but here's a friendly reminder: CBS Sports will be using the Super Bowl to introduce their new logo.

College and High School Football News: This is pretty awesome: The precise drop-by-drop color formulas to create team-colored cake frosting for a bunch of southern schools (big thanks to Teebz). "¦ Oooh, check out this great shot from a 1940 Maryland/Penn game. "Penn wore white at home," notes Matt Shevin. "Love the stripes framing Maryland's numbers, and Penn's matching sleeves/socks." What he said. "¦ If you like that Maryland jersey, you'll want to see the team portrait from that season (thanks, Phil). "¦ Michigan coach Jim Harbaugh apparently has a new sweatshirt. "Never seen that logo before," says Robert Hayes. Me neither, but Matt Smale says it's the "Signing of the Stars" logo. "¦ Two-tone pants, candy-striped shoulder inserts, and a rocket ship logo on the helmet? Why, yes, don't mind if I do. "¦ UNC has its own logo for National Signing Day, which is today (from James Gilbert).

Hockey News: John Scott's all-star odyssey has led to increased jersey sales for his minor league team, the St. John's IceCaps. "¦ Yesterday's Ticker had a good article about the old press box at Cincinnati Gardens. Turns out Cincy Gardens was modeled after Maple Leaf Gardens in Toronto (from Ted Anthony). "¦ Serious flag-desecration design this weekend for the Fayetteville FireAntz. "¦ Superhero jerseys upcoming for the Sudbury Wolves (thanks, Phil).

NBA News: And so it has come to this: A copyright-infringement lawsuit has been filed over the tattoos appearing in an NBA video game. "¦ "Derrick Rose's nephew, Dwayne Rose Jr., plays high school," says our own Mike Chamernik. "On Tuesday night, an opposing team's student section tried to psych him out by having everyone wear Bulls apparel or D-Rose jerseys. No photos, unfortunately."

College and High School Hoops News: We've known since last fall that several Adidas-outfitted schools would be wearing throwbacks at some point this season. Turns out that they're for Black History Month. Here are the ones for Nebraska and Louisville. "¦ "Here's a very cool blog about all things Indiana basketball," says Derek Linn. "It has some great pictures of old Indiana gyms and the history behind them. Lots of photos of great basketball uniforms new and old, too." "¦ I put this in the college football section, but we may as well run it in college hoops as well: Here are the precise drop-by-drop color formulas to create team-colored cake frosting for a bunch of southern schools (big thanks to Teebz). "¦ Syracuse debuted new sweatbacks last night, with an apostrophe catastrophe to boot. "¦ Tennessee and Kentucky had a battle of the checkerboard shorts last night. "¦ Not sure if this is new, but Alabama's graduating seniors are wearing a mortarboard patch.

Soccer News: Ooh, these vintage soccer uniform catalogs look pretty awesome. I have the one on the left in my own collection (I wrote about it a few years ago), but I'd love to see the other two. "¦ Here's what it might look like if New Balance made soccer kits (from @EsWookieGrande). "¦ New jerseys for the LA Galaxy. "The jersey ad has changed from 'Herbalife' on one line to 'Herbalife Nutrition' on two lines and in two different colors," notes Chris Cruz. "¦ Some West Ham United players have custom-painted shinguards (from Jason Collins). "¦ Stoke City wore green socks, instead of the standard black, last night. "¦ Black armbands yesterday for Manchester United, in remembrance of the 1958 Munich air disaster.

Grab Bag: A Brooklyn high school is offering a course on the history of Brooklyn sports, which includes field trips to the Barclays Center. "¦ The North Carolina town of Apex is considering a new logo. "¦ A Pennsylvania judge has banned pajamas from his courtroom (thanks, Brinke). "¦ Here's one observer's picks for Captain America's top three uniforms (which are actually costumes, not uniforms, but whatever). "¦ If you think Nike's "storytelling" and "rebranding" are a bit much, check out Wired's article about Uber's "radical" new logo, which is an embarrassing corporate stroke job right from the headline on down. I'd love to skewer this nonsense, but my man Hamilton Nolan has already done that. Recommended reading. "¦ Roller derby is technically illegal in Maine, because there's a law prohibiting roller skaters from hitting each other. Two roller derby advocates testified in their derby uniforms yesterday while urging state legislators to change the law. "¦ A New Jersey high school swimmer was disqualified from a meet for wearing an illegal cap. His school is appealing the ruling. "¦ Good story on the history and cultural significance of buffalo plaid. "¦ Oooh, check out these motorcycle helmets with cat ears.