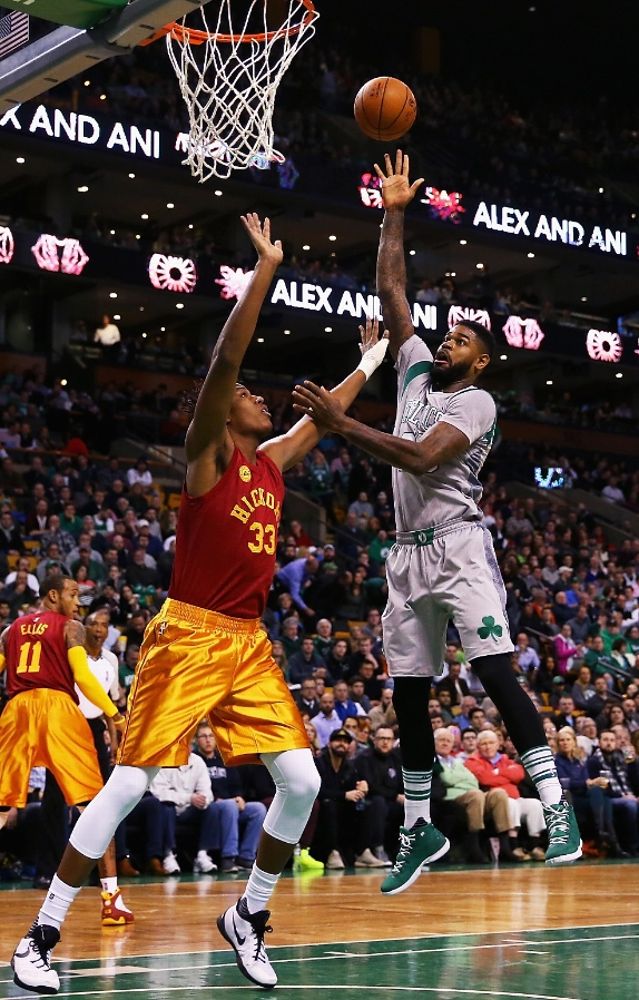 I was flipping channels last night and stumbled upon the Pacers/Celtics game. Boston was wearing its sleeved grey alts (which I hate) and Indiana wore its Hickory throwbacks (which I love). Since I'm, you know, the Uni Watch guy, I immediately recognized both teams, but I wondered if a casual or less uni-obsessed fan might have come upon the game and wondered who the hell these teams were. The fact that the action was unfolding on Boston's famed parquet court just threw the weirdness of the scene into higher relief.
It's one thing if the two teams in a given game are both wearing throwbacks, or both going G.I. Joke, or something along those lines, because then at least there's some thematic consistency. But when one wears an alt and the other wears a throwback (especially a throwback with mismatched jersey and shorts colors), that's jarring. Did the Celitcs and Pacers plan it this way, or did it just end up this way?
It's also interesting that the Pacers are wearing the Hickory uniforms on the road, as well as at home. That was the plan all along, so it's not a surprise, and I like that they're sharing this look with fans outside of their home arena. But it makes odd spectacles like last night's game possible, because most other teams only wear their "special" uniforms at home.
•  •  •  •  •
Contest reminder: In case you missed it yesterday, I'm running a "Redesign the Rams!" contest over on ESPN. Full details here.
And speaking of the Rams: According to a Washington Post poll, a majority of fans would prefer the Rams to go back to the uniforms they wore from 1973 to 1999. But when asked in this Q&A piece about going back to the old L.A.-era uniforms, team exec Kevin Demoff was non-committal. He said:
I think the philosophy on the uniforms is a microcosm of the philosophy of the project. Yes, we have a rich tradition and history in Los Angeles. We have colors that people identify with. We have historic players. You want to carry some of that forward.

But, we're also about to enter a world-class stadium that should be one of the best. "¦ Yes, the Rams are coming back. It's not the Rams from the '60s, '70s, '80s. This is Stan's vision and Stan's stadium [referring to team owner Stan Kroenke]. We want to make sure we represent best in class in every aspect while we borrow from the Rams' legacy. When I look at the Rams' return to L.A., that's what people are excited about "" it's modern NFL mixed with the team they grew up with.
Sounds like they might go back to the old colors but with a contemporary template, eh?
Meanwhile, with all this Rams uni talk in the air, this is a good time to dust off the interview with former Rams equipment manager Todd Hewitt that first ran here on Uni Watch back in 2011. As you'll see, the interview wasn't conducted by me, but it's full of great info and should be an enjoyable read for those of you who are in a Rams mindset at the moment (or just for anyone who wants to read a good interview with an NFL equipment guy). Enjoy.
• • • • •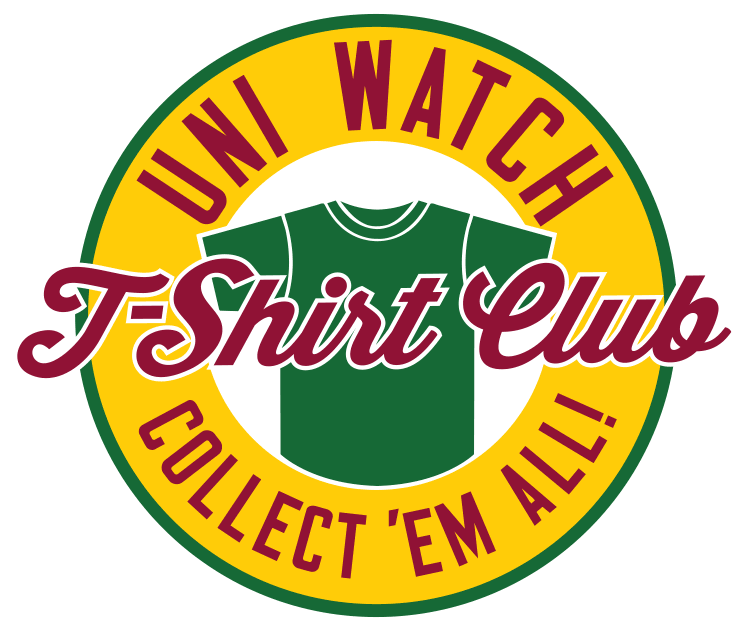 T-Shirt Club News "" Second Chance Shop Now Open: Did you miss out on any of the Uni Watch T-Shirt Club's limited-edition designs from 2015? You now have a second chance to Get Itâ"¢, as we're making all of the 2015 designs available for the next two weeks at our Second Chance Shop.
A few notes:
• With one exception (which I'll get to in a sec), the fronts and backs of these shirts are exactly the same designs we offered during 2015, but they do not have the sleeve patches.
• For the November design (tequila sunrise) we've created a new screen-printed design with truncated stripes, instead of the sublimated wraparound design that caused so many problems.
•  For the April design (Jackie Day), I will once again donate my share of the proceeds to the Jackie Robinson Foundation, and ESPN will once again match my donation.
• Sorry, you can't use these Second Chance shirts to retroactively qualify for the 2015 year-end "Collect 'Em All" bonus prize.
• Last year's Purple Amnesty Day shirt was not part of the T-Shirt Club program and is not being re-offered. That was a one-day thing, and it's gone for good. There's a decent chance that we'll have a new design for this year's Purple Amnesty Day, however.
I think that's it. Again, these Second Chance editions are available here from now through Jan. 27. There will be no third chance! Thanks for your consideration.
• • • • •
Membership update: A few new designs have been added to the membership card gallery (including Steve Jacobson's card, shown at right, which is based on the Pacers' old FloJo design), but we still need several new orders to fill out the current batch. If your New Year's resolution was to finally sign up already, there's no time like the present.
As always, you can order your own custom-designed membership card here, you can see all the cards we've designed so far here, and you can see how we make the cards here.
• • • • •
PermaRec goes to the World Series: The latest old letter in my "Hoge Brush Company Files" series concerns a request for 1954 World Series tickets. Get the full story over on Permanent Record.
• • • • •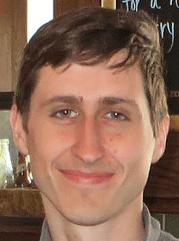 Mike's Question of the Week
By Mike Chamernik
With the Rams moving to L.A., my mind keeps coming back to St. Louis football fans "" what do they do now?
Has your favorite team ever moved? How did it feel when it was made official "" were you angry? Sad? Wistful? Did you continue to root for your team in its new city? Did you choose a new team to root for? If you were a season ticket holder, attended games frequently, or even just spent a measurable amount of time watching your team, how did you fill the void? What did you do with your old merchandise and memorabilia, if you had any?
When I was little, my favorite team was the Montreal Expos. Loved their uniforms, their underdog plight, and, most of all, how outstandingly underrated Vladimir Guerrero was at the time. Even as a 13-year-old, I would even keep track of their prospects (anyone remember Matt Cepicky?). Since I've never been to Canada, much less Montreal, the Expos' move to DC wasn't particularly rough on me, and I started rooting for the Brewers soon after. Love the Brewers, but I do look back fondly on the Expos years.
More recently, my favorite NBA team, the Bucks, was involved in a relocation saga. This was a little different, because I had been to the arena several times, and I really liked having them in Milwaukee. Though I never got too worried about them moving, I did run through the contingency plans, like which new team I would root for. Fortunately, the Milwaukee situation never got too dicey.
As always, post your responses in today's comments.
•  •  •  •  •
The Ticker
By Mike Chamernik

Baseball News: A bunch of teams are bidding for free agent slugger Chris Davis, so this article shows Davis with different caps Photoshopped onto him. The matching team jerseys and undershirts were a nice touch (from Andrew Cosentino). … Several Mariners players will have new numbers this year. Tim Dunn notes five players: Taijuan Walker (32 to 44), Mayckol Guaipe (53 to 48), Steve Baron (10 to 28), Jesus Montero (63 to 10), and Franklin Gutierrez (30 back to 21; he gave up 21 to Lloyd McClendon when he was manager). … New jerseys for Marshall (from Brice Wallace). … Miami has jerseys and caps with Olde English lettering (from Jason Gray). … New cap for Ole Miss.

NFL News: I know we've seen this before (I just don't remember when) but I found some photos of the 1981 Browns playing basketball. … This is different: ESPN ran a graphic showing helmets with visors. … An employee of GoPro inadvertently owns the @LARams twitter handle. … Packers WR James Jones's infamous base-layer hoodie is actually sleeveless.

College Football News: Yesterday we linked to a story on a new helmet that absorbs contact like a car bumper. Here's a little more detail on the Zero1 helmet, and even a neat GIF of it in action, with the Zero1 on the left (from Andrew Cosentino).

Hockey News: Are the Maple Leafs soft-launching their new logo? The leaf is similar to past designs, just without text on it. … Mike Wissman owns a hat with an unusual NHL logo on the reverse side. It's a Flyers New Era 5950 hat from 1993. Anyone ever seen it before?

Basketball News: The Cavaliers will give away Timofey Mosgov winter hats on Jan. 23. … ESPN's mobile Gamecast screen shows Nets players (or, at least Thad Young) with an outdated Nets logo (from Gabe Billig). … Northeastern will give away jerseys to students at tonight's game (from Matthew Duprey). "¦ Weird horizontal striping on LaSalle's shorts. … The Nets wore black at home for last night's game against the Knicks.

Soccer News: Manchester United defenseman Chris Smalling tore his jersey after jostling with a Newcastle opponent on Tuesday. "I think that they would have made him change his jersey if he didn't have a red long sleeved shirt underneath," writes Jean Labbe. … Also from Jean: Norwich City wore a horizontal striped jersey yesterday against Stoke City, who was in vertical stripes, and Chelsea has two defensemen that wear masks: Nemanja Matic and Cesar Azpilicueta. Actually, many Chelsea players have worn masks over the years.

Grab Bag: "The Adelaide Strikers of the Australian Big Bash cricket league are sponsored by the West End brewing company," says Graham Clayton. "Due to his Muslim beliefs, Strikers player Adil Rashad requested that his shirt would not feature the West End logo. The team agreed, and so the front and the back of his shirt above his number do not feature the West End logo." … Ultimate frisbee's most popular frisbee design is getting an update.
• • • • •
Some quick thoughts about David Bowie: A lot of very thoughtful and very interesting things have been written this week about David Bowie. I haven't added to them until now because, frankly, I was never a huge Bowie fan. I like a bunch of his '70s hits and have a few of his LPs, but I never really felt him as an artist. He always struck me as too dramatic, too theatrical, and his grand concept albums left me cold. His stated goal, after all, was to make musical theater (rock and roll just happened to be his idiom in pursuit of that goal), and musical theater has never been my thing.
I've been struck, though, by how many people — including quite a few people I know — have really been affected by his passing. Over on Facebook, many of my friends have posted something along the lines of this: "When I was a teen-ager, I was such a weirdo, such a freak, and Bowie helped make that okay. He helped me survive that period."
I was not a weirdo teen. I was a nerd, a dweeb, socially clueless, and lots of other things that felt painful and confusing at the time, but that's not the same as being a weirdo. I was a geek, not a freak. I remember the kids who were weirdos, though, and it occurs to me that my response to them at the time was almost precisely the same as my response to Bowie: I thought they were too dramatic, too theatrical. That always bugged me about them.
I now realize that a lot of those kids were simply wrestling with the reality of being gay, or bi, or gender-confused, or something along those lines, and that a lot of what bugged me about them was that I was simply too immature and too cloistered in my own geeky little bubble to understand or even conceive of any of that, much less have any compassion for what they were going through. Bowie, meanwhile, was famously androgynous and sexually fluid, and he always had a huge gay following — maybe that's part of what bugged me about him as well, whether I realized it or not.
Of course, there are all sorts of ways to be a weirdo without being gay, and I don't mean to suggest that Bowie's appeal (or my resistance to it) was rooted wholly in sexuality. Listening to some of his stuff this week, I still find much of his work to be too dramatic, too theatrical. But I'm now thinking this probably has as much to do with my own limitations as with his. I'm going to try to learn from that. RIP.