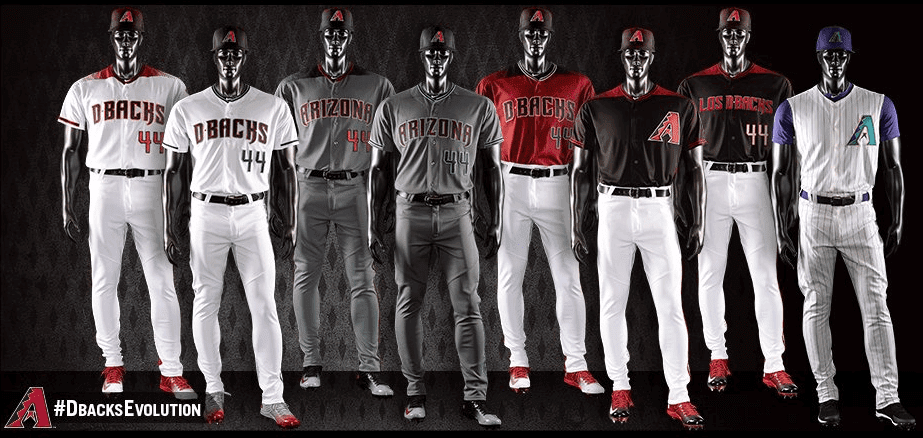 Click photos to enlarge
Yes, it's true — the Diamondbacks now have eight different jerseys and seven different caps (c'mon, couldn't they have matched them up, eight and eight?), all of which were unveiled last night. You can read my fairly extensive thoughts on the set in this ESPN piece, which was posted shortly after the unveiling. I recommend starting there. And if you want more photos than the ones included in the ESPN piece, Phil took lots of screen shots from the unveiling.
There are two additional D-backs notes worth mentioning here, and they both involve belt tunnels. First, eagle-eyed readers may notice a difference between Arizona's throwbacks and the rest of their new uni set — the throwbacks don't have the MLB logo on the back belt loop: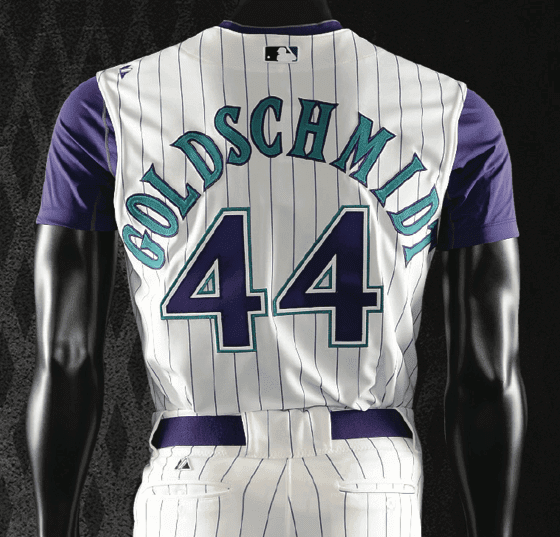 As you can also see, that's the old Majestic logo above the left pocket and near the left armhole — they used one of last season's throwbacks for the mannequin photo. A team spokesman has confirmed for me that, unfortunately, the MLB logo will indeed appear on the 2016 throwback pants. Rats.
I also want to mention a detail that was too small to be included in my ESPN piece but is definitely up for discussion here. Amidst all the flashy elements like the sublimated snakeskin and the extra-dark road grays, the D-backs are using — and calling attention to! — a tapered rear belt tunnel: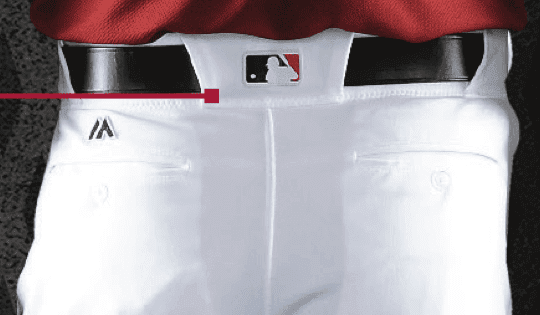 I don't think I'd call the tapered look particularly "modern" or "athletic," but I do like it when a team thinks about the little things, and also when elements like belt tunnels don't all end up looking exactly the same across the entire sport. It's especially good to know that the addition of the MLB logo on the rear tunnel in 2016 doesn't necessarily mean that all tunnels have to look the same (maybe there's even hope for the Tigers). So I officially approve of this move.
Interestingly, the MLB style guide doesn't show Arizona's tapered tunnel — it just shows the default style: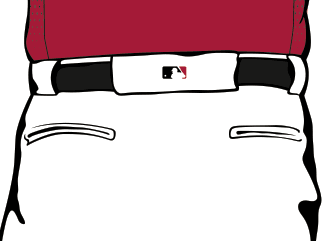 Also worth noting: While I don't particularly like this set, I absolutely respect the way they've presented it. The press materials, most of which formed the script for the unveiling event, were extremely thorough, with lots of very good information, and the team's PR staff gave me advance access to CEO Derrick Hall, who was great about answering my questions about the designs. A very professional bunch.
One final note, regarding Arizona's new dark-grey road unis: Reader Mike Engle reminded me of something I'd forgotten, namely that the Blue Jays had apparently planned on going with a graphite road uni for 2004 but it never made it onto the field. I wrote about it in this 2007 ESPN article about prototype designs, where I wrote:
When the new wardrobe was finally unveiled, retail displays included a charcoal/graphite "Toronto" jersey — with a number on the front, no less — that never made it onto the diamond, although its impact continues to be felt today. Reader Braden Leibovitch explains:

"The Blue Jays unveiled their new logo and uniforms on Sept. 2, 2003. The plan was for them to wear the graphite road away jersey with graphite pants and a graphite hat the following season. The video game MVP Baseball 2004 showed the solid graphite design as the team's road uniform. Apparently these jerseys were nixed by the MLB because they were too dark (imagine playing a day game in Arlington in those!). But the Jays already had the insignia production finalized, and a ton of graphite replica jerseys had been made. The team's solution was to take the existing insignia wordmarks — which had a graphite outline, to blend in with the graphite jersey — and place them on regular gray jerseys. This created a contrasting graphite outline that's still visible on the team's road grays to this day. I'm surprised they haven't changed it, because the original version was such a rush job."
So the Jays could have beaten the D-backs to the dark-gray punch by a dozen years — but it didn't work out.
Obviously, there's a lot to digest and discuss here — get to it.
•  •  •  •  •
NBA dresses up for the prom: The uniforms for the 2016 NBA All-Star Game were unveiled yesterday. As you can see above, Adidas revived the cummerbund design that drew so much ridicule during this past spring's March Madness. There's also a Kia ad patch, which I assessed in some depth when it was announced back in October.
The design is supposedly based on the uniforms of the old Toronto Huskies — additional info here. And you can see additional photos here.
• • • • •
Friday Flashback: With the Padres having unveiled a brown alternate jersey this week, my Friday Flashback on ESPN takes a look at the team's history wearing brown from 1969 through 1990 (including a few unis that I bet you've forgotten about). Check it out here.
• • • • •
Where the rubber meets the road produce: The Tugboat Captain was over at my house the other day and made herself some kind of vegetable stir fry. The next morning I noticed a small, thick rubber band in the kitchen (quarter provided in photo above for scale) and thought to myself, "Oh, I guess her stir fry included broccoli." I asked her, and it turned out I was right.
Sometimes the broccoli rubber band is blue, like the one used in this instance, and sometimes it's pink. But the size and shape are what I find instantly recognizable, regardless of the color. It's kind of amazing to think that this particular rubber band style is so functionally specific that I instinctively associate it with one particular vegetable. I don't even like or buy broccoli, yet this visual association has somehow imprinted itself upon me.
It got me thinking: Is this particular type of rubber band used for any other purposes? Was it developed specifically for the broccoli industry? I mentioned all of this to the Captain, who pointed out that asparagus also comes packaged with a characteristic rubber band, usually purple (shudder). Are there other examples?
Meanwhile, here's something many of you probably know already, although it was news to me: While looking for broccoli photos, I stumbled upon the term broccoli wad, which apparently refers to using the broccoli rubber band as a money clip. There's even a product with that name, although it's a silicone band, not a true rubber band. Here's a fairly absurd commercial for it, featuring former Sopranos actor Vincent "Big Pussy" Pastore:
•  •  •  •  •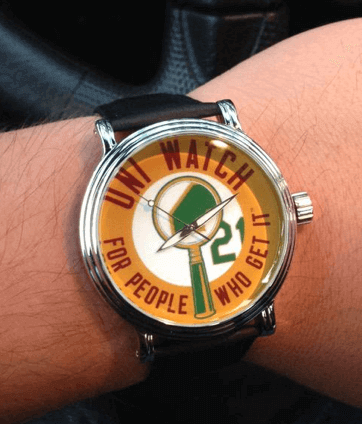 Fun gift: I was doing an image search on something else yesterday and stumbled upon a photo of something I'd completely forgotten about: the Uni Watch watch! You can click on that photo, which shows the watch ordered about six months ago by reader Nik Streng, to see a slightly larger version. It's available in many styles here. (And even if you don't want one, it's still fun to say, "Uni Watch watch.")
• • • • •
The Ticker
By Paul

'Skins Watch: Schools in St. Paul, Minnesota, are considering a ban on Washington NFL apparel (from Barry Brite). "¦ "I was at a Native American art show in Rapid City, South Dakota, last weekend and snapped a pic of this snarky painting, called Custer's Last View," says Taylor Nicolaisen. "It was the only sports-themed artwork I saw there, though there was a handsome abstract piece of natives riding Indian motorcycles chasing a cowboy on a Harley."

Baseball News: Not sure we've seen this before: a headspoon without a handle. That's the new uniform for Elon University. Love the striped stirrups, natch. "¦ "Utica, Mich., has created a three-team league and a $12 million stadium, hoping to spark an independent pro league across Michigan," says a reader who prefers to remain nameless. "The logos are pretty bad — angry unicorn and angry beaver. At least the frog isn't angry." Further info here. "¦ The White Sox are giving away this T-shirt modeled after their 1970s leisure suit jerseys with ticket packages for Sox Fest 2016 (from Kyle Chisolm). "¦ Here's the logo for the 2016 Midwest League All-Star Game (from R. Scott Rogers). "¦ Our own Phil Hecken discussed the Padres' new uniforms on this podcast.

NFL News: While looking for something else, I came across this 2000 photo of Emmitt Smith with his belt unbuckled. "¦ Bud Light is coming out with a series of 40 Super Bowl can designs (thanks, Phil). "¦ Here's a pretty cool look at uni/equipment violations for each NFL team (from Joe B.). "¦ Here's another article about NFL players trading jerseys (from Jerry Wolper). "¦ Here's what the Browns will be wearing this weekend. "¦ Love this old NFL poncho ad that Aaron Husul found in a 1970 issue of SI. (That sound you just heard in the background was Brinke Guthrie plotzing.)

College Football News: Looks like BFBS and/or GFGS may be in Iowa State's future. "¦ Oregon is selling off a bunch of helmets (from @chriszeppie). "¦ "Alabama's high school football championships are at the Univ. of Alabama's Bryant-Denny Stadium this year," says Dustin Semore. "They didn't try very hard to remove the Crimson Tide's midfield logo before adding the 'Super 7' logo."

Hockey News: Ace DIYer Wafflebored's latest necktie project is this Rocket Richard beauty. Boy is he good! Love the quilted numeral and the striped keeper loop. "¦ The U. of Minnesota hockey team is giving away team-colored Mexican wrestling masks (from John Muir). "¦ The ugly sweater phenomenon has now made its way onto the Red Wings' masks. Further info here (from James Thomas and Alan Kreit, respectively). "¦ The Hockey News has been counting down the top 50 jerseys of all time. Here's Nos. 20 thru 11 (from Ted Arnold). "¦ Yoda-themed warm-up jerseys for the Flint Firebirds tomorrow night (from Craig Gasperosky). "¦ Star Wars jersey for the Lake Erie Monsters, too. "¦ Aaron Husul was looking through the 10/5/70 issue of Sports Illustrated and found an item about NHL teams being scheduled to wear colored skates that season. "I thought California was the only team that ever wore colored skates," says Aaron, and that's what I thought as well. Did this ever happen?

Basketball News: Green throwbacks tonight for the Mavs (from @Tyyeezus). … The teams at LeSueur High School in Minnesota are called the Giants, and it looks like they had the Jolly Green Giant — or at least some kind of giant — on their jerseys in 1949. Would love to see a color (or at least crisp/clear) photo of that uni! As it happens, there's a big roadside statue of the Jolly Green Giant about two hours away from LeSueur, in Blue Earth, Minn. (I visited it while doing a cross-country road trip in 1997), so I assume there's some sort of Minnesota connection there (big thanks to Dan Brookens). "¦ Check out this amazing photo of the 1909 U. of Minnesota women's team!

Soccer News: New kits for Chelsea. "¦ Miami FC will unveil its new jersey a week from today (from Chris Maxwell).

Grab Bag: So here's a little something: When the Tugboat Captain and I attended this installment of the New York Food Film Festival a few months ago, we met one of the filmmakers, who turned out to be a bit of a uni-watcher. We've stayed in touch, and now he says he's interested in making a documentary about Uni Watch, and about me. I'm frankly a bit skeptical that this will actually get off the ground (how would you raise money to produce a movie about a fairly obscure writer?), and even more skeptical that anyone besides my mom, the Captain, and a few friends would want to see such a movie (I can certainly think of many writers and media figures, including several friends of mine, who would make far more deserving and entertaining subjects), but hey, I've been wrong before. "¦ I was reading this excellent article about the Marshall Islands the other day and was curious to learn more, so I poked around and discovered that the Marhsalls have a really cool national flag and a pretty awesome seal, too. "¦ New rugby sevens jersey for Australia. "¦ The Color Mafia has declared that Rose Quartz and Serenity — yes, Sereni-fucking-ty — are the colors of 2016 (thanks, Phil). "¦ Whoa, check out the 1926 Drexel women's rifle team! Ya think the gal at far-right shot the leopard that ended up as her coat? "¦ Love this 1968 photo of then-presidential candidate George Romney — Mitt's father — bowling candlepins in New Hampshire. And he was wearing French cuffs!