Potentially big news out of the NBA last night, as The Wall Street Journal broke the story that the league will wear KIA advertising patches on its All-Star Game jerseys this season and next season.
According to the Journal, the patches will be 3.25″ by 1.6″, and will be positioned on the upper-left chest — the same spot where the NBA logo used to appear before they moved it to the back of the jersey last season. The ad patches will also be included on the retail versions of the jerseys.
Is this the next step toward Adam "It's Inevitable" Silver's cherished goal of adding ad patches throughout the league's games? Maybe, but I wouldn't jump to that conclusion just yet. Consider:
1. They plan to use the ad patches for the 2016 and 2017 All-Star Games, after which the program "will be evaluated as a test run." So there will be no uni ads this season or next season, aside from the ASG. (Perhaps not coincidentally — and perhaps ominously — the two ASG trial runs will take us through the end of Adidas's partnership with the league, with Nike poised to take over for the 2017-18 season.)
2. A key passage from the Journal article:
The NBA [ad patch] arrangement was brokered between the league and Turner Sports, the broadcast rights holder to the All-Star Game. A provision for sponsored jersey patches was included in the contract between the NBA and Turner Sports when it was negotiated last year. "¦

By debuting sponsor patches on All-Star jerseys, bypassing approval from team owners, the NBA was able to sidestep a few logistical hurdles.
In other words, putting ads on an ASG jersey is a lot simpler than putting them on regular season jerseys. The bit about "bypassing approval from team owners" is important because, as you may recall, one of the biggest problems the league has had in instituting a a uni advertising program is that the owners have been too greedy to agree on how to divvy up the loot. They've bypassed that problem with this ASG initiative, but the problem remains for regular season ads. I have complete faith in their ability to be so greedy that they keep fucking this up.
3. All-Star, Shmall-Star — honestly, who cares? It's just an exhibition and the uniforms usually suck anyway. They already have Sprite jersey ads for the slam dunk contest, and those are on team jerseys — nobody cares about those ads either. Personally, I don't care if they put ads on skills contest jerseys, all-star jerseys, exhibition jerseys, practice jerseys, retail jerseys, summer league jerseys, preseason jerseys, video game jerseys, D-League jerseys or anything else that isn't part of games that actually count. And as of now, there's still no indication that they've figured out how to make that happen.
#NoUniAds
•  •  •  •  •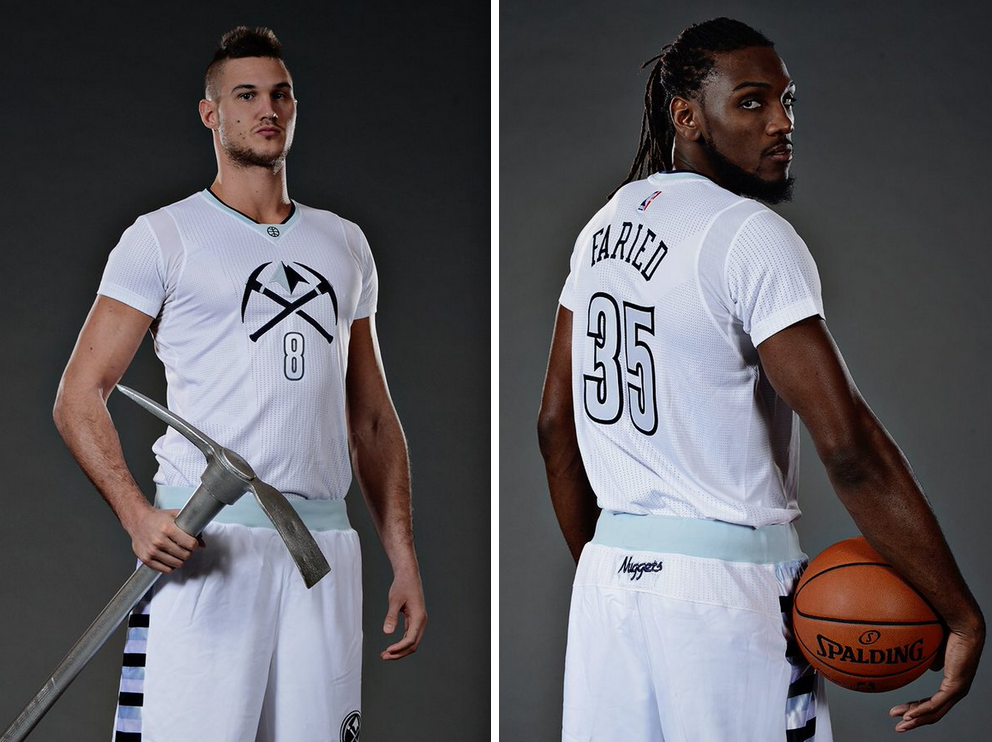 Click to enlarge
And it has an embarrassing name I won't print here: Yesterday the Nuggets became the latest NBA team to unveil a new alternate uniform just as the season is getting underway, as they released photos of the new sleeved alternate you see above. A few quick thoughts:
1. Just like with all the other recent NBA releases, we've known about this one since late July, and it looks exactly like what we expected.
2. While most sleeved NBA jerseys kinda look like T-shirts, this one really looks like a T-shirt, thanks to the relatively small chest graphic and the white background.
3. The chest logo itself isn't bad. Another version of it appears on the shorts:
4. Should be interesting to see whether the silver numbers present legibility problems on the white background. Silver on white isn't that different from white on white, which would put us back in the realm of the "Big Color" Christmas uniforms, and you remember how problematic those were.
5. What's with the waistband on the shorts? Looks like putty or something. Actually, kinda looks like they rolled it down, but there's no way both players did that — is there?
6. Too bad about the tramp stamp.
7. See that barber pole-style striping on the shorts? I usually love that kinda thing but it doesn't work with this design. The jersey is clean and minimalist (although it'd be cleaner without sleeves, obviously), so that chunky stripe pattern is a poor fit.
8. This thing where the Nuggets have their players pose with pickaxes for the team's uni-unveiling photos, which has been going on at least since 2012, is so hilariously stupid, I crack up every time they do it. You can tell the players just looooove it:
I think we should get every team to do something like this. Cavs players can pose with swords; Pistons players can pose with dipsticks; Celtics players can pose with a pot of gold; all the animal-based teams can have their players pose with live animals (a bear for the Grizzlies, a pelican for the Pelicans, an entire hive of stinging insects for the Hornets, etc.), and so on. Sure it'd look ridiculous, but no more so than the Nuggets' players already do. Why should they be the only ones we get to laugh at during NBA unveilings?
The schedule of when this uniform will be worn can be found here, and there are some additional photos here.
•  •  •  •  •
And as long as we're talking about the NBA…: This kinda says everything that needs to be said about the new Clippers jerseys, eh?
@PhilHecken DJ playing with a hole in his jersey tonight vs Kings. pic.twitter.com/1GB3rNkyBb

— Adam K (@akerck24) October 29, 2015
(My thanks to Phil for letting me know about that tweet.)
•  •  •  •  •
The Ticker
By Mike Chamernik

Baseball News: While the Royals have four statues at their stadium, the Mets haven't been interested in adding statues to Citi Field. … Check out this drawing of Beartolo Colon. It comes from this Tumblr feed (from John Dankosky). … I love this collection of World Series ticket stubs (from Russ Havens). … SportsLogos.net's Chris Creamer wrote a strong piece on Mets uniform and logo history (from Phil). "¦ Royals C Salvador Perez has pine tar on one of his shinguards, and nobody has a problem with that.

NFL News: The Steelers' DeAngelo Williams and William Gay were each fined for uniform violations after displaying support for personal causes against the Chiefs on Sunday. Williams had the phrase "Find the Cure" printed on his eyeblack (more information on that here). Gay wore purple cleats to show support for domestic violence awareness. … Mike Ditka has endorsed a lot of products over the years, most of them bad. … Russell Wilson has the best-selling jersey in the league (from Phil). … A Fred Jackson Bills jersey that was owned by Toronto mayor Rob Ford is for sale on eBay (from David Firestone).

College & High School Football News: Rather than purchase new helmets for $300 apiece, Ohio State repainted its helmets for $60 each for the Buckeyes' BFBS game two weeks ago (from Chris Scott). … Utah will wear all-black this weekend. … A taxidermist recreated the final scene of the Michigan-Michigan State game from a few weeks ago (from Garrett). … An Iowa newspaper is holding a contest for readers to design alternate jerseys for the Hawkeyes. … High school teams in New York and Tennessee wore Pinktober jerseys (from Cort McMurray and Adam Childs, respectively). … Yesterday Paul asked about the dove decals on Syracuse helmets. Here's the answer.

Hockey News: The Capitals wore lavender cancer awareness warm-up jerseys last night (from Phil). … Here are a bunch of photos of various Toronto hockey teams, taken from 1910 to the mid-1960s (from Ted Arnold). "¦ Check out these NHL jersey cell phone cases (from Ryan Lindemann).

Soccer News: This spread around the uni-verse yesterday: 1970s German soccer models dancing in soccer uniforms (from James Mellett and Sara Schieve). … A new Pennsylvania USL team will be named Bethlehem Steel FC. The Steel will use gold as a color to match its parent team, the MLS's Philadelphia Union (from Tom Gabor). … The Campaign for a Commercial-Free Childhood is not a fan of kids wearing jerseys sponsored by Fox Sports 1 in AYSO leagues across the country.

Basketball News: The Kings and Clippers went color-vs.-color last night. "¦ Before their opener against Minnesota last night, the Lakers wore MPLS throwback warmups to honor T-Wolves coach and GM Flip Saunders, who passed away this weekend. … The Warriors received these championship rings two nights ago. … New court for the Celtics (from Brian Shea). … Last year, Charles Barkley famously said that the Warriors couldn't win the title because they were a jump shooting team. He wore a shirt the other day that admits his error. … The Hawks have quite a pregame court projection animation. … Instead of being remembered for his NCAA title at Duke or his consecutive 20-point, 10-rebound seasons, Carlos Boozer is known for when he painted his hairline back in 2012. This week, he talked about the story behind that fateful decision. … A designer reimagined NBA teams as soccer clubs (from AW Rader). … New uniforms for Clarendon College (from Dan Tharp). … New unis for South Dakota State. … Basketball players for the Rens, a New York youth league, will wear orange patches to promote gun violence awareness. Four players in the league have been shot over the last year. "¦ You can still see ghosts of last season's decals atop the Thunder's backboards. "Sloppy," says Chris Perrenot. … The Celtics opened their season by wearing green at home (but the Sixers wore white on the road, so it wasn't a color-on-color game). "They did this for last year's home opener as well," says @FandF_Sports. "¦ The Wizards have a cool new franchise history jersey display at their arena (from Noah Petro). "¦ D'Angelo Russell of the Lakers wore an old jersey with the NBA logo on the front and no gold tab on the back for last night's season-opening game against the Timberwolves.

Grab Bag: Here's a brief roundup of some corporate logo tweaks from this year (from Brinke). … Forrest Page is a teacher at Grand Rapids (Mich.) Ellington Academy of Arts and Technology. To drum up some college enthusiasm, he covered three of his room's walls in college pennants and posters. Very nice! … New lacrosse uniforms for Colorado Mesa.