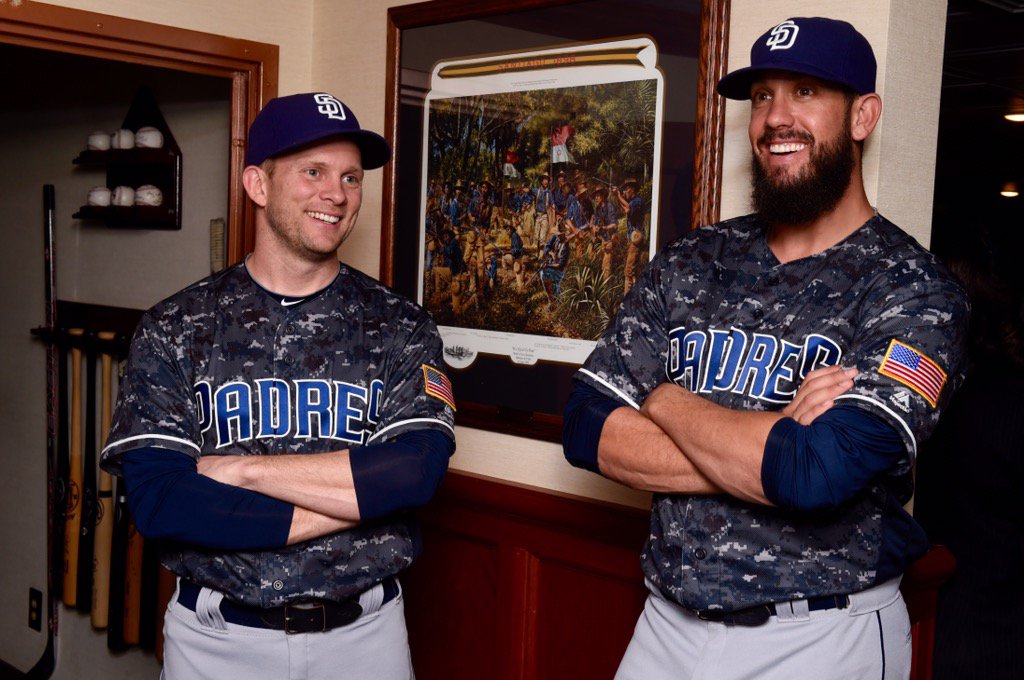 Click to enlarge
The Padres crossed us up yesterday — or at least they crossed me up. I'd been told by a team source that they'd be unveiling their new uniform set at 8pm Eastern. Instead, they held an event four hours prior to that just to unveil their their new camouflage design, which is blue — an MLB first (and, let's hope, last) — and then held another at 8pm to unveil their new home unis. (The road sets are unchanged.)
You can see my thoughts about the new designs in this ESPN piece, which was posted last night. One thing not covered in that piece: The new blue/yellow color scheme is supposedly to "commemorate" the 2016 All-Star Game, which the Padres will be hosting, so the new home jersey is being touted as a "commemorative All-Star jersey." That's just marketing bullshit, of course — it's their new home jersey, at least for 2016. Calling it "commemorative" makes it sound more special, but that's nonsense. (It's worth noting that the MLB Style Guide simply lists it as "Home Uniform.")
Still, it's not clear whether it'll be retained after next season. A team source tells me, "The feeling around the office is that the jersey is just a test-market of the blue and yellow color scheme. If it's popular among fans, it may be continued beyond 2016 with a more permanent use of the blue and yellow." That's interesting, but it sure doesn't jibe with the way the uni-verse currently works, what with long lead times and being locked into things years in advance. Do the Padres really have the flexibility to improvise here? I'm skeptical. Whatever they have planned for next year, I suspect it's already set in stone.
My source also tells me this: "The old brown camo [as opposed to the new blue camo] will be worn twice in 2016 for tributes to the Marines." There's more info on that here.
Meanwhile, there's one item at the end of my ESPN piece that's worth expanding upon here: As I first reported here back in early October, all MLB teams will be wearing Jerry Dior's silhouetted batter logo on the back of their pants in 2016, and yesterday's unveiling provided our first peek at that: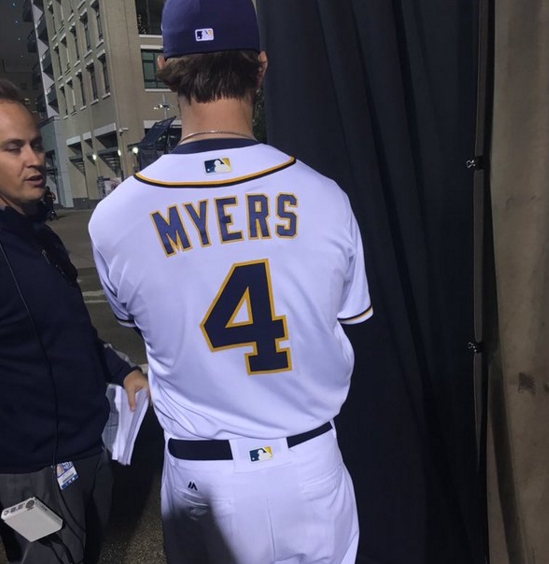 As you can see, the logo is rendered in team colors — blue and yellow, in the Padres' case — rather than the standard red-white-blue design. This matches the protocol for the logo's appearance on team caps and team jerseys, where it always matches the team's color scheme.
When I tweeted that photo yesterday, lots of people responded by asking what this would mean for the Tigers, who've used thin belt loops for many decades. I'm assuming they'll have to switch to belt tunnels — an unfortunate example of how logo creep can affect a team's visual identity. (As an aside, I was heartened to see how many people were aware of the Tigers' loops and thought about the new logo's implications for same — good to see people being uni-alert!)
Meanwhile, do we need a new term for this logo placement, or will "tramp stamp" suffice?
(My thanks to Phil for his assistance as last night's event unfolded.)
•  •  •  •  •
The Ticker
By Paul

Baseball News: Did you notice that the Tigers used their cap "D," not the jersey version, for the name placards at Jordan Zimmermann's introductory presser the other day? That's because — although it hasn't yet been formally announced — the Tigers are redesignating the cap logo as their primary logo for 2016. "¦ Interesting story about how MLB teams still get rings even if they lose the World Series. "¦ Too bad David Price signed with the Red Sox. I was hoping he'd end up on a team with a contrast-colored squatchee, so his de-squatchification would be more obvious. "¦ New fifth-anniversary logo for the Yokohama DeNA Baystars (from Jeremy Brahm). "¦ Also from Jeremy: New Hanshin Tigers player Matt Hague wore the team's jersey while signing his new contract.

College Football News: The Tokyo Bowl, being held on Dec. 6 in Japan, will be color vs. color. "The red team is Nihon University (Nihon Phoenix) and the blue team is Kwansei Gakuin University (Kwansei Gakuin Fighters)," says Rickey Layman. "They are two of the best teams in Japan, playing in what is the Japanese version of the Rose Bowl (the two teams that beat them will be playing for the national championship the same day)." "¦ Clemson QB Deshaun Watson will have a hand warmer sewn into his jersey this weekend (from Ben Whittington). "¦ Reprinted from yesterday's comments: GOP presidential candidate Ted Cruz, who got in trouble a few days ago for using a logo that appeared to be based on the Big 12 logo (similar to when fellow candidate Jeb Bush ran afoul of the SEC in October), is selling an overpriced polyester shirt on his campaign website. The uni number presumably refers to the next president's ordinal, plus Cruz will be turning 45 years old later this month. After Greg Binsi posted that link in yesterday's comments, R. Scott Rogers provided a detailed design critique. "¦ College team merch is apparently poised to become the dominant form of "athleisure" apparel (from Tommy Turner). "¦ Here's a position-by-position breakdown of which helmet designs will be worn by which Navy players for the Army/Navy game (thanks, Phil). "¦ UCLA congratulated Josh Rosen on being named the PAC-12 Offensive Freshman of the Year but used a picture of him in last year's uniform (from Jared Buccola).

Hockey News: The NHL is running a Zamboni design contest for the 2016 All-Star Game (from @GKG_77). "¦ "My coworker's mom has this hockey jersey from when she lived in Frood, Ontario, based around the Frood Mine (a really big nickel mine) in 1936," says Adrian Bischoff. "They had a hockey team made up of miners. Pretty awesome. Seems to be wool. I wonder if they had indoor rinks or if they only played on lakes?" "¦ I'm putting this in both the hockey and NBA sections: Jerry Seinfeld announced a 2016 residency at the Beacon Theater in NYC and was presented with personalized Rangers and Knicks jerseys. Seinfeld is known as a Mets fan, so why didn't he get one of their jerseys instead? Because the Beacon is owned by Madison Square Garden, which also owns the Rangers and Knicks (from Dane Drutis). "¦ Xmas sweater jerseys for the Albany Devils. … The Sharks wore their early-'90s throwbacks last night. … This is pretty cool: We knew USC and UCLA went color-on-color on the gridiron, but they also do so on the ice!

NBA News: Do you care what a bunch of teenage girls think of the NBA's Xmas uniforms? Right, me neither, but The Washington Post asked them anyway (from Tommy Turner). "¦ Andrew Payne asks a good question: "Why do basketball referees wear warm-up jackets? I can't think of another sport where the officials do that." And we can't blame this one on merchandising, since nobody's running out to by officiating apparel. Anyone..? "¦ I'm putting this in both the NBA and hockey sections: Jerry Seinfeld announced a 2016 residency at the Beacon Theater in NYC and was presented with personalized Knicks and Rangers jerseys. Seinfeld is known as a Mets fan, so why didn't he get one of their jerseys instead? Because the Beacon is owned by Madison Square Garden, which also owns the Knicks and Rangers (from Dane Drutis). "¦ Lots of stuff pertaining to last night's Sixers/Lakers game: (1) The Sixers saluted Moses Malone and announced that they'll be retiring his number next season. (2) They honored Malone with this backboard padding (from Robert Hayes). (3) Earlier this season they were wearing this memorial patch, with the three black stars for Malone, Darryl Dawkins, and Harvey Pollack. But last night they had a new memorial patch. Here's a closer look. I'm told that they had those stars on the court as well, although I couldn't find a photo (from Dan Roche). (4) Prior to the game, the Sixers presented Kobe Bryant with a jersey from his Philly-area high school. Oddly, they used his current Lakers uni number, not the number he wore in high school (from Pat Costello).

College Hoops News: Brutal new sleeved alternate for Weber State (from Tyson Jex). "¦ Florida's Gator mascots dressed up in Star Wars costumes last night (from @DaveDoop). "¦ The TV broadcast of last night's Virginia/Ohio State game featured digitally superimposed ads on the court.

Grab Bag: New soccer jersey for FC Rot-Weiß Erfurt, to coincide with their new stadium (from Ed Å»elaski).Very interesting article about the role of coin tosses in sports. Recommended. "¦ I mentioned in yesterday's travelogue that we stopped at the Genesee Brewery in Rochester. Looks like we were a few days early (from Blair Spangler). "¦ Back in February I wrote an article on snap-fit design, which, loosely speaking, refers to things that go "Click!" when you close them. Now Adrian Bischoff has sent me this very cool snap fit design guide, along with a absolutely fantastic video that shows how a retractable "click" pen works. Great stuff. "¦ Scores of TV meteorologists have been wearing the exact same dress on the air. "¦ The Los Angeles Times has issued a Star Wars style guide. "¦ Speaking of Star Wars, George Lucas says "he has assiduously avoided the Internet since 2000 "" no Facebook, no Twitter, no email, even." Although this means Lucas doesn't read Uni Watch (and although he spells his surname incorrectly), it's inspiring to know that one of the world's most potent creative forces gets along just fine without cyberspace. "¦ New rugby sevens shirt for Wales (from Tim Dunn). … Hey, remember when USFL refs wore shorts?