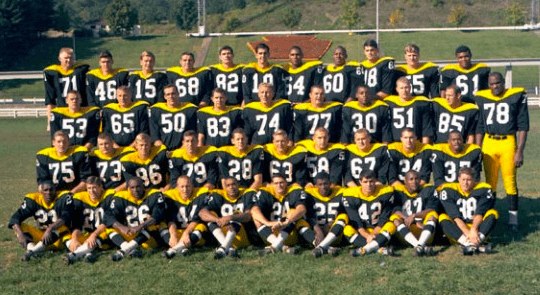 My Friday Flashback piece on ESPN today takes a look at one of my favorite overlooked uniform designs: the Steelers' "Batman" uni, which was originally worn in 1966 and '67 and is ripe for a comeback. If you don't know the story behind this underrated design, you'll learn it today — check it out here.
•  •  •  •  •
Click to enlarge
Christmas in November: Last night the NFL revealed the first two of its monochromatic Thursday-night uniforms, which will be worn next Thursday, and they're pretty much what we expected.
It's hard to express how much I hate the Bills design. Red is not their primary color; it's a trim color. Never liked them with red helmets and really don't like them doing the blood-clot thing. Piece o'. (It's funny to see how Nike and/or the NFL even showed the field in red, just to accentuate the effect. Nice try, guys.)
As for the Jets, it's not as though we've never seen them in mono-green before. Let's compare their this new uniform to their existing mono-green look (click to enlarge):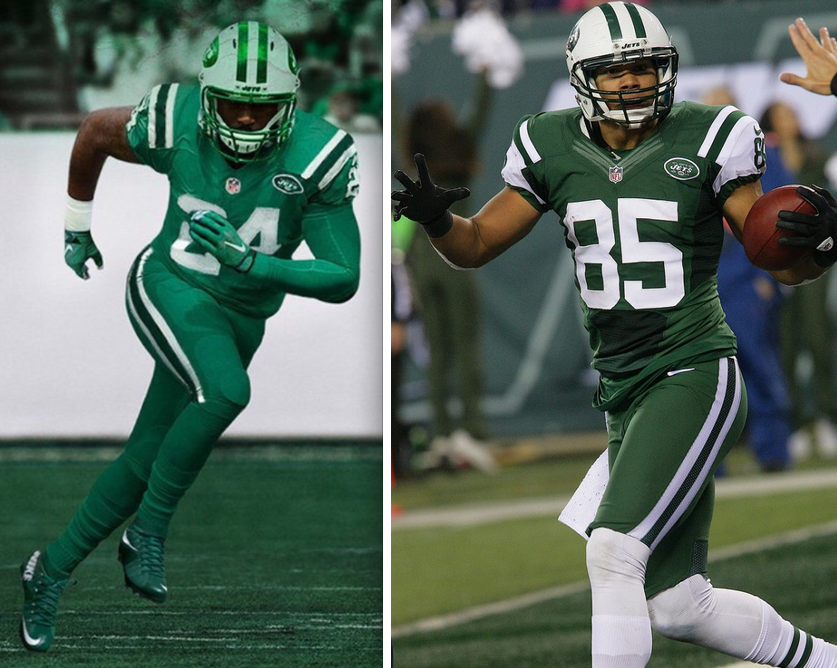 Okay, so they lightened up the shade of green, gave the helmet some reflective striping and a chrome facemask, and changed the contrasting sleeves and socks to green. Big deal. (Meanwhile, it's worth noting that Nike still can't get the green tones to match.)
Both uniforms look like bodysuits or full-body costumes, which is obviously what Nike has wanted football to look like for years now, whee! I never watch the Thursday-night games anyway, so I don't really care. Now I have even less reason to watch those games.
As for what we're going to call this program — because there's no fucking way I'm gonna use the term Color Rush week after week — you folks had some very good suggestions yesterday, including Hue Spew (from Mike Cole), Cluster Rush (R. Scott Rogers), Technicolor Yawn (Jeff Hannaford), and CFCS (many people).
But my favorite suggestion came from Greg Mays, who said everything that needed to be said simply by changing one letter from the original: Color Rash. That's what I'll be calling these uniforms from now on. Greg wins himself a free Uni Watch membership card — congrats!
•  •  •  •  •
Silly season, continued: This is the final weekend before Veterans Day, so football teams are in high pandering mode. Here's a roundup — far from complete, I'm sure, but sadly representative — of the cheapening of our flag and what it stands for:
App State's S&S helmet stickers for tonight's game vs Ark State (h/t @BearlyDoug) pic.twitter.com/58ZmUcZW6P

— Phil Hecken (@PhilHecken) November 5, 2015
YSU's helmets for this Saturday 🐧🏈 pic.twitter.com/9yP06s2TqM

— Youngstown Social (@YtownSocial) November 5, 2015
We're honored to wear special uniforms in celebration of the U.S. Military & its members Saturday. #GoEags pic.twitter.com/kHWVBQGpR6

— EWU Football (@EWUFootball) November 5, 2015
Welp. UCLA has joined the S&S decal helmet parade too. Will wear Saturday pic.twitter.com/LABR87PZb6

— Phil Hecken (@PhilHecken) November 5, 2015
SMU adding patriotic pony to helmets for Friday's game -> https://t.co/HnTTnBF0iq pic.twitter.com/hyZ4Vuwb9K

— Phil Hecken (@PhilHecken) November 4, 2015
@Keith247Sports @Uniformswag @UniWatch pic.twitter.com/ph7Y9JYU9L

— Chad Grier (@ChadGrier_) November 5, 2015
Some of these are worse than others, but those are differences of degree, not of kind. The whole thing is in poor taste and needs to stop.
And hey, why should silly season be limited to football? It isn't:
New stars & stripes "Hoops for Troops" NBA team shooting shirts ($44) pic.twitter.com/iNvey1x3BG

— Darren Rovell (@darrenrovell) November 4, 2015
@PhilHecken @UniWatch Mike Moustakas and Drew Butera wore their July 4th jerseys on Jimmy Kimmel last night. pic.twitter.com/4yZSk3lEI1

— Kevin (@Jarferama) November 5, 2015
To all you veterans out there: I'm sorry that this is how the sports world chooses to "honor" you. You deserve better. We all do.
•  •  •  •  •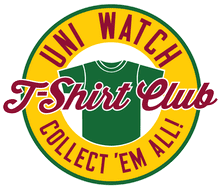 T-Shirt Club update: We have one design left to go for the 2015 Uni Watch T-Shirt Club collection — the December shirt. We hope to launch it next Tuesday, although there's a chance it'll be bumped back to the following Tuesday. Either way, I want to give you a peek at the direction we're taking. I think you'll agree that my Teespring designer, Bryan Molloy, has really outdown himself with this one (click to enlarge):
Pretty great, right? I especially love the little "flaws" and "mistakes" that Bryan built into the knitting pattern. So good!
This is still a work in progress — we're not sure if we'll go with just the script or if we'll include the little tree/snowflake trim (I'm leaning toward the latter), and Bryan has some other ideas that he wants to incorporate. Still thinking about the NOB (which was originally going to be "Ugly Sweater," but there's nothing ugly about this so we'll have to come up with something else).
Feedback is welcome. Like I said, maybe we'll have all of this worked out by next Tuesday. If not, then by the Tuesday after that. Stay tuned.
Meanwhile, we're working on getting everything fixed regarding the tequila sunrise shirts. If you have any problems with the way your shirt turned out, let me know. We'll take care of you.
•  •  •  •  •
Membership update: Two more cards have been added to the membership card gallery (including Samuel Selker's 1970s Cavs motif, shown at right). I have two more slots open on the current sheet, which I plan to send to the printer on Monday. So if you sign up today, you'll likely have your card in your hands by the end of next week.
As always, you can sign up for your own custom-designed membership card here, you can see all the cards we've designed so far here, and you can see how we produce the cards here.
• • • • •
The Ticker
By Paul

'Skins Watch: Good for Adidas, which has created a new initiative to provide financial assistance and design resources for schools that want to change from their Native American mascots. Further info here. Now let's see Nike and Under Armour do likewise. "¦ Unsurprisingly, one critic of the Adidas initiative emerged right away: the 'Skins. Rather tellingly, their critique took the form of accusing Adidas of hypocrisy — in other words, they tried to indict the messenger but didn't refute the message. Weak (from Rob S.). … Some students and faculty members at Amherst College in Massachusetts want to change the school's mascot. The current one, Lord Jeff, is based on Lord Jeffery Amherst, the 18th-century British military commander who endorsed giving smallpox-ridden blankets to Native Americans. "¦ The 'Skins legal team's latest brilliant tactic in fighting to retain trademark protection is to claim, "Hey, we're no worse than porn companies!" Classy (from Tommy Turner). "¦ A DC-area parent thinks kids should not be permitted to wear clothing with the 'Skins team name or logo in local public schools (from Tommy Turner). "¦ Remember this Blackhawks concept that was floating around a few years ago? Quebec's top First Nations chief has endorsed it as a replacement logo for the Blackhawks.

Baseball News: Faaaaascinating juxtaposition between two new MLB sleeve patches that were released yesterday: The Braves will celebrate Atlanta's unbelievably poor urban planning, while the Cubs will celebrate urban preservation. "¦ Longtime Uni Watch pal Tyler Kepner sent along this step-by-step guide to wearing stirrups, from a 1972 book by former MLBer Bob Shaw. "¦ Majestic says the Royals are good for business (thanks, Phil). "¦ Ladies and gents, your new Atlantic League team: the New Britain Bees.

NFL News: Jim Cramer, an entertainer who plays a financial analyst on TV, has a personalized Eagles jersey on his set. "¦ Here's a gallery showing all 32 NFL locker rooms (thanks, Mike). "¦ The Bills will play dress-up soldier on Sunday by wearing helmet decals representing the military branches (from John Falardeau). "¦ The Bucs, who've been wearing a lot of white at home, will wear red at home this Sunday. "¦ Giants DL Jason Pierre-Paul, who blew off one of his fingers in a July 4th fireworks accident, may return to action this Sunday, so he's experimenting with four-fingered gloves (thanks, Mike).

College Football News: In what I gather is more the exception than the rule, the success of Alabama's football program has had positive effects rippling throughout the university, including at the academic level. "¦ Next year's game between Navy and Notre Dame has its own logo (from Leigh Torbin). "¦ Here are this weekend's uni combos for UNC, Duke (those two teams will be facing each other), Arizona State, USF, and Washington State. "¦ Speaking of Washington State, their non-traditional uni combos are becoming more traditional (thanks, Phil).

Hockey News: Dreadful G.I. Joke unis this Saturday for the Des Moines Buccaneers. "¦ Oooh, look at the jersey once worn by the Waverly Gold Diggers, an old Nova Scotia team (from Will Scheibler). "¦ This is pretty cool: Did you know NHL goalies have bags to transport their masks? I didn't — but they do! (Good one from J. Walker.) "¦ Here's the logo for this season's AHL All-Star Game (from Chris Cruz).

NBA News: The Mavericks' fan-designed alternate uni, which was first unveiled more than a year ago, is nearing its on-court debut. "¦ You already know that the Pacers will be wearing Hoosiers-inspired uniforms for a handful of games this season. What you might not know is that the uniforms used in the movie disappeared after the film wrapped and weren't rediscovered for another 25 years (from Todd Usher). "¦ Inside the NBA's Kenny Smith imitated LeBron James by ripping his sleeves last night (thanks, Mike). "¦ As you can see from that last video clip, the Bulls and Thunder went color-on-color for last night's game. "¦ LeBron's sleeve-ripping move also inspired the Canadian network TSN to present its top 10 uniform moments (from Mike Styczen).

College and High School Hoops News: Oh man, there is sooooo much to love about this old high school basketball photo, which I'm assuming is from the 1970s or maybe early '80s. Only thing missing is striped tube sox. "¦ Fortunately, there are striped sox aplenty in this shot. Tasty! (From David Stephens.) "¦ Pitt is going G.I. Joke for the Armed Forces Classic.

Grab Bag: One soccer item: New Euro 2016 kit for Spain. … Interesting article on the signage on all-gender restrooms (from Tommy Turner).
• • • • •
Party reminder: Uni Watch party tomorrow, 2pm, in the back room of Sheep Station in Brooklyn. Hope to see lots of you there. Everyone have a great weekend!