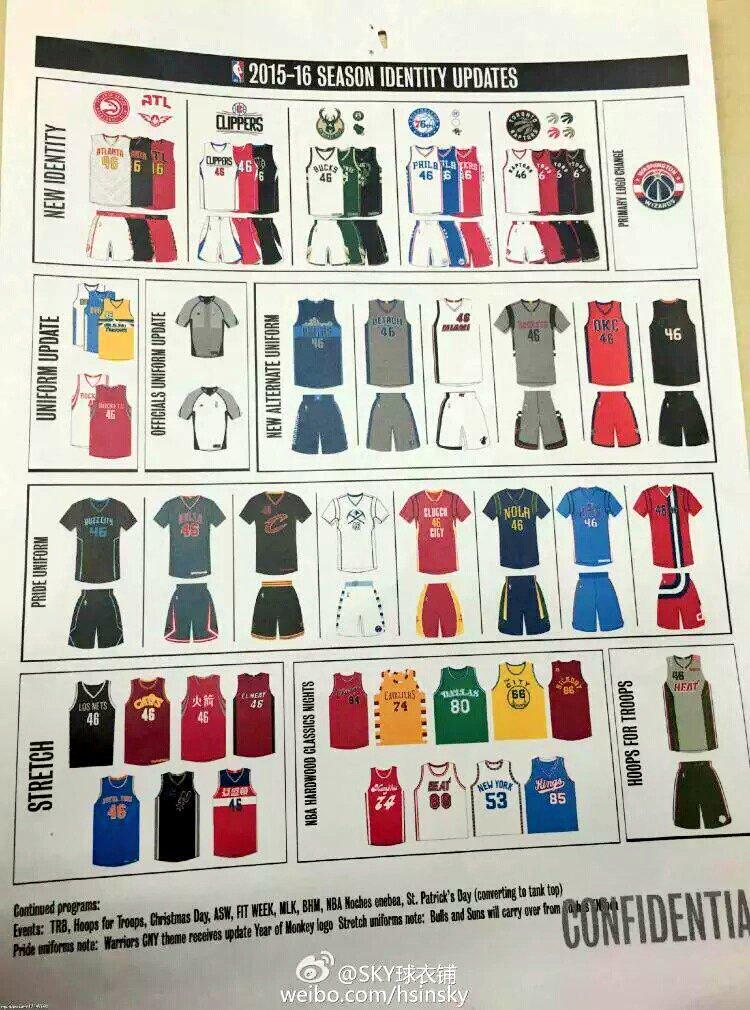 Click to enlarge
Major NBA development late last night, as a someone on Reddit posted what appears to be a sheet outlining all of the NBA uniform changes for next season (see above). It includes a lot of things we already knew but a whole lot more that we hadn't yet seen. It quickly spread via all the usual channels.
Before we get into the details, let me get some quick disclaimers out of the way: I do not know who posted the sheet on Reddit and have not yet independently confirmed that the sheet is legitimate, so everything in it should be treated as provisional for now. It's worth noting, however, that the sheet includes accurate depictions of a bunch of previously released designs. That makes me inclined to believe that the unreleased designs on the sheet are probably accurate as well. Also, the format and design of the sheet itself, including the "Confidential" stamp on the bottom, are all consistent with internal NBA documents of this sort, which further leads me to believe that it's probably legit. Not definitely, but probably.
The big problem, obviously, is that the image is low-res and out of focus. I'm no wiz when it comes to Photoshop, but I've done my best to enlarge and brighten the mock-ups of the new designs.
The sheet is formatted into four horizontal rows. Let's go one row at a time, working from left to right within each one, shall we?
Row 1
• First up is the new Hawks identity. Nothing new there.
• Next is the new Clippers identity, which includes a glimpse of the black alternate uniform, which hasn't yet been officially released:
This appears to confirm the earlier leak of this design.
• Next comes the new Bucks identity, which includes a glimpse of the black alternate uniform:
As you can see, it appears to show a buck's head with the uniform number positioned between the top of the antlers.
• Next comes the new Sixers set, which came out last month. Nothing new there.
• Then we have the long-awaited Raptors set:
No purple, thankfully. Of the two alternates, one is presumably the rumored "Drake alternate."
•  At the end of the row is the updated Wizards primary logo, which we already knew about.
Row 2
• First come the tweaks to the Nuggets' uniforms (shown at last month's NBA draft) and tighter tailoring on the Rockets' jerseys (already leaked a while ago). Nothing new there.
• Next up is a surprise — new jerseys for the referees:
Why the white jersey? Presumably because we're seeing more grey-vs.-grey games, and they want the officials to stand out more from the players. We had already seen a few games in which the refs tried to solve this problem by wearing the older jerseys with the dark sleeves, but now they appear to be trying a different solution.
• Next is a series of alternate uniforms (click to enlarge):
From left to right: The first design is the Mavericks' fan-designed alternate, which we already knew about. Then comes a GFGS Pistons design with blue lettering; a new Heat design; Rockets GFGS with sleeves (boy does that one look dreadful); Thunder "OKC"; and, uh, what is that last one? I'm not sure. I've played around with the image a bit and think the chest lettering says "Utah," but other people are saying this is a Suns design.
Row 3
This row shows eight new "pride" uniforms, all with sleeved jerseys. Here are the first four of them (click to enlarge):
First is Charlotte's "Buzz City" design, which was released last month. Then we have what looks like a GFGS Bulls design; a Cavs design that looks a bit like the 2014 Xmas jerseys, except they put the uni number on the upper chest instead of on the sleeve; and a Nuggets design that actually looks like fun.
Here are the next four (click to enlarge):
We begin with a "Clutch City" design for the Rockets; then a NOLA design for the Pelicans; then an absolutely brutal purple-on-blue uni for the Kings; and, in the most confounding development of the entire sheet, a Wizards design that hearkens back to the franchise's old Baltimore Bullets days. Why would you ever create a sleeved version of that uniform? Bizarre.
Row 3
• First are the "Stretch" jerseys. We've seen this term before in an earlier leak, and it wasn't clear what it meant. Judging by these designs, however, it appears to refer to foreign-language or cross-cultural designs (although someone in the comments just said it refers to an alternate jersey worn with the team's existing road shorts — hmmmm):
• Next we have this season's throwback designs, including the Pacers' just-released Hoosiers-inspired uni. Odd to see that listed as a throwback, because Pacers exec Todd Taylor repeatedly referred to it as a Pride uniform when I interviewed him the other day, but whatever. In any case, all of these except the Pacers design had already surfaced a while back in an earlier Adidas catalog leak, so nothing new there.
• Finally, we knew from an earlier leak that the Heat would have some sort of military tribute uniform, but we didn't know what it would look like — until now:
I'll just say, "At least it isn't camouflage" and leave it at that.
The final item of note is this text running along the bottom of the sheet (click to enlarge):
No more sleeves on St. Paddy's Day, whoop-whoop!
Did I miss or misinterpret anything? Quite possibly. I didn't become aware of the sheet's existence until about midnight, when I was about to go to bed, and then I stayed up until about 2:30am writing this entry, so I was (and am) a bit punchy. Feel free to fill in any gaps that I might have left.
(Big thanks to Mike Chamernik, who was the first to let me know of the sheet's existence.)
•  •  •  •  •
Membership update One card — just one! — has been added to the membership card gallery (that's Jonathan Flaugher's shown at right, which is based on Ohio University's "Battle of the Bricks" jersey). Why only one? Because membership sign-ups have slowed to a crawl lately.
If you want to help jump-start things, you can order your own custom-designed membership card here, you can see all the cards we've designed so far here, and you can see how we make the cards here.
•  •  •  •  •

Baseball News: "On July 31, the Cards are giving away a Lou Brock bobblehead that commemorates the Brock-for-Broglio trade," says Jim Santel. "The figurine depicts Brock trading in his Cubs pinstripes for the birds on the bat, and his Cubs hat rests by his feet. I wonder if a bobblehead has ever featured two teams' unis at once?" "¦ If you buy an overpriced polyester shirt featuring the name/number of a player who gets traded at the deadline, Majestic will give you a 50% discount on the next overpriced polyester shirt you buy. Wow, what a deal! This is the part where I remind you that a much better solution would be to avoid buying overpriced polyester shirts to begin with. "¦ Steve Salayda was watching Game Four of the 1993 World Series and heard broadcasters Tim McCarver and Sean McDonough discussing high- vs. low-cuffed pants styles. "¦ Egg-themed jerseys last night for the Toledo Mud Hens. "¦ Star Wars jerseys on Saturday — such an original idea! — for the West Virginia Black Bears (from Jason Moore). "¦ Three Astros players wore stirrups last night. "¦ Yesterday was a "Wayback Wednesday" for the Padres, which means they wore their 1980s throwbacks. In addition, they went with retro-style game notes and scoreboard graphics.

NFL News: A sailboat that won a recent race in Michigan had the Lions' logo on the side of the hull, plus the crew wore Lions T-shirts (from Mike). "¦ "The other day there was an ad on the side of my Facebook page for Dolphins merch," says Tyler Cochran. "It had the throwback '66 logo (which I love), so I clicked on it. It took me to a page of the throwback merch from Nike, all labeled 'Miami Dolphins Alt.' They had all the usual stuff (jacket, personal logos for NFL stars (from Jamie Burditt).

College Football News: Miami now has a "hype video" for its new uniforms (thanks, Phil). "¦ Also from Phil: Texas will not have alternate unis this year. "¦ The Citadel will wear a memorial decal for the Charleston massacre victims this season (from Harrison Wallace). "¦ Some Big 12 players talked about alternate uniforms. "¦ With Penn State reverting to NNOB this season, a player had the team's longtime equipment manager personally remove the nameplate from his jersey (from Mike McLaughlin). "¦ Countless layers of paint recently slid off of Tennessee's Painted Rock, leaving the rock as a largely blank slate. According to this story, at least one Vol sees a uni-related subtext: "'It's a God-given way to say we are starting over,' [UT Freshman Jonathan] Mays said. 'We are about to do something big. We switched from Adidas to Nike and everyone is excited about that and now we literally have a new slate to start off on for The Rock'" (from Patrick Lasseter).

NBA News: The Hawks are partnering with the Fulton County parks department to install a new basketball court surface at a local park. "¦ With all the chatter about the Clippers new uniforms, I think this might be our first look at the rear view (from Sandy Dover). "¦ Yesterday's entry about the Pacers and their Hoosiers-inspired alternate uniforms prompted Kary Klismet to note that Milan, Indiana — the town whose high school formed the basis for the film — has a museum devoted to the school's 1954 state title team, including a large collection of uniforms worn in the movie. "¦ This is pretty funny: A local TV newscast began a report by using the wrong 76ers logo and then used the correct one just a few seconds later (good spot by Michael Paolucci). "¦ Jazz beat writer Andy Larsen says the team has logo changes in the works. Additional info here, here, and here (thanks, Mike).

College Hoops News: Kudos to Conrad Burry, who gained access to an Adidas catalog and found a bunch of retro-styled alternates, with a heavy emphasis on cream tones — look here, here, here, and here. Not sure if those are throwbacks or fauxbacks, but a lot of them look pretty good (the retro logo on the Louisville shorts is particularly nice, and I love Nebraska design). Condrad says the catalog lists them under the heading "HWCN," which presumably stands for "Hard Wood Classic Nights," or something along those lines.

Soccer News: New shorts sponsor advertiser for Wigan, and they're putting the ad logo in the tramp stamp spot (from George Chilvers). "¦ New jerseys for Malaga (from Christian Machowski). "¦ New kit for AFC Bournemouth (from @espitt). "¦ New away kit for Monaco (from Tim Cross).

Grab Bag: Here's a poll where you can vote on your favorite Buffalo Sabres uniform from the team's history (thanks, Phil).The latest installment of the great design podcast 99 Percent Invisible is about the history and impact of the AIDS awareness ribbon (from @holycalamity). "¦ Excellent story on the Tour de France's chalkboard lady (from Sean Clancy). "¦ Also from Sean: There's a new set of trading cards featuring female cyclists. "¦ Speaking of cycling, here's a visual timeline of interesting bike helmet designs. "¦ The city of Reno may be getting a new logo. "¦ A new, supposedly more comfortable version of Converse's Chuck Taylor sneaker will be released next Tuesday (from Andrew Cosentino). "¦ Steve McQueen's racing suit from the film Le Mans is up for auction (from Dane Drutis). "¦ Here's a look at which 2016 presidential candidate has the worst campaign logo (thanks, Phil).