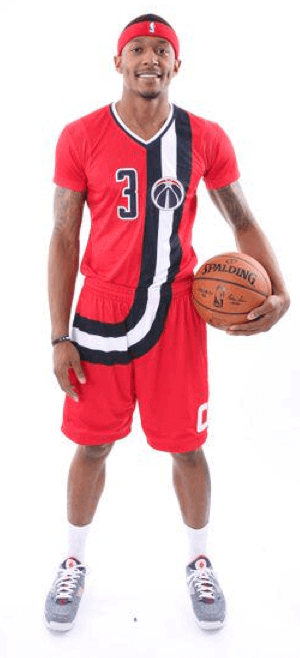 We'd known this was coming thanks to the earlier leak-o-rama, but now it's official: The Wizards will wear a sleeved version of the Baltimore Bullets' old racing stripe uni for six games this season. (Naturally, they're calling it a "pride" uniform, but let's try to ignore that part.) For some people, this is a non-starter because they think the original Bullets uni sucked. I am not one of those people — I love that old design. How well does this new version capture the spirit of the old one? Let's take a look:
• The sleeves: Such a mistake. 'Nuff said.
• The rest of the jersey: Really wish they hadn't put the Wiz logo in the middle of the stripe. On the plus side, the original design had plain black uni numbers, while the numbers on the new version are outlined in white, which is an improvement (although the font is too modern for this throwback — shoulda stuck with the plain, old-school font).
• The shorts: NBA throwbacks often feel a bit off because modern shorts are so much longer and baggier than the ones of yore. If you look at old Bullets pics, you'll see that the stripe wraps just below the waistband, and with good reason — it couldn't really sit any lower, because there was no more fabric to work with below that point. Interestingly, the NBA's own mock-up shown the stripe sitting pretty high on the shorts:
But the finished product shows the stripe sitting a bit lower, which seems OK, given that the shorts themselves are longer. (As an aside, the mock-up also shows the NBA logo just above the stripe, but there's no sign of that in the unveiling photos.)
• The rear view: No sign of it yet. Would really like to see it, since the original was pretty interesting, what with the lowercase NOB and the continuation of the stripes.
Overall: Not bad, although the sleeves are definitely the turd in the punchbowl.
One final thought: Kinda wish they'd revived the home version of this design, which I like better than the road version. Something really nice about those orange numbers against the white background.
• • • • •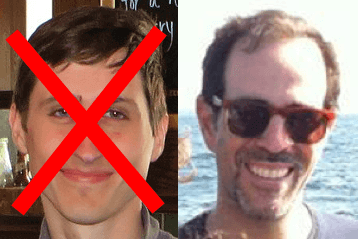 Mike's Paul's Question of the Week: Mike is fresh out of questions, so I'm taking over for him this time around.
Back in 1999, I had to do some research in Atlanta, and I arranged to do it when the Mets would be playing there so I could go to a Mets/Braves game at Turner Field. This was when the Mets were building a new rivalry with the Braves and trying to knock them off of their established perch atop the National League East.
I don't normally wear Mets gear (or any other team gear), but seeing my team on the road, in our rivals' house, felt different. "Gotta represent," I thought, so I bought a Mets cap and proudly wore it to the ballpark, where the guy sitting next to me eyed me with some amusement. "You really a Mets fan?" he asked. I explained that I was from New York, and he said, "You know what? I'm gonna buy a you beer, cuz it's the only thrill you gonna have all night" (He was right about that part — the Mets got thumped.) We ended up having a good time jibber-jabbering throughout the game, although he never stopped needling me. I thought it was a pretty cool response to my cap.
So: Have you ever worn the visiting team's hat or jersey to a game? If so, how did the home fans respond? Conversely, have you ever engaged, positively or negatively, with a fan wearing the visiting team's gear in your team's venue?
As always, post your responses in today's comments.
• • • • •
The Ticker
By Mike Chamernik

Baseball News: Reprinted from yesterday's comments: Shin-Soo Choo, who normally goes double-flapped, went with a single-flapped left-handed batting helmet on Tuesday night. "Strange time to make a change, as he has been red-hot in September," says Brad Northstar. … Phillies INF Chase d'Arnaud's NOB appears to have an upside-down "P" instead of a true lowercase "d" (although the two characters may be identical, so it's hard to be sure).

NFL News: Bears TE Martellus Bennett says he was fined this week because his cleats were "too black" in Chicago's Week 3 game against Seattle. … The Cowboys will wear blue on the road on Sunday against the Saints (from Phil). … Here's a good opinion piece that pans special-event jerseys (from Phil). … I really can't explain these Helmet Hats without getting too verbose. Check them out (from Evan Kenney). … Here are some early looks at hats for Breast Cancer Awareness month and Salute to Service month. … WR Marvin Jones and QB AJ McCarron are among the Bengals that prefer to use older, worn-in equipment. Jones even bought every Nike Huarache cleat available online in his size after the shoe was discontinued, and then painted them in Bengals colors (from David Sonny).

College Football News: Northwestern will wear its Gothic unis against Minnesota on Saturday (from Phil). … Fans get to vote on what Washington State will wear for its homecoming game (from Phil). … This Saturday, Coastal Carolina will wear white at home for the first time ever (from Phil). … South Carolina will wear white over red this Saturday (from Phil). … The Bonita (California) Bearcats use Penn State's logo on their helmets. It's interesting because the Nittany Lions, of course, wear logo-less helmets (from Hugh McBride). "¦ Arizona State's GFGS helmets will debut this weekend.

Hockey News: New uniforms for the India's national team. I like the faux-Sanskrit (from Rob Ullman). … No photos, but there's a good line in this gamer about Monday's Flyers/Rangers preseason game: "During a television timeout in the second period, Steve Mason discovered there was a price tag hanging from the sleeve of his jersey; he laughed and removed it to the amusement of teammates on the bench" (from Rahul Vyas). … The Lightning released their uniform schedule (from Kenny Saidah).

NBA News: A graphic artist who did some NBA logo concepts a few weeks ago was hired by the NBA to do some freelance work. … The Grizzlies released their promotional schedule, which includes when they'll wear Memphis Sounds ABA throwbacks. … Bucks players drew portraits of their teammates at media day. Turns out that Jabari Parker has some art skills. That was a drawing of John Henson. "¦ Here are the Raptors' new socks.

Grab Bag: The National Women's Soccer League will continue to be outfitted by Nike through 2019 (from @holycalamity). … Danica Patrick has a pink paint scheme this month (from ChrisH). … After its initial launch this summer, Converse's Chuck Taylor All Star II shoes will come in new colors this fall (from Andrew Cosentino). … Under Armour and Adidas will fight with Nike for the rights to outfit the University of Texas (from Phil). … New logo for Best Western hotels. … New logo for the UK's Channel 4.