Hi there. Miss me?
Before I get started, please join me in giving a standing O to deputy editor Phil Hecken, who did a great job of keeping the site running smoothly in my absence. He's too nice a guy to complain about my annual August break, but I'm sure he finds it stressful and then some, and I can't even begin to express how appreciative I am. You're the best, buddy — thanks so much. (Big ups also to assistant editor Mike Chamernik, who pulled more than his usual weight during my absence.)
Last year I had a list of very specific goals for my month-long blogcation, but this year I decided not to make a to-do list. In retrospect, that was a mistake — the month ended up feeling too unstructured, too directionless, and I actually went through much of it in a bit of a funk. It's good to be back on board here at the blog.
Still, a recap is always useful (at least for me), so here's a breakdown of what I did over the past 31 days:
1. I worked my ass off. I spent a good chunk of the month working on three ESPN projects: the Uni Watch Power Rankings feature on the best-looking cities, my annual college football season preview, and my annual NFL season preview (which will run either later this week or next Tuesday — not sure yet), each of which entailed a substantial amount of time and effort. It was nice to be able to work on them without having to worry about the Ticker or other blog-related issues.
2. I had fun rooting for my team. August was probably the best month to be a Mets fan in eight years. Two seven-game winning streaks, the return of the captain, a rejuvenated offense, and a healthy lead atop the N.L. East. I attended two games (and am going to another one tomorrow), watched most of the others, and remembered what it's like to root for a team that has its shit together. Nice.
3. I went upstate. Early in the month some friends and I spent six days upstate. First we convened at friend's house near Ithaca and spent two days doing, you know, upstate things: swimming in a pond, thrifting (I got a nice vintage shirt), eating hot dogs and ice cream at an old-school roadside stand, lakeside drinking, making a nighttime bonfire, feeding our friends' chickens (one of which later tried to feed herself) — that sort of thing.
Then we drove a few hours northeast to the upstate town of Rome, home of the annual Capitolfest, a three-day film festival consisting of about one-third old silent movies and two-thirds early talkies, plus assorted shorts, cartoons, and newsreels. My friends had all attended for the past several years, but this was my first time. It all takes place in a gorgeous old theater, and the silent films have live accompaniment on an old Wurlitzer pit organ:
I'm spending the weekend at Capitolfest, an annual film festival in Rome, NY, featuring movies from the 1920s and '30s "" some are silent, the others early talkies (see link below). It takes place in the Capitol Theater, which was built in 1928 and is an absolute gem. It features a gorgeous old organ, with musicians providing live accompaniment during the silent films. They also play during intermissions. Here's a snippet.https://www.romecapitol.com/capitolfest.html

Posted by Paul Lukas on Friday, August 7, 2015
Interestingly, three of the early talkies featured my namesake, the old Hollywood actor Paul Lukas (who I've written about before). There's no family relation, we look nothing alike, and he was a bit of a McCarthy-ite prick, but I can't help getting a kick out of seeing him onscreen. I gently applauded each time he appeared, and it was also also fun to see his/our name in the credits.
4. I bought something really cool. On the day after the film festival, I went flea-marketing and came away with an amazing find that deserves its own blog entry. More on that soon.
5. I cooked some meat directly on the coals. This was actually a Culinary Corner entry a few weeks ago, so you may have seen it already. But if you missed it, here are the basics:
6. I fell in love with a new record. Every now and then I like a new album so much that I play it over and over again for weeks. That was the case last month with Green Lanes, the second album by the UK group Ultimate Painting, which became the soundtrack of my August. Ultimate Painting aren't breaking any new ground (their sound is a pretty obvious nod to late-period Velvets) but they really know what they're doing and make it sound easy. Here are three of the album's best songs (you can buy the full album here, or stream it via the usual sources):
7. I saw a really good movie. I also saw a few not-so-good movies (like many New Yorkers, I take refuge in air-conditioned movie theaters when the weather gets beastly), but never mind about those. I really loved Cop Car, which is about a pair of 10-year-old boys who find and take a police cruiser. There are all sorts of B-movie tropes and homages that will be familiar to anyone who likes the Coen brothers, and Kevin Bacon clearly had a lot of fun playing the corrupt sheriff trying to get his car back, but the real attraction is the interplay between the 10-year-old boys. Having been a 10-year-old boy myself, I found their interplay and dynamic to be dead-on authentic. You only get a small sense of that in the trailer, but here it is anyway:
8. I did a grown-up thing. Actually, I guess I did have one goal for the month, and that was to sign up for long-term care insurance, which is what responsible, forward-looking people are supposed to do when they get to be around my age. Much like setting up a will, LTC is something that's no fun to think about, plus it costs a monthly nut, but I'm generally a responsible person, so I went ahead and did it. Sort of an "eat your vegetables" kind of thing.
9. I took a hard punch to the gut. A few months ago I flew out to the Midwest to visit a close friend/hero who was terminally ill and in hospice. We both understood that it was the last time we'd see each other, which was sad and surreal and bizarre, but we tried to concentrate on what a cool friendship we'd had and how lucky we were to have known and loved each other. In late August I got the news via email that she had died. This wasn't unexpected, and on some level it was a relief to know that her pain was finally over, but I was still devastated.
This news happened to arrive while I was spending a day with my 91-year-old mom, who lives in a retirement community. She had never met this particular friend of mine, but she was aware of the situation. As I explained that my friend had finally passed away, I realized that Mom deals with death and loss on a near-constant basis. That's one of the drawbacks to living in an all-elderly community: Your friends and neighbors are constantly declining and dying. Mom has told me that she's become a bit numb to it over the years, and she's also learned not to get too emotionally close to her neighbors as a result.
We've had some death in our family (I've lost my father, a brother, and two sisters-in-law), but this is the first time I've experienced the death of a close friend, and it definitely feels different — it's shaken me up in a completely different way. But being in Mom's presence when I got the news, and realizing how she copes with death in her community, kind of put everything in perspective. It made me realize that in a way I'm fortunate to be this upset about my friend's passing, because it means I've had the luxury of not having dealt with too many friends' deaths up until now. A humbling thought.
Thanks for listening. We'll get back to more conventional Uni Watch content tomorrow.
•  •  •  •  •
And as long as I'm talking about non-uni stuff…: Twenty-some years ago I edited a book about caricatures, and ever since then I've been fascinated by that particular sub-niche of the illustration world. So I kinda flipped out when I sas last week's issue of The New Yorker, which featured this absolutely sensational caricature of Donald Trump by the great illustrator Christoph Niemann (click to enlarge):
Man is that awesome or what? Look how simple it is — just a few rudimentary shapes and some judicious use of negative space — but it's still instantly recognizable as Trump.
One of the funniest things about this is that Niemann had already done a great Trump caricature, of a sort, several years ago. In 2010 he did a book of NYC-themed Lego constructions, which included this brilliantly minimalist entry: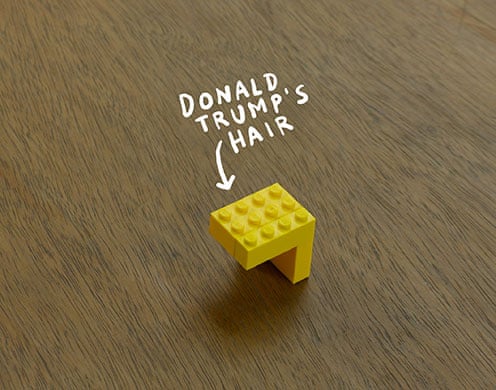 Trump, of course, invites caricature because he's already a self-parodying cartoon, but I still think these are really good. I have no interest in discussing Trump himself (let's not have any comments on him or his candidacy, thanks), but any dialogue about these caricatures, or about the art of caricature in general, is more than welcome. Also: Is it just me, or is this a rather fallow period for sports caricatures?
• • • • •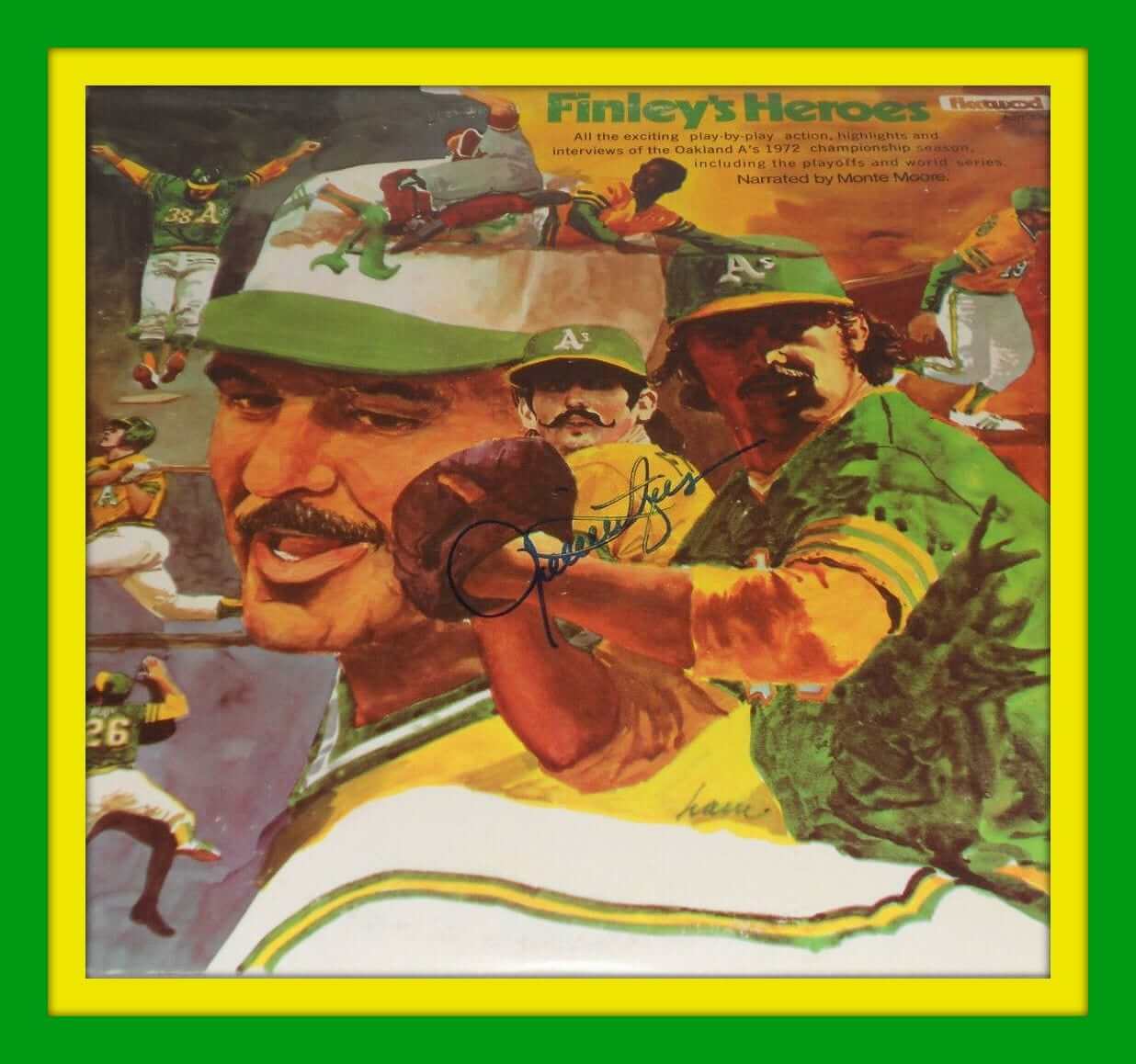 Click to enlarge
Collector's Corner
By Brinke Guthrie
This copy of Finley's Heroes, the story of Oakland's 1972 championship season (I was sitting right above Joe Rudi when he made THAT catch) is signed by Hall of Famer Rollie Fingers. Of course, you'll need a record player for this. Kids, ask your parents. (I settled for this copy of Fleetwood's New Red Machine.)
Now let's see what else we have this week in Collector's Corner:
• This pair of 1970s Chicago Blackhawks extra absorbent wristbands has never been opened.
• It's back-to-school time for lots of students. Back in the day, I always brought my dependable Cowboys (or later on, Bengals) binder. Dolphins fans, this one is for you!
• Check out this 1971 Packers jigsaw puzzle!
• Ah, let's go back to some smash-mouth football, eh? Colts. Browns. By the lake, Late December of 1968. Forecast? SNOW. The winner would go onto Super Bowl III, and the Colts ended up taking the Brownies to the woodshed. This is a poster repro of the game program artwork.
• Absolutely had this: a 1971-1972 Pro Football Hall of Fame Appointment Book, from NFL Properties. I mean, I was in sixth grade — I had no appointments. But that was hardly the point. Fairly sure I wanted it purely because of the cover art.
• A few items today from reader Mike Powers. First off, this Chicago Bears youth jacket, supposedly from the 1930s. "What I especially thought was great was that it was tagged from George Halas' sporting goods company, May & Halas," says Mike. He also sent along an ABC Monday Night football T-shirt , a Pat Patriot lamp by Tim Wolfe ("there are several additional bronze NFL lamps by Mr Wolfe if you search") and "a beautiful college all-star sweater."
• Look at this 1971 NFL Slider Calculator Schedule, sponsored by Camel.
• Big selection of 1968 NFL posters here.
• Here's a nice-looking 1967 Saints "Musical Lighter," featuring Sir Saint!
• Nice cover artwork to this 1967 Steelers media guide. Now, have they ever used this design as a throwback? They should bring back that jersey design as a throwback!
Follow Brinke on Twitter: @brinkeguthrie
•  •  •  •  •
The Ticker
Compiled by Phil Hecken

Baseball News: Research query: "I have been conducting a research project on a vintage Pony League uniform I was gifted when I was younger," says Tim Caisse. He believes the uniform falls in between the early 1950s (black tags with bronze lettering used in the 40s and early 50s) and early 1960s (cleaner white and blue tags with red lettering). Anyone out there able to ID/help with the years? … After tossing a no-no Sunday night, Cubs P Jake Arrieta posed in pajamas covered in mustaches for his no-hitter press conference (h/t The Cauldron). Later, the whole team posed in PJs (h/t 120 Sports). … "Saw an interesting matchup last night in Salem, VA," says Sam Lev. "The Salem Red Sox hosted the Potomac Nationals in a game where both teams sported the same shade of red top. Frustrating game to watch from the stands." … Here's a roundup of 2015 minor league jersey promos, and trends to watch for in 2016. … Here's a very cool article about the 1960 Yankees batting helmets, which referred to them as "Spaceman Decor" (from Todd Radom). … Reprinted from yesterday's comments: Check out the alt unis of Buchbinder Legionäre Regensburg of the German Baseball Bundesliga "" they broke these out for a playoff game against the Solingen Alligators (from Eric Jaffe). …"I thought you would be interested in this aspect of the Braves new park under construction, SunTrust Park," writes Kevin Tamosaitis. "They have a restaurant in it called the Coors Light Chop House — combines corporate sponsorship and a bit of an insensitive theme. Also, notice the 'animated' tomahawk on the light structure." … The Frederick Keys, an O's affiliate, will sport jerseys with crabs and black-eyed susans. … "I was watching the 1988 NLCS," says Matt Ryburn, "and Dodgers pitcher John Tudor used what looks like magic marker on his sleeve to 'honor' Jay Howell, who was suspended for three days as the commentator called it." … Jon Lester's month by month ERA chart looks like the Cubs' W flag (from Mike Chamernik).

NFL News: "Thought y'all'd enjoy this primo example of unnecessary Photoshoppery," writes Chris G.. "Mathis is clearly sporting an Eagles jersey colored in with Broncos orange — except for the shoulders." … Saints coach Sean Payton wrote an "X" with the letters "N-O-L-A" as a Hurricane Katrina tribute on his pullover Sunday, then he thought a patch "or something" might have been more appropriate (via Russell Goutierez). …Starting with Week 7, NFL sideline gear will feature gold-trimmed team logos, as part of Super Bowl 50 golden anniversary (thanks Paul). "¦ The "˜NFL on CBS' has a new set design (thanks, Brinke).

College/High School Football News: "I'm a high school football official and this year the National Federation had all of us switch to larger stripes," says Joseph Bailey. "Also, we now have our state chapter logo over our chests along with the US flag on our sleeve." … It looks like Virginia Tech might be wearing orange pants next Monday versus THE Ohio State (h/t Andrew Cosentino). Also from Andrew, here's a look at VT's new orange chrome helmets. Or…are they just fucking with us with the orange pants? The orange helmets are a definitely go, though (via Keith Leventhal). … Over on CBS Sports, carrying a story by Saturday Down South, they have ranked helmets, and you can probably guess which ones come out on top (hint: shiny shit & gimmicky patterns are tops). … Here's a look at Louisville's home, road and alts for 2015 (h/t Louisville Sports Live). … Vanderbilt had its theatre costume shop manager review Vandy's new unis. Here's her verdict. … Do you want to buy one of those sweet NIU throwback unis they're wearing during their season opener on Saturday? You can. … Here's a look at the VT helmet sticker helmet sticker honoring Alison & Adam (two journalists assassinated last week during a live shot). H/T Walk Left Stand Right. … Ball State's helmets for Thursday night's opener feature a camouflage Cardinal for military appreciation and a Muncie150 sticker (h/t Mitch Purcell). … Here's a uni preview for Auburn & Louisville, by Clint Richardson. … Ole Miss will be wearing powder blue lids again (h/t Connor Caligiuri). … Check out this crazy bent facemask. Submitter Brice Wallace notes, "This was put on Facebook Friday night by the Tolsia High School football team in West Virginia. Apparently a hard-hitting game against in-county rival Wayne. I've seen facemasks bent before, but not that much. And look how the helmet is deformed, too." … Here's a story about a Colorado HS art teacher who took his district to task over logos he designed for his school. Submitter Oscar Raab notes, "Sad to see such a dispute over original logos when so many schools poach professional and college logos — the school apparently lost the right to continue using them." … Washington Huskies coach Chris Petersen doesn't think Boise State has an advantage on blue turf (they're playing Friday night). In a related story, the Boise State Broncos will be wearing all blue uniforms against UW. And here is what the Huskies will wear (I'm pretty sure that's a white uni, with gold lights). H/T Andrew. … Here's some video of the Marshall Football equipment staff fully assembling a helmet for this weekend's game (thanks to Jake Keys). … Temple will be doing a slow peek of their new unis this week (from Georgey The Greek). … New helmets for Sweetwater Wildcats football this season (h/t Josh Walker). … New uniforms for the UNC Bears (via Matthew Brinton). … "I guess North Dakota hasn't yet made a choice on its name?" asks Tim Dunn. "In the game notes for the Wyoming vs. UND football game this weekend from Univ of Wyoming, the game is referred to as The Wyoming Cowboys vs. The University of North Dakota." … Penn State is doing their first ever stripe-out (from Chris Flinn). Here's more on that. … THE OSU coach Urban Meyer makes his players do push-ups if they wear blue (thanks Mike). "¦ Looks like Notre Dame will wear the Fr. Ted decal for the season opener against Texas. "I am trying to confirm if it's just for one game or for the entire season," says Warren Junium. Update: They will wear it all season long.

NBA/College Hoops News: Here's a cool animation of Shaq's jerseys throughout his pro career (thanks to Mike Chamernik). … Oops — Paul took a screenshot of the UMD Bulldogs giving a Twitter shout-out to UnderArmour while their wallpaper features Nike logo. … Knicks rookie Kristaps Porzingis got a customized NY Red Bulls jersey (via Mike Chamernik).

Hockey News: Cross-sport Promotion Alert! The St. Louis Cardinals are teaming up with the St. Louis Blues for the first-ever St. Louis Blues Theme Night at Busch Stadium on Monday, September 21. … The Islanders will be nixing their Ice Girls as they move into their new Brooklyn digs. … The Colorado Avalanche have a new center ice logo (h/t Patrick Thomas).

Soccer News: Here's a look at MSU Denver Men's Soccer home kits for 2015 — looks like gradient is the thing for college soccer this year (h/t Metro State Sports).

Grab Bag: Pitt will ditch the block logo and reinstate the Pitt script logo as its primary mark across all sports (from Adam Greenberg). … Dave Battafarano lent Jason Levine three sets of stirrups and a pair of sanis prior to a recent podcast. "So I just had to model a set (and wear them for the rest of the day, much to my kids' embarassment)." … Western Kentucky and Russell have announced a five year extension on their apparel deal. … Sunday night was a sad day for bowling alley aficianados, as the Lincoln Square Lanes burned down. Says submitter Thomas Juettner, "I'm not sure if it was ever featured on the site, or if you've ever been, but it was one of the oldest still operating bowling alleys in Chicago. It recently had gone through a major renovation including restoring an old Illinois mural." … The city of Richmond hoisted flags from almost 70 nations outside Main Street Station in a bid to welcome the world ahead of the UCI Road World Championships in 17 days. The flags were hung upside down (from Tommy Turner). … Here's a look at Novak Djokovic's custom US Open kicks (h/t Michael Ehrlich). … Which brands made the podium the most in Beijing? Chris Bisbee sends this article tracking shoe brands at IAAF World Championships. "¦ The logo for the 2020 Tokyo Olympics has been scrapped following persistent allegations that it was plagiarized (from Ryan Bugaj).