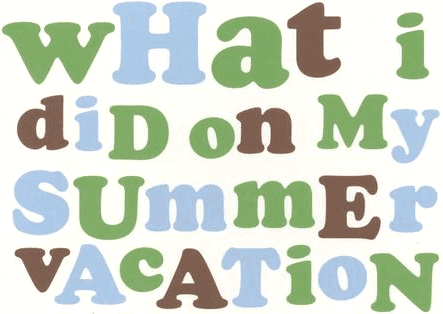 I'm back. Miss me?
This was the sixth year in a row that I've disengaged from the site for most of the month of August (insert repeated mega-thanks to Phil for keeping the ship running smoothly in my absence). It's not a full-on vacation, because I still have to do ESPN work, including the one-two punch of the pro and college football season previews, which are two of my biggest columns of the year. But taking a break from the daily grind of the blog lets me recharge my batteries a bit and, at least theoretically, frees me up to cross a few things off of my "to do" list.
I say "theoretically" because experience has shown that I'm not always so good at crossing things off that list during my August blog break. You go out for a few beers with friends, you see a few movies, you take a few naps, and before you know it the month is gone. With that in mind, I set more modest goals for myself this year. How'd I do? Let's take a look at the list I created for myself:
1. Get new eyeglasses. It had been nearly two years since my last eye exam, so I went and got my eyes checked and got a new prescription (similar to but slightly stronger than the last one). I thought I'd singled out the new frames that I wanted, but then I attended a wedding and decided I really liked the groom's frames, which, as it turns out, aren't carried by any of my local shops. So I've mail-ordered a pair, which is slated to arrive on Wednesday. Then I'll get the new lenses. So while I haven't crossed this one off the list yet, it should be taken care of in another week or so. Check.
2. Get a new tattoo. This wasn't actually on the initial list, but then I was at an early-August party with lots of people who had very nice tats, and I thought, "That's what I should do during August break — get some new ink." The thing is, I've been wanting to get a new tat for years now, but no design has really grabbed me. So while I tinkered with a few concepts (something bowling-related, a butchery chart, maybe an old toaster [that's was actually Phil's idea, and a good one]), I didn't feel passionate enough about any of them to pull the trigger. Dang. Whiff.
3. Get a bird feeder. Obviously, something as simple as strolling over to the local hardware store and picking up a bird feeder isn't the kind of thing that should require an August break to take care of. But somehow this became one of those tasks I kept putting off, so it went on the August list. Finally took care of it this past weekend, and now there's a very nice feeder hanging on my kitchen fire escape. The cats are gonna fucking go nuts, which of course is the whole point. Check.
4. Grown-up stuff. I've been meaning to set up a living will and a healthcare proxy, and I figured August would be the time to take care of them. Instead, August turned out to be the time when I completely ignored them. Please don't bother telling me how easy and important this stuff is — I already know, and one reason I'm telling you this is to publicly shame myself into dealing with it. Which I will do. Honest. Whiff.
5. Do some non-sports writing. My non-sports projects — Permanent Record, My Pet Troll, etc. — have been dormant lately, and that's been bugging me, so I wanted to spend some time on writing that had nothing to do with uniforms or sports. As you may have seen, I did get one thing done — a design article about these little plastic chips embedded in the asphalt throughout the streets of New York and Boston. I'm working on another article for that same website and hope to be doing stuff for them pretty regularly, so that's a positive. I also came up with the idea for a potential new project that I'm kind of excited about (more on that later). Still, I'm a little disappointed that I didn't do any PermaRec or My Pet Troll work. Check-ish.
6. Do something nice for my mom. My mom and her best friend, Marcia, have known each other since first grade, when they were growing up in the Brooklyn neighborhood of Crown Heights, which is just a few neighborhoods over from where I now live. They have a very special bond, but both of them are now 90 years old and can no longer travel on their own, so for the past eight years their friendship has been restricted to phone calls. I thought they should have a chance to see each other at least one more time, so on Aug. 10 I drove Mom up to Maine, where Marcia now lives, for a visit. Here they are (that's Mom on the left, Marcia on the right; click to enlarge):
A lot of things could have gone wrong with this trip. The traffic could've sucked, the weather could've sucked, being locked in a car with Mom for extended periods and then sharing a hotel room with her could've sucked, and so on. But none of that happened — it was all a breeze. And even if those things had happened, it would've been worth it, because seeing these two women reconnecting — each of them clearly starved for the other's company — was very, very special. They recalled shared experiences from the 1930s and '40s like they'd happened yesterday, and they also discussed current developments in art, music, and world events with a mutual ease that basically said, "I can speak in shorthand because you understand me and I understand you." It was a really something to see, and I felt privileged to witness it. Best of all, it was fun and exciting for Mom, who at this stage of her life doesn't often get to have much fun or excitement. I'm really happy to have provided that for her, even if only for a few days. Check and double-check.
And there you have it — thanks for listening. On Tuesday we'll get back to normal Uni Watch content. Meanwhile, enjoy the holiday today (or, if you have to work, please accept my thanks for keeping the world spinning while the rest of us get to enjoy a day off). See you back here tomorrow.
+ + + + +

Baseball News: Here's an article on a guy with a truly massive jersey collection (from Douglas Ford). "¦ This is pretty good: a list of teams that have worn throwback uniforms from a city other than their own. … Hmmm, what does Jake Peavy have written on his underbrim? (Good spot, Phil.) … Royals pitcher James Shields was wearing his throwback stirrups backwards on Saturday night (from Blair Riffel). … In a related items, compare Shields's relatively low-cut stirrups to the super-high-cut pair worn by teammate Norichika Aoki. That's surprising for a throwback game — usually everyone is issued the same cut.

College Football News: We've all seen plenty of memorial helmet decals, but Troy's memorial for Jadarius Garner, first mentioned on the site yesterday by webmaster John Ekdahl, might be the first one I've seen that's shaped like a jersey. … Just what the world's been waiting for: Arkansas Razorbacks orthodontic braces. … Chris Perrenot notes that at least one of Navy's helmets on Saturday had some striping issues. "Also," he says, "I have never seen such a huge logo on a football." … Uni number malfunction on Saturday for Georgia Southern FB Nardo Govan (from Sean Halstead). … Excellent spot by Kevin Brown, who writes: "Watching the Notre Dame game Saturday afternoon and saw an ad promoting next week's ND/Michigan game. Apparently NBC or Under Armour changed the logo in the tunnel that leads out onto the field from the game footage from two years ago." Douchebags. … Arkansas State has added a memorial decal for Markel Owens and Barry Weyer. Wonder if there are any non-Christians on the team, and how they feel about wearing that. "¦ Another memorial: Colgate is wearing a "72" decal for former teammate Brian Crockett (from Ryan Dowgin). "¦ At first I thought this Clemson player was wearing a Russell Athletic base layer beneath his Nike jersey on Saturday, but that's actually the logo on his Russell shoulder pads (good spot by Drew Mastin). "¦ Number font inconsistency for Tennessee-Martin: a pair of defensive backs with two different "2"s (good one from eagle-eyed Lee David Wilds). … Two FCS teams — Incarnate Word and Sacramento State — went color-vs.-color on Saturday (from Chris Mycoskie). "¦ Might just be the lighting, but has Michigan's helmet and numbers always been two different shades of maize? (As noted by Jim McCormick.) "¦ Tennessee has added a tri-star logo helmet decal. "¦ Sam Houston State debuted new uniforms on Saturday. "First time they've worn blue pants in at least 20 years," says Chris Mycoskie. "¦ Here's what Miami will be wearing against Louisville today. "¦ Check this out: The brick facing you see at Baylor's new stadium isn't real (from Matt Shevin). "¦ Cal has added a California state flag helmet decal (from John Furstenthal). … Several readers noted that Oregon's uniforms on Saturday didn't quite match what they wore in the Alamo Bowl. Also, what's the deal with that vertical stroke running through some of the numerals?

Grab Bag: New uni set for the Cincinnati Cyclones of the ECHL (from Adam Walter). "¦ Here's an old Columbus Blue Jackets prototype. … The football team for Collinsville High in Illinois unveiled new uniforms with gradient numbers. "Their play-by-play announcer complained that the numbers were very difficult to read from the booth," says Tom Hunter. "¦ Very interesting article on new materials being used to make sneakers. "¦ Ralph Lauren is introducing "smart shirts" at the U.S. Open (from Tommy Turner). "¦ "Aussie rules football playoffs start this weekend," says Kerry Hudson. "Port Adelaide will host Richmond. As the home team, Port should be able to wear their home uni, which is mostly black. However, Richmond, whose home uni is also mostly black, does not possess a suitable clash strip (their clash strip is still mostly black, only with a bit more yellow). At first Port was going to wear their white clash strip, which they weren't happy about, but now the league has told them that they can wear their heritage jersey (as opposed to clash jersey). The only catch? whether the jerseys can be produced in time."