Click to enlarge
[Editor's Note: Paul is on his annual August break from the site and will return in September. Daily content is continuing under the direction of deputy editor Phil Hecken, who's running the site this month.]
By Phil Hecken
Last evening, in a nationally televised game on ESPN, the Detroit Tigers and the Chicago Cubs played a "throwback" game. It was a beautiful looking game, for sure.
For one thing, everyone went high cuffed (click on any photos below to enlarge):
For another, the uniforms themselves looked gorgeous:
Both teams did as well as can be expected with duplicating the uniform numbers:
The Cubs also replicated their 1945 cap and uniform jersey pretty well:
The Tigers had a "World War II Support" patch, just like back in the day:
So far, so good, and to the non-Uni Watcher, no one was probably the wiser that the throwbacks weren't 100% perfect. And for probably 99% of the population, no one cared. But we Uni Watchers are trained to spot those things.
I've relaxed my stance on throwback games over the years, because I realize teams can't replicate many of the elements of yesteryear (in this case 1945) — they're NOT going to wear wool uniforms, they didn't wear helmets, there was no Majestic logo, and there were no black players. I won't complain about any of those things, even though they're not authentic. But it's the little details that they get wrong that bother me — and some things within the players' control (such as wearing socks instead of stirrups) that can be easily corrected.
Let's look at some of the inconsistencies. First, the Tigers had a WONDERFUL cap, with a giant "D" that could be read from space. Originally, I thought that's what the Tigers wore back in 1945, but that's not the case. Their cap then was much more similar to the regular home cap they wear today. But what they wore then and what they wore last night wasn't even close:
The hosiery was also disappointing — while everyone went high cuffed, the Cubs wore a combination of solid blue socks and 2-in-1's (I watched a good portion of this game and I don't think I saw a single actual stirrup). The Tigers all wore solid midnight blue socks. And while the 2-in-1's aren't as bad as the crap the A's have been wearing, they're still, ya know…2-in-1's:
@PhilHecken Several @Cubs players going with the two-in-ones. TERRIBLE!!! @UniWatch pic.twitter.com/AjMd4KDSfn

— Curtis Galvin (@CurtisGalvin) August 20, 2015
But OK, I get that players don't necessarily feel comfortable in real stirrups, like those worn back in the day, but the hose worn by the Cubs in 1945 had STRIPES on them:
You'll note that Marc Okkonen (who did the sketch on the right above) showed the team wearing sleeves with stripes, I was unable to find a photo from 1945 that showed the Cubs wearing them (that's not to say they didn't — just that I was unable to find a photo confirming they did). So, I'll certainly cut the Cubbies some slack for not doing so last evening. But guys, please, you gotta respect the stripes on the hose. Even if they socks weren't exact to the year, in 2014 (during their multi-decade throwbacks) the Cubs wore striped hose on at least two occasions, so they certainly could have found some pairs for last evening's game.
OK — I'll stop my complaining now — there were a few more inconsistencies (like the number fonts being too thick during last night's game, and the Detroit script seemed a bit too thin), but that's OK. They nailed the Detroit uniform pretty well (except the cap):
It was, aesthetically, a great game to watch — and in my opinion, if the Tigers don't want to go back to their 1968 roadies on a full-time basis, I'd love for them to wear the 1945 unis on the road permanently. The Cubs, too, wouldn't look too bad if they made these a permanent uni (although their current homes are pretty good too).
As a quick aside, Todd Radom posted this informational graphic on the flags flying in the outfield, which is apropos for a 1945 throwback game (the graphic looks to be somewhere from 1946 to 1948, probably '46).
All in all — a great game aesthetically. Despite the peccadillos of the uni imperfections, I still enjoyed it immensely. What did you guys think? (If you want to see more photos, click here.)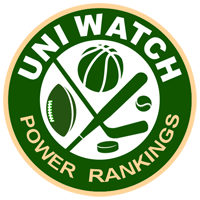 Power Rankings reminder: Paul here. In case you missed it yesterday, the latest edition of the Uni Watch Power Rankings rates the best-looking cities as measured by their teams' uniforms. The full ground rules and parameters were spelled out in yesterday's post.
As you might expect, I got lots of feedback and pushback on this project. Here were the most common refrains:
•  "You rated the Patriots too high." First, there was a glitch yesterday that affected the Power Rankings page. For the first few hours that the piece was up, the scores for the Boston teams were wrong — they were all listed as 8. The proper scores, which we eventually inserted once we discovered the error, are Red Sox (8), Patriots (7.5), Celtics (8.5), and Bruins (9.5). Most of the objections to the Pats' score came in while it was mistakenly listed as 8, which I agree is too high. But I think 7.5 is just right. It's true that the Pats would look better without the side panels. Aside from that, though, I think they're a good-looking team (especially on the road, where the have striped socks). Is their current design as good as the Pat Patriot-era design? No, but it's still a solid design, at least to me.
•  "You rated the Blackhawks too low [7 out of 10]." As I've explained many times over the years, I'm not a fan of the Blackhawks' red uniform, which I think is too loud.
•  "You should have included MLS kits." As I explained in yesterday's post, I didn't include MLS kits because they change too often, most of them feature big ads that keep me from taking them seriously, and I'm ill-equipped to assess soccer kits anyway.
•  "You should have deducted points for the Oakland Coliseum." Actually, I considered adding a point for the Raiders playing on a baseball infield for the early part of the season — I love that look. In the end, though, I decided it was too minor an issue for something that only affects one or two home games.
•  "You're nuts! Everyone knows [whatever]." Lots of people took me to task for going against popular opinion. As I tried to explain to such people, it's not a critic's job to worry about what is or isn't popular. As some of you may recall, we explored that topic in greater detail about a year and a half ago.
All in all, a fun project. Thanks to all who took the time to check it out.
•  •  •  •  •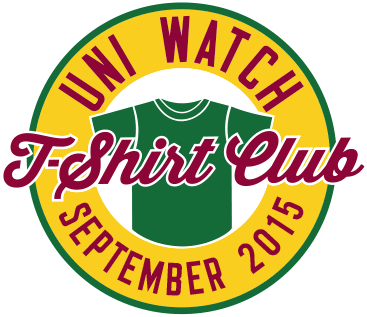 T-Shirt Club reminder: In case you missed it earlier this week, the Uni Watch T-Shirt Club's latest offering — the road grey shirt — and it's now available for ordering. Obviously, this one is pretty straightforward, but it's still plenty handsome. In fact, I think this is my favorite design we've done so far (click to enlarge):
Again, this shirt is available here, and there's additional information about how this shirt fits into the larger T-Shirt Club program here. Thanks.
Attention All Canadian Readers
As you guys (hopefully) read, yesterday Paul had his ESPN piece(s), (see the section just above this) on "Which City Has The Best Looking Uniforms," but those rankings were limited (mostly) to American cities and teams.
Reader Mike Engle began a thread with the comment "Nice lists. I can only hope that Montreal may rejoin the list of two-team cities and wonder how the Expos and Habs would have slotted in," to which Paul replied, "They would have done well."
That was followed up by Will S who added
With Toronto the only Canadian city with more than 1 team in the "Big Four", I wonder what a separate uniform Power Ranking for Canadian cities would look like.

NHL and CFL would be the obvious two leagues. With Paul's criteria for minor league and college not included, I think the CHL (major-junior hockey) could be a third.

If there was a fourth league, possible CIS hockey or maybe another sport (not as much on the uniform roller coaster as U.S. colleges) or if the someone judging was more in tune with soccer "" whatever the highest level of soccer was for those cities.
At this point, Paul then said: "I invite any (or all!) of our Canadian readers to get cracking on this."
Mike e-mailed me and suggested we take Paul up on this. So I'm putting out the call:
If you are a Canadian reader and you'd like to participate in a Uniform Power Ranking for Canadian Cities, please let me know (shoot me an email at Phil.Hecken@gmail.com and put as the subject line Canadian Uni Ranking). If there is enough interest in this, Mike and I, along with those who want to participate, will do a Canadian Uniform Power Ranking.
Could be a pretty cool group project. I'm not sure we'd use the exact leagues suggested by Will, but any and all suggestions will be considered. Shoot me an e-mail and let me know if you're (1) interested in participating and (2) what criteria/leagues should be considered.
OK? OK!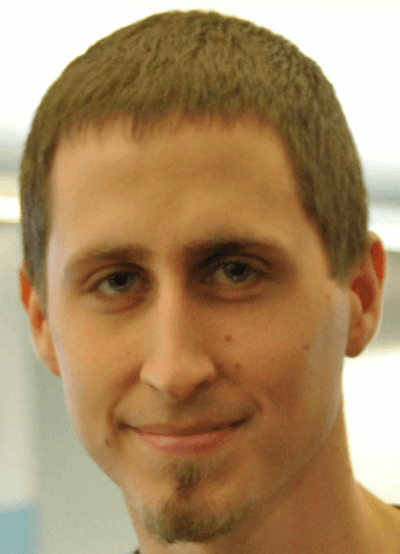 Mike's Question of the Week
By Mike Chamernik
This is a little old, but Deadspin gave some tips on how to attend a sporting event. All good stuff, but really, a comprehensive piece on this subject could be the length of a book. Or, at the very least, a novella.
What's the best tip you can give to someone who's going to a ballgame? Any tricks regarding buying a ticket or parking? Anything on what to wear, or the best way to get a ball or an autograph? Please share whatever you have in the comments.
My tip: Keep score at a baseball game at least once. It keeps you focused on the action, it makes you a little more knowledgable of a fan, and it provides you with a physical record of the game you attended. It's fun and it's not hard to do.
Uni Watch News Ticker
Compiled by Mike Chamernik

Baseball News: First baseman Miguel Cabrera took off his mitt just before a pick-off attempt thrown his way. He recovered in time to throw out Dexter Fowler (from Chris Flinn). … MLB reprimanded Royals manager Ned Yost for wearing an Apple Watch in the dugout during Sunday's game. … A's P Jesse Chavez wore faux stirrups yesterday (from Chad Jorgenson). … MLB cap holograms still have Bud Selig's signature on them (from @Tubby34). … The Syracuse Chiefs will wear Syracuse University-themed jerseys next weekend (from Phil). … The Eugene Emeralds will have a Portlandia Night (from Eric Fisk). … Orioles 2B Jonathan Schoop had his name misspelled on a giveaway T-shirt last night (from Paul Braverman)

NFL News: The Colts will wear white at home for their preseason home opener this weekend (from Phil). … The Browns will wear white over brown tonight. … Brian Gunter refurbishes old helmets. "I take old, or not so old, used helmets mostly from eBay, and recondition them to look brand new," he says. "I fill in every scratch, gouge, ding, pith, etc. I do a lot of priming and sanding, and then when I have filled in everything, I apply a last coat of primer, then about ten coats of paint. I color sand the paint job until it is completely level, then polish to an extreme gloss. Then about 15 coats of clear coat, color sand that and polish to the point where the reflections are pin sharp."

College Football News: ASU will reveal their new "Desert Ice" uniforms today (that's a sneak peek). … New uniforms for Harvard. More pics here (from Seth Horowitz). … Tennessee Tech has a bunch of uni combinations (from (Clint Richardson). … New script and numbers for North Carolina's field (from James Gilbert). … New helmets for Utah. … Houston has a really cool helmet cart (from Corey Buck). … Here's Oregon's color schedule for this year (from @DatDudeDamon_). … New orange helmets for Idaho State (from Phil). … Arizona State will hold a White Out in September (from Phil).

NBA News: Stephen Curry, an Under Armour guy, wore Nike gear during his round of golf with President Obama. … Knicks rookie Kristaps Porzingis has a pair of socks with Phil Jackson on them. The socks show Jackson as a player with the Knicks; he's now the team's president (from Brinke).

College Hoops News: New court design for Northern Kentucky (from Andy Kroeger). … And, it looks like Maryland is getting a new floor (from Patrick Thomas).

Grab Bag: New hockey jerseys for Yale. … Will the Islanders wear this patch for their inaugural season in Brooklyn? (From Phil). … New uniforms for UTEP. … Indiana University AD Fred Glass wore a gaudy Adidas shirt after his school signed an extension with the company (from John Kreimer). … Under Armour is suing a clothing company called Armor & Glory. In the past, UA has sued other "Armor" named companies like Body Armor, Salt Armour and Ass Armor, all in an effort to protect its brand (from Tommy Turner). … Also from Tommy, James Madison University will sponsor a NASCAR driver. … Will the Leafs wear multiple jerseys/unis for their Centennial Season in 2016-17? According to this article, they might (h/t Patrick Thomas).
And that's going to do it for today. Big thanks to Mike E., Paul & Mike C. (for the Canada Uniform Power Ranking idea & other stuff, and the QOTW & ticker respectively), and to all who tweeted or emailed for the ticker. Back tomorrow with more stuff. Everyone have a great Thursday.
Follow me on Twitter @PhilHecken.
Peace.
.. … ..
"How is the NHL considered a 'big 4' league and MLS isn't? MLS is far more popular than the NHL, at least in the United States."
— Lee